DIY Mother's Day Cards That Kids Can Make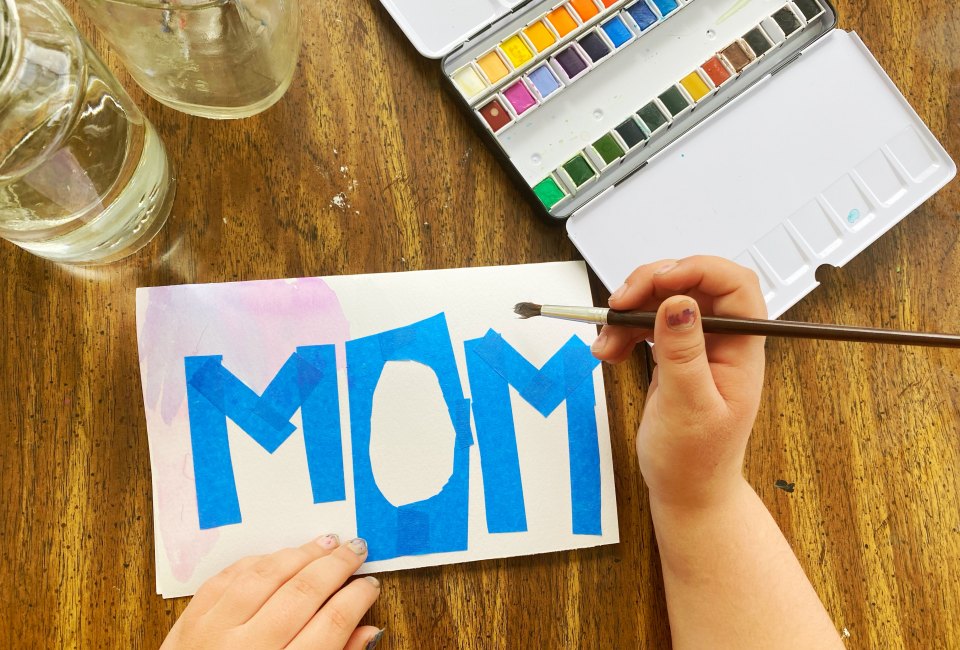 4/23/20
- By
Ally Noel
Homemade cards make Mother's Day extra special: When you add little handprints, flowers, and self-portraits, you are guaranteed to pull at mom's heartstrings. Create the perfect card with these crafty and creative DIY Mother's Day cards that can be made using what you have around the house and with kids of any age. Their homemade touch is the perfect way to show mom how much you love her.
For more ideas (literally hundreds) of crafts, activities, and more fun things to do with kids at home, check out our Ultimate At-Home Guide for Families.
1. Flower Pom-Pom Painting
Everyone loves flowers, and with a few simple materials from around your house, your kids can make a flowery work of art. A pom pom and a clothespin can be transformed into the perfect paintbrush to create these easy flowers. Select a few colors of paint - one being the center of the flower. Create a pom-pom paintbrush by pinching the pom-poms with the clothespin. Once you are set up, create your flower by stamping one color as the center and dotting the petals around the center in a different color.
Related: Easy Science Experiments to Do at Home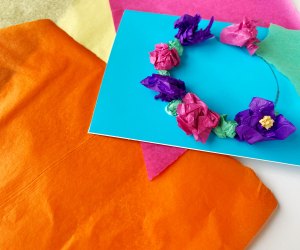 2. Tissue Paper Wreath
Use pieces of tissue paper to create this one-of-a-kind wreath. First, fold a piece of paper in half to create your card. On the front, draw a circle; this will become the shape of your wreathe. Select several colors of tissue paper; make sure to select some green and yellow to use as leaves and flower centers. Finally, crinkle up the tissue paper into little flowers and glue them around the circle to create your flower wreath. Customize the card even more by adding a special message in the center of the flower ring.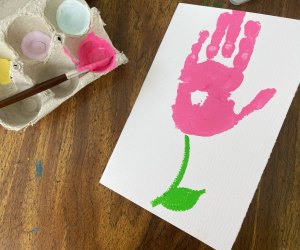 3. Handprint Flower Cards
Handprint crafts are perfect for Mother's Day. They serve as a reminder of just how small those little hands once were. Paint your child's hand in whatever color they prefer and make a print towards the top half of the card. Draw a green stem on the bottom of the handprint to create the flower. If your children have smaller hands, it is possible to fit more than one flower on the front of the card.
Related: Best Kids' TV Shows to Stream During Quarantine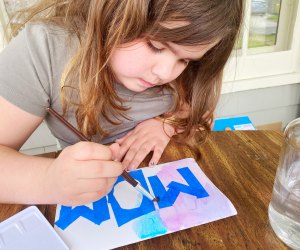 4. Tape-Off Resist Cards
Use painters tape to make these easy resist paintings. Painters tape can be easily cut into shapes, words, or just arranged to create an original abstract design. Next, paint over the entire sheet of paper. We used watercolor, but any kind of paint or technique would work. When the paint is all dry, remove the painter's tape to reveal your design.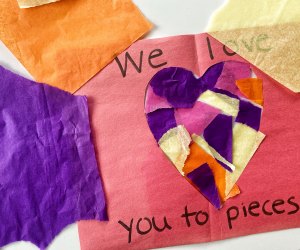 5. Contact Paper Heart Card: "I Love You To Pieces"
Even the youngest artist will be able to help create this card. Cut a heart shape out of the center of a sheet of construction paper. Attach a piece of contact paper to the heart cut-out. Have your child rip pieces of construction paper into pieces and arrange them on the sticky side of the contact paper, then seal them in place with another sheet of contact paper. You or your child can write "I Love You To Pieces" on the inside of the card.
6. Handprint Portraits
With a little creativity, handprints can be tuned into self-portraits. Trace your child's handprint on a piece of paper, and let them design their facial features. Seeing your children through their eyes will surely make this card a keepsake mom will treasure.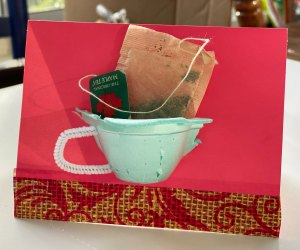 7. Time for Tea
Start your kettles! Invite mom to snuggle up with a cup of tea with this precious handmade card. Cut one section of an egg carton out of the pack. Then cut this in half to create your "teacup" and glue it to the front of your card. You can add a little piece of pipe cleaner to create a handle. Place a tea bag into the egg carton and it's time for tea!
All photos by the author

Sign up for our free
newsletters.
Mommy Poppins is a family activity website that helps people find things to do with kids.
©
2023
MommyPoppins. All Rights Reserved.
mp-prod4-v4.32.99
We use cookies and other data collection technologies to provide the best experience for our customers.
Learn More