Mother's Day Brunch Recipes Kids Can Make to Spoil Mom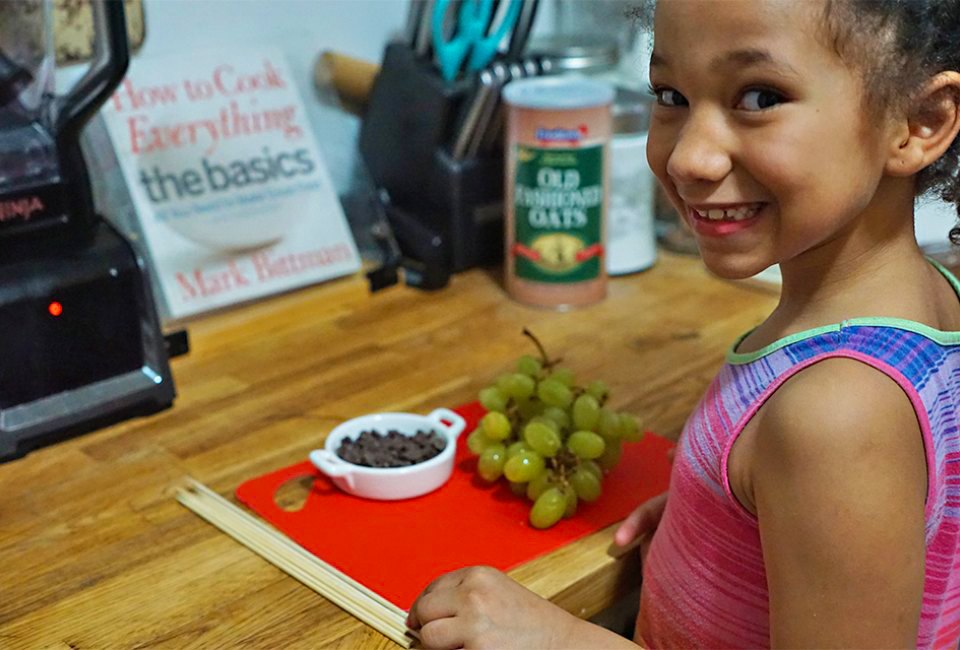 5/3/20
- By
Jody Mercier
No matter how much I like to cook, it's exhausting putting meals on the table morning, noon, and night for weeks on end. Judging by my social media feeds, I'm not the only mom who needs a break from the kitchen. So, for Mother's Day, I decided to set my daughters (ages 6 and 10) free in the kitchen, and challenged them to make Mother's Day brunch recipes all on their own.
The results were impressively tasty, as was the stack of dirty dishes. Luckily, clean up is one age-appropriate chore I leave to my teenage son. Read on for four Mother's Day recipes kids can make for you, plus our picks for kid-friendly kitchen tools that make the job a little easier.
While Mother's Day brunch is sure to make any mom's day, kids can earn extra brownie points with a homemade Mother's Day card to serve as the centerpiece to the table. No matter how you celebrate, we wish all moms a very happy Mother's Day.

Kid-Friendly Kitchen Tools
My 10-year-old has been honing her cooking chops for a while and is often my sous chef during dinner prep. She relies on this Opinel Le Petite Chef Knife for heavy-duty chopping. We also have a set of plastic knives, which work great for softer foods and are safe enough for my 6-year-old to use. These flexible plastic cutting boards are great for defining everyone's kitchen workspaces, plus they protect the countertop and are easy to clean. And last, our favorite kid-friendly cookbook pick is New Favorites for New Cooks, from which we adapted the yogurt parfait recipe, here. The recipes are fabulous, and the instructions are clear and concise with beautiful photos. It looks right at home on the counter with my more grown-up cookbook library.
Kid-Friendly Cooking Timeline
The girls did their Mother's Day brunch trial run over a weekend, starting on Saturday to prepare for a noon-time Sunday brunch. The granola was made Saturday afternoon to keep the oven available for Monkey Bread and Egg Cups on Sunday morning. They made the Monkey Bread first, then moved on to the Egg Cups, adding them to the oven about halfway though the Monkey Bread baking time. While both baked, strawberries were hulled and sliced, and the Grape Caterpillars and Yogurt Parfaits were assembled.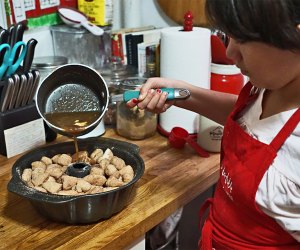 Great Grandma's Monkey Bread Recipe
My girls loved prepping this recipe, scrawled in my 87-year-old grandmother's handwriting on an old, sugar-dusted index card. It was one of the first recipes she taught me to make, so it seemed a fitting one to pass on here, especially with Mother's Day on my mind.
Ingredients
4 cans refrigerated biscuit dough (pre-sliced)
2 cups sugar, divided
3 tablespoons cinnamon, divided
1 stick of unsalted butter
Directions
Grease a bundt pan with nonstick cooking spray and preheat your oven to 350°.
Combine 1 cup sugar and 2 tablespoons cinnamon in a gallon-sized zip-top bag.
Cut each biscuit into fourths, and add a few at a time to the bag. Shake to coat with cinnamon-sugar mixture and scatter around the pan.
Once all biscuits have been coated, melt the stick of butter with the remaining 1 cup of sugar and 1 tablespoon of cinnamon. Pour the mixture over the biscuits in the pan.
Bake for 50-60 minutes until biscuits are cooked through. Invert onto a plate immediately after removing from the oven.
Fruit & Yogurt Parfaits with Honey-Cinnamon Granola Recipe
This granola recipe was adapted from New Favorites for New Cooks. The original recipe includes 1½ cups of nuts and ½ cup dried fruit. We opted to leave those out and keep it simple, though the add-in possibilities are endless. Feel free to customize to your family's tastes.
Ingredients
4 cups rolled old-fashioned oats
1 tablespoon plus 1 teaspoon brown sugar, packed
1 teaspoon ground cinnamon
Pinch of salt
¼ cup coconut oil
½ cup honey
Yogurt (we used Chobani Greek Vanilla Nonfat Yogurt)
Fresh fruit (we used sliced strawberries and blueberries)
Directions
Preheat oven to 325° and line a 12-by-17 inch sheet pan with parchment paper.
Combine the oats, brown sugar, and salt in a large bowl.
Melt coconut oil over low heat. Add honey and stir over low heat until combined.
Pour mixture over the oats and stir to combine. Spread in an even layer on the prepared baking sheet.
Bake 15-25 minutes, until lightly toasted.
Let cool on the baking sheet for 10 minutes. Sprinkle any add-ons (nuts, dried fruits, chocolate chips) on top. Let cool and store in an airtight container until ready to assemble the parfaits.
To assemble parfaits: Layer yogurt, fruit, and granola in a tall glass. Drizzle top layer of granola with a bit of honey.
Egg Cups Recipe
These are a great make-ahead breakfast any day of the week, and also allow customization for picky or adventurous eaters. The basic recipe is one egg for every egg cup, plus whatever add-ons your desire. We added fresh chopped chives, bacon, and mozzarella cheese left over from pizza night. It's a great way to use up odds and ends and also sneak some veggies in! The recipe below makes 12 egg cups.
Ingredients
12 eggs
¼ cup milk or half and half
Salt and pepper, to taste
Optional add-ons: veggies, diced bacon or ham, shredded cheese, etc.
Directions
Preheat oven to 350° and coat a 12-cup muffin tin with nonstick cooking spray.
Crack eggs into a large bowl, add milk or half and half, plus salt and pepper. Whisk to combine.
Add any optional ingredients and stir to combine.
Fill muffin tins ⅔ of the way full with egg mixture. (We like to sprinkle a little extra cheese on top, too.)
Bake for 20-25 minutes, until eggs are set and slightly puffed.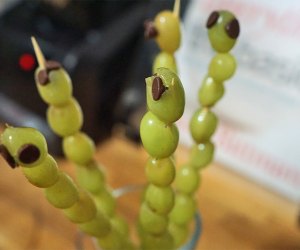 Grape Caterpillars Recipe
There's not much of a recipe here, but my daughter was enamored with the version served at an American Girl tea we once attended and begged to remake them at home. They make a cute side dish and are easy for little hands to assemble (just beware the sharp edge of the skewer).
Ingredients
Wooden skewers
Green or red grapes (or both)
Mini chocolate chips
Directions
Thread grapes one by one onto the skewers.
Using two chocolate chips, give the top grape on each skewer eyes by inverting the chocolate chips and inserting the pointed tip into the skin of the grape.
This article contains some affiliate links, which means we might earn a small commission if you make a purchase. There is no extra cost to the reader. We only recommend products and services that we have personally used or have thoroughly researched.
Photos by the author