The Very Hungry Caterpillar Show
DR2 Theatre

NYC Easter Brunch Cruise 2023
Event Cruises NYC

Easter Fun Cruise with Egg Hunt 2023
Event Cruises NYC
Sign up for our free newsletters.
Chore Charts for Kids: Age-by-Age Lists and Free Printables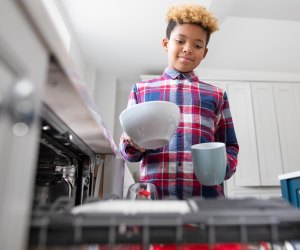 4/14/20
- By
Kelley Heyworth
It's spring, everyone is stuck at home, and housecleaning services are on hiatus: If ever there was a time to roll out chore charts for your kids, it's now! Children as young as 2 or 3 are not only capable of many household tasks but benefit psychologically and emotionally from pitching in, according to research. A famous Harvard study that tracked men over their lifetimes showed kids who did jobs, in or out of the home, were more likely to be more successful and happy as adults. (We don't need scientists to tell us extra help boosts parents' mental health, too.)
Of course, little kids and big kids are different in what chores they can handle, and what motivates them to help. We've tapped experts and veteran parents to make these age-by-age chore charts with developmentally appropriate jobs for toddlers to teenagers. Parents can use the boxes on these printable charts to check off chores kids are responsible for each week or fill them with stickers for a job well done. Check out these 20 ways kids and teens can help others during coronavirus to learn how children can pitch in outside the home, too.
Be specific about tasks. Instead of "clean your room," spell out what that entails ("make your bed" and "put clothes in the hamper.")
Be consistent. Changing rules and expectations week to week can create confusion and frustration, says the AACAP.
Be positive. Even teenagers appreciate "sticker charts" or reward systems that can earn them spending cash or certain privileges. But praise and heartfelt "thank yous" often mean more to kids than parents think, too.
Age-Appropriate Chores for 2- to 5-Year-Olds
Above all, preschoolers should focus on taking care of their own bodies and bedrooms. Some chores ideas are:
Get dressed
Brush teeth
Make bed/pull up covers
Put toys in bins/boxes (indoor)
Put toys in bins/boxes (outdoor)
Put dirty clothes in the hamper
Put clean clothes away
Sort unmatched socks
Stack books on a bookshelf
Set the table
Clean/gather sticks from the yard
LINK: Printable chore chart for 2- to 5-year-olds
Age-Appropriate Chores for 6- to 9-Year-Olds
Once they hit grade school, kids can start pitching in for other family members and perform tasks that might require reading (like sorting mail).
Carry family members' hampers to laundry area weekly
Sweep/vacuum (handheld) floors
Wipe doorknobs and faucets with disinfecting wipes
Wipe tables and counters
Dust tabletops
Clear table after dinner
Put utensils away
Empty small wastebaskets
Bring in mail and sort by family member
Pull weeds
Feed pets
LINK: Printable chore chart for 6- to 9-year-olds
Age-Appropriate Chores for 10- to 12-Year-Olds
It's tempting to give tweens big jobs, but it's important to keep safety in mind. If they are tasked with walking pets, for instance, be sure to set a local route, and give them instructions for what to do in an emergency.
Put away their own laundry
Load and empty dishwasher
Wash and dry dishes/pots and pans
Mop/Swiffer floors
Sweep out the garage/walks
Vacuum rugs
Carry in/put away groceries
Empty kitchen garbage/recycling
Organize pantry items
Walk pets
Pick up dog waste/clean cat litter
LINK: Printable chore chart for 10- to 12-year-olds
Age-Appropriate Chores for Teens
Teens are capable of doing most tasks adults would do, especially if they are driving. Withholding privileges if chores aren't done is fair game, but consider rewards for finishing chores, too.
Do own laundry weekly
Change own bed sheets
Wash car
Babysit younger siblings (set times per week)
Wipe down inside of the refrigerator
Wipe down inside of the microwave
Pick up groceries with a list
Fill cars with gas (if driving)
Rake leaves
Mow the lawn
Bathe/groom pets