10 Great Family Campgrounds in and Near Westchester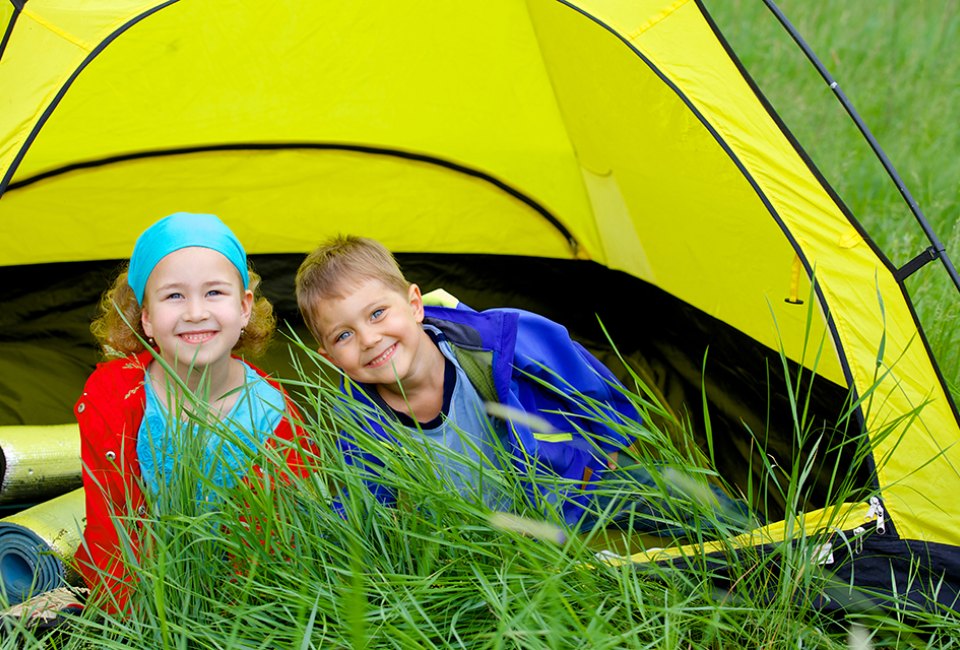 5/24/19
- By
Christi O'Donnell
If camping is on your summer bucket list, you're in luck: There are lots of campsites both in and around Westchester and the Hudson Valley, which means you'll never be at a shortage for places to pitch your tent for a few nights.
Next time you're ready to pack up your sleeping bag and s'mores provisions, consider staying at one of these area campgrounds, some of which offer even more fun activities for kids, like playgrounds and beaches.
Prefer something a little different? Check out these alternative camping ideas—and our entire summer activity guide!
Note that campground openings and closures are changing frequently in the 2020 season; click through to the campground website for the most current information.
Westchester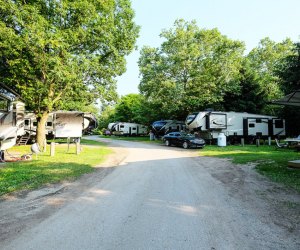 Croton Point Park is another Westchester County Park that makes for a fantastic weekend getaway.
Croton Point Park – Croton-on-Hudson
1A Croton Point Avenue
Sitting on a small peninsula that juts out into the Hudson River, Croton Point Park is a Westchester County Park that makes for a fantastic weekend getaway. In addition to ample camping space, you'll find kayak rentals, a swimming beach, a swimming pool, a concession stand, two playgrounds, a nature center, showers, grill pits, and hiking trails. The park is easily accessible from MetroNorth, and, if you pack light, an easy walk from the train station. During the summer months, the park is home to many festivals and concerts, like Clearwater's Great Hudson River Revival, so check the park calendar and plan ahead and take advantage of—or avoid—the festivities.
Ward Pound Ridge – Pound Ridge
4 Reservation Road
Located in one of the northeastern most corners of Westchester, Ward Pound Ridge is an expansive, 4,315-acre park that boasts a wide array of amenities and activities. Camping is available in stone lean-tos and at seven tent sites throughout the park. While all of the sites are beautiful, lean-to number 15 has an amazing view of the Hudson River.
Sal J. Prezioso Mountain Lakes Campground – North Salem
210 Hawley Road
Mountain Lakes Park is just a few miles north of Ward Pound Ridge—and has all of the amenities you'd like to find in weekend camping getaway, including barbecues, picnic tables, and bathrooms at each site, plus activities like hiking, swimming, and more. Not into tent camping? There are yurts as well as an entire cabin (it sleeps up to six) you can rent, instead.
Putnam
RELATED: 10 Easy New York State Park Hikes for Families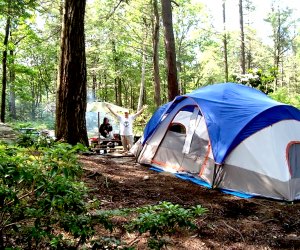 Set up camp in Fahnestock State Park.
Fahnestock State Park – Carmel
1498 Route 301
Just about 15 miles north of the Westchester County line, Fahnestock State Park is an easy trip up the Taconic from many spots in Westchester. In addition to the state park's 80-site campground, Fahnestock boasts a swimming beach and boat rentals on Canopus Lake, and plenty of hiking (including access to the Appalachian trail). Fahnestock's campground is unique in that it is open for camping into December; most local parks only allow camping through Labor Day or Columbus Day. Amenities include showers (always a plus!) and a camp store with concessions.
Rockland
RELATED: 35 Things To Do with Kids in the Hudson Valley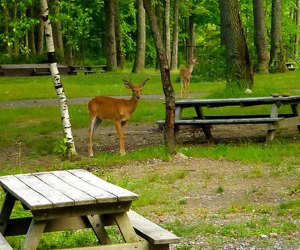 Catch a glimpse of a deer or two at the Beaver Pond Campground.
Beaver Pond Campground – Stony Point
Inside Harriman State Park in Rockland County, Beaver Pond Campground is a popular weekend destination. The campground has approximately 126 sites available, as well as sites for trailers, plus all of the amenities campers expect to find—bathrooms, showers, picnic tables, and fire pits.
Dutchess
Sylvan Lake Beach Park — Hopewell Junction
With sites for both RV and tent camping (there are more RV spots here), this campground on the banks of Sylvan Lake Beach offers a host of fun amenities, including swimming, boating, and a playground. Sports-loving families will love that there are places to play volleyball, basketball, baseball, and more. There are showers and bathrooms—and even on-site laundry.
Ulster
Saugerties/Woodstock KOA – Saugerties​
There's so much for families to do at this Catskill campground, including a pool in the summer, a gaga pit, game room, and mini-golf—plus activities throughout the season, from crafts to a "flashlight candy hunt." For the traditionalists, there'­s hiking and catch-and-release fishing—and sites for tents or RVs, as well as cabins for as many as six people, some of which even include air-conditioning and bathrooms.
Greene
North-South Lake – Haines Falls
Located in the Catskill Forest Preserve, about two hours from central Westchester, this campground has more than 200 sites—plus tons of activities to keep families busy. That includes lakes and beaches, where you can rent boats and go fishing, plus a playground and tons of hiking trails. (Kaaterskill Falls—which offers a great view of waterfalls—is a short but satisfying hiking trail nearby.) There are showers and bathrooms, too.
Across State Lines
Strawberry Park — Preston, CT
About two hours from central Westchester, this Connecticut campground is worth the drive: Not only does it have RV sites and cabins for rent, but there are family-friendly activities to take part in all day, every day. That includes everything from dodgeball to bowling, magic shows to bingo. And did we mention there are multiple pools, a splash pad, playground, and lots more? (Including bathrooms, showers, laundry, and even an on-site restaurant.)
High Point State Park – Sussex, NJ
If you're looking for a traditional camping experience, you'll find it here, about 1.5 hours from central Westchester. High Point State Park offers hiking trails and swimming opportunities (in Lake Marcia), and its tent sites—some of which welcome pets—come equipped with a barbecue and picnic spot. Two multi-bedroom cabins are also available to rent. In the summer, there's an entrance fee (which is higher if you're out-of-state) and non-resident campsites will run you about $25 per night.
Photos courtesy of NYS Parks
Click Here to Sign Up!
i