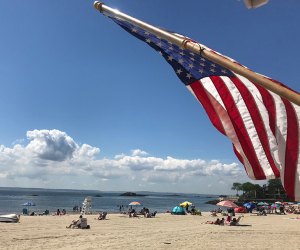 Best Beaches Near Westchester: Family Fun at the Shore
As you plan your summer to-dos, a few beach days are likely on the list—right up there with visits to swimming pools and splash pads. So, where to go? There are a few local spots right in Westchester, which boasts 36 miles of coastline along the Long Island Sound, as well as a whole slew of beautiful beaches close by in Connecticut, Long Island, and New Jersey.
Here's a look at a few of our favorite beaches in the area, where kids can play in the sand and you can (fingers crossed) make it through at least a few pages of your latest beach read.
Looking for even more outdoor fun? Check out our Summer Activity Guide for Westchester Kids.
Editor's note: Be aware that many beaches and parks have reduced parking by 50% for social distancing purposes. Check the park's website for the most up-to-date information and secure your spot on the sand by arriving early. While we are trying to promote safer activities that occur outdoors or with social distancing guidelines in place, please keep your family and others safe by always wearing a mask, practicing social distancing, and packing plenty of hand sanitizer.
Best Beaches in Westchester
Between the beach, the pool, and Playland park itself, you could easily spend all day at this Westchester institution. The beach is open weekends only starting Saturday, May 29 through Sunday, June 20, and daily starting Friday, June 25. There's a small admission fee to the beach for everyone over 5 years old, and you have to pay to park—but if you don't feel like packing a chair or umbrella, you can rent one for $5 each. Also important: You don't have to be a county resident to visit. Common sense social distancing guidelines are in place on the beach. The bathrooms are open, but the showers are, unfortunately, closed. Food concessions are open with a limited menu and outdoor service only.
If you're looking for an alternative to Playland, considering heading right next door to Rye Town Beach. Just like its neighbor, the beach isn't huge, so it's manageable with little kids. On the town side, you'll also find lots of grassy space to run around, plus The Barley Beach House restaurant. Another new feature: You can rent a stand-up paddleboard or kayak on the weekends. For non-permit holders, parking starts at $5 per car if you're staying for two hours on a weekday and goes up from there. On weekdays, it's $10 per person (kids under 12 are FREE) to get on the beach itself and $15 on weekends.
Glen Island Beach and Park are still serving as a COVID-19 testing center, and no updates on the 2021 beach season have been announced. The park was reopened to Westchester residents in March, but it's not clear when the beach will open for the season. Bookmark the Westchester County Beach site for operational updates.
RELATED: Top Swimming Lakes and Rivers for Westchester Families

Popular Jones Beach State Park is a great summer day trip destination. Photo courtesy of NY Parks and Rec
Best Beaches Near Westchester
Located about an hour from central Westchester, this Long Island park has more than six miles of beach to choose from. There's plenty of other things to do as well, from bocce ball and shuffleboard to playgrounds and the Wild Play Adventure Course. You can pack a cooler of food and snacks or try one of the concession stands. Parking is only $10 per car in-season (some activities are extra). Visit the park's website before you drive in to see which lot has the most open spots via the Realtime Parking Assistant. For more, check out our write-up on a day at Jones Beach.
Also, about an hour from central Westchester, this Long Island outpost offers lots for families: from a renovated boardwalk that's great for walking and biking to lots of beach time. There are designated spots to enter the beach, where you can purchase a day pass (it's $15 per person for nonresidents). Starting Saturday, May 29, the beach is open every day, and there are lots of spots to eat and places to play, plus free parking on the street. Read more in our look at Long Beach.
RELATED: How to Get to NYC Beaches by Ferry or Train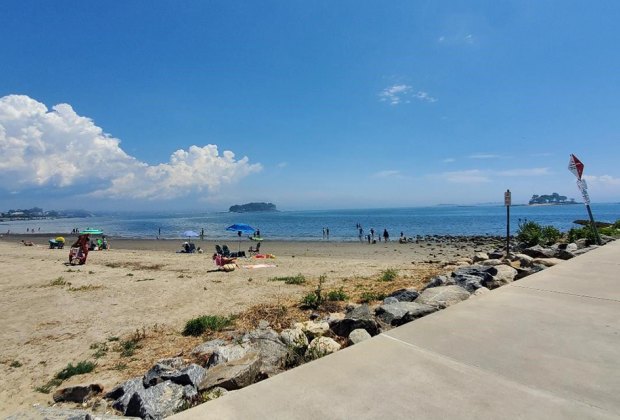 Calf Pasture Beach hosts special events all season long! Photo courtesy of the City of Norwalk
If you have little kids, you've likely already been to Norwalk to visit Stepping Stones Museum for Children or The Maritime Aquarium, but the beach is another reason to make the quick, half-hour drive from central Westchester. Along with playing on the beach, there's a playground and a splash pad—and if you'd rather not pack lunch or snacks, you can pick something up at Ripka's Beach Cafe. Parking is $40 per car during the week until 5pm (it drops to $20/car after that). On weekends, the beach is reserved for residents only.
RELATED: Best Swimming Pools for Westchester and Hudson Valley Families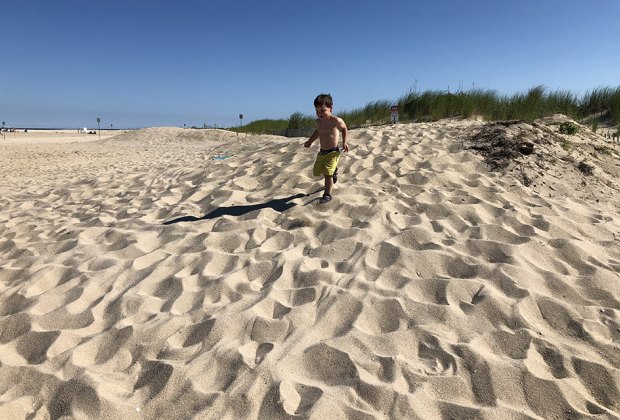 The beautiful beach in Sandy Hook, New Jersey, is worth the drive. Photo by Louise Finnell
It'll take about an hour and a half or so to get to this New Jersey beach from central Westchester, but once you're there, you'll be rewarded with some prime sun and sand time. The beach is FREE and opens every day in the summer, but parking is $20 per day. A word of caution: Arrive early as space is limited. When Sandy Hook reaches capacity for the day, which it often does on weekends in the summer, the gates are closed. Unfortunately, the Sandy Hook Lighthouse and visitor center are closed until further notice.
This post, originally published in 2019, is updated annually.