10 Destination Parks for Westchester Families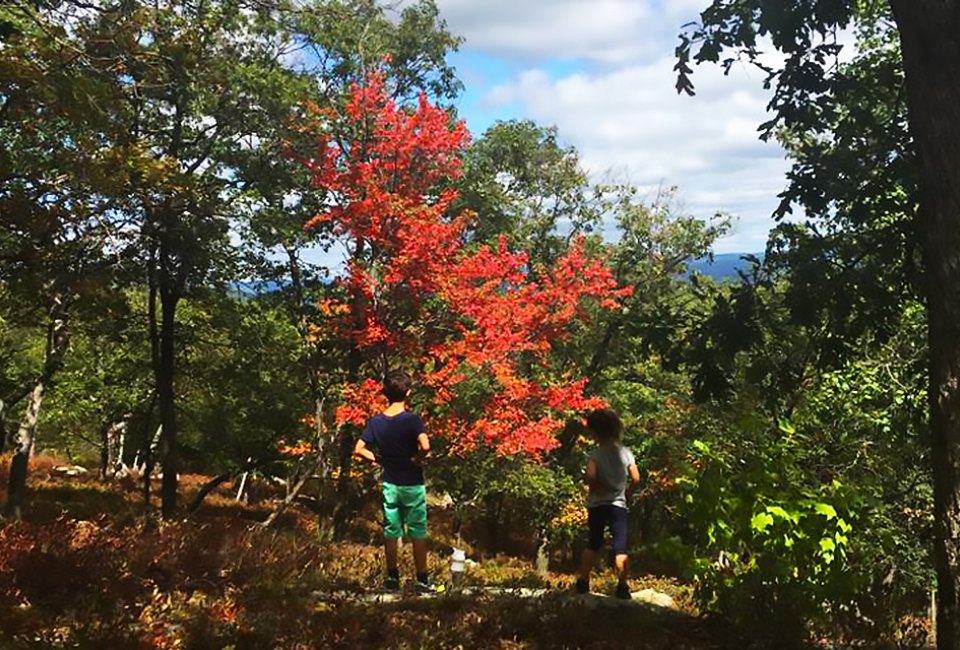 7/7/19
- By
Christi O'Donnell
Parks in Westchester County
Croton Point Park – Croton on Hudson
This Westchester County Park is located on a beautiful peninsula, jutting out into the Hudson River. Perfect for an all-day get away or a weekend camping trip, Croton Point Park is located just up the street from MetroNorth's Croton Harmon station, making it an exceptionally easy trip for families and individuals who prefer mass-transit to driving. Amenities within the park include camping facilities, a swimming beach, playgrounds, the Croton Point Nature Center, kayaking, ample picnic tables and grills and picnic pavilions. Plan to stay well into the evening to take in a summer sunset over the water; they are particularly spectacular here. Though you don't need a Westchester Parks Pass to enter, it will get you discounts on parking ($5 per day vs. $10 without a pass). For the beach, it's $4 for adults, $3 for kids, with under-5's free.
Franklin D. Roosevelt Park – Yorktown
If you're looking for an ideal location for an old fashioned family cookout, it's hard to find a better place than FDR Park. This New York State park boasts a double Olympic-sized swimming pool, boating, fishing, picnic space for hundreds, picnic pavilions and shelters, ample grills and picnic tables, huge grassy areas for games and sports, an extensive multi-age playground, nature trails, disc golf, and more. Picnic reservations can be made in advance—and you're in luck if you're having a big party; they can be made for as many as 500 people! Parking fees are in effect from May through October; parking costs $10 per car with addition fees to use the pool and row or paddle boats.
RELATED: Top Playgrounds for Kids in Westchester and the Hudson Valley

The 105-acre Glen Island Park is connected to New Rochelle by a drawbridge built in the 1920s.
Glen Island Park – New Rochelle - temporarily closed while serving as a coronavirus-testing area
Connected to the Westchester mainland by a drawbridge, Glen Island Park is the county's second-most-used park. Originally developed as a summer resort, the former collection of islands (now connected to one another) is still home to a Neo-Georgian bath house, German Rhineland style-castles, and other historic elements. Picnic areas can be reserved and other activities include swimming at the beach, fishing, boating, playgrounds, waking trails and more. Admission is limited to Westchester residents—and parking fees are $5 per car with a parks pass and $10 without one.
Harbor Island Park – Mamaroneck​
At 44 acres, this park is a bit smaller than others on this list, but that doesn't mean there's any less to do, especially in the summer when the beach is open. Along with the beach, there's a splash pad for kids, a great playground, tons of green space and baseball fields. There's also tennis, a volleyball league in the spring and summer, and three separate rental areas for parties and events. In the summer months, there's an entrance fee to park, as well as a charge to get on the beach.
Sal J. Prezioso Mountain Lakes Park – North Salem
Sure, you could easily spend the whole day at this huge Northern Westchester park, which has lots of activities—from hiking to fishing to a "high/low ropes challenge course"—for families. Or, you could just break out the camping gear and spend the weekend at one of the lean-tos, all of which are equipped with grills, picnic tables and more. For something a little different, consider renting one of the yurts (they sleep up to 10), the director's cabin or even the fully-heated Laurel Cabin. You don't need to be a resident to visit, but residents do get a discount on camping fees, which start at $25 per night.
RELATED: 10 Easy New York State Park Hikes for Families

Saxon Woods Park has trails, playgrounds, and the largest swimming pool in Westchester. Photo by Marisa Iallonardo
Saxon Woods Park – White Plains
There are two entrances to this White Plains park, both located right off Mamaroneck Avenue. One will take you directly to the recently renovated playground (read our full review), the mini-golf course and the pool and splashpad. At the other entrance, you'll find the covered pavilion area and lots more picnic tables, plus a smaller playground area. Can't decide? Stick with the hiking trails, which are accessible from either entrance, and link the two areas. If you enter through the covered pavilion entrance, there's a $5 parking charge for Parks Pass holders ($10 with no pass); there's no cost to park at the playground entrance, though there are fees to use the pool and mini-golf.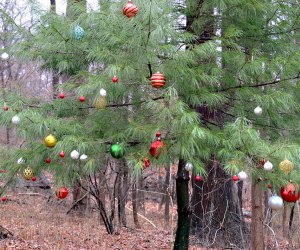 Visit Tibbetts Brook Park at Christmas to wander the trails and gaze at the Christmas trees. by D.Fletcher / CC BY-ND 2.0
Tibbetts Brook Park – Yonkers
Like Glen Island Park, Tibbetts Brook Park is a Westchester County park with admission limited to Westchester residents and Park Pass holders. A fantastic location for a day trip, this park is home to lots of perfect-for-summer water activities and features, including water slides, pools, a splash pad and a lazy river. In addition, there are fields for ball sports, playgrounds, mini golf, picnic facilities (including pavilions and tables) and concession stands for those who would rather not cook. Parking fees are in effect June through September and cost $5 per car with a Park Pass.
RELATED: Westchester Parks That Are Great for Birthday Parties

The zero-depth entry at Willson's Waves makes it a perfect pool for tots. Photo courtesy of Willson's Waves
Willson's Woods Park – Mount Vernon
There's lots to love at this Mount Vernon park—from a playground and covered pavilion area (which can be rented for as many as 100 people) to Willson's Waves, a must-visit water park. At Willson's Waves, you'll find a splash pad with 57 (!) jets, two water slides and a zero-entry pool, with waves up to three feet. You have to be a County resident to visit the park.
Parks Beyond Westchester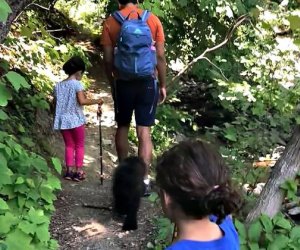 Take the kids to Bear Mountain for a day of exploration. Photo by Samara Sweig
Bear Mountain State Park – Bear Mountain
One of the most well-known of all the local parks, Bear Mountain State Park sits just over the Bear Mountain Bridge from Westchester. With all it has to offer, it's an easy place to arrive early or stay late—or even overnight at the Bear Mountain Inn. Kids will appreciate the old fashioned carousel, as well as the zoo, playground, swimming pool and the large open spaces to run around, while adults will enjoy the convenient picnic tables and grills. There's also hiking, and in the winter, ice skating. Parking fees are $10 per car, with additional small fees for the merry-go-round, pool and boat rentals; zoo admission is free though there is a suggested $1 donation.

Canopus Lake boasts beautiful water and clean sand. Photo by Mizmareck via Flickr
Fahnestock State Park – Carmel
Situated along the Appalachian Trail, Fahnestock State Park is beautiful and offers tons for families to do, from on-site camping (which is just a short walk from the concessions café) to swimming and row boating on Canopus Lake. A ring of picnic tables and grills surrounds the swimming beach, making for a convenient summer cook-cookout complete with tree-supplied shade. Looking for a winter getaway? Once the snow begins falling, Fahnestock State Park becomes Fahnestock Winter Park with sledding, snowshoe trails, cross country ski trails and ski rentals, a warming hut, and the Acorn Cafe. Parking fees are $8/car for the beach area, with separate fees for camping, boat rentals. Winter activity costs vary.
This post was originally published in 2014 and has since been updated, with additional reporting by Marisa Iallonardo.