Where Westchester Kids Can Ski, Snowboard and Sled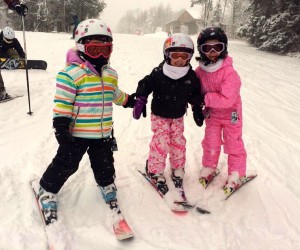 1/2/17
- By
Christi O'Donnell
We've already covered the ways kids can learn figure skating and ice hockey in Westchester, but now we're going to turn our attention to some of the other outdoor winter sports.
We've rounded up the best places for kids and families to learn snowboarding and skiing of all kinds ... and even curling for any of you Olympic lovers! Looking for more skiing fun? Check out our Snow Sports Guide dedicated to the subject, and also sign up for our newsletters.
Alpine Skiing and Snowboarding
While we don't have the monstrous peaks and plush powder bases of Vancouver or Salt Lake City, the metro-area has several ski destinations just an hour or two away, like Hunter Mountain, Mountain Creek or Bellayere Mountain. But what if you feel like staying even closer to home? Check out these two family friendly mountains, less than an hour from just about every point in Westchester.
Mount Peter - Warwick
Located in Orange County, Mount Peter is known as the "friendly mountain." It's the perfect spot for beginners just learning to ski, whether an adult or a child. It's also a great place for accomplished elementary and middle school kids who are craving a little freedom—Mount Peter is small enough to let good skiers roam without Mom and Dad. It also has tubing! Read our full review on Mount Peter for everything you need to know.
ThunderRidge - Patterson
Thunder Ridge is like Mount Peter's big brother. With 30 trails to Mount Peter's 13, this is the place to go when your family is made up of a wide variety of skiing or snowboarding abilities. It offers three chairlifts and four magic carpets to get skiers and boarders up to their destinations and then about 10 difficult, 10 moderate and 10 easy ways to get down. The mountain's ski school offers lessons designed specifically to help parents learn how to teach young children (ages 3-5) to ski as well as conventional programs for ages 4 and up. On mountain amenities include on-site babysitting, dining options, a lodge, terrain park and a ski shop. Special discounts and transportation services are available to visitors coming via MetroNorth.
Sledding
You're not going to top out at speeds of 90mph on these hills, but Westchester and the surrounding areas offer plenty of high speed sledding and tubing thrills for budding adrenaline junkies.
Fahnestock Winter Park - Cold Springs
Just a few minutes north of the Westchetser County line, Fahenstock Winter Park is a hidden gem—I almost hesitate to write about it. The park offers a warming lodge, café, outdoor fireplace, groomed trails and a variety of rentals—including snow tubes. Though the hill is small compared to some others in the area, it is perfect for families with toddlers, preschoolers and young school age children.
Rockwood Hall - Sleepy Hollow
Part of the Rockefeller State Park Preserve, Rockwood Hall has the sledding hill with the best view in all of Westchester County. From the top of this 150-foot hill you can see the Hudson River, Palisades, Tappan Zee Bridge and, on a clear day, the skyscrapers of Manhattan. This is a dedicated sledding hill, complete with a sign warning sledders to be careful, and is well maintained by park staff. Though there are some gentler ways down, this hill is better suited to elementary school ages and up.
Ward Pound Ridge - Pound Ridge
Ward Pound Ridge is another local park with a dedicated sledding hill. A large, wide hill beside the nature museum, I've heard rumors that it can easily double as a bunny-slope for pint size skiers. County parking fees apply when the booth is occupied.
Curling
Curling is an Olympic sport that dates back to medieval Scotland. Part of the Olympic games since 1998, this is the sport that routinely sends people scrambling to the internet in droves to figure out what the athletes are doing on the ice with brooms and a large pancaked-shaped-thingy with a handle. As lucky would have it, Westchester County is home to the Ardsley Curling Club which has been around since 1932, making it one of the oldest clubs in the country! The club offers lessons for children as young as 10 years old.
Cross-Country Skiing
Unlike downhill skiing, cross-country skiing can be a quiet, slow paced activity enjoyed in just about any park with wide open spaces and recognizable trails. Thirteen Westchester County Parks offer marked cross-country skiing paths, while an additional nine parks allow skiing but do not provide marked trails. Add that to the three state parks in Westchester with XC Skiing trails (Rockefeller Preserve, FDR State Park and Old Croton Aqueduct) and there are 25 easy-to-access options right in our own backyard.
It is worth singling out Fahnestock Winter Park again for the fact that it is the only local park that provides cross-country ski rentals and professionally groomed and maintained trails!
If you're look for more ideas on enjoying winter with kids, check our Winter Fun Guide!
This was originally posted in 2014 and has been updated for 2017.
Photo taken by the author.