Mount Peter: New York's 'Friendliest' Skiing For Families
1/13/16
- By
Lisa Johnston
Mount Peter may not be largest mountain in New York, but it could be the best for beginners.
We've reviewed tips for skiing and snowboarding with children in the past, and now we want to shine a light on one mountain that takes very seriously its job of making skiing fun. Located in Warwick, N.Y., in Orange County—about a 1-hour drive from the George Washington Bridge—Mount Peter is a very small hill that's perfect for anyone who wants to learn how to ski or snowboard. We have visited the mountain many times over the past few years, so read on for what you need to know.
Lessons
Family skiing is one of those activities that sounds amazing in theory: bonding time in the great outdoors, the brisk air chilling away the winter funk, settling in after a long day with some hot chocolate. Achieving that successful vision with a first-timer, however, is another story—albeit very possible as long as you enlist some help.
Mount Peter is known as "The Friendly One," and for good reason. It offers FREE group lessons three times a day for beginners. These 1-hour lessons are held on Saturdays and Sundays at the base of the mountain and will focus on getting skis or snowboards on and off, balance, stopping and changing direction. You must be at least 5 years old to participate in the free lessons. Kids potty-trained through 4 can enroll in Pete's Pals, a two-hour package deal that includes rentals, a lift ticket, a lesson and hot chocolate.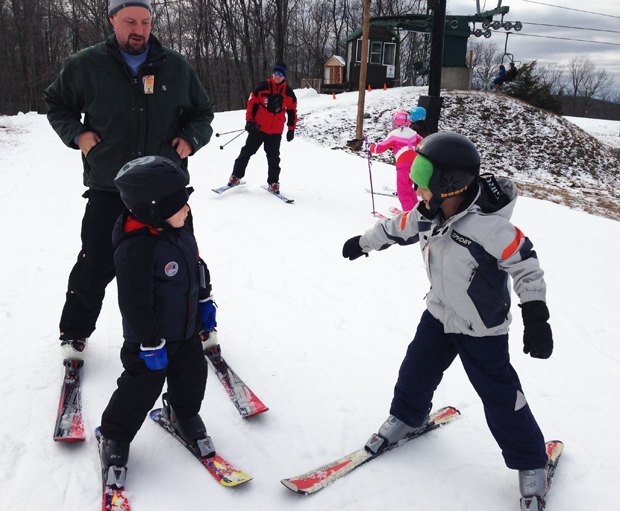 There are lessons available for almost all ages.
If you're looking for more individualized instruction, or if you're past the very beginner stages, there are also group and private lessons available for a fee. Mount Peter also has weekly lessons and a race team if you're interested in regular instruction.
We can report that the instructors here are incredibly patient and, yes, very friendly. My son took the free group lesson on his first day on skis when he was 7; after I had sweated and gritted my teeth getting his equipment on and trying to keep him upright for 30 seconds, they had him doing the "pizza" and "French fries" by the end of his first lesson, all with a massive grin on his face. Mount Peter doesn't just want kids to learn how to ski; they want them to have a great time.
The Mountain
It's important to keep your expectation in check when it comes to skiing at Mount Peter. Not only is this the East Coast (and not Vermont), but Mount Peter is an especially small hill. While experienced skiers and snowboarders shouldn't expect long, leisurely rides, the plus side is that the mountain is small enough that we're comfortable letting our son ski ahead now that he has a few years of experience.

No, this isn't Vermont, but it's a lot closer!
There are 14 trails, ranging from green to black diamond, with three chair lifts, a Magic Carpet and a tow rope. There's also a small terrain park with a few jumps and rails. When Mother Nature won't cooperate, Mount Peter is able to keep things going with some heavy-duty snow-making capabilities. The winter temperatures are still required to play nice, so always check the conditions before you go.
Warming Up
Mount Peter has two small lodges, one of which serves food (your standard stadium fare: burgers, nachos, chicken fingers, French fries, doughnuts, soup, soda and, of course, hot chocolate). There are also vending machines; an outdoor shack that serves a limited menu of burgers, pretzels, baked goods and drinks; and a pub. A retail shop carries anything you might have forgotten. Lockers are available if you want to secure your belongings.

Hot chocolate is a must at the end of the day.
Tubing
This is the first year that Mount Peter is offering tubing. While we've yet to try it, it does look promising. Tubing is not included in your lift ticket, but it's certainly one way to shake off the grumpies when skiing becomes too frustrating.
Tips
Take advantage of the free lessons! We can't overemphasize just how friendly the instructors have been. If you already know how to ski, take a few trips down the mountain while your kids learn with an expert trained in patience.
Like most places, the rental office can be mobbed on busy weekends. One option to avoid the lines is to visit your local ski shops to price rentals. You might find the time you'll save is worth your while.
The parking lot can get jammed on busy days, so take advantage of the unloading zone directly in front of the office if you're bringing your own equipment.
Mount Peter also offers night skiing, and the crowds are considerably lower during the week. If you can't swing a weekday trip, we suggest either being on the mountain when they first open (again, big advantage if you already have your equipment). The crowds also noticeably thin out during lunch and dinner time.
Looking for more advice for skiing with kids? We've covered some of the best safety tips in the past. Be sure to consult our Ski and Snow Sports Guide for even more winter fun!
Places featured in this article: