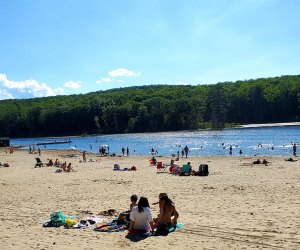 Swimming Lakes Near NYC for a Family Dip During Summer 2020
New Yorkers are lucky to be surrounded by water: When we get the urge to take a dip on a hot summer day, there are plenty of family-friendly beaches right here in NYC, plus those on Long Island or at the Jersey Shore. But, for families with little kids, the ocean can be intimidating, with its choppy waves and miles of hot sand without an inch of shade.
If you're itching to get the kids out of the city to enjoy a swim in the great outdoors, what better place than one of our area's beautiful, tranquil, freshwater swimming lakes? We've rounded up the best swimming lakes near NYC. Some are even close to our favorite family-friendly campgrounds, making them perfect for a weekend getaway that meets the social distancing requirements for summer 2020 fun!
For more fun things to do this summer, be sure to see our Ultimate Summer 2020 Staycation Planner for NYC Kids and our jam-packed Summer Fun Guide.
Remember that a lot of these state- or locally-run parks have limited parking spaces, and the pandemic has limited capacity in some cases, so once the lot is full, they'll start turning people away. Plan to get there at opening time, or make it a weekend getaway. And, before you go, be sure to read up on park rules and prices. Some allow barbecues; others do not. Many do not allow flotation devices, blow-up rafts, pool noodles, water wings, or other water toys.
Please note: While we've attempted to provide highlights of these swimming holes at their best, some of the features and amenities listed below are closed due to the coronavirus pandemic. Please click through to each venue to verify operating hours, conditions, and amenities before visiting.
Sign up for our FREE newsletters to get posts like this delivered to your inbox.
Best Swimming Lakes in New York State for Summer 2020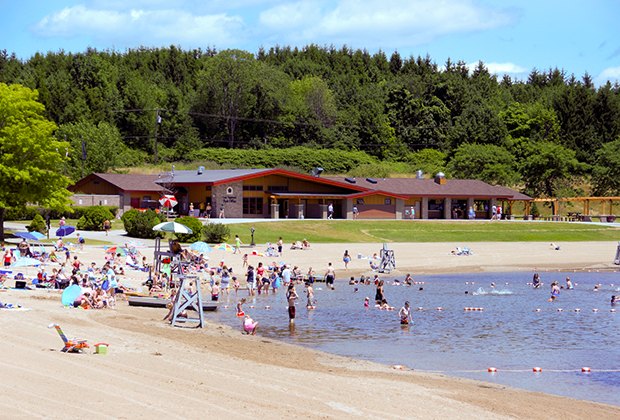 Lake Taghkanic offers a sandy beach, plus playgrounds and more fun for kids. Photo courtesy of New York State Office of Parks, Recreation, and Historic Preservation
1 hour, 45 minutes from Midtown Manhattan
This gorgeous Hudson Valley state park lake features a sandy beach for swimming, along with playgrounds, restrooms, a snack bar, picnic areas, and hiking trails, plus paddle boat and kayak rentals. If you can't bear to stay only one day, book a cabin or campsite along the water's edge. It's one of our favorite summer spots.
1 hour from Midtown Manhattan
This 100-acre lake in Fahnestock State Park boasts a large beach with picnic areas and hiking trails nearby, plus rowboat rentals and family camping. You'll also find a snack stand, restrooms, and shower facilities. Beware, this beach isn't staffed by lifeguards.
RELATED: 15 NYC Pools Set to Reopen by August 1 for Summer 2020 Swimming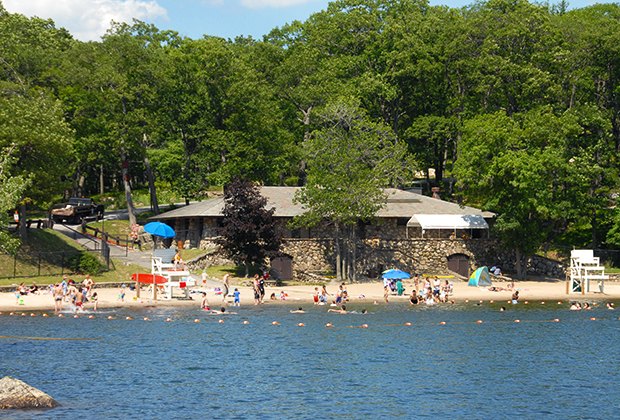 Lake Tiorati in Harriman State Park is always popular in the summer. Photo courtesy of New York State Parks
3. Lake Tiorati — Southfields, New York
CLOSED TO SWIMMING STARTING JULY 25 DUE TO ALGAE BLOOM.
1 hour from Midtown Manhattan
This popular swimming lake in Harriman State Park boasts a lovely sandy beach that can get crowded on hot summer weekends. The bathhouse has restrooms with showers. There are plenty of picnic areas and grills, but you might want to bring a full picnic basket—there's no concession stand, just vending machines.
2 hours, 15 minutes from Midtown Manhattan
If you're hoping to take the family camping, consider booking at North-South Lake Campground. Swimming is available at two beaches, as long as a lifeguard is present (call the campground for exact hours), and kids can stay busy with lots of additional activities, from hiking to horseshoes to playing on the playground.
RELATED: Best Spraygrounds and Sprinklers for NYC Kids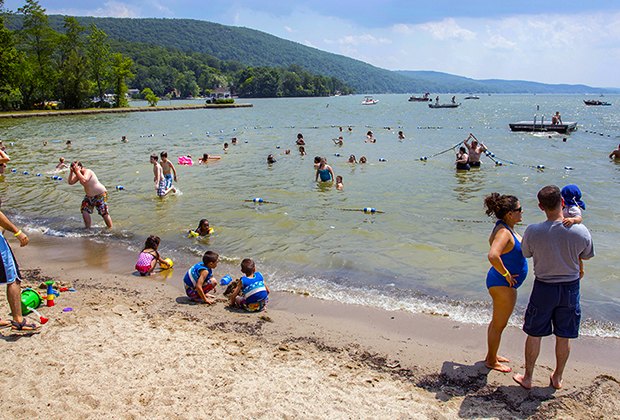 Greenwood Lake is one of the closest swimming lakes to NYC. Photo courtesy of the Village of Greenwood Lake, New York
2020 update: Lake is open, but swimming is limited to Warwick residents only, and passes are required.
1 hour, 15 minutes from Midtown Manhattan
This 9-mile lake is divided in half by the New Jersey-New York border. On the New York side, in the town of Warwick, you'll find a smallish sandy town beach for swimming, known as Warwick Town Beach or Thomas P. Morahan Waterfront Park. The beach park, with restrooms, volleyball court, and playground, is popular with locals and has a low-key vibe. There are a few picnic tables, and sometimes a food truck or two shows up.
Best Swimming Lakes in New Jersey and Connecticut for Summer 2020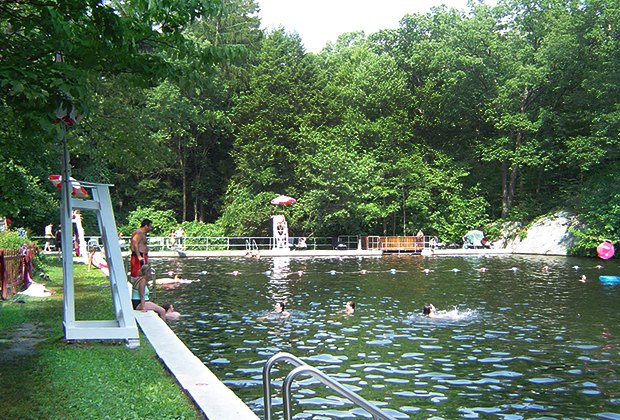 Highlands Natural Pool is carved out of a hillside in New Jersey. Photo courtesy of Highlands Natural Pool
2020 update: Capacity will be limited, and once it is reached, non-members will not be admitted but can wait outside and may be allowed to enter as other guests leave. Social distancing is encouraged within the pool area. A full list of rules can be found online.
1 hour from Midtown Manhattan
This Olympic-sized freshwater natural swimming pool in New Jersey is fed by a mountain stream and was carved out of a hillside in the 1930s. The pool goes up to 10-feet deep and includes a fenced-off shallow children's area. There is a snack stand and a picnic area, a beach volleyball court, hiking trails, and restrooms with changing facilities, but no showers.
2020 update: Reopened for daily swimming at limited capacity in 2020. Picnicking, chairs, and coolers are allowed on the grassy areas while the beach is limited to towels and a water bottle.
1 hour, 30 minutes from Midtown Manhattan
At 1,803 feet above sea level, the view from the High Point Monument is a spectacular panorama of rich farmland and forest that spans three states. Spring-fed Lake Marcia is cool and refreshing for swimmers. The beach is protected by lifeguards, and there is a bathhouse and food concession adjacent to the beach, which is open daily July through Labor Day weekend from 10am to 6pm (weather permitting). In addition, High Point offers more than 50 miles of trails as well as picnic and camping facilities.
RELATED: NYC Beaches Reopen for Summer 2020 Season
2020 update: Capacity will be limited, so arrive early to ensure entrance.
1 hour from Midtown Manhattan
During the summer months, the clear waters of beautiful Lake Wawayanda, part of the Wawayanda State Park, draws folks from all over the state and beyond. The park is known for its scenic forested hills, many trails (including part of the Appalachian Trail), and a tranquil atmosphere. Swimmers love that the lake is crystal clear, offering glimpses of fish as they swim by. Adjacent to the beach are changing stations, restrooms, a first-aid station, and concession stand. Visitors can also rent a variety of boats, including canoes, rowboats, and paddle boats. The lake gets crowded on the weekends, so be prepared to arrive early. It's open for swimming daily during the summer from 10am to 6pm. There is a fee, per carload, to enter the park. Prices can be found here.
RELATED: Easy New York State Park Hikes for Families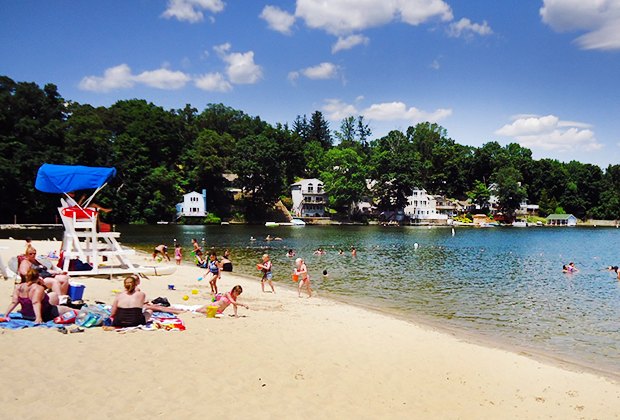 Lake Hopatcong State Park in New Jersey offers refreshing lake swimming, grills, a concession stand, and playgrounds. Photo courtesy of Morris County, N.J.
As of July 28, 2020, swimming remains open, but there is an algae bloom watch in effect. Capacity will be limited. Guests are asked to pay at the gate, and only towels are allowed on the beach. The playground is also closed.
1 hour from Midtown Manhattan
New Jersey's largest lake is a significant draw for swimmers during the summer. Hopatcong State Park, at the southwest end of the lake, boasts a sandy beach perfect for sandcastles, with picnic areas, a playground, a concession stand, restrooms, and shower facilities. Lifeguards keep the horseplay under control (we've seen them in action!). Get there early as the parking lot fills quickly on weekends.
2020 update: Capacity is limited to 50 percent. Visitors can bring coolers and chairs.
1 hour, 15 minutes from Midtown Manhattan
Swimmers, boaters, and fishermen enjoy the blue waters of Round Valley Reservoir. Swimming is permitted in the day-use area only, daily from 10am to 6pm during the summer months, while lifeguards are on duty. Swimming is not allowed in the main reservoir. There are plenty of beach-side amenities, including playgrounds, volleyball courts, changing areas with showers, and a concession building that sells food and beach supplies.
11. Bantam Lake – Morris, Connecticut
2020 update: Limited day passes will be sold, and social distancing measures are in effect. Once the beach reaches capacity, it will close for the day.
2 hours from Midtown Manhattan
This freshwater gem in Litchfield County, the northwestern section of Connecticut, has two beaches, but just one is open to the public. Sandy Beach on East Shore Road has a concession stand, restrooms, and a shaded picnic area.
A version of this article was first published in 2017. It is updated annually.