Camping at North-South Lake with Kids: Top Tips for a Family-Friendly Getaway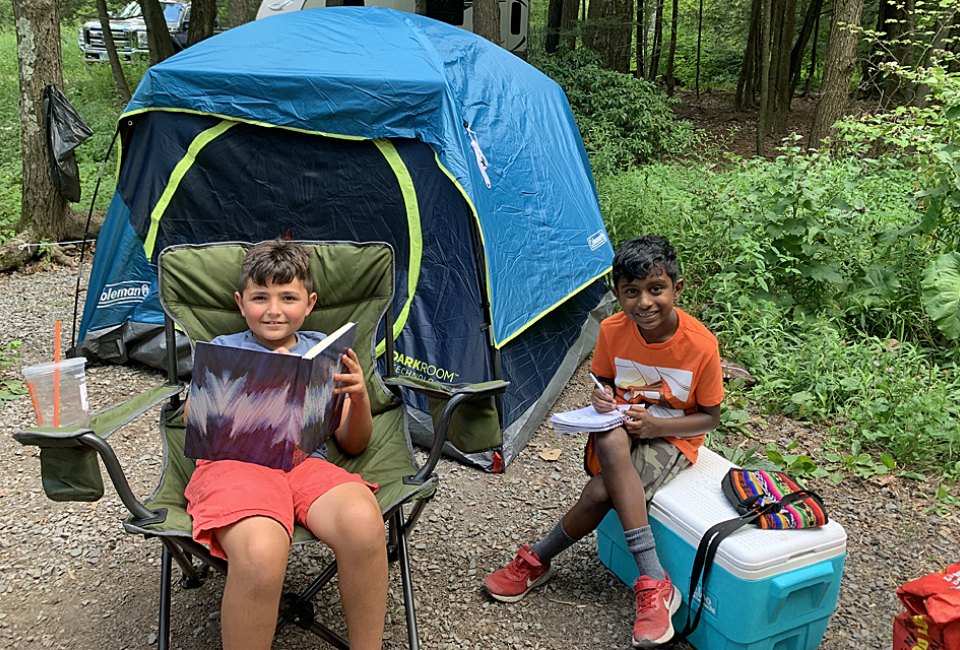 5/30/23
- By
Marisa Iallonardo
Whether you're a seasoned camper or a newbie, an overnight camping trip with the kids can be a great experience for the whole family. It was visions of tent camping and afternoon hikes that prompted my husband, two children, and I—plus our friends and their two kids—to book an overnight stay at North-South Lake Campground in Haines Falls last summer.
One of our favorite family-friendly campgrounds for families, this New York state-run facility offers plenty of creature comforts (bathrooms!) and had enough to keep kids occupied (playground! lake!), but not so much that they'd get overwhelmed.
Here's a closer look at what we did during our family camping trip to North-South Lake Campground. Find more picks for exploring nearby in our Outdoor Fun Guide.
Subscribe to our newsletters to get stories like this delivered directly to your inbox.
Camping at North-South Lake
Open for camping from approximately the end of May through the end of October—you can find the exact dates here—North-South Lake has 219 campsites in total, spread out over seven distinct loops.
Both tent and RV camping can be enjoyed here, with each site able to accommodate up to two cars and as many as six people. For larger groups, this map offers a good overview of where the campsites are located, so it's easier to choose spots that are side-by-side or at least in the same general area. Our camping sites were close to the lake, but far away enough that we weren't worried about the kids getting too close when they were playing on their own.
Each campsite is equipped with a picnic table and fire pit with a grill over it. Depending on where you are—and how big your group is—there are also pavilions with more picnic tables and grills.
And the bathroom situation is a good one here: There are multiple bathroom pavilions throughout the park, as well as showers and sinks for washing dishes, pots and pans, and the like. The bathrooms, while not luxury by any means, were clean and we felt comfortable using them. Though there are lights inside the bathroom, make sure to bring a flashlight or headlight when walking to them after dark.
RELATED: Best Swimming Lakes near NYC You Need to Discover

Rent a canoe, kayak, or paddleboard to explore the lake with kids.
Things To Do at North-South Lake
This is where, in my opinion, North-South Lake shines. That's in part because while there are things to do, there's not so much that it takes away from the fun of simply being outside and in nature. The four kids in our group—two 8-year-olds and two 5-year-olds—were able to explore the area around our site on their own, making up games and running around, which is part of what makes camping so great to begin with. Beyond that, here are some of our favorite activities from camping at North-South Lake:
Play in the Playground
At the campground, there's a small playground with swings and climbing structures as well as plenty of wide-open fields for a game of soccer or baseball and paved roads that are wide enough for bike riding.
Get out on the Water
There are two beaches as well, though when we visited, both were closed to swimming. The kids could play on the sand, which ours did. To get out on the water, you can also rent a kayak, canoe, or stand-up paddleboard. We opted to rent a canoe—life jackets and equipment are provided in the rental fee—and had a blast rowing on the clear lake.
RELATED: Easy Hikes near NYC in the Hudson Valley

Hit the family-friendly trails during your camping trip at North-South Lake Campground.
Go for a Hike
We did two hikes, one each day we were there. There was the easy and kid-friendly route up to the old Catskill Mountain House, where you can take in the incredible views that former guests (including presidents!) and Hudson River School artists took in. We also did the slightly more difficult hike up to Artist's Rock, which at only about a half-mile long, our kids were able to manage well.
Spend Time at Your Campsite
We grilled hot dogs, hamburgers, and other outdoor favorites, and of course, made s'mores at night. We watched the sunset on the lake and, as I mentioned, the kids had the freedom to explore the area while the adults hung out. The campsite feels safe and contained, so letting the kids have that extra freedom to roam was really nice, too. Pro tip: Bring glowsticks—they were a hit once the sun went down.
Head Into Town
Tannersville is about a 10-minute drive from the campground, making it a good spot to visit either before you head in or on your way home. We stopped at Last Chance for lunch, which has a kids' menu as well as a little shop selling cheese, candy, and other fun items. In the past, we've also gone to Maggie's Krooked Cafe.
RELATED: Family-Friendly Campsites Near NYC (With Extras for Kids!)

Be sure to catch a serene sunset over the lake during your visit to North-South Lake Campground.
Know Before You Go Camping at North-South Lake
Bookings for this campground go fast, especially if you're looking to go on a weekend, so definitely reserve your campsite as soon as possible or check back regularly for cancelations. The season runs from May through October. Reservations are $22 per campsite, per night, and can be made online.
Check-in is at 2pm and check-out is at 10am.
Bathrooms are clean and stocked with toilet paper and hand soap, though any other toiletries you might need—towels, shampoo, etc.—you'll have to bring from home.
Since the roads around the campsite are paved, bikes and strollers work well here. If your heart is set on swimming, make sure you check ahead of time whether the beach is open. If not, water sports like canoeing or kayaking offer a good alternative for kids.
There is a small store at the entrance to the park for necessities, including ice cream.
All photos by author
Places featured in this article:
Click Here to Sign Up!
i