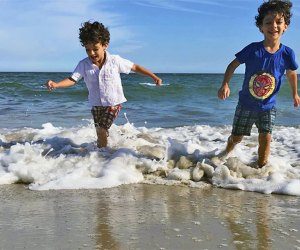 NYC Beaches Reopen for Summer 2020 Season
Fourteen miles of beautiful beaches can be found in four of NYC's five boroughs (sorry river-locked Manhattan), and they're all set to reopen on Wednesday, July 1, 2020. So, as much as we enjoy hitting the Jersey Shore, Fire Island, and other Long Island beaches, we're not big fans of renting cars and sitting in traffic.
Much like the city they call home, each of these shores has its own personality. Whether you want to while away an afternoon on the "Bronx Rivera" with its salty breeze and calm waters, go crazy at Coney Island, with its boardwalk, sideshows, and many amusements, or relax in the Rockaways, these urban seasides offer just about everything suburban ones do—except the out-of-town commute.
Beach Season Rules in 2020
Mayor Bill de Blasio announced the beach openings in his Wednesday press conference. While the beaches were never closed during the pandemic, they were off-limits to swimming, and no lifeguards were on duty. When city shores reopen, expect to be greeted by Parks Department ambassadors, who will encourage social distancing and direct beachgoers to alternate locations if the sand gets too crowded. Plan to wear a mask when social distancing is not possible, and wash your hands or use hand sanitizer frequently.
Family-Friendly Beaches in Brooklyn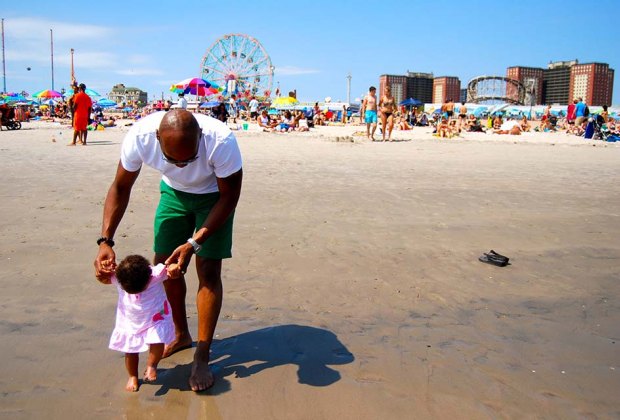 A day at Coney Island is one of the most accessible beach trips for New Yorkers. Photo by Jody Mercier
Luna Park, the New York Aquarium, and many boardwalk amusements are currently closed.
West 37th Street to Corbin Place
Getting there: D, F, N, Q to Coney Island-Stillwell Avenue

Coney Island is arguably NYC's most famous beach. It's the perfect destination for summertime fun with three miles of Atlantic Ocean for swimming, sunning, sand-castle building, and a slew of fantastic amusements.
Stroll along the iconic boardwalk, take a spin on the lovingly restored B&B Carousell, get your adrenaline pumping on Luna Park's thrilling rides, or enjoy incredible views from Deno's Wonder Wheel. You can get up close to marine wildlife at the New York Aquarium, march in June's Mermaid Parade, and check out the annual sand-sculpting contest in August.
Chow down on an original Nathan's hot dog; eat some of NYC's best pizza at Totonno's, satisfy your sweet tooth at Williams Candy Shop or catch a minor-league baseball game at the home of the Brooklyn Cyclones. If you're looking for less action and more sand and shore, try the adjacent Brighton Beach, which is located farther east and has more of a local feel.
RELATED: Best Jersey Shore Beaches for Families: Sandy Hook to Cape May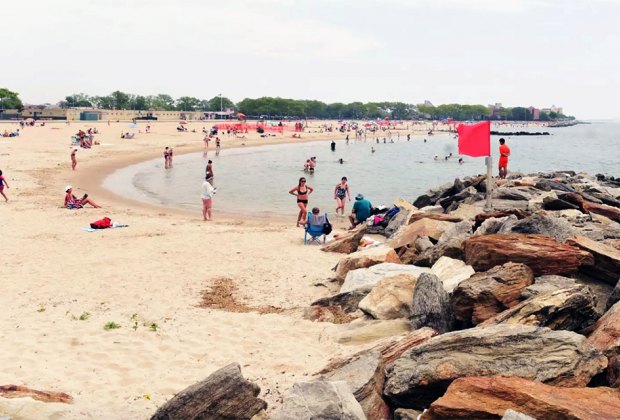 The less crowded Manhattan Beach makes up about five blocks worth of sand and sea on the eastern side of the Coney Island peninsula.
Oriental Boulevard from Ocean Avenue to Jaffray Street
Getting there: B, Q to Brighton Beach, then take the B1 bus to Manhattan Beach.

This five-block beach located on the eastern side of the Coney Island peninsula has a short concrete promenade, designated barbecuing areas, two playgrounds, and usually fewer people than Coney.
Family-Friendly Beaches in the Bronx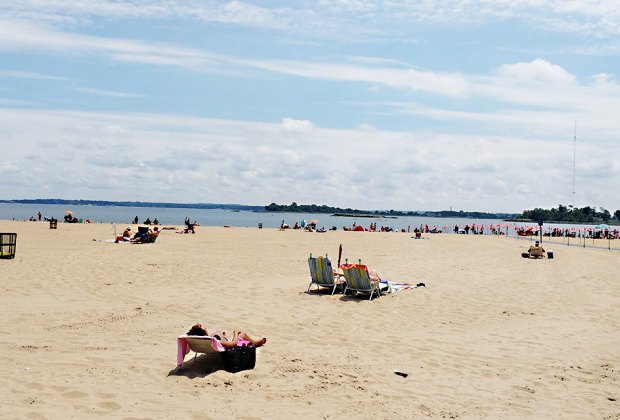 Low tide brings ideal swimming conditions at Orchard Beach. Photo by Sonia G.
Long Island Sound in Pelham Bay Park
Getting there: 6 to Pelham Bay Park, then take the Bx5 or Bx12 bus to Orchard Beach. Be sure to confirm the schedule before heading out. This bus service is typically offered just Memorial Day weekend through Labor Day weekend. Parking is available for $10-$13 on weekends; $8-$10 on weekdays.

Pelham Bay Park is NYC's largest green space and features plenty of attractions, including this mile-long, crescent-shaped, human-made beach on the Long Island Sound, affectionately nicknamed the "Bronx Riviera." While the Sound doesn't offer the excitement of waves, the calmness of the water is better for little swimmers.
This popular spot has two playgrounds, a promenade, and a central pavilion with a snack bar that serves hot dogs, hamburgers, and more, plus changing rooms, showers, and bathrooms. Once you tire of sun and sand, hop the Bx29 bus to City Island, which is just minutes away, for a seafood dinner and ice cream.
Family-Friendly Beaches in Queens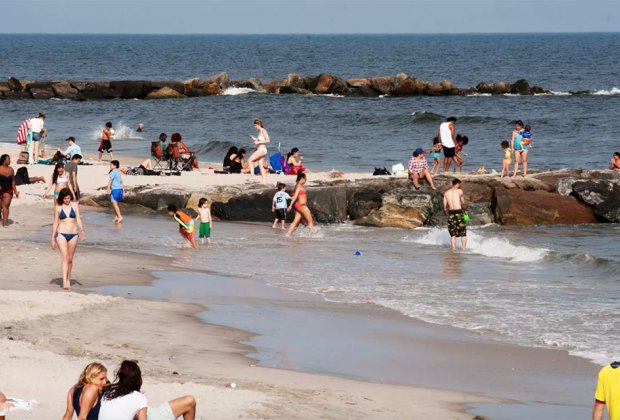 f
Rockaway Beach, where the surf is up in NYC. Photo by Julienne Schaer for NYCGo
Beach 9th to Beach 149th Streets
Getting there: A line to Broad Channel, transfer to the S to Rockaway Park-Beach 116th Street, and the sand is just a short walk away. The citywide NYC Ferry also serves the Rockaways at Beach 108th Street and Beach Channel Drive. It leaves from Sunset Park, Brooklyn, and downtown Manhattan.

This popular summertime destination offers a great beach, of course, but also several playgrounds, including an impressive splash pad, bicycling or strolling along the boardwalk, designated spots for saltwater fishing, and plenty of fun boardwalk eats, from tacos and hot dogs to sit-down casual places.
RELATED: Best Water Playgrounds Around NYC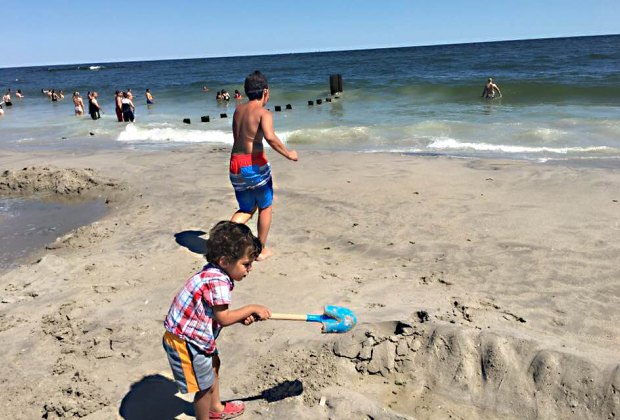 Jacob Riis Park Beach is spacious and filled with amenities, including a playground. Photo by Sara M.
Jacob Riis is managed by the National Parks Service but plans to follow the opening guidelines set forth by NYC and reopen on July 1. The Rockaway Express Ferry has not reopened as of publication, and dining options are scaled back at the Riis Park Beach Bazaar. Camp Rockaway will remain closed for the season.
The Beach 149th Street to Beach 169th Street
Getting there: 2 line to Flatbush Avenue, then take the Q35 bus to Jacob Riis Park. Or a lovely alternative is to take the weekends-only Rockaway Express Ferry from lower Manhattan directly to the park.

Just west of Rockaway, this pretty spot offers swimming, a playground, small boardwalk, bustling concession stand dubbed the Riis Park Beach Bazaar, and a pitch-and-putt golf course. Managed by the National Park Service, Jacob Riis is famous for its restored Art Deco bathhouse, which is listed on the National Register of Historic Places.
It's harder to get to without a car because there's no subway stop, but it's been gaining in popularity in recent years, especially with 20-somethings drawn to the foodie scene, including the adult beverages. Kids will likely appreciate the Ample Hills Creamery and maybe Ed & Bev's Diner, one of the indoor spots.
If you can swing a weekday visit, you'll find the crowds somewhat lighter. Or stay the night, with glamping in nearby Fort Tilden.
Family-Friendly Beaches on Staten Island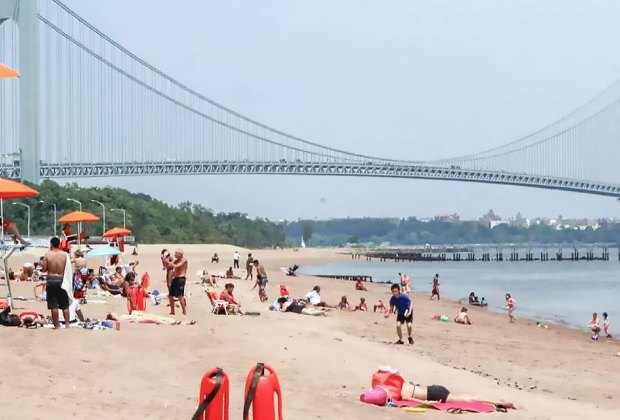 South Beach is one of Staten Island's popular beaches. Photo by Marley White for NYCGo
Fort Wadsworth to Miller Field
Getting there: From the St. George Ferry Terminal, take the S51 bus to Father Capodanno Boulevard and Sand Lane.

These adjacent beaches, touted for their orange-colored sand, offer a combined 2½-mile boardwalk on New York Bay, a playground, a sea turtle sprinkler, and a popular fishing pier.
Getting there: From the St. George Ferry Terminal, take the S76 bus to Ebbitts Street and Cedar Grove Avenue and walk down to the sand. Free parking if you can find a spot.
NYC's newest beach is considered a secret gem by locals and has some fascinating, controversial history. Though owned by the city and open to the public, it was maintained for decades by Cedar Grove Beach Club, a community of families who had been vacationing there for generations. But in 2010, the city took the land back to turn it into the destination sandy spot and playground it is today. It's generally considered the cleanest and calmest of Staten Island's four beaches.
Getting there: From the St. George Ferry Terminal, take the S78 bus to Seguine Ave, then walk along Hylan Boulevard to the sand.

This mellow beachfront is located on Raritan Bay, part of the Atlantic Gulf, and is good for younger children as it doesn't sport a very rough surf. Once you're done with the sand, explore Wolfe's Pond Park, a nature lover's paradise with wetlands and trails.
NYC Beach Tips
When do NYC beaches open? In 2020, New York City's beaches open on Wednesday, July 1. In general, the season ends around Labor Day; though the past two seasons have been extended beyond that.
Keep your feet covered. Our shores sometimes aren't as pristine as we'd like, so wear flip-flops at all times.
Arrive in your bathing suit. Except for Orchard Beach, which has changing rooms, it's against the rules to change in the bathroom stalls. If the staff catches you (or even your kids) doing it, you'll be reprimanded.
Leave your pooch at home. NYC beaches don't allow dogs.
No smoking. Smoking is banned at all NYC beaches.
Travel lightly. Technically, flotation devices aren't allowed in the water, and temporary shelters, such as tents, aren't permitted on the sand, although we've seen people with both. Umbrellas and chairs are allowed.
Stay safe. There have been issues with riptides over the past few years. Keep an eye on kids at all times and stay close to the little ones who can be pulled under or toppled over by the force of even a small wave or typical current. Swimming is allowed only when lifeguards are on duty, typically 10am to 6pm.
This article was first published in May 2011, but is updated annually.​