Top Beaches Near NYC for Toddlers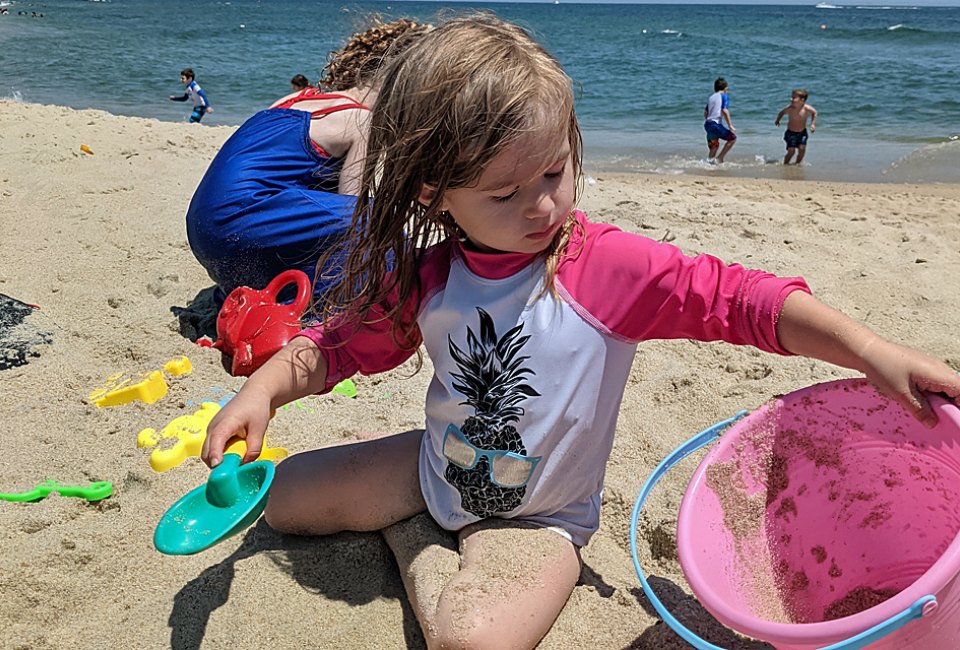 5/15/22
- By
Yuliya Marks
There are so many beaches near NYC, and yet there's so little time to visit them each summer. If it's your first summer with little sunbathers in tow, you may be wondering which local beaches are the most toddler-friendly beaches near NYC. Each of these 11 beaches, which include some of our favorite beaches in NYC, plus fun Jersey Shore beaches and Long Island beaches, includes little-kid friendly fun beyond the sand and the surf, like playgrounds and aquariums along with great beach eats. Be forewarned, these extra perks might make it hard to lure your toddler away from all the fun in the sun.
So, pack your pails, picnic baskets, and beach babies, then plan a day trip to one of these toddler-friendly beaches near NYC. Find more great local beaches and water fun in our Guide to Beaches, Pools, and Water Parks near NYC.
Subscribe to our newsletters to get stories like this delivered directly to your inbox.
Beach season in NYC generally runs from the Saturday of Memorial Day weekend through at least Labor Day. In recent years, beaches in NYC have remained open for an additional week. New York City beaches are staffed between 10am-6pm daily during beach season.
Toddler-Friendly Beaches in NYC
Toddler-friendly feature: Seek out the sea turtle fountain at Midland Beach. Little ones can frolic in its mist for hours.
A visit to this Staten Island beach is just a short ride away from Manhattan and a favorite for families. In addition to sand, surf, and a stunning view of the Verrazano-Narrows Bridge, see fireworks at South Beach on select summer evenings. There are great restaurants nearby, and the sand is generally less crowded than other NYC beaches.
RELATED: How to Get to NYC Beaches by Ferry or Train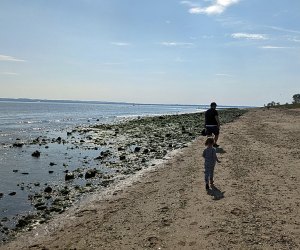 Staten Island's beaches offer plenty of sand for exploring within city limits.
Toddler-friendly feature: There are a pair of playgrounds in the adjacent park, so there's always something to do here, even in the off-season.
There's tons of sandy fun here, and little ones will delight in searching for tiny crabs and other ocean creatures on the shore. It's a great beach for kite-flying and picnicking, with a large barbecue area and picnic tables where you can spread out. Another fun perk: Dogs are allowed.
3. Orchard Beach – Pelham Bay Park, the Bronx
Toddler-friendly feature: This crescent-shaped, man-made beach on the Long Island Sound offers calmer waters than most other beaches in NYC.
Located in the beautiful and family-friendly Pelham Bay Park, we love the long boardwalk at this beach, and the adjacent waterfront playground, that's separated into toddler and big kid areas. There's a huge parking lot if you want to drive. Be sure to visit the nearby City Island for family-friendly fun and seafood when you tire of the sand.
Toddler-friendly feature: This sandy stretch of Atlantic oceanfront is accessible by the subway, making getting there an adventure for little landlubbers.
With its sprawling boardwalk, Rockaway Beach offers all the amenities you need for a day at the beach. There are spectacular food options, plenty of room to find a quiet patch of sand for castle-building, and even glamping at Camp Rockaway if you want to make your beach day and overnight.
Toddler-friendly feature: Jacob Riis Beach is far enough off the beaten path that it tends to be less crowded than other NYC beaches, and the shallow surf entices toddlers without scaring them.
Managed by the National Park Service, and part of the Gateway National Recreation area, Riis Beach is a beautiful patch of waterfront on the Rockaway peninsula. Consider hopping the Rockaway Express Beach Ferry or NYC Ferry to get there. There are great food options, an Art Deco bathhouse, and beachfront playgrounds to round out the experience.
6. Brighton Beach – Brighton Beach, Brooklyn
Toddler-friendly feature: This beach is filled with locals. Known as "Little Odessa," there are great eats thanks to its Eastern European neighborhood, and it's got a family-friendly vibe.
There's more than sand and water here. Find a great boardwalk and easy access thanks to the subway. The sand might be a little crowded, but the vibe is much more chill than neighboring Coney Island, though its carnival atmosphere and family-friendly attractions, like the New York Aquarium, are a boardwalk stroll away.
RELATED: Best Jersey Shore Beaches for Families: Sandy Hook to Cape May

There's so much kid-friendly fun on the Wildwoods beaches, it's hard to leave before sundown.
Toddler-Friendly Beaches Near NYC
7. Wildwoods – Wildwoods, New Jersey
Toddler-friendly feature: For a true Jersey Shore vibe, it's hard to beat the Wildwoods, with its expansive FREE beach and boardwalk amusements, including the filled-with-little-kid-rides Morey's Piers.
The Wildwoods are home to one of the cleanest beaches in New Jersey and with five miles of beautiful sand, you have a lot of space to stretch out and find a comfortable spot with your family. We love this Jersey Shore beach because of the low tides; wade far from shore, and still be in shallow water. It can be a trek to the beach, so rent a beach car to get your gear to the water. There are boardwalk amusements and eats making it a feast for the senses.
8. Jones Beach – Wantagh, Long Island
Toddler-friendly feature: There is a spectacular splash pad at Field 4, where little kids will delight in sprinkler play.
If you're in search of white sandy beaches, this is the closest beach near NYC. This action-packed state park offers tons of fun. It is hard to lure kids away from the beach. Wander the wonderful boardwalk, enjoy some beach eats, and explore local wildlife at the Nature Center. There is a swimming pool for the kiddos who do not like the salty water and plenty of playgrounds, too.
Toddler-friendly feature: Walk the nature trail between the beach and the Fire Island Lighthouse for stunning views and a chance to spot local wildlife like rabbits and deer.
Calmer and less crowded than its neighbor, Jones Beach, Robert Moses State Park offers another expansive beach. There are lovely picnic areas at Fields 2, 3, and 4. Though its playground is currently closed for reconstruction, other family-friendly perks include a pitch-and-putt golf course, and it's easily accessible via the Long Island Rail Road to Babylon.
10. Sandy Hook – Highlands, New Jersey
Toddler-friendly feature: Bring your bike—and a toddler seat—and enjoy a scenic ride at this shorefront park.
Another National Park Service beach, Sandy Hook is a great beach near NYC for the whole family with a lot of things to do and explore. If you're a car-free family, it's easy to get to hop the Seastreak Ferry for an express ride there. Enjoy lunch from the food trucks along the boardwalk, or explore the park's history, including Fort Wadsworth and the Sandy Hook Lighthouse.
Toddler-friendly feature: The fun of Jenkinson's Boardwalk is in full view from the sand at Point Pleasant. We love the amusement park, aquarium, and kid-friendly entertainment like the Kiddie Beach Shows on select summer evenings.
There's always something happening in this uber family-friendly Jersey Shore beach town. Boardwalk attractions, activities, and events for the whole family mean you're never bored. There are tons of great eats and occasional fireworks shows, so plan to stay late!
All photos by the author