City Island with Kids: Best Things to Do on This Bronx Isle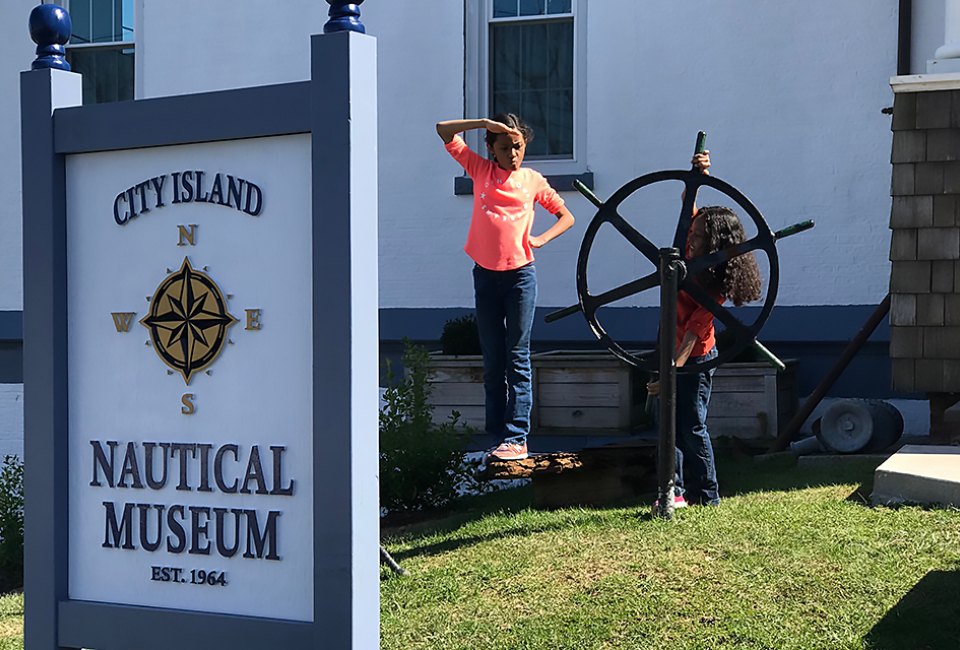 5/22/18
- By
Suzy Q
Minutes from Pelham Bay Park, City Island is known for its seafood restaurants, Victorian architecture, and quaint fishing village vibe, making it an excellent destination for families looking to take a break from NYC's busy pace without straying too far from home.

Originally purchased from the Lenape Indians in 1654, the isle has evolved from an oyster epic center to a shipbuilding and yachting hub and is now a day-tripper's paradise. Located in the Bronx and a short 30-45 minute ride (via car or train from midtown Manhattan), City Island is an accessible destination to add to your family's NYC bucket list.
Best Things to See and Do
Following a beautiful morning of kite flying at Orchard Beach, my family headed to City Island to visit the island's nautical museum, have dinner, and catch the sunset. Having enjoyed Martha's Vineyard for many years, we wanted to see for ourselves if City Island lived up to its reputation as a pseudo-New England town. With moderate Sunday afternoon traffic, it took 15 minutes to get from Orchard Beach to City Island. As we crossed the bridge onto the island, we were welcomed with fresh sea air, boats floating in the distant marina, and seafood restaurant signage looming over small buildings. It was official; we were heading toward a quaint nautical town and leaving the city behind. We drove down City Island Avenue (the island's "Main Street") and took in the steepled churches and countless restaurants. Our first destination was The City Island Nautical Museum. (FREE for children; $5 for adults; open every Saturday and Sunday from 1-5pm)
Ms. Barbara, City Island resident and isle expert, greeted us warmly. "City Island has a small town feel with a Bronx edge if you know what I mean," she winked. She took us through each room of the museum, explaining the significance of the artifacts and photographs while sharing the history of the island.
The museum is intimate, made up of a central hall and gallery with four rooms (Library, Nautical Room, Community Room, and School Room) filled with memorabilia and relics from the past. The artifacts are unique to City Island life, specifically shipbuilding.

Don a pirate hat and set sail on a ship at the Nautical Museum.
Hands-on exploration is allowed for most items. While learning about City Island's nautical past, my children rowed a canoe in the Nautical Room and played with sailmaking tools and vintage boat motors. The Community Room is a trip back into City Island's past. The children explored an ice box, washboards, sewing machines, and a cannonball. Dioramas of City Island and the Battle of Pell's Point in 1776 are also on display. My daughters (ages 7 and 9) particularly enjoyed ringing the old school bell and playing teacher in the historic School Room. It's always a bonus to visit a museum where my children can touch things and explore.

Both educational and interactive, our visit turned out to be a natural extension of our time at the beach. Writing on old-fashioned blackboards, sailing in a ship dressed as pirates, and peering through old viewfinders kept them occupied for over an hour before hunger pains set in. Our museum guide recommended The Black Whale for dinner.

The walk from the Nautical Museum to the restaurant gave us a chance to explore the neighborhood and admire the mix of Victorian, bungalow, and cottage style homes. Across the street from The Black Whale is the Kaleidoscope Gallery. The storefront is decorated with lights and whimsical novelties. The giant wind catchers displayed on the sidewalk were the perfect invitation to go inside. The gallery has handcrafted jewelry, an assortment of vintage Asian artifacts, toys, and other great finds. The best part was meeting the sales associate and a few locals—real-life Clam Diggers (a local term for island-born natives) and Mussel Suckers (non-natives that now live on the island). We left the gallery with gifts, legends, and information about the City Island Land Ferry Tour and a host of other local events.
City Island has a packed events calendar. Favorites include its annual Memorial Day and Halloween parades. Arts and crafts fairs are held during the spring and fall and the island's summer music series includes Music in the Park (live music on Sundays held in Hawkins Street Park) and an annual Alive & Kicking Concert held at Ambrosini Field. You can also kick off the holiday shopping season and support local mom-and-pop shops during Small Business Saturday, the Saturday after Thanksgiving. Call or visit the City Island Chamber of Commerce website for details.
RELATED: Rye Playland: A Westchester Theme Park Filled with Old-Time Charm

Check out 239 Play, a unique vintage toy store that is definitely worth a visit.
Other places to explore are the island's galleries and antique shops. Ambrosini Field, with its nautical-themed playground, and Hawkins Park are great places to play or spend downtime. The retro toy store 239 Play!—voted "Best Vintage Shop in the Bronx" by USA Today—is a fun and unique experience for kids and adults alike.
Best Things to Eat
Most restaurants offer a kids menu of chicken fingers, pasta, and burgers; some even offer a kids seafood entree. Restaurants range from well-priced to expensive. In addition to excellent food and service, restaurants offer a mix of nostalgia and atmosphere.

City Island Lobster House
691 Bridge Street
A nostalgic City Island mainstay, City Island Lobster House is just to the left of the bridge. You cannot miss the red roof and signage. It offers an abundant seafood menu served in a low-key dining environment, with views of the Long Island Sound.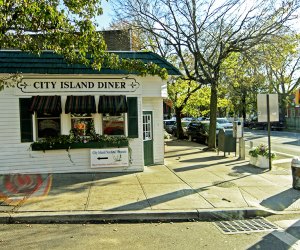 Stop by the charming City Island Diner for a bite. Photo by Francisco Daum via Flickr

City Island Diner
304 City Island Avenue
Step back in time at this charming diner in the center of the island. This quaint eatery has a homey atmosphere with an affordable and reliable menu. Enjoy your meal in a booth or at the classic dining counter. Diner classics include omelets, burgers, and grilled cheese. Cash-only!

The Black Whale, which came highly recommended by islanders, did not disappoint.

The Black Whale
279 City Island Avenue
Despite its name, The Black Whale is not a typical seafood restaurant. Its menu is diverse, with tasty seafood options and plenty of choices for landlubbers—potstickers, empanadas, burgers, and more—while its storied past and cozy decor make for a memorable visit. Rumor has it when the house was relocated to its current home, it was set down backward. The front of the house now opens onto an eclectic garden patio with mismatched tables, lights strung overhead, bird cages, nautical items, and other knickknacks. While it does not have an official kids menu, it does offer traditional classics that children will likely gobble up. The Black Whale is also famous for its desserts. We took our delicious chocolate brownies to go, but the hot fudge fondue was recommended as a not-to-be-missed choice and is on our bucket list for next time!

Lickety Split
295 City Island Avenue
This beloved seasonal ice cream shack near the center of the island and adjacent to Hawkins Park is open seasonally and is a favorite for locals and visitors alike. Known for its generous servings of all-natural ice cream flavors, fresh baked goods, gelato, Italian ice, sorbet, and more, it's the perfect spot for cooling off on hot summer days. It was not open during our visit but is scheduled to reopen late May 2018.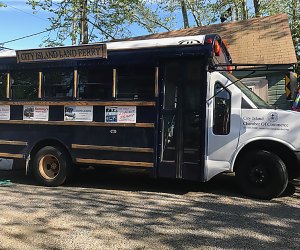 Hop aboard the City Island land Ferry, actually a bus, to make your way across the island.
Getting Around
We drove to City Island for our first visit which was very convenient. For our second visit, we took the train to add to our adventure. Only 1.5 miles in length, it's easy ground to cover. Take the 6 train to the last stop (Pelham Bay Park), then take the Bx29 to City Island (a 10-minute bus ride). For faster service take the 6 express train.

Take the free Friday "ferry" to the grounds of grand country estate, the Bartow-Pell Mansion.

The Free City Island Land Ferry, formerly known as the City Island Seaside Trolley, is available the first Friday of every month from April-December. The Land Ferry picks you up at the Bx29 stop every hour from 5:30-9:30pm. It offers hop-on, hop-off service starting at the Bartow-Pell Mansion, the only grand country estate remaining in Pelham Bay Park, and continuing to City Island via City Island Avenue.
The City Island Land Ferry is an 18-passenger shuttle bus—a fusion between a renovated school bus and wood-paneled trolley. We received discounts to various City Island vendors in the form of a boarding pass. Our driver shared recommendations of his favorite restaurants, places to visit, and other local tours.


See the native American Lenape Birch Bark House at The Bartow-Pell Mansion.
It is not mandatory but as part of the First Friday Tour, The Bartow-Pell Mansion hosts a wine and cheese event, with live music ($15 for adults; FREE for children). We barely made it through the gates of the 19th-century mansion when my children spotted a Lenape Birch Bark House. We spent the first part of our Friday evening exploring the authentically fabricated Wigwam and outdoor classroom. You don't have to attend the paid event at the museum to enjoy the surrounding gardens and grounds for FREE.

At the Bartow-Pell Mansion, we laid out a blanket and enjoyed a picnic dinner. The children played in the garden while listening to the Kenn Morr Band. A little over an hour later we boarded the Land Ferry again and took a laid-back tour to the end of City Island and strolled the streets until the sun set.

City Island is so accessible and a great respite from Manhattan's hustle and bustle, and I'd be remiss not to mention the grace and courtesy of the islanders themselves. One word of caution: There is only one way on and off the island, so in summer months, lines of cars and buses make for a much longer trip than off-season visits. Plan on visiting early in the day and give yourself extra time if visiting during weekend afternoons and evenings—and even more time if visiting on a summer holiday. The more you visit, the more you will appreciate the authenticity of this unique Bronx neighborhood.
Photos by the author unless otherwise noted
A version of this article was first published in 2015, but it has since been revised.
Click Here to Sign Up!
i