Orchard Beach with Kids: Swimming, Playgrounds, Sports, and Sun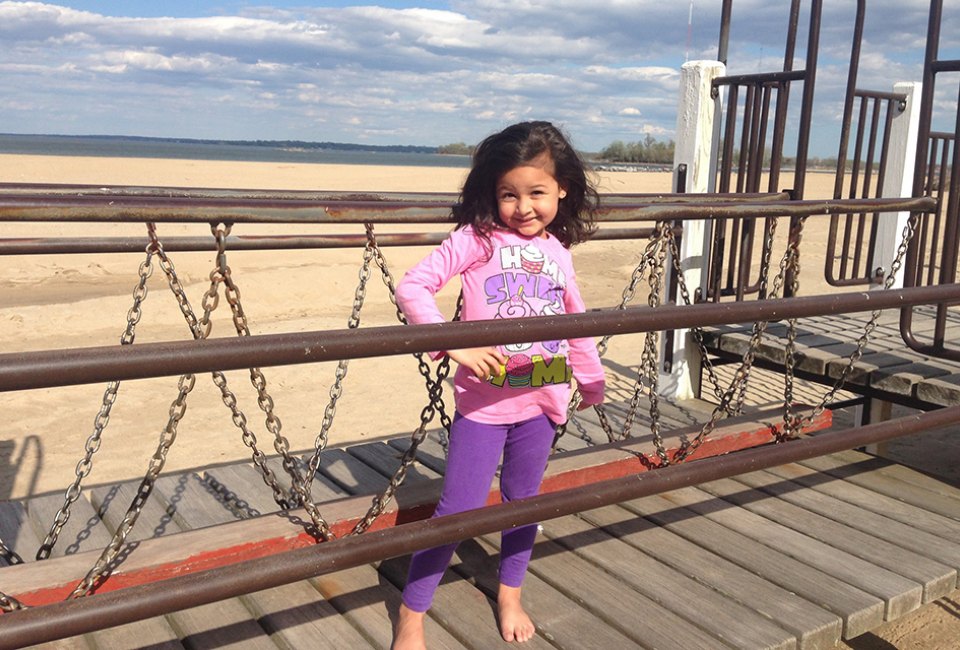 7/2/18
- By
Sonia Gonzalez
Affectionately known as the Bronx Riviera, Orchard Beach sits at the northeastern tip of the Bronx, a stone's throw from City Island and part of the larger Pelham Bay Park. This manmade beach on the Long Island Sound stretches just over a mile and spans 115 acres. Love it or hate it, it's the only beach in the Bronx and actually has much to offer families. If you're considering a visit, we've got tips to know before you go, including the best time to visit and what the beach offers beyond sunbathing and swimming.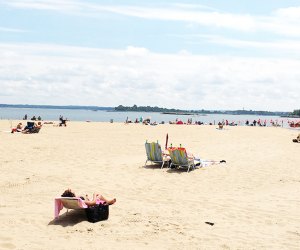 This beach gets crowded on the weekends, but during the week you can usually spread out.
Surf, Sand, and Sun
Grab your beach chair and umbrella and claim your spot on the sand just beyond the promenade. This may seem obvious, but Orchard Beach gets insanely crowded on summer weekends, so if you're not into people-watching and prefer space between the towels, aim for a weekday morning during summer months.

Because the beach is on the Long Island Sound and not the Atlantic Ocean, the water is very calm—great for getting baby and toddler feet wet. Like all city beaches, Orchard Beach isn't the cleanest you'll ever see. Keep an eye on little ones and consider swim shoes to protect against debris on sand and in the water.
RELATED: Bronx Water Playgrounds and Sprinklers to Cool Off the Kids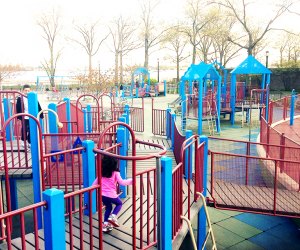 Pelican Bay Playground has every feature a kid could ask for.
Hit up a Playground
Orchard Beach has two playgrounds. The first, Pelican Bay Playground, is a nautical-themed playground with sprinklers, swings, ship-shaped climbing structures, and benches throughout. It's large and lots of fun for kids. The second, Orchard Beach Playground, is right on the sand—a huge plus—but offers just a fairly basic climbing structure.
RELATED: City Island with Kids: Best Things to See, Eat, and Do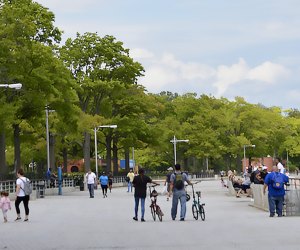 Stretch your legs on the promenade at Orchard Beach. Photo by Vivian Cotte

Stroll the Promenade and Pavilion
The large promenade is perfect for strolling, skating, biking, or riding a scooter. Once again, it gets packed on weekends, but off-season or early in the day, it's a beauty. The pavilion offers food and souvenir vendors, restrooms with changing stations, and showers.

Sports with a View
Orchard Beach has handball, basketball, and volleyball courts—26 in total!—all with stunning waterfront views (when your eye isn't on the ball). The courts are a year-round destination.

Summer Grillin'
There are two picnic areas (on the north and south sides) and Orchard Beach does allow barbecuing. It's definitely worth packing a ready-to-eat picnic or claiming a spot to grill. You'll save money and skip the concession crowds.
Know Before You Go...
Orchard Beach is accessible via public transit. Take the 6 train to Pelham Bay Park (the last stop), then grab a cab or hop a bus for the last leg. The Bx12, Bx29, Bx5, Bx52, and Westchester Line number 45 all serve the park (the Bx12 and Bx5 only service the beach during beach season).

Beach admission is FREE; however, there is a fee to park during beach season ($8 Monday–Friday for cars and vans, and $10 on weekends and holidays). Off-season, parking is free.

I've mentioned it but this bears repeating: The beach gets insanely crowded and rowdy during summer weekends. Traffic is also an issue as the same roads lead to City Island and Orchard Beach—both huge summer destinations. Expect to sit in traffic and plan accordingly.

Lifeguards are on duty daily from 10am-6pm during beach season only. Swimming is prohibited when lifeguards are not on duty. Closed sections are marked with signs or red flags.
Photos by the author unless otherwise noted
Places featured in this article:
Click Here to Sign Up!
i