Bronx Water Playgrounds and Sprinklers to Cool Off the Kids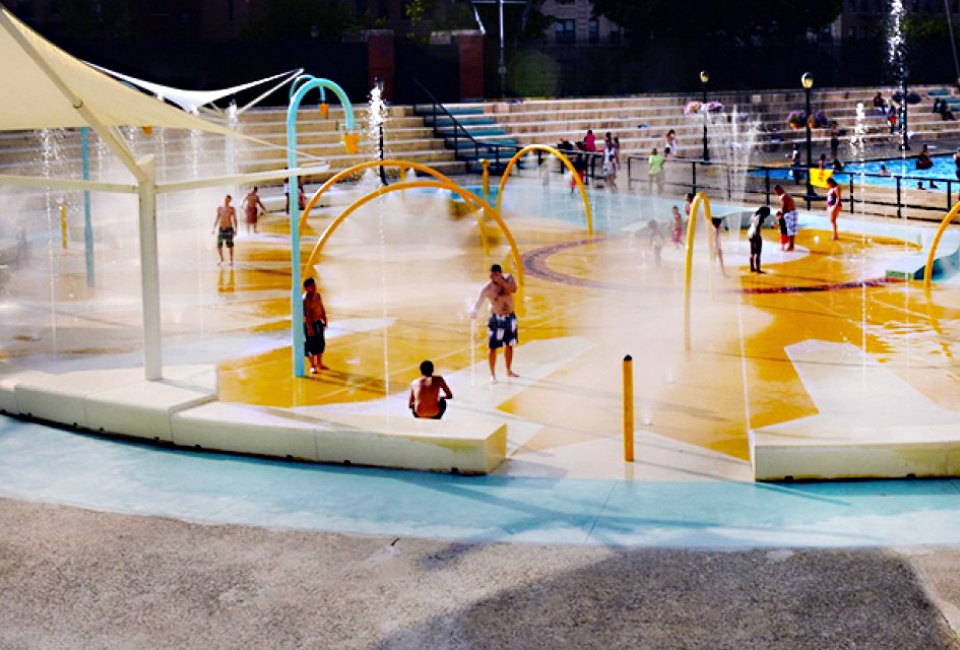 6/26/19
- By
Sonia Gonzalez
As much as the kids might beg, not every summer day can be a pool day. That's why water playgrounds with jets, misters, and refreshing splash pads are essential to summer survival in NYC. Kids (and their grown-ups) can frolic in sprinklers and spray showers, many with nifty features like footbridges, geysers, and themed settings. We've told you about some of our favorite playgrounds with water features citywide, but the Bronx deserves a shout-out all its own. Read on for details on nine of our favorite splash pads in NYC's northernmost borough.
Find more water fun in our Beaches, Pools, Water Parks Guide, or cool NYC activities in our Summer Fun Guide.
Sign up for our FREE newsletters to get posts like this delivered to your inbox.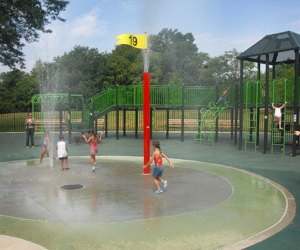 Douse yourself at the Sachkerah Woods Playground sprinklers, where a golf theme adds a sporty vibe.

Sachkerah Woods Playground – Norwood
Jerome Avenue and Gun Hill Road
Located in Van Cortlandt Park, this golf-themed playground adjacent to the Mosholu Golf Course features a spray shower that continues the golf theme with a fountain that mimics a 19th hole flag, shooting water straight up before raining down on its patrons. A second geyser also sprays upward, creating a steady stream of relief from summer temperatures.
Little Claremont Playground – Claremont
Clay Avenue and East 170th Street
Following a $3.7 million overhaul, courtesy of the mayor's office and the Department of Environmental Protection (DEP), Little Claremont Playground reopened in time for the 2019 summer season with new amenities including all new play structures, a synthetic multipurpose turf field, an enhanced community garden, and, of course, a new water play area with spray posts and in-ground features.

Tremont Park – Tremont
175th Street and Arthur Avenue
We raved about the $4.5 million upgrade to Tremont Park in 2012. Renovations included two new playgrounds and one awesome water play area. Kids will love darting across the footbridge and pathways as water sprays at them from every angle. Though this is definitely the destination splash pad at Tremont Park, there is a second spray shower located in the playground at the corner of East Tremont and Arthur Avenue. It's much smaller, featuring a fire hydrant centerpiece, but it gets the job done on a hot day.
RELATED: SplashDown Beach: A Family-Focused Water Park in Hudson Valley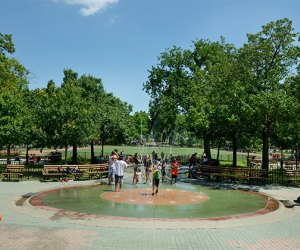 Renovations at Williamsbridge Oval's playgrounds in recent years have families flocking to this park. Photo by Ed Crimmins via Flickr.

Williamsbridge Oval – Norwood
3225 Reservoir Oval East
This park is home to such fond memories of my childhood, and with over $14 million in upgrades over the past several years, Williamsbridge Oval is only getting better. Recent projects include a renovated recreation center, a revitalized synthetic turf playing field and track, restored pathways, and the reconstruction of two playgrounds—one aimed at the preschool set and the other geared toward older kids. The new playgrounds share a central spray plaza featuring lots of sprinklers jetting water over a level, smooth terrain dotted with decorative low-lying rocks for simple climbing. Good luck getting your little ones to leave!

Starlight Park – Bronx River
Between 172nd and 174th Streets, between the Sheridan Expressway and the Bronx River
After being closed for more than a decade, Starlight Park reopened in 2013 with two new playgrounds, manicured green space ball fields and basketball courts, picnic areas, and more. The two playgrounds are adjacent to each other and though they don't offer much shade, they do offer a large spray shower right between the playgrounds—it'll make you forget (for a little while, at least) the limited shade in the playground.
RELATED: 30 Fun Things to Do with Kids in the Bronx This Summer

Crotona Park Pool's impressive splash pad even offers a few shady spots.

Crotona Park Pool – Crotona
173rd Street and Fulton Avenue
The largest public pool in the borough earned additional bragging rights in 2014. A $1.6 million renovation transformed Crotona Pool's former diving pool—which went unused for 30 years—into an impressive new splash pad featuring vibrant patterns and countless spray fixtures, including hoops to jump under and through, and even a few canopies for a bit of shade. This welcome addition definitely drives up the wet-and-wild fun factor.
Black Rock Playground – Soundview
Between Watson and Blackrock Avenues, between Virginia and Pugsley Avenues
Another playground renovated and reopened in time for the 2019 summer season, Black Rock Playground received a $1.9 million makeover, courtesy of the mayor's office. Improvements include new play equipment, seating areas, and a brand new water feature.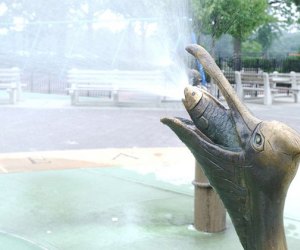 At the whimsical Pelican Bay Playground along the Orchard Beach promenade, water sprays from sea-themed sculptures.

Pelican Bay Playground – Pelham Bay
Orchard Beach Promenade, Section 6-7
This large nautical-themed playground is part of Pelham Bay Park's Orchard Beach. Kids can romp on boat-shaped play equipment and, of course, get doused by the sprinklers located in the center of the playground. Pelican sculptures form an aquatic circle as water sprays from their beaks. So if the sandy shore is too much to take, little ones can still cool off with a romp through the refreshing spray showers.

Playground for All Children – Pelham Bay
Bruckner Expressway and Buhre Avenue
Also located in Pelham Bay Park and part of the Aileen B. Ryan Recreational Complex, this playground features spray showers that offer quick relief from the summer heat. Though simple and not quite destination worthy on its own, when you factor in the expansive, accessible play structures, tennis courts, bike paths, renovated dog park, nature center, and wooded trails, you've got a full day of fun—with the spray showers to offer a nice reprieve from relentless temperatures.

Keep in mind this is just a highlight of our favorite Bronx splash pads. The Boogie Down features dozens upon dozens of spray showers throughout its many parks and playgrounds. Happy splashing!
Photos courtesy of NYC Parks Department
A version of this post was published in 2016; it has been updated and expanded for 2019.
Click Here to Sign Up!
i