Two New Bronx Playgrounds Open in Tremont Park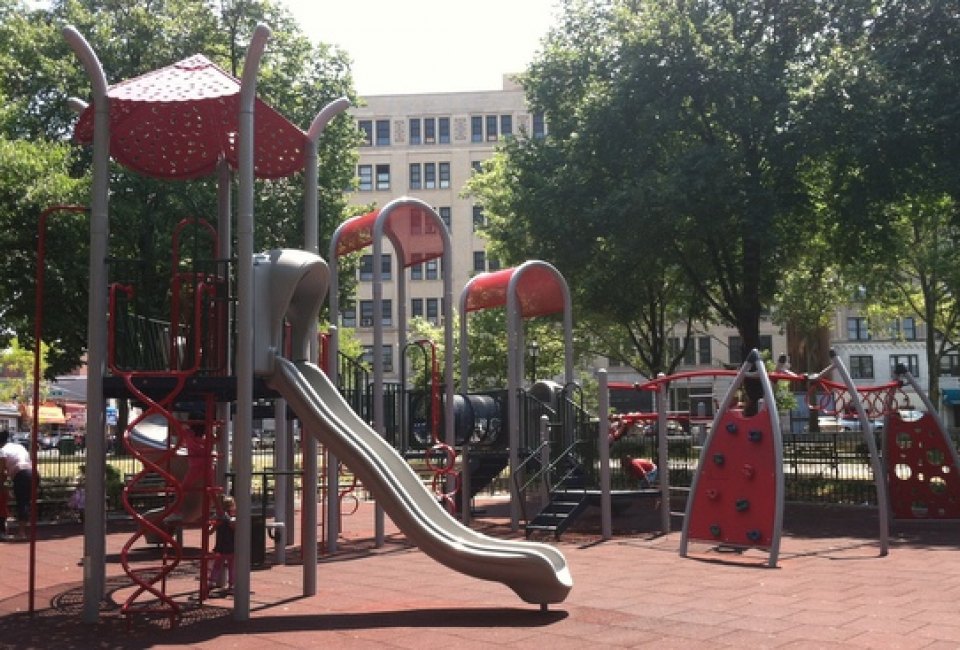 7/22/12
- By
Sonia Gonzalez
We're always happy to report on renovated NYC playgrounds, but as a Bronx native I can tell you, we don't get a ton of newfangled play spots in my borough. That's why I was really thrilled to hear that Tremont Park (which is within walking distance of Arthur Avenue and Little Italy) just got a $4.5 million overhaul, including two new playgrounds, new plantings, a lawn and a sitting area.

The New York City Parks Department unveiled the renovated 15-acre green space in late June and my family finally got over there to check it out. Considering the fun my kids had I'm sure it won't be our last visit!
Among the many improvements to Tremont Park are two beautifully renovated playgrounds. The first one we checked out is located just inside the gates at the corner of East Tremont and Arthur Avenues. It features pretty standard equipment: monkey bars, climbing structures, a tunnel, slides and a spray shower with a fire hydrant centerpiece. While it's not a Destination Playground, it gets the job done and has lots of shade.

The real attraction however is the playground inside the entrance at 175th Street and Arthur Avenue. In addition to a very cool water area, there's a large play structure for bigger kids and a small segregated toddler section. My girls really loved the spray showers, especially since it was about 100 degrees when we were there. They spent most of our visit squealing and shrieking as they darted across the footbridge and along the paths as water came at them from every direction. It's a great setup and all the kids we saw were having a blast. I was tempted to jump in myself but I didn't want to give up my nice shady bench.

Once my girls were thoroughly soaked, we took a bathroom break—the restrooms are in the 175th playground and open year-round. Then we hit the toddler swings. Unfortunately, I didn't spot any big kid swings in either playground. After my kids were completely tuckered out, we walked around the park a bit, just taking in the scenery.

Tremont Park also features a baseball field, handball courts and paved pathways lined with benches. The paths are great for biking, scootering, jogging or strolling, and the manicured lawns are ideal for playing, picnicking or relaxing. There are also picnic tables in the playground areas, and many are shaded as well.

Tremont Park is the perfect stop before or after a trip to the Bronx's Little Italy on Arthur Avenue, so you can really make a day of it.

Tremont Park is located on East Tremont Avenue between Arthur and Third Avenues, just off the Cross Bronx Expressway.

Read about other awesome parks and playgrounds in NYC.
Places featured in this article:

Sign up for our free
newsletters.
Mommy Poppins is a family activity website that helps people find things to do with kids.
©
2023
MommyPoppins. All Rights Reserved.
mp-prod4-v4.32.99
We use cookies and other data collection technologies to provide the best experience for our customers.
Learn More