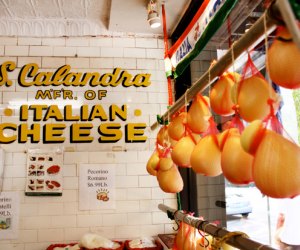 Visit Arthur Avenue: NYC's Real Little Italy in the Bronx
Often thought of as the real "Little Italy" of NYC, Arthur Avenue is a wildly popular destination for foodies from all over. There are countless Italian restaurants, bakeries, cafes, and bars along Arthur Avenue, as well as its lesser known counterpart, 187th Street. Arthur Avenue is quite a popular day trip for families with small children because it is just a few blocks away from the world-famous Bronx Zoo.
The most important advice we can give to help you enjoy your trip to Arthur Avenue is do not, we repeat, do NOT visit the strip right before a major holiday. The area is completely clogged with shoppers getting their meats, cheeses, vino, pastries, etc. for their holiday meals. The lines are out the doors of the shops and the traffic and parking are quite unpleasant, to say the least.
One more tip for enjoying your trip to Arthur Avenue is to realize it's not all about Arthur Avenue! Many visitors tend to overlook the many splendid dining and shopping options along 187th Street and the various side streets near Arthur Avenue. Don't be afraid to go off the beaten path and explore the neighborhood a bit… you may find a hidden treasure that has been unsoiled by cheesy tourist crowds.
Now for the inside scoops of the best places to visit when you have the kiddies in tow…
For your main meal, we wholeheartedly recommend Antonio's Trattoria (2370 Belmont Avenue, 718-733-6630). This place is perfect for kids. There's a constant bustle creating nice background noise to drown out any crying or whining your little ones might do, and the wait staff is beyond friendly and attentive. We recommend the brick oven pizza as a perfect meal to feed the whole family on a budget.
Another great food option if you're looking for a quick, casual bite to eat is Tino's Deli (2410 Arthur Avenue, 718-733-9879). The tagline at this place is "Where the big appetites are satisfied…" Don't expect anything too fancy here – there are tables for you to sit and enjoy your food, but no table service. This place is perfect for feeding teenagers with huge appetites, or younger kids who are too antsy for a sit-down meal at a restaurant.
If you've saved room for dessert, walk over to Parisienne Café (2339 Arthur Avenue, 646-402-0758) for the best gelato in the area. We hear the tiramisu is a little slice of heaven as well.
If the kids are in need of some playtime, stroll with them over to Ciccarone Playground (Arthur Avenue and E. 188th Street) to let them run around and burn off their gelato-fueled energy. This playground underwent a $3.4 million renovation back in 2006 and offers enough options to keep kids of any age occupied. There is also beautiful landscaping and ample seating areas for the adults to enjoy.
After the park, we recommend shopping for delicacies to plan tomorrow's dinner. Since long lines can be an issue (and we all know how the kiddies feel about waiting in long lines) at the Zagat-rated Borgatti's Raviolli and Egg Noodles (632 E. 187th Street, 718-367-3799) and Casa Della Mozzarella (604 E. 187th Street, 718-364-3867), we have some solid backup alternatives to offer: The Pasta Factory (686 E. 187th Street, 718-295-4857) is perfect for your fresh pasta and ravioli needs, and Calandra's Cheese (2314 Arthur Avenue, 718-365-7572) will have your fresh mozzarella. We've never encountered a line in either of these alternative specialty shops, and the prices and food quality were quite comparable with their more famous counterparts.
As for transportation, your best bet if you have small kids with you is to travel by car. There's metered parking all along Arthur Avenue and 187th Street, and a municipal lot on Arthur Avenue near 186th Street. If the municipal lot is full, you'll see a line of cars waiting. The line usually moves pretty quickly and is surprisingly orderly.
A viable option for folks without a car is to take Metro-North to the Fordham stop. Once off the train, make a left out of the station and walk for several blocks along Fordham Road. You'll hit Arthur Avenue after about 5 minutes. Make a right onto Arthur and walk up a few blocks and you'll find yourself in the center of foodie heaven!
A visit to Little Italy is the perfect way to top off a visit to the Bronx Zoo. It's easy to walk or drive from the zoo over to Little Italy by using the zoo's Southern Blvd. exit/parking lot. Make a right out of the zoo onto Southern Blvd., and then make a left onto 187th Street. After about 5 or 6 blocks you'll come upon Arthur Avenue and be in the heart of Little Italy.
Find more great summer outing ideas in our summer guide.
Top image: Calandra's Cheese. Photo courtesy of Chris Goldberg via Flickr.