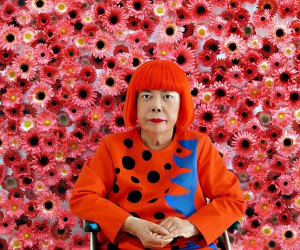 Kusama: Cosmic Nature Pushed Back to 2021
Updated: April 2, 2020

Editor's Note: In light of the COVID-19 epidemic, the Yayoi Kusama exhibition has been postponed until 2021. Exact dates have not yet been set. The NYBG announced the news on April 2. The artist offered her own statement in support of the move: "The passion that I and those at The New York Botanical Garden have poured into this exhibition is still burning. Everyone, I hope you will wait. We aspire for endless love permeated with everyone's heart's of human love, a wish for peace in the world, our dreams, and wonders of hope—it is our wish that this exhibition can offer these as its greatest gift. I hope you all can wait. With all my heart, Yayoi Kusama."
Fans of the polka-dotted art of the legendary Yayoi Kusama can start plotting a trek to the Bronx for spring. The internationally celebrated Japanese artist's work takes over the 250 acres of the New York Botanical Garden, filling its grounds and historic buildings during a major exhibition entitled, Kusama: Cosmic Nature.
Details for this comprehensive exploration of the artist's lifelong fascination with the natural world have just been released. And yes, the show, which debuts May 9, features a pair of Kusama's immersive infinity rooms.
Read on for the details of Kusama: Cosmic Nature, including info on how to score an infinity room photo op.
The 90-year-old artist's style defies classification, though she's one of the most well-known female artists alive today. Her work is distinctly recognizable thanks to her use of repetitive patterns, and she's currently enjoying a bit of a New York moment. She designed a balloon for the Macy's Thanksgiving Day Parade last November and debuted a solo exhibition at David Zwirner's Chelsea gallery in December. The NYBG show promises to top both those accomplishments.
"This once-in-a-lifetime presentation will stand apart from previous exhibitions of Yayoi Kusama's work," said Carrie Rebora Barratt, president and CEO of the Garden, who also described the exhibit as "mesmerizing."
RELATED: 10 Things to Love About the New York Botanical Garden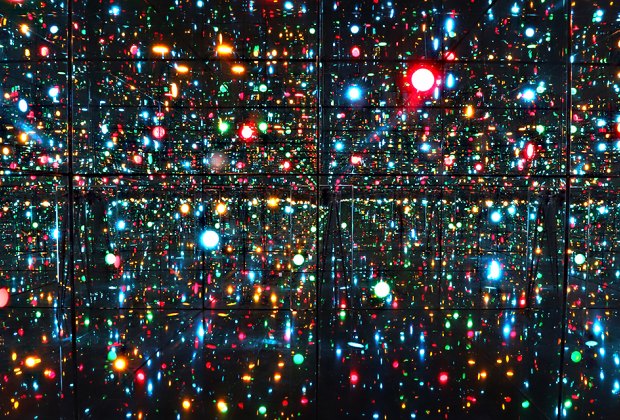 Kusama's infinity mirror rooms have earned her a cult following.
Kusama: Cosmic Nature runs through November 1, 2020, and includes multiple installations from her signature mirrored environments and organic forms to colossal polka-dotted sculptures of flora and fascinating paintings of plants and flowers.
Four brand new works form the installation's core, including the participatory Flower Obsession, where visitors can apply layers of fake coral flower buds throughout the interior of a greenhouse, transforming it into a gigantic, vibrant step-and-repeat, so get those cameras ready.
Dancing Pumpkin promises a soaring 16-foot high sculpture on the lawn in front of the Enid A. Haupt Conservatory, while I Want to Fly to the Universe is another giant, with a 13-foot tall biomorphic form with a yellow face and, of course, polka-dotted body.
RELATED: Chihuly Glass Sculptures Dazzle at NY Botanical Garden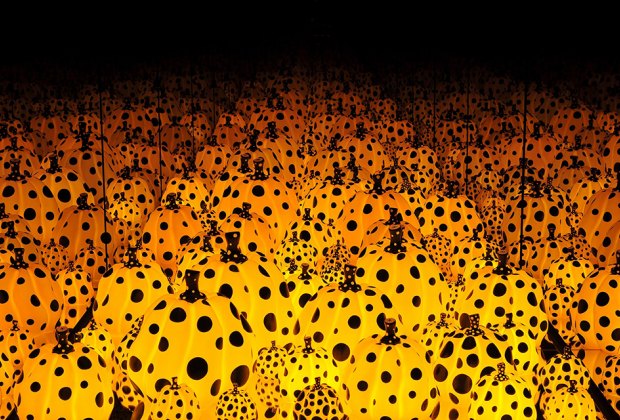 Pumpkins Screaming About Love Beyond Infinity (2017) is like a tiny shrine dedicated to Kusama's obsession with squashes.
The new infinity mirror installation, Illusion Inside the Heart, relies on the changing light of the day and the seasons to bring its magic to life. Visitors wishing to enter the infinity room must purchase an additional timed-entry ticket on top of paying regular garden admission. The multi-colored interior takes on a different appearance at various times of the day. Kusama's Pumpkins Screaming About Love Beyond Infinity, a small mirrored infinity cube from 2017, will also be displayed.
More works from throughout Kusama's prolific career are featured, too. Find sketchbooks from her adolescence on display in the Mertz Library Building alongside some of her earliest professional works from the 1950s.
NYBG's horticulturists are busy creating floral displays worthy of framing the artwork, which can also beautifully, organically transform the backdrop from spring to fall. Thousands of tulips and irises launch the event, while masses of pumpkins and autumnal flowers close it out. A canyon of trees will be wrapped in a red-and-white polka-dotted mesh.
RELATED: Free Times to Visit NYC Museums, Gardens, and Zoos

Yayoi Kusama poses for a portrait with sunflowers.
Exciting Yayoi Kusama-Inspired Programming
Aside from the towering fiberglass flowers and mirrored cubes, the exhibition is accompanied by some exciting public programs:
A pair of Polka Dot Picnics are set for Saturdays May 30 and June 13, with visitors encouraged to dress in patterned attire worthy of the event title for polka-dot themed art-making and games. Improv Everywhere, an NYC-based comedy collective, provides entertainment.
On Saturday, June 6, Sarah Suzuki, a curator at the Museum of Modern Art, reads and signs her children's book Yayoi Kusama: From Here to Infinity. Illustrator Ellen Weinstein will be on hand, too, and visit the pop-up art studio in the Everett Children's Adventure Garden to mingle with guests.
Pumpkin Power Weekends in the fall (October 3-4 and October 31-November 1) celebrate the joy of pumpkins with parades, dancing pumpkin parties, carving demonstrations, artistic pumpkin decorating, and more.
The Everett Children's Adventure Garden hosts exhibition-long programming dedicated to the theme, Kids Get Cosmic! Expect hands-on activities meant to make Kusama's works accessible to young visitors and inspire children and families to explore the natural environment while learning about the artist's life.
Stay tuned to our Event Calendar for all exhibition-related programming.
Tickets for Kusama: Cosmic Nature go on sale February 26 and start at $35 for adults; $15 for children ages 2-12. Those wishing to visit the infinity rooms will pay an additional $10 per person.
All photos courtesy of NYBG.
New York Botanic Garden
2900 Southern Boulevard
New York, NY 10458