The Very Hungry Caterpillar Show
DR2 Theatre

NYC Easter Brunch Cruise 2023
Event Cruises NYC

Easter Fun Cruise with Egg Hunt 2023
Event Cruises NYC
Sign up for our free newsletters.
Kusama: Cosmic Nature Set to Debut in April at NYBG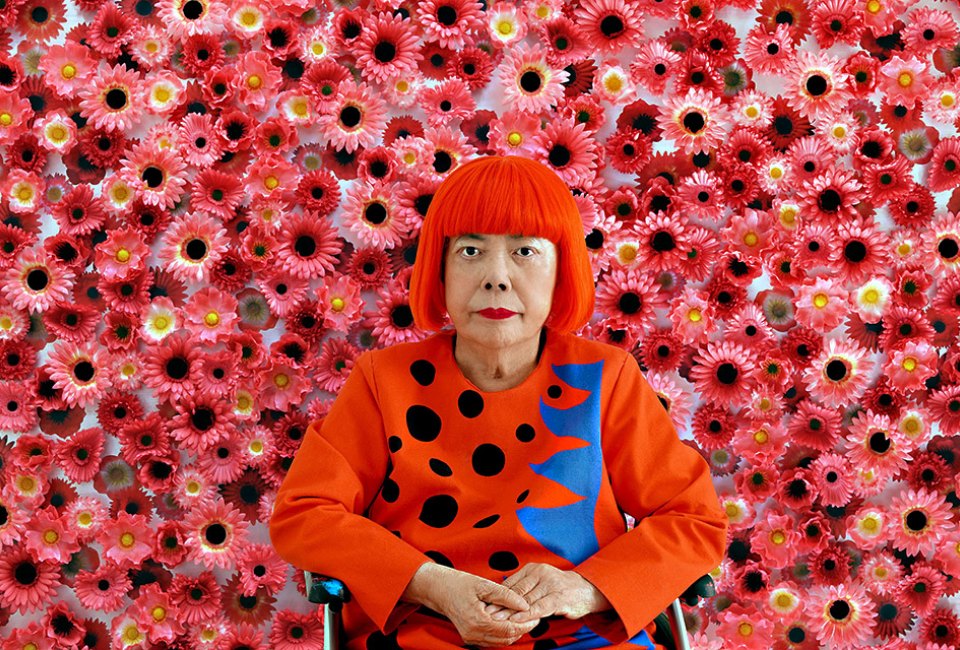 1/29/21
- By
Jessica Gorman
Fans of the polka-dotted art of the legendary Yayoi Kusama take note: The pandemic postponed landmark exhibition of the artist's work at the New York Botanical Garden opens on Saturday, April 10, 2021. The exhibition, Kusama: Cosmic Nature, takes over the 250-acre grounds through Halloween.
And yes, the show features a pair of Kusama's trademark, immersive infinity rooms.
Read on for the details of Kusama: Cosmic Nature, including info on how to score one of the limited-capacity, timed-entry tickets required to see this massive installation.

Kusama's infinity mirror rooms have earned her a cult following.
Kusama: Cosmic Nature includes multiple installations from her signature mirrored environments and organic forms to colossal polka-dotted sculptures of flora and fascinating paintings of plants and flowers.
Four brand new works form the installation's core, including the participatory Flower Obsession, where visitors can apply layers of floral stickers throughout the interior of a greenhouse, transforming it into a gigantic, vibrant step-and-repeat, so get those cameras ready.
Dancing Pumpkin promises a soaring 16-foot high sculpture on the lawn in front of the Enid A. Haupt Conservatory, while I Want to Fly to the Universe is another giant, with a 13-foot tall biomorphic form with a yellow face and, of course, a polka-dotted body.
RELATED: Chihuly Glass Sculptures Dazzle at NY Botanical Garden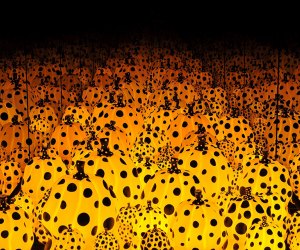 Pumpkins Screaming About Love Beyond Infinity (2017) is akin to a tiny shrine dedicated to Kusama's obsession with squashes.
The new Infinity Mirrored Room—Illusion Inside the Heart, relies on the changing light of the day and the seasons to bring its magic to life. The exterior of the display will be on view throughout the exhibition; access to the interior is expected to begin in the summer, per New York State COVID guidelines, and an additional timed-entry ticket beyond your garden admission will be required for limited-capacity access. The multi-colored interior takes on a different appearance at various times of the day. Kusama's Pumpkins Screaming About Love Beyond Infinity, a small mirrored infinity cube from 2017, will also be displayed.
More works from throughout Kusama's prolific career are featured, too. Find sketchbooks from her adolescence on display in the Mertz Library Building alongside some of her earliest professional works from the 1950s.
NYBG's horticulturists are busy creating floral displays worthy of framing the artwork, which can also beautifully, organically transform the backdrop from spring to fall. Thousands of tulips and irises launch the event, while masses of pumpkins and autumnal flowers close it out.
RELATED: Free Times to Visit NYC Museums, Gardens, and Zoos

Yayoi Kusama poses for a portrait with sunflowers.
Tickets for Kusama: Cosmic Nature go on sale to the general public on Tuesday, March 16 at 10am. Advance, timed-entry tickets are required, and several options are available, including all-garden and gallery passes and outdoor-only passes for residents and non-residents. An additional timed-entry ticket is required for Infinity Mirrored Room—Illusion Inside the Heart. The New York Botanical Garden is honoring Bronx Health Care Heroes and Bronx neighbors with complimentary tickets. Additional information on how to obtain them is forthcoming.
Stay tuned to our Event Calendar for all exhibition-related programming.
All photos courtesy of NYBG
This post, originally published in 2020, has been updated.