Should You Try to Visit Yayoi Kusama's Latest Infinity Mirror Room With Kids?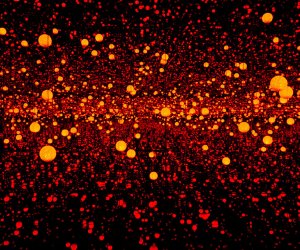 Stepping into one of Yayoi Kusama's infinity mirror rooms is both thrilling and intimidating in the same breath. Best known for her infinity rooms—Kusama has produced more than 20 of them since 1965—the Japanese contemporary artist is currently having a bit of a New York moment. She debuted a new float in the NYC Thanksgiving Parade last month and will mount a large-scale exhibit at the New York Botanical Garden in May 2020. Her "Every Day I Pray For Love" exhibition, which is on display at David Zwirne​r Gallery in Chelsea until this weekend, is FREE and open to the public on a first come, first entry basis.
After waiting close to two hours with my three children (aged 5, 9 and 13) on a winding line of excitement to see "Dancing Lights That Flew Up To the Universe," I was ready for something transformative. Does the experience live up to the hype? The answer, like a lot of things art-related, may depend on the eye of the beholder.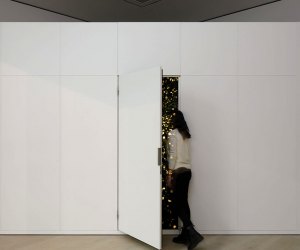 Let's get the totally honest part out of the way first: After being corralled into the 9-by-13-foot space with four other eager guests and limited to a 30 second viewing, the question on all of our lips was "Was that it?" Yes, there was an overall consensus that we all had just seen something artistically historic, and everyone in the space snapped enough selfies to perpetuate the hype. But for my kids, the experience was less than awe-inspiring.
While the art itself is massively kid-friendly, after waiting for a few hours to spend less than a minute in the infinity room, you might be dealing with some understandable frustration if you visit Kusama's latest NYC art installation with kids. But before you completely rule out a visit, consider the magnitude of this event, which made our list of the most-anticipated family activities in NYC this fall.
RELATED: 50 Fun Things to Do in Chelsea with Kids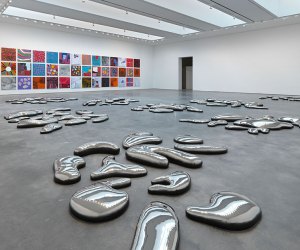 "Clouds" is a 90-part floor installation included in Kusama's exhibit "Every Day I Pray For Love."
The 90-year-old Kusama is the most famous living female artist in the world, and her immersive environments, praised as cathartic and existential by scores of faithful followers, have been known to draw mass audiences. Kusama's work unites two of the most important art movements of the second half of the twentieth century: Pop Art and Minimalism.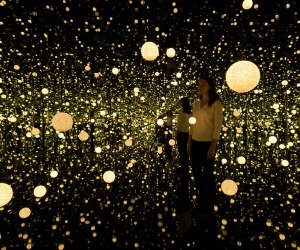 Kusama's latest infinity room is constructed from mirrored glass, wood, metal, and acrylic panels. Illuminated by an LED lighting system that projects the appearance of infinite space. The new exhibit also features some works on canvas, as well as a few aluminum and fiberglass sculptures. There's also a 90-part stainless steel floor-based installation entitled "Clouds" that my kids admired.
The gallery has no public bathroom facilities, which might make this exhibit a no-go for parents of younger kids. If you plan to go, our recommendation is to visit early on a weekday for the shortest line—and plan to make up for the wait with a visit to the High Line or Chelsea Market.
Yayoi Kusama's exhibit at the David Zwirner Gallery is located at 537 West 20th Street between Tenth and Eleventh Avenues in Chelsea. The exhibit is currently scheduled to run through Saturday, December 14, and is open Tuesday–Saturday, 10am–6pm. Again, this exhibition is FREE and open to the public, no tickets required.
Photos courtesy of the gallery