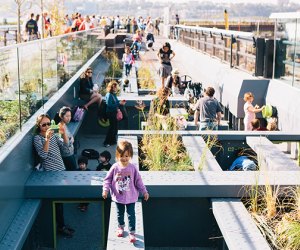 NYC's High Line: The Best Sights and Events for Families
Like many native New Yorkers, I sometimes get caught up in my daily routine and forget all that this amazing city has to offer families, from unexplored treasures to mega popular tourist destinations that are always crowded, but for good reason. The High Line, a formerly-abandoned track of elevated railway on Manhattan's west side that's found new life as a public park, is one prime example.
Owned by the city, but maintained by the nonprofit Friends of the High Line in coordination with the NYC Department of Parks and Recreation, the High Line has developed a bit of a reputation as a tourist zone. But a visit to the High Line is well worth braving the crowds. It's both an amazing public art site and a community hub, with wonderful year-round programs for locals—and it's FREE. Plus, its proximity to both Chelsea Market and Hudson Yards makes the High Line a perfect city adventure (snacks included).
Here are all the must-see spots for children at this unique outdoor park, plus the kid-friendly events you'll want to add to your family's calendar.
Editor's note: Timed-entry reservations are now required for weekend visits. Book your FREE tickets online in advance.
We recommend starting at the northern end of the High Line at 34th Street near Hudson Yards and working your way down to the Meatpacking District—at either end of your journey, you'll find a number of great restaurants to fill your belly. The park runs from West 34th Street to Gansevoort Street, weaving between 10th and 12th Avenues. Follow this guide, or choose your own path—you'll surely have a fun and jam-packed day. Don't forget your comfortable shoes—and be sure to charge up your phone for photos.
Top Sights for Kids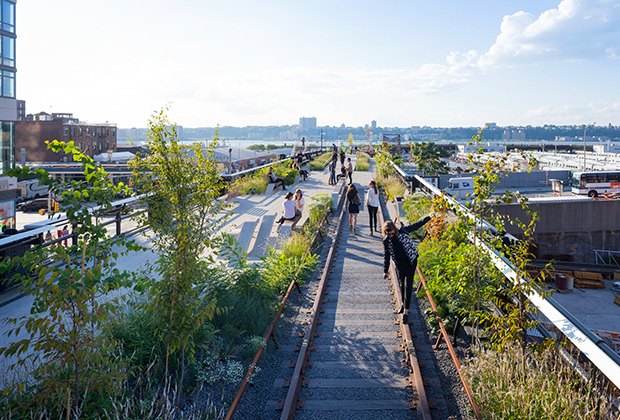 Kids can walk along exposed track in the Rail Yards section of the park. Photo by Iwan Baan
The basics: The whole park is essentially a planted walking path, but a wide one, with art and murals, small water features, and even vendors mixed in. You'll pass by the upper level windows of apartment buildings close to the tracks, hotels, and even museums. There is plenty of seating, so you're always welcome to take a break for a snack or some of the city's finest people watching. You can look out onto street traffic, too—all while feeling slightly apart from the buzz of the city, slightly above.
The Rail Yards, which stretch from 34th Street to 30th Street, offer panoramic views of the Hudson River. Bonus: the tracks are prominent here, and kids can explore artifacts like the rail "frog" and the rail switches.
Pershing Square Beams at 30th Street is a structure of steel beams and framework specifically revamped for children in mind. The concrete deck in this part of the park has been stripped away to reveal the original framework of steel beams and girders. These industrial structures have been coated in a silicone surface, transforming them into an area safe for running, climbing, and play.
The 10th Avenue Square and overlook at 17th Street is a small amphitheater that faces a wall of glass that you can walk right up to. Below and beyond the glass is a great view of Tenth Avenue.
The Diller-von Furstenberg Sundeck and water feature between 14th and 15th Streets lets you relax in the wooden lounge chairs while the kids splash (without getting soaked) in the warmer months.
The Spur, the newest section of the park, opens in June, but visitors can catch a glimpse of Simone Leigh's monumental 16-foot tall sculpture Brick House now from the street and the park at 30th Street and Tenth Avenue. The Spur will offer more seating, public restrooms, a refreshment cart, and incredible vistas of the city.
My 5-year-old son got a kick out of being told the High Line's history. The High Line was once an elevated freight rail line. Pointing out the tracks that still remain became a game for him. Sometimes they are in direct view and sometimes they are tucked within the garden and plants, like the lost ruins of an era long past.
RELATED: Chelsea with Kids: 50 Fun Things to Do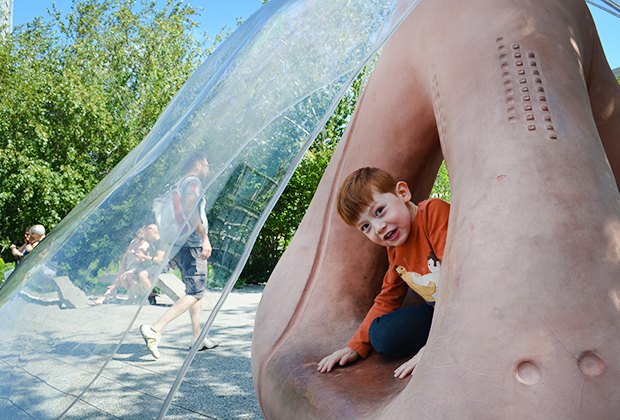 The High Line is home to many exhibits including Mutations by Various Artists, which will call the High Line home until March 2018. Photo by the author
High Line Art provides the unique exhibitions, performances, and programs at the High Line. Many of the sculptures and exhibits allow children to get up-close-and-personal.
Top Events for Families
The High Line brings families a number of great events and programs year-round. We feature a number of the most kid-friendly ones going on in our NYC event calendar, too.
This summer, families are invited to join a series of Family Festivals, beginning with Young Storytellers. This is a chance to learn how to tell stories loudly, boldly, and creatively. Young artists are encouraged to make monumental stories inspired by artist Simone Leigh's Brick House, the first monumental work of art on the new High Line Plinth.
RELATED: Hudson Yards With Kids: Top Things to Eat, See, and Do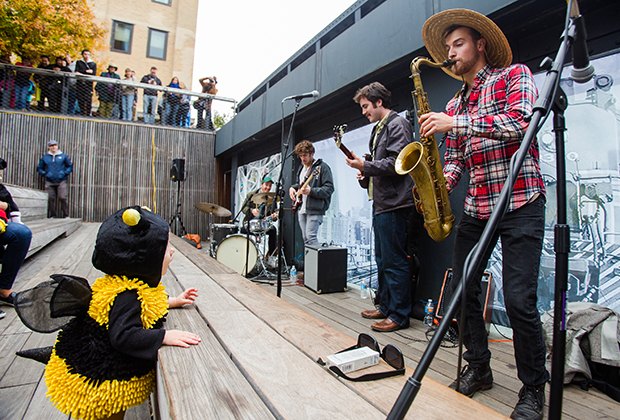 Bring your costume to the Haunted High Line this October. Photo by Liz Ligon
This year's group exhibition En Plein Air will feature artworks that families can enjoy. The exhibition expands on the traditions of outdoor painting (the title comes from the French for "in the open air") and features eight artists from around the world. Daniel Buren's The Garlands features thousands of colorful flags along the northern end of the park; Lubaina Himid's Five Conversations is a series of doors brightly painted with different women talking to each other; and Sam Falls' Untitled (Four Arches) is 4 archways decorated with ceramic tiles embedded with flora collected from the park, mounted on original rail tracks from the High Line.
The Family Pride Picnic is a new event, coming in June, that invites families to a summer festival in celebration of LGBTQ members of the community and Pride. The day will feature carnival-style games, face painting, refreshments, and a musical performance.

Stargazing will be a part of the High Line's calendar through October every Tuesday. High-powered telescopes will make it easier to reach for the stars.
Older kids will enjoy Wildlife Tours, the first Saturday of each summer month, where they'll learn how pollinators, migratory birds, and other wildlife use the habitat and food provided by the High Line's gardens.
The calendar at the High Line is always evolving and changing, so be sure to check in.
Top Eats
Along the High Line, mostly in the Chelsea Market Passage, you'll find a line of quick and delicious snacks for purchase like ice cream and empanadas. Underneath the High Line near the Whitney Museum there is also a café, Santina, that provides light Mediterranean fare (and wine!).
RELATED: NYC Family-Friendly Restaurant Guide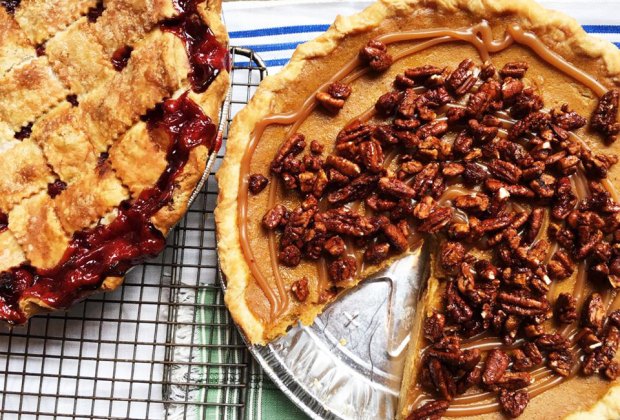 Try the delicious pies at Bubby's or stay for brunch. Photo courtesy of the restaurant
Below, on the street, are a number of great eateries like Bubby's and the many establishments in Chelsea Market. But my son had his heart set on some strawberry ice cream from Ample Hills Creamery.
You're also welcome to bring your own food into the High Line. There are plenty of tables and chairs in the Chelsea Market Passage. Or you can spread out a picnic on the 23rd Street Lawn.
Top Things to Do Nearby
The Whitney is hard to miss at the southern end of the High Line. If your child is up for some contemporary art, then head to this amazing museum and don't miss Open Studio for families on Saturdays and Sundays.

Less than a five minute walk away is the Pier 51 Playground in Hudson River Park where your kiddos can burn any lingering energy. Photo courtesy of Hudson River Park
Stop by Chelsea Market, the enormous food hall and marketplace, where even the pickiest eaters can find something they love among the bakeries, pizza shops, and burger joints.
If your child is on the younger side and playtime is on the brain, take a stroll over to Chelsea Waterside Park or Hudson River Park, just a few blocks away. My son spent hours at Pier 51 Playground, playing in the sand while I took in the views.
Hudson Yards is bringing more people to the area to live and work, as well as many new visitors—all drawn to the climbable spectacle known as The Vessel, plus the public art exhibits and the chef-driven food hall. The "it factor" of Hudson Yards is likely to mean more foot traffic on the High Line this season, especially in the northern section, but it also expands the possibilities for exploration...and snacking.
Good to Know Before You Go
The High Line is FREE as are many of its activities, but reservations may be required for certain events, as space can be limited—so always check the site and plan ahead.
The best times to visit the High Line are usually in the morning or the early evening, as the afternoons get crowded.
Hours of Operation
December 1–March 31: 7am–7pm
April 1–May 31: 7am–10pm
June 1–September 30: 7am–11pm
October 1–November 30: 7am–10pm
The High Line is both stroller and wheelchair accessible with elevator entrances at 30th Street, 23rd Street, 16th Street, 14th Street, and Gansevoort and Washington Streets. Ramp access is available at the 34th Street and 12th Avenue entrances. Check the map for additional stair access.
The High Line may ask you to temporarily part with your stroller to enter an event or performance area with a high attendance. Stroller parking will be available.
Restrooms are available at 16th Street and at the southern entrance at Gansevoort.
During the warmer months, don't forget hats and sunscreen. There are a few spots that can get pretty sunny.
And during the winter, be aware that the wind up high can invite a bit of a chill.
Like most public gardens and parks, picking flowers and plants is not permitted. Please stay on designated paths and don't climb or sit on the railings and ledges. Yikes!
If you're interested in exploring more of Manhattan's unique and historical sites, check out our Visitors' Guide with reviews and itineraries for all the top spots.
Top photo: Pershing Square Beams. Photo by Rowa Lee. Unless otherwise noted, photos courtesy of Friends of the Highline
A version of this post was previously published in 2017; it has been updated. Katie Nave Freeman contributed additional reporting.