Visiting Governors Island: 20 Secrets for Things To Do and See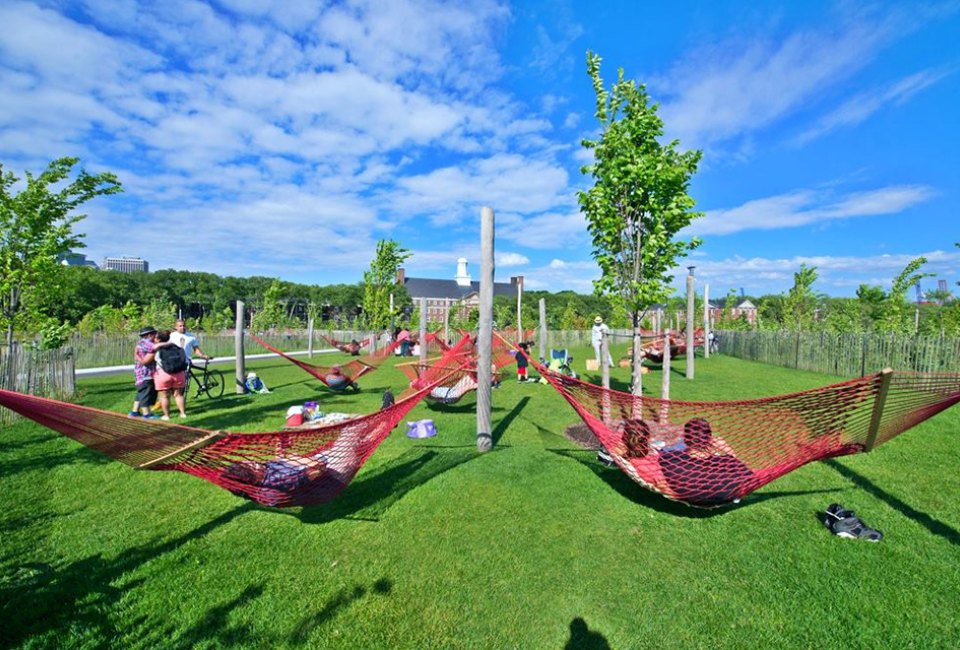 5/5/22
- By
Jody Mercier
Governors Island, located in New York Harbor, is a slice of green space heaven with more than 172 acres of car-free parkland to explore. From playgrounds, art exhibits, museums, and sports to food trucks and concerts, there's something for everyone to do and see. Now that Governors Island is open year-round, New Yorkers and tourists can enjoy all that Governors Island has to offer through all four seasons.
Read on for the scoop on the very best things to do on Governors Island with kids, plus important visitor tips—such as ferry schedules and where to score FREE biking and kayaking.
Subscribe to our newsletters to get stories like this delivered directly to your inbox.
​The Best Things To Do on Governors Island
Check Out a Cool Castle and a Fort
Castle Williams, royal as it sounds, actually served as a military prison. Embark on a self-guided tour of the landmark's exterior, as well as Fort Jay across the situated more in the center of Governors Island, and be sure to check the National Park Service calendar to see what programming piques your family's interest.
See Cool, FREE Exhibits
Governors Island continues to be a seasonal home for innovative public arts programming. The former officers' quarters in Nolan Park house several different organizations with a diverse array of exhibits. Read about them all or wander through and see where the day takes you. Most programs run weekends-only.
RELATED: 10 Must-Visit Underrated NYC Parks

No grown-ups are allowed in The Yard!
Play in The Yard
Governors Island's adventure playground, known as The Yard, is open on spring and summer weekends from noon-4pm. Parents sit on the sidelines while kids romp in the 50,000-square-foot creative space, turning recycled materials (OK, some would call it junk!) into playthings limited only by their imagination. We visited several times and were impressed. Be forewarned: You'll be hard-pressed to get your kids to leave!
Attend an Annual Event
Bookmark the Governors Island event calendar because there's always something happening. Some of our favorite, family-friendly, annual festivals include the Jazz Age Lawn Party, the New York City Poetry Festival, Porch Stomp, and the City of Water Day.
RELATED: 25 Kid-Friendly Spring Day Trips for NYC Families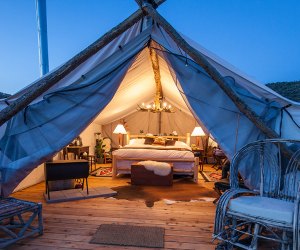 The only way to spend the night on Governors Island is in the luxury tent city.
Plan a Sleepover
Collective Governors Island offers a luxurious glamping retreat on the island's western edge. Choose from high-quality tents or self-contained luxury trailers—complete with AC—under the watchful eye of Lady Liberty. Some tents have shared restrooms, premium tents feature en suite bathrooms, and the newer Outlook Shelters have spa-like bathrooms and private terraces. Prices are steep but keep your eye out for occasional specials. If you don't want to spring for an overnight stay, check out the digs on a weekend afternoon when the on-site bar/restaurant is open to the public and lawn games are FREE for all.
Build Your Oyster Knowledge
The Billion Oyster Project and the New York Harbor School, which is located on Governors Island, join forces to educate the public on the importance of oysters in our estuary with educational weekend workshops. If you want to get hands-on and help out, there are occasional volunteer days, too.
RELATED: Adventure Parks, Zip Lines, and Ropes Courses Near NYC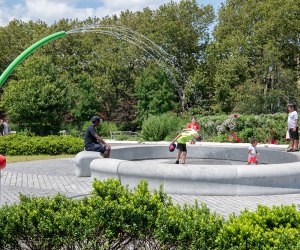 Don't forget to pack your bathing suits for the popular sprinklers. Photo by Julien Schaer
Play and Get Wet in Liggett Terrace
A staple since 2014, Liggett Terrace features climbing structures and swings, the Hammock Grove, and a large Play Lawn. We love them all, along with three play fountains boasting 90 water jets located in the hedge maze, so be sure to pack the bathing suits. FREE
Learn About Birds
The New York Audubon Society operates family-friendly programming on Governors Island, ranging from bird walks to bird-inspired arts and crafts. You can also borrow binoculars to explore the island's winged inhabitants on your own. Families can learn how to create bird-friendly spaces in our urban environment.
RELATED: New York City's Best Playgrounds: 21 Parks Worth a Schlep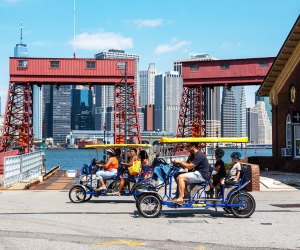 Rent a bike or bring your own and spend the day cruising around the island. Photo by Timothy Schenck
Go Bike Riding
Governors Island features six miles of flat, car-free roads for cycling, which makes it perfect for kids to ride bikes. Indeed, you can cycle Governors Island's entire perimeter. You can bring your bike on the ferry or rent one on the island from Blazing Saddles or Citi Bike. Free Bike Mornings on Governors Island allows visitors to borrow a Blazing Saddles bike for FREE for up to 1 hour every weekday between 10am and noon.
Tour a Circular Economy MicroFactory
See how post-consumer plastic gets turned into plastic products at the MicroFactory. The Micro­Fac­to­ry is an off-grid man­u­fac­tur­ing oper­a­tion con­tained in a portable ship­ping con­tain­er on Governors Island that pro­duces no tox­ins, pol­lu­tants, or waste and is powered solely by solar panels. The team is on-site on weekends to answer questions and provide tours.
RELATED: Little Island Opens Brings New Park, Live Entertainment to Manhattan's West Side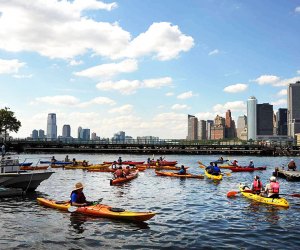 Cruise the harbor in a FREE kayak rental.
Borrow a Kayak
The Downtown Boathouse runs a FREE kayaking program on Governors Island. It reopens for the summer season in June. Bookmark the Downtown Boathouse website for updates on timing as the season nears.
Go Fishing
Catch-and-release fishing is allowed in designated areas along New York Harbor. Kids can fish without a license but adults ages 16 and older need a valid NY State fishing license. Licenses are inexpensive, but they're not sold on the island. Click here for info on obtaining one. FREE for kids
RELATED: 25 Outdoor Adventures for NYC Kids to Explore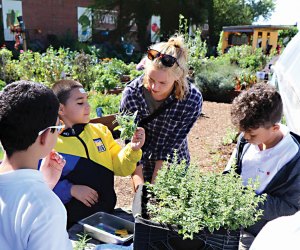 Get your hands dirty with GrowNYC.
Commune With Nature
There are lush lawns and beautiful trees everywhere you look on Governors Island. However, if you really want to get your nature fix, GrowNYC operates an urban farm with hands-on programming on weekends. Meanwhile, Earth Matter offers composting lessons and face time with its menagerie of animals.
Go Fruit Picking
Governors Island's newest public installation, The Open Orchard, is a combination of art and environmental preservation. Sam Van Acken, an artist and professor, planted 102 fruit trees from antique and heirloom fruit varieties that were grown in and around New York City in the past 400 years. The variety of fruit includes apples, apricots, almonds, cherries, peaches, pears, plums, persimmons, and more. It will be a few years before they'll produce a harvest, but in the meantime, The Open Orchard plans to hold workshops, talks, performances, and offer culinary lessons.
RELATED: Top Attractions in NYC: Best Things To See and Do With Kids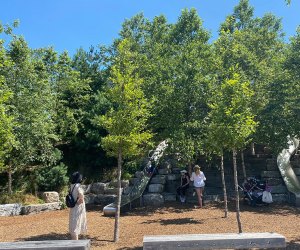 Slide Hill offers four mega slides and great views over 10 acres of parkland.
Play on The Hills and Slide Hill
Created from recycled fill materials, The Hills rise above Governors Island offering visitors a panoramic view of New York Harbor. Not-to-be-missed: Slide Hill, which offers the city's longest slide at 57 feet and three more fun slides to glide down. Don't be shy—make sure you take a whirl with your kids!
Remember to Return This Winter
Governors Island is an all-seasons playground now, so don't forget to visit when the flakes fly. This winter, we realized how much fun its sledding hills provide and had a blast exploring the Winter Village for ice skating, hot chocolate, and more wintery-tinged fun.
RELATED: Gorgeous Glamping Near NYC for Your Next Family Getaway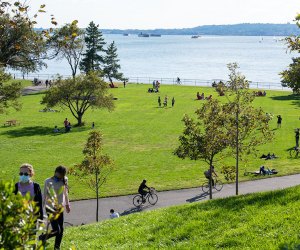 Governors Island offers acres and acres of beautiful green space to explore and enjoy. Photo by Julienne Schaer
Just Relax
Seriously. You don't always have to be doing something. Hang out in the hammocks, the oversized swings, or lie in the grass and soak up the sun. A parent-friendly perk for the season: The addition of the adults-only QC NY Spa, one of our favorite family-friendly spa resorts nearby.
Where to Eat on Governors Island
There are a variety of excellent food vendors selling a variety of cuisine including tacos, seafood, burgers, Jamaican food, ice cream, and coffee. The lines tend to get long during peak lunch times and if you're visiting on a weekday, the options on Governors Island are much more limited.
For sit-down fare, consider Island Oyster, which serves delicious summer-inspired eats, inventive cocktails, and breathtaking views. You can also head to Three Peaks Lodge at Collective Governors Island for a farm-to-table experience at its on-site restaurant. Cocktails and sharable apps on its terrace are a picture-perfect ending to a day here.
Another great option is to bring your own food and picnic. Picnic tables and Adirondack chairs are available throughout the island. There are also many shaded areas perfect for laying down a blanket and dining alfresco on the grass.
If it's not summer without striking up a grill, take note: You can reserve a grill and pack a cooler full of foods to cook alfresco. You can't beat this dinner with a view!
How to Get to Governors Island
Governors Island is open year-round, 7am-6pm. The only way to get to Governors Island is by ferry. In Manhattan, ferries run daily from the Battery Maritime Building, located at 10 South Street. Ferries also run daily on the NYC Ferry's South Brooklyn route, with stops on the Lower East Side, Wall Street, and along the Brooklyn waterfront.
There's a seasonal weekend Brooklyn ferry service from Red Hook and Pier 6 in Brooklyn Bridge Park that runs late spring through summer.
All passengers ride FREE on the weekends before noon. After that, tickets cost $4 for adults. Tickets are FREE for children 12 and younger, IDNYC holders, NYCHA residents, seniors, and members of the military.
Things to Know Before You Go to Governors Island
There are lots of port-a-potties on Governors Island. However, if you must use a traditional bathroom, you'll find regular flush toilets in Building 110 at Soissons Landing (right by the Manhattan ferry dock) as well as trailers at Liggett Terrace and near Slide Hill.
You can refill your bottle (and save some cash!) at Liggett Terrace, near Yankee Pier, Slide Hill, and Soissons Landing.
Wear sunscreen, a hat, and comfortable walking shoes: You're going to be spending a lot of time running around outside.
Even though the isle is open seven days a week, many attractions are not: Food vendors and many special programs only take place on weekends, so if you're going on a weekday, make sure you check the calendar to confirm what's going on. Though, truth be told, weekdays offer a quiet respite from the city!
Take time to explore: Even if you go for a specific event or have an itinerary in mind, there are so many wonderful things to do, it's best to have a flexible schedule. Many buildings house artisans and boutiques, art installations, or other programs. Since the isle is totally walkable, it's ideal for exploring, and there are cool discoveries to be found in every nook and cranny.
Download the map. Honestly, you probably won't need it, as there are maps and signage posted across Governors Island, but it can't hurt.
Keep an eye out for bikes. While there are no cars on Governors Island, there are a ton of cyclists. Most are careful, especially since there are so many children wandering around. But remind your kids that when they're walking on the streets, bikes may come flying their way.
Photos courtesy of Governors Island unless otherwise noted.
This article was first published in June 2010 and is updated annually.
Places featured in this article:
Click Here to Sign Up!
i