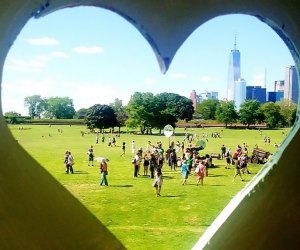 Governors Island 2020: Playgrounds, Camping, Biking, and Wide-Open Spaces
Please note that we've attempted to highlight Governors Island at its best in the following post. The 2020 public season is set to begin on Wednesday, July 15, and many service changes and program limitations are in effect. Read more about the 2020 Governors Island season here.
Governors Island opens to the public on July 15, 2020, and brings with it 172 acres of parkland to explore, providing weary New Yorkers a new summer staycation activity.
The opening of Governors Island is an event we anticipate annually, and while services in 2020 are more limited than in the recent past, there's still plenty of fun to be had on the isle.
Read on for the scoop on the very best things to do on Governors Island, plus important visitor tips—such as ferry schedules, and where to score free biking and kayaking.
The Best Things to Do on Governors Island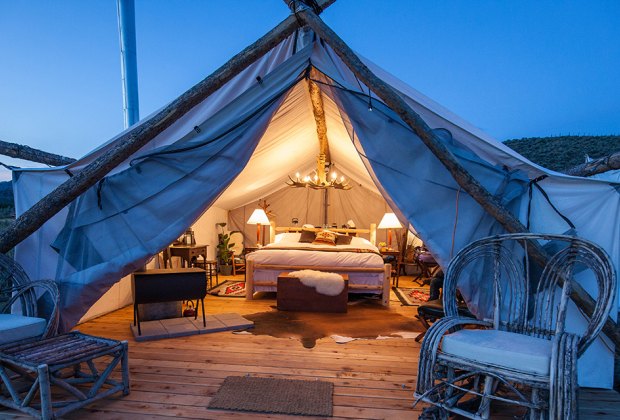 The only way to spend the night on Governors Island is in the luxury tent city.
Plan a sleepover
Collective Governors Island returns with its tent city in the island's Western Development Zone, where you'll sleep in high-quality tents under the watchful eye of Lady Liberty. Choose from double-occupancy tents with shared restrooms, or premium tents with an en suite bathroom. Prices are steep, but New Yorkers can snag half-off rooms ($75) some nights. If that's still too steep for a home away from home, check out the digs on a weekend afternoon when the on-site bar/restaurant is open to the public and lawn games are free for all.
RELATED: 10 NYC Family Must-Sees Beyond Times Square (According to Actual New York Parents)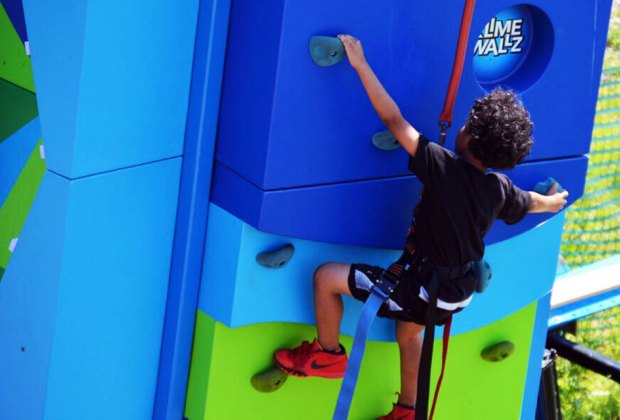 Get some amazing views of New York Harbor when you make it to the top of Climb Wallz at Adventures on GI.
Tap into your sense of adventure
2020 update: Adventures at GI is currently closed with no reopening date.
Adventures at GI in the Western Development Zone—run by the same group that operates beloved kid-friendly NYC attractions like the SeaGlass Carousel and Fantasy Forest Amusement Park in Queens—allows visitors to tackle the climbing wall, fly across the zip line, get lost in the maze, and try your luck at mini-golf.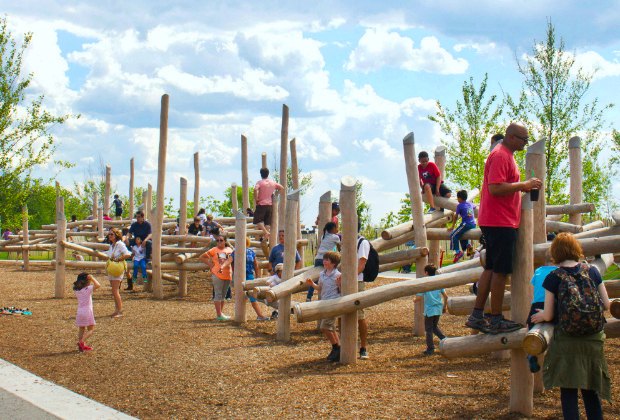 The Liggett Terrace climbing playground is always a popular spot. Photo by Bruce Monroe via Flickr.
Play and get wet in Liggett Terrace
A staple since 2014, Liggett Terrace features climbing structures and swings, the Hammock Grove, and a large Play Lawn. We love them all, along with three play fountains boasting 90 water jets located in the hedge maze, so be sure to pack the bathing suits. FREE
RELATED: New York City's Best Playgrounds: 18 Parks Worth a Schlep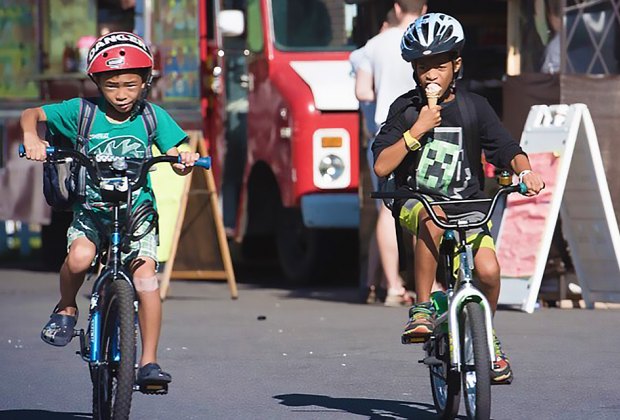 Rent a bike or bring your own and spend the day cruising around the island.
Go bike riding
The isle features six miles of flat, car-free cycling, which makes it perfect for kids. Indeed, you can cycle the island's entire perimeter. You can bring your bike on the ferry or rent one on the island from Blazing Saddles or Citi Bike. Free Bike Mornings on Governors Island allow visitors to borrow a bike for FREE for up to one hour every weekday between 10am and noon.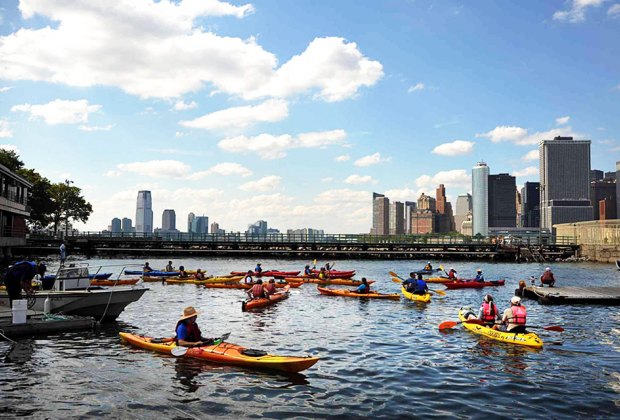 Cruise the harbor for free with a kayak rental.
Kayak
2020 update: The Downtown Boathouse remains closed with no reopening date.
Offered on Saturdays from June 15-September 14, you can get out on the water with free kayak rentals provided by the Downtown Boathouse. Instruction and all safety equipment is included.
Get creative with the Children's Museum of the Arts
2020 update: CMA's outpost is currently closed with no reopening date.
The downtown institution runs a Free Art Island Outpost from 11am-5pm every Saturday and Sunday, plus Memorial Day and Labor Day, in Nolan Park. In recent years, projects have included communal murals, finger puppets, and playing with Flubber. FREE
Check out a cool castle and a fort
2020 update: Both historic buildings are currently shuttered with no reopening date.
Castle Williams, royal as it sounds, actually served as a military prison. You can take a guided tour of the landmark, as well as Fort Jay across the isle, courtesy of the National Park Service. Kids can even earn Junior Ranger badges at the sites. The NPS offers lots of other programs, many of which are kid-friendly, so check the calendar to see what piques your family's interest.
Go fishing
Catch-and-release fishing is allowed in designated areas along New York Harbor. Kids can fish without a license but adults ages 16 and older need a valid NY State fishing license. Licenses are inexpensive, but they're not sold on the island. Click here for info on obtaining one. FREE for kids
Commune with nature
There are lush lawns and beautiful trees everywhere you look. However, if you really want to get your nature fix, GrowNYC operates an urban farm with hands-on programming on weekends. Meanwhile, Earth Matter offers composting lessons and face time with its menagerie of animals.
Build your oyster knowledge
The Billion Oyster Project and the New York Harbor School, which is located on the island, join forces to educate the public on the importance of oysters in our estuary in season-long educational weekend workshops. If you want to get hands-on and help out, there will be volunteer days throughout the summer, too.
Or learn about birds
The New York Audubon Society operates weekend-only, family-friendly programming, ranging from bird walks to bird-inspired arts and crafts. You can also borrow binoculars to explore the island's winged inhabitants on your own. Families can learn how to create bird-friendly spaces in our urban environment.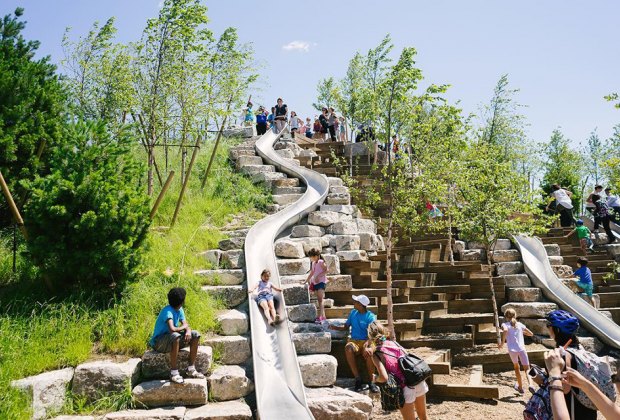 Slide Hill offers four mega slides and great views over 10 acres of parkland.
Play on The Hills and Slide Hill
Created from recycled fill materials, The Hills now rise above the isle offering visitors a panoramic view of New York Harbor. Not-to-be-missed: Slide Hill, which offers the city's longest slide at 57 feet and three more fun slides to glide down. Don't be shy—make sure you take a whirl with your kids!
Just relax
Seriously. You don't always have to be doing something. Hang out in the hammocks, Adirondack chairs, oversize swings, or at the tables. Or bring your own picnic and dine alfresco on the grass. You can also pick up great grub from the excellent food vendors on the island.
Things to Know Before You Go
Where to go when you need to go: There are lots of port-a-potties on the isle. However, if you must use a traditional bathroom, you'll find regular flush toilets in Building 110 at Soissons Landing (right by the Manhattan ferry dock) as well as trailers at Liggett Terrace and near Slide Hill.
Bring a refillable water bottle: You can refill your bottle (and save some cash!) or thermos at Liggett Terrace, near Yankee Pier, Slide Hill, and Soissons Landing.
Bring your own food: Yes there are wonderful food vendors, but they're not cheap and the lines are often super long. If you're visiting on the weekdays, be aware that the options are much more limited. If you can, bring your own picnic.
Arrive at least 30 minutes before your weekend ferry departs: New in 2020: Reservations are required for ferries and can be made on the Governors Island website.
Wear sunscreen, a hat, and comfortable walking shoes: You're going to be spending a lot of time running around outside.
Even though the isle is open seven days a week, many attractions are not: Food vendors and many special programs only take place on weekends so if you're going on a weekday, make sure you check the calendar to confirm what's going on. Though, truth be told, weekdays offer a quiet respite from the city!
Take time to explore: Even if you go for a specific event or have an itinerary in mind, there are so many wonderful things to do, it's best to have a flexible schedule. Many buildings house artisans and boutiques, art installations, or other programs. Since the isle is totally walkable, it's ideal for exploring, and there are cool discoveries to be found in every nook and cranny.
Download the map: Honestly, you probably won't need it as there are maps and signage on the isle, but it can't hurt.
Keep an eye out for bikes: While there are no cars on the isle, there are a ton of cyclists. Most are careful, especially since there are so many children wandering around. But remind your kids that when they're walking on the streets, bikes may come flying their way.
Governors Island is open seven days a week beginning Wednesday, July 15, 2020, from 10am-6pm on weekdays and 10am-7pm on weekends. Ferries run every day to and from Governors Island from lower Manhattan. The Brooklyn ferry only runs on Saturdays, Sundays, and holiday Mondays. New in 2020: It departs from the Red Hook/Atlantic Basin Ferry terminal. Don't forget to book your ferry reservation in advance for 2020 service.
The cost is $3 round-trip for adults on weekdays and weekend afternoons, FREE for children under age 13, and FREE to all on weekend mornings. IDNYC holders, NYCHA residents, seniors, and members of the military ride for free, too. The NYC Ferry also stops at Governors Island on weekends.
Photos courtesy of Governors Island unless otherwise noted
This article first published in June 2010 and is updated annually.