The Adventures of Tortoise & Hare The Next Generation
The Sheen Center

The Very Hungry Caterpillar Show
DR2 Theatre

NYC Easter Brunch Cruise 2023
Event Cruises NYC
Sign up for our free newsletters.
Adventure Playground on Gov. Island Debuts 2018 Schedule and Name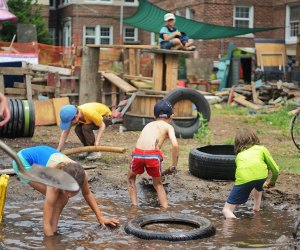 4/16/18
- By
Jody Mercier
We were instant fans of the adventure playground on Governors Island when it debuted in 2016 and are pleased to report the free-play haven returns for a third season, opening its gates to the public on Saturday, May 5 under a new moniker: The Yard.
The Yard will be open for FREE play every weekend during Governors Island's public operating season. Governors Island officially opens on Tuesday, May 1, 2018 and its season runs through Halloween.
Sponsored by local nonprofit play:groundNYC, the Yard's new name is actually a throwback, as the original namesake was a Minneapolis, Minnesota-based adventure playground opened in 1949; the first of its kind in the U.S. In an era where parents are pondering the need for more risk in their kids' lives, these "adventure" playgrounds have begun popping up again, though this is NYC's only one.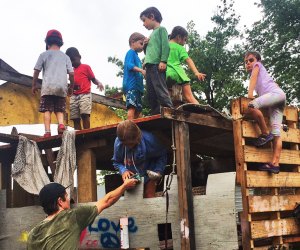 Kids are free to build, climb, destory, and generally make a mess as they get creative in the Yard.
So, what can you expect on a visit to The Yard? Zero interaction from parents. Once you've signed a waiver, you'll be asked to wait outside, while your kids frolic in the 50,000-square-foot free-play space. They'll find loads of recycled materials to craft and create with, including heavy-duty hands-on tools like hammers and saws. Trained "playworkers" are on-site to make sure everyone stays safe. While the main play area is open to children ages 6 and up, parents of younger children can work side-by-side with their kids in the adjacent family adventure play area.
Note: One of the few rules is that kids must wear closed-toe, thick-soled shoes, so no summer Crocs, sandals, or cut-out-style sandals like Keens.
RELATED: Maker Spaces for Drop-In Creator Fun with NYC Kids

Tools, including saws and hammers, are available for kids' use.
If you're hoping to visit on the weekdays, you're out of luck, unless you register your kids for one of the eight, weeklong summer camps hosted at The Yard. The week of July 23-27 will be a girls-only week. Cost for one week is $625, though organizers promise to offer two scholarship spots per session.
For more information on The Yard, its organizers, or programming, visit its website.
All photos by Philipp Klaus/courtesy the playground via Flickr