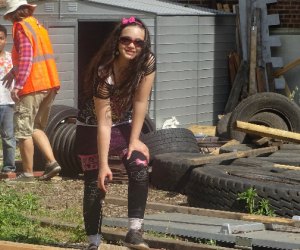 New Adventure Playground Lets Kids Saw, Hammer, and Build
Ever since I read The Atlantic's article about "adventure playgrounds" a few years back, I've been obsessed with bringing my now-ten-year-old daughter to one. Like many school-age children, she lost interest in slides, swings, and climbing structures around the third grade, but kids won't find any equipment like that in the just-opened play:groundNYC on Governors Island. In fact, they won't find any traditional play equipment at all! But they will discover enticing piles of junk (wooden planks, old tires, broken treadmills and strollers, crutches, even a toilet seat) and tools (saws, hammers, and nails) that they can do anything they want with—the only limitation is their imagination. Perhaps the best part (at least from a child's perspective): No parents are allowed.
Freaked out yet? Don't be. The founders of this amazing, 15,000-square-foot, FREE outdoor creative space are mostly NYC parents with young children, and they've put a lot of thought, time, and money into it. And it's FREE to play, of course!
The concept of a junk playground actually dates back to 1940s Europe, and there are a handful of adventure playgrounds in the US, including one that's almost four decades old in Berkeley, California. But NYC hasn't seen any permanent ones since the '70s. Considering how regimented kids are these days, the founders thought it was high time to put the free play back into playtime. Judging from their very successful Kickstarter campaign and the crowd the site attracted during its opening weekend (it reached capacity by the afternoon), it's clear many Big Apple families share that sentiment. My child sure did: She entered at 12:30pm and refused to leave until closing time at 4pm except to wolf down a quick lunch! But while play:groundNYC is absolutely worth checking out, there are some important things to know before you go. We've got the scoop on how to make the most of your play day.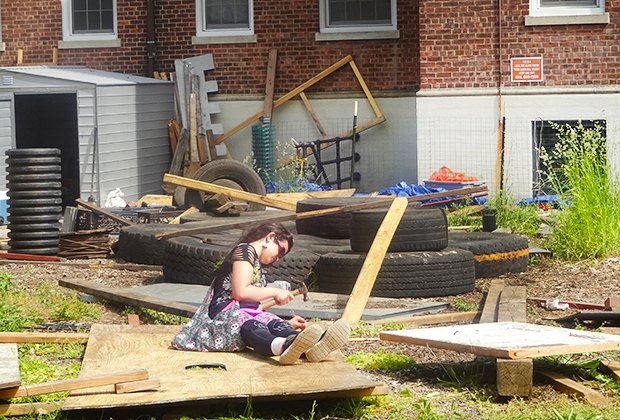 Kids are allowed to work with real tools as they build, destroy, and tinker.
At first sight, play:groundNYC looks like a junkyard, and that's by design. It's divided into two sections: a family adventure play area on the right (lovingly dubbed the "mud kitchen") for children ages 3 and up, and a larger adventure playground on the left for ages 6 and up. The family section skews younger and doesn't have any tools or dangerous objects; it's mostly fabrics, tents, toys, sticks, dirt, water, and mud. Parents cannot drop off their kids in this area; they must stick around and watch, though they're asked to sit on the bleachers in the back so the kids can play without interference.
No parents are allowed in the adjacent adventure area at all (though you can look on from the lawn across the road—there's lots of shade and a nice breeze from the nearby waterfront). Instead, trained playworkers (one to every 10 children) are on-site in case kids need help sawing or hammering, or just have questions like, "What can I do here?" which was the first thing my child asked. For kids used to rules and regulations, the adventure playground can be a bit daunting at the outset. As my daughter sifted through the detritus and started building, she kept stopping to ask permission for every little thing, expecting someone to say, "No." But no one ever does. Unless kids look like they're going to hurt themselves or others, the playworkers do not intervene. Even for non-helicopter parents, this can take a bit of getting used to. I saw a group of boys building a fort out of old tires give my daughter the cold shoulder when she asked to join them. I immediately got annoyed on her behalf, but then I watched her shrug it off and go start her own project. That kind of interaction is exactly what makes play:groundNYC so cool. It's not just about free play; it's about independence. Kids get the opportunity to socialize, collaborate, and even fight without grown-ups jumping in to "fix" any problems.
RELATED: Dumbo Boulders: Climbing Brooklyn's New Outdoor Wall with Kids

Playworkers are on hand if kids ask for help, but they don't interfere with play or impose many rules.
Before you enter either section, parents must sign a pretty lengthy waiver that basically says you won't sue the play:ground, regardless of what happens. The worst injury we saw during our stay was a splinter, though the organizers do their best to sand down the wood and blunt any sharp edges. Closed-toed shoes are required to enter the adventure area, one of the few strict rules. We saw a couple of kids turned away due to their sandals.
I watched my daughter for a bit before I decided to leave to enjoy a stroll around the island. Children in the adventure section may be left on their own, but the playworkers are very clear that they are not babysitters. If a child decides to leave, they will not stop her. And unless a child is engaging in unsafe behavior, they won't intercede. So just make sure you communicate your expectations to your child before taking off. Parents are asked to check in every half hour to verify everything is going okay.
RELATED: Brooklyn Robot Foundry Opens on the UES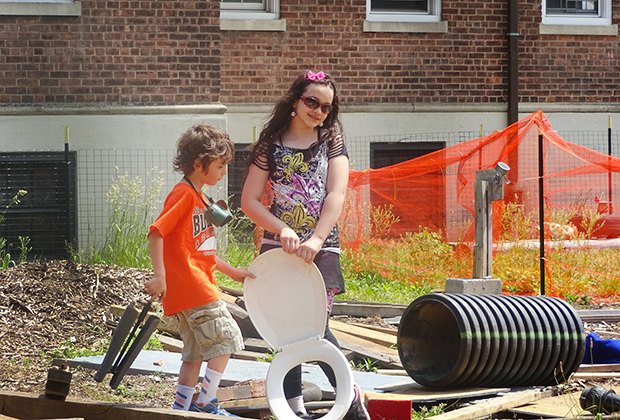 It might look like junk to parents, but kids find surprising treasures at play:groundNYC.
While my daughter loved her play:groundNYC experience (she's now begging to go to their summer day camp and she even asked if she could "reserve" the wood she was working on so she could continue with her project next time—the playworkers kindly told her no, for the first time that day!), not every kid will take to it. Although I saw many kids spend hours in there sawing and hammering, piling up tires and hiding in them, crafting makeshift tire swings, or just rolling around in the mess, some children popped in, looked around warily, and left after a few minutes. Kids who don't like to get dirty won't do well here. And while I believe every child is innately creative, play:groundNYC definitely appeals to kids who enjoy working with their hands and don't get easily frustrated or discouraged. One hallmark of other adventure playgrounds, a fire pit, is absent here because Governors Island doesn't have a fire department. (I won't lie, I was kind of glad to hear that couldn't happen!)
There's been a lot of press for play:groundNYC, including a great article in The New York Times, so my guess is it will reach capacity pretty much every weekend. Arrive early if it's on your must-do list, and be aware that playworkers may institute time limits in order to give everyone a chance. In terms of ages, there is some flexibility. While the adventure area is officially for ages 6 to 13, they will let in older teens who are interested, especially if they're accompanying younger siblings. And if a family thinks their 5-year-old is big enough for that section, that's fine too. A lot of these "rules" are left up to the discretion of the parents and the playworkers.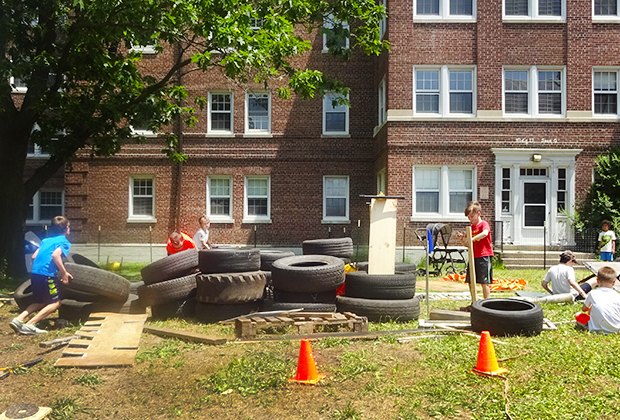 You'll find all kinds of building items here, but what you won't find are parents.
Although play:groundNYC just opened, the founders organized pop-ups all over the city last summer, so they know from experience that the kids, by and large, play together just fine. (They've only ever had to ask one child to leave.) I admit, I had visions of Lord of the Flies, but it's really much more like Peter Pan's Lost Boys. There's an infectious sense of freedom and fun, and the hyper-attentive playworkers are constantly assessing risks and hazards without getting in the way of the kids. I know we'll be back many times this summer, I just hope we don't have to wait on line too long.
Visit the play:groundNYC website to learn about the history of adventure playgrounds, donate items (they're still looking for a rowboat!), or apply to be a playworker.
play:groundNYC is located at 40 Barry Road behind the Cornelius Chapel in front of Building 12 on Governors Island. It's open weekends only from 11am to 4pm through September 25 and is FREE. It is also running a summer camp on weekdays.
All photos by the author.