10 More New Summer Day Camps for NYC Kids in 2016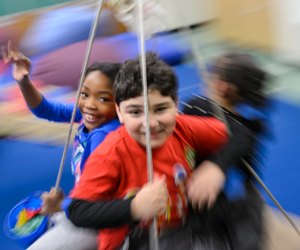 Many families may have already enrolled their little ones in summer camp, but if you still have a free week or two (or the entire summer) to fill, don't worry. There are loads of new NYC day camps that will knock your kid's socks off. From an outdoor free-play camp on Governors Island to a soccer-skills intensive and a Chinese language immersion camp, here are 10 new summer day camps for New York City kids.

For further options, check out our Summer Camp Guide and our Camp Directory.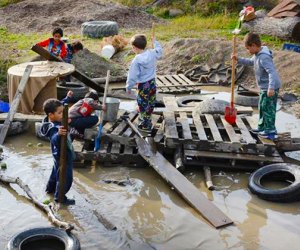 DIY kids who don't mind getting messy will love the new summer camp at Governors Island that's hosted in an "adventure" playground. Photo courtesy of Anarchy Camp, a similar camp in Ithaca, NY.
Play:Ground NYC Summer Camp Adventure – Governor's Island
July 11 through August 19
Ages 7-13
If unstructured and creative play is your goal for your child this summer, check out play:ground, a new camp that offers enrollment by the week or for the entire summer session. Overseen by trained "play workers," this outdoor camp takes place in a new natural play space on Governors Island (modeled after a junkyard) and is all about kid-led adventures using a variety of materials, craft supplies and tools. Expect happy, dirty and exhausted kids at the end of each day.

FasTracKids – Manhattan, Brooklyn, Queens and Staten Island
July 5 through September 2
Ages 2-14
Worried about the dreaded "summer slide" in which your child forgets all the great reading and math skills acquired during the school year? FasTracKids offers multiple academic summer camps, including tutoring and enrichment in math, reading and writing; Summer Steam Academy (with segments focusing on astronomy, biology and chemistry); and summer gifted-and-talented test prep.
RELATED: Great Tech Camps in NYC: Tots to Teens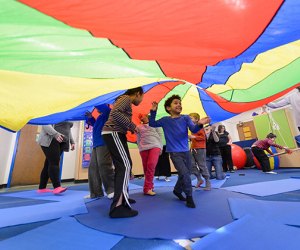 Children with disabilities can enjoy an intimate summer camp at Extreme Kids & Crew. Photo by Filip Wolak/courtesy of the camp.
Summer Camp Experience 2016 at Extreme Kids & Crew – Red Hook
July 5 through August 12
Ages 6-10
Extreme Kids & Crew is an awesome special needs organization that we've followed closely as it expanded its play spaces to meet the needs of local families, most recently in Queens. Based out of the Red Hook Space, this summer camp for children with developmental disabilities will cap sessions at nine kids and focus on fostering inclusion, exploration, fun and socialization.

Summer Camp at Lehman College – Bronx
July 5 through August 19
Ages 6-16
With academics in the morning and recreation in the afternoon, this well-priced summer camp includes breakfast and lunch and offers half- and full-day enrollment. The emphasis here is on developing social, athletic and academic skills. Morning sessions are led by certified teachers in English language arts and math; afternoons include swim lessons in Lehman College's Olympic-size pool, martial arts, dance and more.
RELATED: Free Summer Sports and Nature Programs for NYC Kids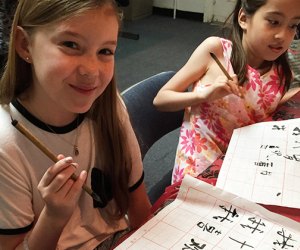 Learn Mandarin at China Institute's new summer camp location downtown. Photo courtesy the camp.
China Institute Immersive Summer Day Camp – Financial District
July 5 through August 12
Ages 2-14
This immersion day camp's new downtown offering teaches kids Chinese language, history, culture and literature at all language proficiency levels. With special activities including Chinese sports, theater, arts and crafts, calligraphy, storytelling and cooking, China Institute's camp offers half- and full-day enrollment, as well as after-camp childcare.

The Pitch Summer Camp – Williamsburg
June 27 through August 5
Ages 5-10
We've written about this new indoor soccer facility located in a former warehouse near McCarren Park. With full- and half-day enrollment for weeklong sessions and based on the Dutch Total Football approach, The Pitch divides campers into small groups where they work on developing technical, tactical and physical soccer skills. Breaks in between soccer practice involve chess, shuffleboard, bocce and supervised free time.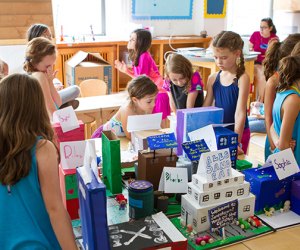 Favorite DIY camp, Curious Jane, returns in 2016 with more locations and new themes. Photo courtesy of the camp.
Curious Jane – Brooklyn and Manhattan
July 5 through August 12 (depending on locations)
Ages 6-11
Now with four new locations (Chelsea, South Street Seaport, Upper West Side and Gowanus), new weekly themes for older girls (DIY Dollhouse, Wired 101), and, at some locations, new late-August enrollment dates, Curious Jane is still on our list of favorite summer camps. A design-focused academic camp for girls that encourages exploration and experimentation, campers may pick weekly themes and projects in subjects such as kitchen chemistry, toy design and spy science.

Science in the City – Upper West Side
August 1 through August 12
Ages 6-11
This traveling science camp, offered by Storefront Science, examines science in spaces throughout New York City with exploratory trips to museums, parks, plazas and monuments. There is the option to enroll for one or two weeks and campers will have fun learning about engineering, ecology, chemistry, biology, physics and more with trips to locations such as the American Museum of Natural History, Fort Tryon park and the Cloisters.

Innovation Labs – Manhattan and the Bronx
July 5 through August 11
Ages: outgoing fifth graders through outgoing eighth graders
This FREE summer program offered by the New York Public Library offers middle school-age campers the opportunity to use 3-D printers, create circuits and wearable tech and design websites. There are two three-week sessions and campers may enroll in both. Please note: This camp is based on an after-school program, so hours are from 2-5pm only.

STEM Summer Camp at Geek Forest – Williamsburg
July 11 through August 26
Ages 5-12
We're big fans of Geek Forest, a new hybrid electronics retails store and educational maker space that will offer a summer camp focusing on science, computer, and engineering concepts. Campers will be divided by age (5-7 and 8-12) and the emphasis will be on developing problem solving and collaborative skills. There are half- and full-day enrollment options and extended day.
Top image: Summer Camp at Extreme Kids & Crew. Photo by Filip Wolak/courtesy of the camp.