The Pitch: Indoor Soccer Field Opens in Williamsburg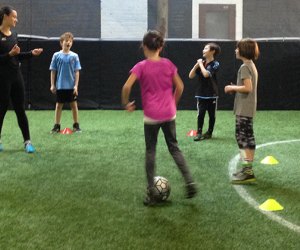 To the delight of soccer fans citywide, NYC's first indoor soccer facility has opened just across the river in Williamsburg. The Pitch, named for the British term for the playing field, is located in a former warehouse just steps away from Williamsburg family-favorite, McCarren Park. The high-quality, artificial-turf field offers a climate-controlled environment that is cool in the summer and warm in winter. It's flooded with natural light and is a perfect year-round destination for soccer-loving kids, including mine!
Soccer is an all-age sport and The Pitch, which officially opened in January 2016, offers something for every age. For young players, The Pitch's main focus is coaching, and it offers several eight-week, after-school training programs per year for kids as young as 2. Kids can try a class for just $1 before parents must commit to the entire series.
This summer it will offer its first camp with small groups of kids between ages 5 and 10, bending it like Beckham in full- and half-day programs. Plus, it offers birthday parties for young soccer enthusiasts, starting at $295 for 10 kids. For the moment, league play is limited to adults, who also can drop in for a pickup game. The Pitch can be rented in advance for $150 an hour if children want to schedule their own games, with supervision.
RELATED: NYC Classes Guide: Sports, Dance, Art, Language and More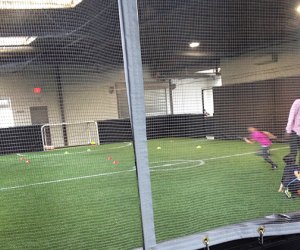 Natural light floods the netted playing field thanks to five skylights.
The Pitch is dominated by the netted playing field. There are few bells and whistles, but it has thought of everything a player needs to hone his or her skills or pick up a quick match. Coaches are nationally certified, including its head coach, who is from the New York Red Bulls Academy. Behind the field are a comfortable spectators area, changing rooms and a wall of lockers to stash belongings. The space has an outdoor feel to it, thanks to its five skylights, and is equipped with safety precautions, such as padded walls and soft, joint-friendly turf.
The Pitch is located at 196 N. 14th Street in Williamsburg. Looking for a snack before or after the game? Check out these 16 family-friendly Williamsburg restaurants.
Top photo: After-school classes and summer camps are available for kids at The Pitch. All photos by the author.