Williamsburg Restaurants: Where to Eat with Kids in Brooklyn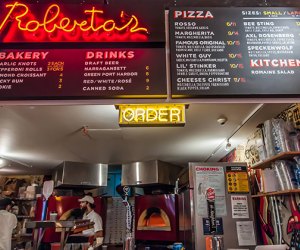 Williamsburg might still be Brooklyn's hipster haven, but it's also filled with baby boutiques, play spaces and other family attractions, including a slew of cool kid-friendly restaurants. Back in my single childless days, I lived in Williamsburg for a decade. I probably saw two strollers during that entire time. OK, that's a slight exaggeration. Still, much has changed in Williamsburg over the past few years. McCarren Park is often the center of neighborhood family activities, and there's a new Museum of Food and Drink that hosts kid workshops.

Even with the new family vibe, it can be intimidating to saddle up to any NYC restaurant with kids in tow. Sometimes you just pray they'll let you in without THAT face. But actually we had a hard time whittling down our list of family favorite dining spots in this hood! Our 15 picks all feature delicious eats for kids (and adults, of course), low-key or welcoming atmospheres, high chairs or boosters and sometimes even changing tables. From A-Z, read on for our our top places to eat with kids in Williamsburg.
Allswell
124 Bedford Avenue
347-799-2743
With its colorful vintage wallpaper, big communal table and cozy booth seating, casual pub Allswell is a favorite brunch destination for my family. Cinnamon toast, pancakes and granola: easy sell for my two kids. While there are high chairs, there is no changing table. As with most popular Williamsburg spots, arrive early if the little ones are hungry and you don't want to wait too long because this spot gets mobbed.

BeeHive Oven Biscuit Cafe
182 South 2nd Street
347-987-4960
Relaxed and homey, BeeHive serves up southern comfort food like chicken-fried steak, shrimp and grits and chicken pot pie. There are a few vegetarian options, including a mushroom gravy for those seeking the full biscuits-and-gravy experience. The Build-Your-Own-Biscuit is an easy choice for the picky eater set. BeeHive has high chairs but no changing table.

Brooklyn Bowl
61 Wythe Avenue
718-963-3369
Yes, we realize this is a bowling alley, not a restaurant. However, if you're looking for a playful option for weekend brunch, you won't strike out here. Saturdays and Sundays from 11am-5pm are family days. Enjoy a few games and eats by Blue Ribbon. In addition to the finger-food-heavy menu, there are extensive kids' options like burgers, French bread pizza, Blue Ribbon's famous fried chicken, a hummus and veggie platter, shakes, floats and malteds. For adults, there's also beer on tap. Score! Brooklyn Bowl has boosters and bathroom changing tables.
RELATED: Brooklyn's Best Hot Chocolate Spots for Families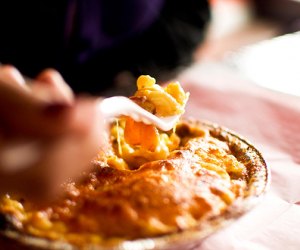 Dig in to the gooey macaroni and cheese at Brooklyn Mac. There are a dozen options to choose from! Photo courtesy of the restaurant.
Brooklyn Mac
173 Montrose Avenue
718-963-3646
Not for the carb-phobic, this restaurant offers unparalleled cheesy goodness. The menu features a dozen varieties of macaroni and cheese (including veggie and meat options) all named after Brooklyn neighborhoods, plus wraps, salads and soups. There's even a small kids' menu in case crispy-top combos like Carroll Gardens (caramelized apples and brie) and Brooklyn Heights (marinated skirt steak and cheddar) are too exotic. You can also make your own mac 'n' cheese from the long list of toppings, and then name it after any nabe you want. Grab a table on the deck in nicer weather. Brooklyn Mac has high chairs but no changing table.

Cafe Mogador
133 Wythe Avenue
718-486-9222
Even if your kids aren't into Middle Eastern food, they should find something that satisfies at this spacious Williamsburg outpost of the family-owned East Village mainstay. The lunch, brunch and dinner menus feature a variety of options, from basic bagels to more lively fare like ful mudammas, a protein-rich snack of hummus, fava beans and hard-boiled egg. Main course dishes include variations on grilled chicken and lamb as well as yummy couscous platters. There are high chairs at Cafe Mogador but no changing table. Sit in the greenhouse-like back room for a cozy family meal.
RELATED: 21 Brooklyn Drop-In Play Spaces for Kids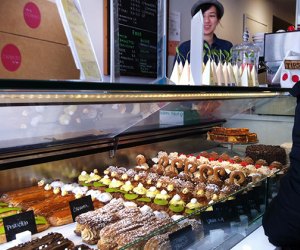 Caprices by Sophie is the perfect sweet treat after a day of play. Photo by the author.
Caprices by Sophie
138 North 6th Street
347-689-4532
If you find yourself craving lovely and tasty sweet treats served up by super-friendly staff, Caprices by Sophie is worth a visit. Delicate cream puffs and meringues, rich eclairs, fresh croissants and cakes and cookies—need we say more? This spot is pretty small and there are no high chairs or changing tables, but there are a few tables and chairs if you want to eat in. It makes for a great post- or pre-playground treat.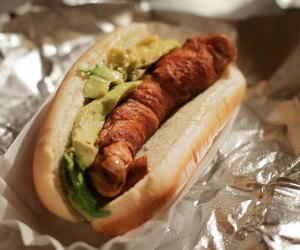 The Chihuahua dog (bacon-wrapped with avocado) hot dog at Crif's. Photo by Alexis Lamster via Flickr.
Crif Dogs
555 Driggs Avenue
718-302-3200
A must for all hot-dog loving families, Crif serves the basic New Yorker dog as well as more complex combos like the Tsunami, which comes bacon-wrapped and topped with teriyaki, pineapple and green onions, or the Jon-Jon Deragon with cream cheese, scallions and everything bagel seeds. Warning: Your kid will never accept a street vendor frank again. Crif Dogs is pretty small and there are no high chairs, but you can grab a table or stool to eat your dog.

Diner
85 Broadway
718-486-3077
The name may be generic but this isn't your run-of-the-mill hash house. This restaurant is set in a renovated 1926 dining car next to the Williamsburg Bridge and the menu changes daily. Selections include pastas, sandwiches, salads and burgers, plus eggs and pancakes for weekend brunch. Diner does not have high chairs, but it does offer the classic diner booth or counter seating. It gets mobbed for brunch and dinner, so try to visit on the earlier side. Limited outdoor seating during the warmer months is available, too.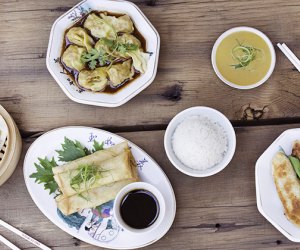 Chinese food stars at Kings County Imperial where booths and high chairs add to the family vibe. Photo courtesy of the restaurant.
Kings County Imperial
20 Skillman Avenue
718-610-2000
With a few roomy booths, larger tables for big groups and enough space to comfortably seat kids in high chairs, Kings County Imperial offers a laid-back vibe and family-style eats. From the team behind Park Slope brunch-favorite Stone Park Cafe, this spot delivers tasty Chinese food with creative twists including local ingredients (some from the restaurant's backyard garden), its own soy sauce, lots of veggie menu options and an intriguing cocktail menu. As quite a few dishes run spicy, be sure to check with the waitstaff for milder options—unless your family digs serious heat. Also, Kings opens at 6pm and can get pretty busy, so plan accordingly.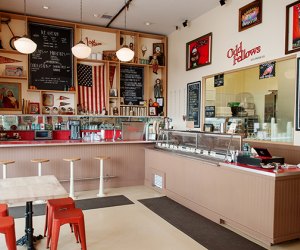 OddFellows Ice Cream Co. is a must visit this summer. Photo courtesy of the store.
OddFellows Ice Cream Co.
175 Kent Avenue
347-599-0556
OddFellows Ice Cream Co. is modeled after old-school ice cream parlors with a cheery vibe, striped walls and lots of knickknacks and curios behind the counter. With a rotating lineup of 14 ice cream and sorbet flavors, a menu of classics like banana splits, floats, milkshakes and sundaes, my kids are big fans of this place. There's bar and table seating, high chairs and a bathroom changing table, which we thank them for providing!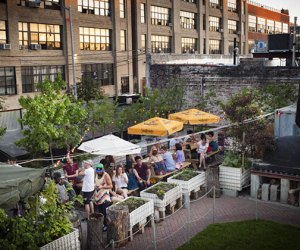 Enjoy outdoor pizza eating at Roberta's. Photo courtesy the restaurant.
Roberta's
261 Moore Street
718-417-1118
Housed in a former garage, this pizzeria serves up tasty Neapolitan-style pies at big tables in an airy, wood-paneled room. Pizzas include kid-friendly standards like Margherita (tomato, mozzarella and basil), as well as less conventional options such as the Axl Rosenberg (tomato, mozzarella, soppressata, mushroom, garlic and jalapeño) and the Fennel Frontier (Pawlet cheese, pork sausage, fennel, red onion, chili and lemon). Or you can create your own pie from the long list of toppings. There are also calzones and lunchtime sandwiches. If the weather's nice, ask to be seated outdoors on the back patio so you can check out the awesome rusty Mercedes-Benz covered with potted plants.

Sweethaus Cupcake Cafe
135 Metropolitan Avenue
718-710-6627
The cupcakes here are to die for and the staff is ultra-friendly. There's a frosting room where customers may peek in on the action and a dangerously attractive (read: exactly at child eye level) display of candy in jars. There is a savory menu with easy picks like mac and cheese, artichoke dip and assorted salads. A bit more spacious than other cafes, you can sit the counter for an old-school feel or pull up to a booth or table. Sweethaus does not have high chairs or a changing table.

Urban Rustic
236 North 12th Street
718-388-9444
This family-friendly spot is equal parts cafe and locavore grocery store stocked with everything from pickled curried squash to Fat Toad Farm caramel. Menu items include fresh soups, salads and sandwiches, plus a kid's menu featuring a choice of grilled cheese or PB&J. The perfect pre- or post-McCarren Park refueling stop. There are high chairs at Urban Rustic but no changing table.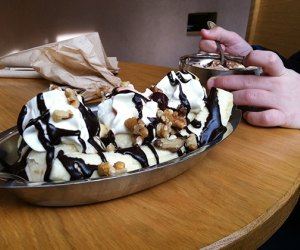 Van Leeuwen is one of the best spots in the city for a scoop or even a chocolate-sauce laden banana split. Photo by the author.
Van Leeuwen Williamsburg
204 Wythe Avenue
929-337-6907
What started as a simple food truck (albeit a fancy one) has become a mini-empire with trucks and shops here and in L.A., grocery store distribution and even a cookbook. The Williamsburg location is large and bright, with lots of booth seating, high chairs and a changing table in the restroom. No-frills decor but clearly ice creams parlors should be easy to wipe down; chocolate sauce can be messy. My son swooned for fluffernutter crunch, while we adults worked our way through the house sundaes menu (more rum-soaked cherries, please).

Zizi Limona
129 Havemeyer Street
347-763-1463
Because my snack-obsessed family considers hummus, baba ghanoush, olives and fresh pita a complete meal, this laid-back Middle Eastern restaurant is a family favorite. We round it out with a few "Small Zi's" from the appetizer menu, including grilled beets and black cumin cauliflower. Please note: this spot can get pretty busy for dinner, so we generally visit on the early side for weekend lunch. Snag outdoor seats when the temperature cooperates.
Top image: Housed in a former garage, kids will dig both the atmosphere and eats at Roberta's. Photo courtesy the restaurant.