8 New Summer Day Camps for NYC Kids in 2016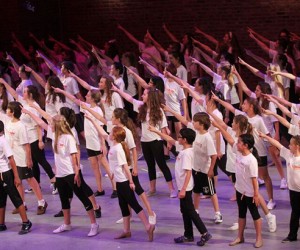 Summer will be here before you know it and for many parents, that means camp for the little ones. Believe it or not, now is the time to start pondering options. New York City kids are fortunate to live in a city chock-full of summer day camp offerings, from old-school Kumbaya adventures to theater and music to making robots from scratch! That's the good news. The bad news is that they tend to fill up fast, especially with so many camps boasting early-bird pricing deals!
To help you decide which camp is right for your kids, we've rounded up eight new and exciting camp offerings throughout NYC. This summer, kids can surf, belt their Broadway best, learn to code and maybe even make their own monster. Let the summer fun begin.
Newcomer camp Steve & Kate's offers a wide-range of activities from cooking to coding to film. Day passes available. Photo courtesy the camp.
Steve & Kate's Camp Expands — Multiple Locations
Locations in Manhattan, Brooklyn and New Jersey
June 20 through August 26
Ages 4-12
Originally founded in the San Francisco Bay Area more than 35 years ago, Steve & Kate's is now in nine states coast-to-coast. After debuting in NYC last year with an East Village location, Steve & Kate's has expanded its options to uptown and Brooklyn this year, offering astounding programs and incredible flexibility to fit your needs. Themed activities abound, from film and animation to computer coding, cooking, theater and dance. Want summer options without the commitment? Choose single day passes, a 20-day pack or even a summer-long membership. Lunch and snacks are included and definitely not an afterthought. Added bonus: Refunds for unused days are given at the end of the summer. Sold!

New York Kids Club (Summer Olympics) — Multiple Locations
June 6 through September 4
Ages 2.5-6
NYC mainstay New York Kids Club offers year-long classes, preschool, play space and activities throughout the city. This year, for the first time, all of its locations are adopting one unifying summer camp theme shaking up its generalist format of the past with a Summer Olympics-themed camp for wee ones ages 2-6. This program focuses on exploring the globe and its nations through art, cooking, dance, sports, music and brain-building activities like chess and science projects. There's a two-week minimum, with sessions from 9am-12pm or 2pm for two, three or five-day weeks.
RELATED: 9 NYC Summer Camps for Preschoolers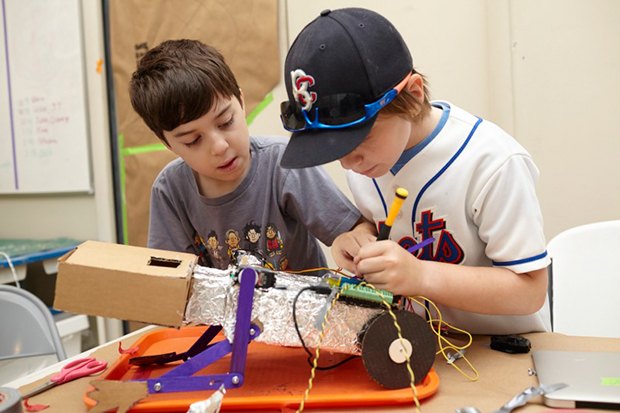 The Brooklyn Robot Foundry added two new camp programs for 2016, including Robot Inventor, and extended its "girls only week." Photo courtesy the foundry.

Brooklyn Robot Foundry Adds New Options — Tribeca, Park Slope
72 Warren Street in Tribeca or 303 3rd Avenue in Brooklyn
June 13 through September 2
Ages 6 to 13
Got a maker in your brood? This super-cool, hands-on summer camp from Brooklyn Robot Foundry is a no-brainer, offering firsthand experience with electronics, engineering and robotics. Each week, kids tackle exciting engineering concepts as they make (and take home) their own inventions. This summer, the Foundry has two new offerings. Robot Programmer teaches kids to program using CREATE Lab's new Hummingbird Robotics Kit. This program is for rising fourth through seventh graders and does not require any programming experience. Robot Inventor, on the other hand, requires at least two prior weeks of summer sessions at the school or a semester of their afterschool program in the 2015/2016 year. Here, rising second graders and above can build any robotic thing they choose over the course of their program. One other highlight worth mentioning: Last year, the Foundry's Brooklyn location offered a "girls only week" and it was so popular, it's now being offered at both locations this summer! The projects are the same as the coed group, just all girls. How's that for an awesome summer adventure?

Camp Broadway – Times Square
22 West 34th Street (between Sixth and Fifth Avenues)
July 11 through July 29
Ages 10 to 17
If your baby is Broadway bound, then this camp, run by theater pros, will put them right on the Great White Way, learning how things work onstage and off. The organization offers a variety of weeklong programs catering to little kids, middle school kids and teens focused on putting on an age-appropriate show from start to finish and includes memorizing music, creating choreography, building sets and making costumes. This year, its Camp Broadway program has an entrepreneurial theme and kids will perform related shows, including How to Succeed in Business Without Really Trying and Legally Blonde the Musical, Jr. Kids will also enjoy a matinee outing to see Broadway hit School of Rock! It also added a "Craft Masters" session where kids will explore a new Broadway skill each day, including costuming and physical comedy. No previous experience necessary! (It also hosts a Shining Stars camp for kids ages 6-9.)
BAM Youth Summer (Art Studio) – Fort Greene
Dates from July 5 through July 29
Ages 6 to 16
Now in its fourth year, Brooklyn Academy of Music's summer program for kids ages 6-16 continues to offer intensive workshops in animation, Shakespearean creative writing, musical drama and dance. This year, in tandem with the School for Poetic Computation, the Brooklyn bastion for the arts is adding a new weeklong digital art studio program that explores the way technology and hands-on creativity meld to form a new medium. Kids ages 8-11 will learn to incorporate electricity, coding, audio and other elements while building their own handmade computer. Sign us up already!
i2 Camp at the UN International School – Kips Bay
2450 FDR Drive New York, NY 10010
Dates from June 27 through July 29
Ages 9 to 14
The UN International School has been running fun and educational camps for years, but this year, they're partnering with MIT, Harvard and the American Museum of Natural History to introduce the i2 Camp, a STEM program for kids from fifth to eighth grade, developed by scientists from those renowned institutions and taught by licensed STEM teachers. With weeklong, full-day sessions, your kid will learn how to create an app or design a video game one week, and investigate a crime scene the next. Plus, there's even a workshop on how to build your own (friendly!) monster. While transportation is not provided, lunch and snacks are included.
RELATED: Math Camps and Summer Classes in NYC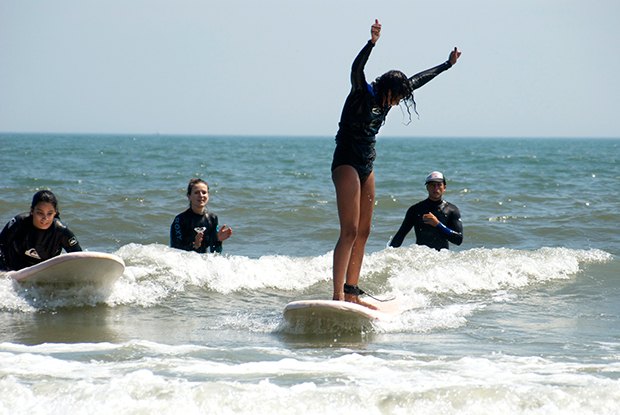 Catching some waves at Locals Kid Surf Camp. Photo courtesy of the camp.
Locals Kid Surf Camp – Rockaway Beach
Dates from June 27 through September 2
Ages 5 and up
If your kids want a real summer adventure without leaving New York City, then Locals Surf Camp might just be the ideal getaway. Set at the newly revamped and revitalized Rockaway Beach, these week-long, half-day sessions will have your kid catching waves in no time. The best part: wetsuits, rash guards, boards and snacks are all provided! Just bring the kids and their surfer spirit! With a 3-to-1 student/teacher ratio and lifeguard-trained instructors, this will be one of the most attentive, hands-on summer camp experiences your kid can score in the city.
LAUNCH Math & Science Centers – Multiple Locations
Dates from June 20 through September 2
Ages 4 to 14
Run by a rocket scientist, Manhattan-based Launch has been doing year-round programs and summer camps for several years, offering classes in coding, gaming, robotics, engineering and electronics. This year, they've added a new program for the littlest scientists. Preschoolers and kindergartners spend a week learning about specific dream careers. "I Wanna Be A…" programs explore being a coder, an astronaut, a physicist and an engineer. Check Launch's calendar for a complete schedule.
Find more summer and holiday camp options in our Camp Guide.
Top image: A new tween and teens program at Camp Broadway lets kids learn music and choreography skills on weekends with a final performance at Madison Square Garden. Photo courtesy of the camp.