Best New Summer Day Camps for NYC Kids 2015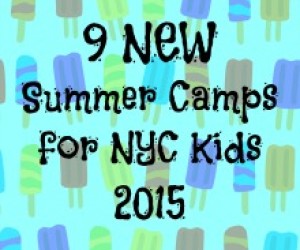 Every camp-planning season, we here at Mommy Poppins scour the city looking for enriching new summer programs for our been-there, done-that kids. To help you make an informed decision about the new camps on the block, we've rounded up nine of the most promising programs set to debut this summer. Some are brand-new, others are places that are significantly expanding their already awesome offerings.

In addition to these newbies, it's good to check out our best new camp roundups from 2014, 2013 and 2012. Most of those programs are still going on and continue to offer top-notch programming. You can also browse our Summer Camp Guide for additional options or use our Camp Directory to search for programs by interest, age and location.
Keep in mind: Many camps offer discounts if you sign up for multiple weeks, so check the official websites for more info.
Steve & Kate's Camp – East Village
World Class Learning Academy, 44 East 2nd Street near Second Avenue
Monday, June 29-Friday, August 28
Ages 4-12
$75-$95 per day
Bay Area mainstay Steve & Kate's Camp debuts its first-ever NYC program, which features its signature free-form structure. Campers explore subjects like animation, fashion, computer coding, bread baking and dance in the camp's high-tech studio at their own pace. Once they've had their fill, they can move on to other activities like sports in an inflatable kid-size stadium, or watching live performances. Lunch is a globally-inspired, five-course affair. Perhaps the best part is the camp's endless flexibility: Families can buy day passes, which can even be used at the camp's other regional locations. If at the end of the summer it turns out you paid for more days than you used, you get a refund. I know it sounds too good to be true but I spoke with the owners and they assured me it's not. Steve & Kate's Camp could really shake things up for summer programs in NYC.

Lavner Camps – Greenwich Village
60 Washington Square South between Thompson Street and LaGuardia Place
Monday, July 6-Friday, August 14
Ages 6-15
$649 per week
Already well established in Pennsylvania, New Jersey and Maryland, this popular STEAM (science, technology, engineering, arts and mathematics) summer camp is hosting its first-ever NYC edition at NYU's Kimmell Center. Campers can choose from a variety of fun and challenging programs like Minecraft, robotics and video game design; Scratch and other computer coding languages; jewelry and fashion design; and chess. Of course there's a bit of playtime, too, and the option of adding on private lessons before or after camp.

Pixel Academy Digital Technology Summer Camp – East Village
World Class Learning Academy 44 East 2nd Street near Second Avenue
Monday, July 20-Friday, August 14
Ages 7-12
$720 per week
Brooklyn-based makerspace Pixel Academy is launching its first-ever digital technology camp in Manhattan. Campers can customize Minecraft worlds, experiment with 3D printing, create video games, produce digital music and try laser cutting in small groups using the latest technology. There are also breaks for outside play and lunch.

August Alliance at Bank Street – Morningside Heights
Columbia Kraft Center, 606 West 115th Street between Broadway and Riverside Drive
Monday, August 10-Friday, August 28
Pre-K-8th graders
$675-$700 per week
Mid-August is when most camps wrap up for the season, but that's just when this new program from the venerable Bank Street School gets going. Created in collaboration with the nearby Cathedral School and Columbia University, this August-only program offers engaging, organized-by-age activities, field trips and swimming lessons. Specialty themes like Spanish immersion, filmmaking and English as a second language are also available.

Camp History – Upper West Side
New-York Historical Society, 170 Central Park West at 77th Street
Monday, August 17-Friday, August 21
Rising 6th-8th graders
$600
Delve into the rich, turn-of-the-last-century past of our great city at the New-York Historical Society's week-long history camp. Participants go behind the scenes with museum educators for an in-depth exploration of its collection, including lots of artifacts not currently on display. The session culminates in a pop-up exhibit curated by the kids.

Scribble Art Workshop & Bread & Yoga Summer Camp – Inwood
5000 Broadway at 212th Street
July 6-August 14
K-5 graders
$580 per week
Inwood neighbors Scribble Art Workshop and Bread & Yoga team up for a camp that stimulates your creativity and your body. Campers will collaborate on large-scale paintings (for a glimpse of what's in store, check out this WeeWork project from Scribble Art) and also cook and bake, sculpt, garden and do yoga.

Carmelo the Science Fellow – Park Slope
A. Fantis Parochial School, 195 State Street between Court Street and Boerum Place
Monday, July 6-Friday, August 28
K-5th graders
$475 per week
For years, parents have been lining up around the block to get their kids into beloved Brooklyn educator Carmelo Piazza's engaging science classes. Hot on the heels of his new science-based preschool, Carmelo is launching an action-packed summer camp. Participants explore a wide variety of subjects including chemistry, archeology and astronomy in small groups organized by age. Playtime and weekly field trips are also on tap.

Green Ivy at Pine Street School – Financial District
25 Pine Street between Nassau and William Streets
Monday, June 29-Friday, August 21
Ages 2-9
$525 per week for half-day program; $775 per week for full day
This new progressive school is hosting its first-ever camp, which aims to give its young participants a more global perspective. Each week has a unique, open-ended theme (Animal Planet, World Beats, Build it, etc.) which is explored through interdisciplinary and international activities like African dance, constructing mini Eiffel Towers and Taj Mahals, and field trips to NYC's fabulous cultural institutions and parks. Campers are grouped by age in small numbers, and full-day participants can choose from English, Spanish or Mandarin lessons in the afternoons.

Green Ivy at Battery Park Montessori – Battery Park City
21 South End Avenue near West Thames Street
Monday, June 29-Friday, August 21
Ages 2-6
$525 per week for half-day program; $775 per week for full day
Also run by Green Ivy, this summer camp offers a Montessori-style experience with engaging weekly themes like sports, culinary arts, nature and animals, science and poetry. Hands-on exploration is stressed here as is plenty of outdoor play in all the nearby parks and playgrounds. Like Pine Street School's camp, campers are organized into small groups by age, and half- and full-day programs are available.

Read about other great summer programs in our Camp Guide. Be sure to browse our Camp Directory, which allows you to search for camps by interest, age and area.