Best New Summer Day Camps for NYC Kids 2014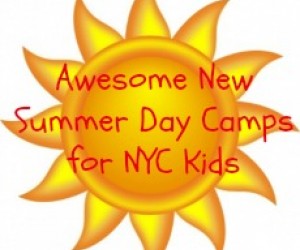 2/17/14
- By
Stephanie Ogozalek
Winter is the season for sledding, skiing and summer camp stress. There are so many unique and enriching programs to choose from in NYC, it's difficult to know where to send your child for the best summer experience, especially when there are new programs popping up every year.

To help you make an informed decision about the new camps on the block, we've rounded up 10 of the most promising programs set to debut this summer. Some are brand-new, others are places that are significantly expanding their already awesome offerings. (We also included a couple of camps that have been around for a few years but were under our radar and are worth highlighting.) At these notable new summer day camps, kids can study STEM concepts, design robots and motorized gizmos, hone their artistic skills, learn to skateboard and more. And the options run the gamut from preschoolers to teens.

Be sure to check out our Summer Camp Guide for info on lots of other programs in NYC as well as sleepaway options. We even have a Camp Directory, which allows you to search for programs by interest, age and area.
Keep in mind: Many camps offer discounts if you sign up for multiple weeks, so check the official websites for more info.
The Good School at Summer Day @ Inventgenuity – Cobble Hill
Beam Center, 47 Bergen Street between Smith Street and Boerum Place
Grades 2-5
Monday, July 7-Friday, July 18 8am-6pm
$600 per week
We've raved about the innovative offerings at this Brooklyn makerspace many times in the past. This year, the Beam Center welcomes The Good School, a two-week program where kids can create animated movies using professional equipment. Storytelling skills, character creation and set building will also be taught, and campers get digital copies of their work to take home. My son took a stop-motion animation workshop at the Beam Center's Inventgenuity Festival in January and had a great time.

The Big Time Summer Art Thing For Kids: Queens Museum Summer Camp – Corona
New York Avenue in Flushing Meadows Corona Park
Ages 7-11
Monday, July 7-Friday, August 15 9am-4pm; extended hours available
$600 per two-week session
The recently revamped Queens Museum hosts its popular summer camp in new state-of-the-art digs. Each themed session is packed with creative projects like puppet making and stop-motion animation. In between, kids romp around Flushing Meadows Corona Park, and visit the nearby Queens Zoo and Queens Botanical Garden.

Fastbreak Sports Multi-sport Camp – Upper East Side
1629 First Ave between 84th and 85th Streets
3-5 years
Monday, June 23-Friday, August 29 9:30am-12:30pm
$495 per week
This veteran basketball and flag football program moved into its new facility in fall 2013, and it's a popular spot for older athletes. This summer, Fastbreak debuts its first-ever camp for preschool players. Children ages 3 to 5 will be introduced to a variety of team sports including basketball, baseball, soccer, flag football and floor hockey in weekly half-day sessions.

New York Skate Academy – Gowanus
615 Degraw St between Third and Fourth Avenues
Ages 7-14
Monday July 14-Friday, August 15 9am-4pm; extended hours and half-day options available
$530 per week
We just found out that the New York Skate Academy has been offering a skateboard camp in its private, indoor skatepark for the past few summers. In each week-long session, young thrashers learn cool tricks and jumps, and how to ride safely. Games, friendly competitions and free skate time are also on tap. The academy also plans to team up with nearby indoor rock climbing gym Brooklyn Boulders for a skateboard/rock climbing combo camp. We'll update this post once we have the details.

Brooklyn Robot Foundry Tribeca – Tribeca
528 Canal Street near Washington Street
Wednesday, June 11-Friday August 29 9am-3pm; extended hours available
Grades 1-7
$850 per week
After two years of hosting super-popular high-tech workshops at its Gowanus studio, Brooklyn Robot Foundry is opening a second location in downtown Manhattan just in time for summer camp. (No need for me to drive my son over a bridge anymore!) Kids explore basic mechanical and electrical principles in a hands-on environment. Projects include building robot vehicles and programming.

Engineering for Kids – Forest Hills
116-16 Queens Boulevard between 77th and 78th Avenues Suite 250
Monday, July 7-Friday, August 29 9am-4pm
Ages 4-14
$700 per week; $350 half-day sessions available
More STEM fun: Each weekly session focuses on a different skill set including robot building, video game design and chemical engineering. There's even a program for preschooler engineers featuring Lego Education WeDo Construction Sets. Engineering for Kids is a national program and we hear new locations are opening in the Bronx, Brooklyn and Manhattan. Details have yet to be finalized but you can check the respective websites later this year for more info.

Junior Ice Hockey – Chelsea
Chelsea Piers, 23rd Street and the Hudson River
Monday, June 16-Friday, August 29 8:30am-2pm
Ages 4-5
$540 per week
The massive downtown sports complex offers a wide variety of athletic camps for kids throughout the summer. New this year: a junior ice-hockey program for preschoolers. Campers learn game basics and also enjoy crafts and other fun off-ice activities. Kids need to have some ice-skating experience along with proper equipment and gear to participate.

Dwight Summer Day Camp – East Harlem
2116 First Avenue near 108th Street
Monday, June 30-Friday August 22 8:30am-4:30pm; extended hours available
Ages 4-13
$2,395-$2,695 per two-week session; four- and eight-week sessions also available
Although the independent school's tony camp debuted last summer, there are some notable new perks including customizable free time for older campers. In addition to access to the state-of-the-art athletic facility, kids will also go on field trips, enjoy outdoor activities and themed days. Bus service in Manhattan available for an additional fee.

Dazzling Discoveries – Upper West Side
971 Columbus Avenue near 108th Street
Monday, June 19-Friday, August 29 9am-3pm; extended hours available
Ages 5-16
$595 per week
Another new STEM learning center offering hands-on exploration of scientific principles including robotics, 3D printing, science experiments, cooking projects and gardening. Kids will get play breaks in nearby parks and Dazzling Discoveries' own backyard space.

PGA Golf Camp – the Bronx
Turtle Cove Golf Center, 1 City Island Road in Pelham Bay Park
Beginner: Monday, June 30-Friday, July 4; Monday, July 14-Friday, July 18; Monday, July 28-Friday, August 1; Monday, August 11-Friday, August 15 9am-4pm
Intermediate: Monday, July 7-Friday, July 11; Monday, July 21-Friday, July 25; Monday, August 4-Friday, August 8; Monday, August 18-Friday, August 22 9am-4pm
Ages 6-16
$750 per week
Members of the Professional Golfers' Association will teach kids how to play the game at this lovely Bronx course. Kids are organized by age and ability level. Juniors learn the basics in a fun group environment while intermediate players improve their skills in intensive sessions.

Read about other great summer programs in our Camp Guide. Be sure to browse our Camp Directory, which allows you to search for camps by interest, age and area.