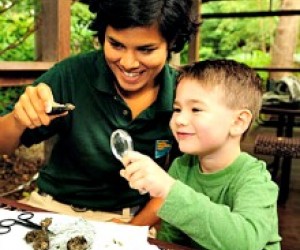 Best New Summer Day Camps for NYC Kids 2013
Every year around this time, the annual summer camp panic sets in for parents. We suffer from a particularly acute case of it here in NYC, due to the overwhelming number of summer day camps available. It's difficult to know where to send your child for the best summer experience, especially when there are new programs popping up every year.

To help you make an informed choice about the new camps on the block, we've rounded up the most innovative and enriching summer programs set to debut this summer. Some are brand-new, others are places we love that are significantly expanding their already awesome offerings. At these notable new camps, kids can learn about animals, create cool contraptions, study STEM concepts, hone their artistic skills, design bridges and playgrounds, and tackle a ton of other projects. And the options run the gamut from preschoolers to teens.

Be sure to check out our Summer Camp Guide for info on lots of other programs in NYC, commuter camps and sleepaway options.
Summer Day @ Inventgenuity – Cobble Hill
47 Bergen Street near Boerum Place
Grades 2-5
The brilliant folks at Beam Center—the organization behind the popular Brooklyn Inventgenuity Festival and creative after-school programs—are launching their first-ever summer day camp. Campers can opt for two-week Just Projects sessions and collaborate on the funky creative arts and building projects the center is known for. After-camp Just Workshops are also available, where kids can stay late working on cool tech and craft projects. These late afternoon sessions are even open to kids who aren't enrolled in the main Just Projects camp.

i2 Summer Day Camp – Upper East Side
The Chapin School, 100 East End Avenue between 84th and 85th Streets
Grades 5-8
The independent school offers a serious camp for tweens and young teens interested in science, technology and engineering. The curricula was developed by a host of notable organizations, including NASA and the New York Hall of Science. While the subject matter is challenging and cutting-edge—engineering, urban planning and outer space are just a few of the topics covered—the approach is hands-on and engaging. Campers even get to meet professional scientists, astronauts, farmers and college professors, and go on project-related field trips.

Summer at the Center – Greenwich Village
Center for Architecture Foundation, 536 LaGuardia Place between 3rd and Bleecker Streets
Grades 3-12
While the center has been hosting summer programs for the past few years, there are a lot of new offerings for 2013. Each week, campers can explore a different topic in architecture and design through hands-on activities. Options include a one-week playground design program for grade-schoolers, that includes field research at some of the city's top play spots. Tweens can explore QueensWay, an abandoned railway line in Queens that may become the city's next High Line, and create park proposals for a new green space. High-schoolers can study chair design and then create their own.

Storefront Science – Washington Heights
Storefront Science closed its Washington Heights exploratorium in October 2013 but still offers classes at a variety of other locations.
Ages 4.5-12
Last year, we raved about this science spot's after-school enrichment classes. Being the mom of a self-professed science nerd, I am pretty excited that this summer the lauded program will be running its first-ever full-fledged camp. Kids can choose from seven different science subjects like building robots with LEGO Mindstorms, examining live animals and studying the engineering of the nearby George Washington Bridge. Each specialty is explored in daily three-hour sessions.

Junior Keepers – Park Slope
Prospect Park Zoo, 450 Flatbush Avenue
Ages 11-12
NYC's Wildlife Conservation Society Zoos offer wonderful week-long camps. My son has been going to camp at the Central Park Zoo since he was four, and every year the programs get more interesting and robust. This summer, Prospect Park Zoo is adding a new week-long camp to its jam-packed roster called Junior Keepers. Tweens get an in-depth look at the daily life of a zookeeper, and get hands-on experience preparing treats for the zoo's residents and studying their behavior. It's also a great time to check out the zoo's recently overhauled Discovery Center for Children.

Hosh Kids Summer – Greenpoint
55 Nassau Avenue between Lorimer and Guernsey Streets
Ages 3-8
Hosh Kids, Brooklyn's brand-new enrichment center for young children, currently offers awesome drop-in classes like tap, jazz, hip-hop, ballet, ballroom dancing, yoga and art for as low as $5 per one-hour session! The summer program brings more of the same: Eight weeks of half-day sessions in yoga, dance, arts and sports, organized by age meeting twice a week. If you'd rather not make a commitment, you can also try dropping in for the day, assuming space is available. It's a particular great option for preschoolers, who aren't quite ready for week-long camps.

Whales: The Ultimate Deep Sea Adventure – Upper West Side
American Museum of Natural History, 79th Street at Central Park West
Grades 2-5
Based on AMNH's soon-to-open exhibit Whales: Giants of the Deep, this camp invites grade-schoolers to learn about the giant aquatic mammals by exploring the displays, and studying their evolution and habits with museum educators and scientists.

Adventures in Science: What's On Your Plate? – Upper West Side
American Museum of Natural History, 79th Street at Central Park West
Grades 2-5
Another cool AMNH camp, this one inspired by the current Our Global Kitchen: Food, Nature, Culture exhibit. Young foodies can explore international cuisines, learn how food it is grown, taste various dishes and even create a hydroponic window farm. The museum has plenty of other summer camps and you can find them all on the website.

Summer Origami Camp – Prospect Park
Taro's Origami Studio, 95 Seventh Avenue at Union Street
Grades K-6
Four afternoons a week, kids can get a crash course in the ancient art of paper folding at Taro's Origami Studio's new summer camp. Origami isn't just a craft; it helps kids hone their math skills, improves their focus and teaches them about Japanese culture. While the program runs throughout the summer, the classes repeat each week.

Camp Frolic! – Williamsburg
Sadly Frolic closed in September 2014.
Ages 3-5
The rock-and-roll-themed play space is hosting its first-ever summer camp. Open to members and nonmembers, the mornings-only program offers dancing, crafting and playing for preschoolers in themed weeks like British Invasion, Pop Idols and Rocking in the USA.

Play Together NYC – Upper West Side
270 West 84th Street between Broadway and West End Avenue
Ages 3-5
Another great camp for tots: Popular early childhood development center Play Together is hosting its inaugural summer camp. Young campers will focus on pre-K and kindergarten readiness in short segments that include handwriting, letter and number recognition, and also hit local playgrounds, play games and do arts and crafts.

Read about other cool programs for kids in our Summer Camp Guide.