Super-creative Beam Camp Launches After-School Classes in Cobble Hill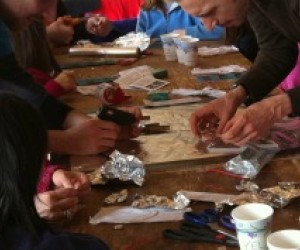 I've long been a fan of Beam Summer Camp, a unique sleepaway camp where kids collaborate on different creative projects in building, science and art each session. So I was excited to hear that Beam is bringing its coolness to after-school workshops here in Brooklyn.
Beginning Monday, April 16, Inventgenuity Workshops will be held at the new Beam Center on Bergen Street in Cobble Hill, with three-week projects in design, technology, storytelling, crafts and more for kids in second through ninth grades. The new after-school program was inspired by Beam's popular annual Inventgenuity Festival, which we've raved about in the past. Workshops will include subjects such as Intro to Electronics, Making Square-Wave Oscillators, Guitar Building, Fanzines, Fibers, Looming and Yarn, and more. Pick-up from many Brooklyn schools can be provided and financial aid is available. Find out more at InventgenuityWorkshops.org.