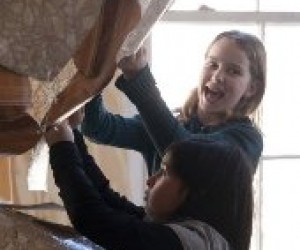 Creative Kids Will Love the (FREE!) Brooklyn Inventgenuity Festival
Next weekend, Brooklyn's Invisible Dog Art Center will be turned into a haven for creative kids, when the Inventgenuity Festival takes it over. This innovative (and free) festival for kids is all about hands on tinkering, doing and making, but don't expect ordinary store bought craft sets here but instead invention, ingenuity, engineering, design and creation. The festival is full of of interesting workshops – like lock picking--and there is even a large scale group project where kids help the artist create a 40 foot Rube Goldberg chain reaction contraption (think of the game mousetrap!). This festival is brought to us for the second time by Beam Camp, a mixed ages sleep away camp in New Hampshire that keeps kids busy with large scale collaborative projects during the summer. Read on to find out how to register and what else is going on.
During each hour of the festival there will be three different 45 minute hands on workshops running consecutively. In these kids can make some pretty awesome things like hand-lettered t-shirts, game control switches, light painting devices, rhythm maker automatons or try to pick a lock using real locksmith tools along with the ongoing building of the chain reaction machine. All this and walk up projects too.
The festival is for kids aged 7 through 16 years old and their parents. Kids will likely be able to do most of the work themselves but can get help from their parents or Domain Guides (aka workshop leaders) if needed.
You need to register in advance, here, and then choose the workshops on site. Kids can sign up for one workshop at a time and most families will find a stay of 2 hours will meet their needs, but you can stay as long as you wish.

Also, while at the festival, don't miss A Trip To The Sun, a film created by Beam campers and made using solar power, which was recently chosen for entry into the Seattle Children's Film Festival.

Check out these photos of last year's festival to see the kids in action.
Brooklyn Inventgenuity Festival
The Invisible Dog Art Center
51 Bergen Street

Saturday, January 22 and Sunday, January 23, 2011
11am - 5pm.
Festival admission is
free
Advance registration is required, which you can do right
here
.
Photo Credit: Emily Wilson