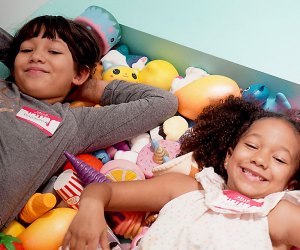 Midwinter Break: 35 Fun Things To Do With NYC Kids
Time seems to be flying by, but for many families, the midwinter break is a great time to slow things down and create some special memories. The 2020 midwinter break kicks off for New York City public schools on Saturday, February 15 and continues through Sunday, February 23, giving kids nine full days of school-free playtime. To help you make the most of the February vacation, we've rounded up 35 things to do with kids across all five boroughs.
Lucky for us, NYC museums, ice rinks, parks, and other fun zones host a ton of special activities during the school break. Some of our picks take place on specific dates, others run the entire time, and many are FREE like the NYC Parks Kids' Week events.
The extra days off also make it a great time to book a couple of nights away as a family with these budget-minded getaways, or to pile onto the train or into the car for a day trip to a top kid spot.
Remember, you can always search our Event Calendar for more midwinter break happenings. (Tip: Search for a specific date or with the word "break.")
Read on for nearly three dozen fun ideas. Be sure to click through the links for full details, including addresses, times, and prices.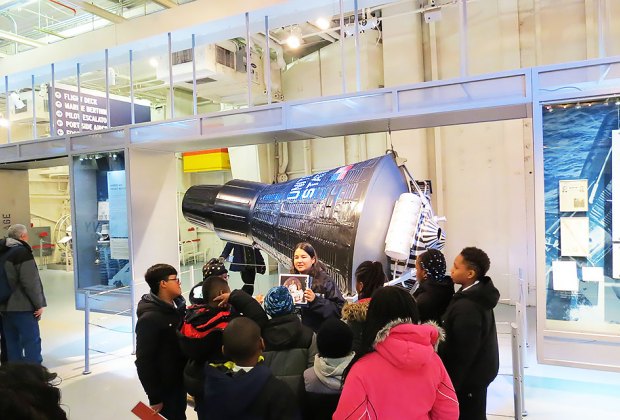 Spend a day at the Intrepid Museum during its Kids Week. Photo courtesy of the museum
1. Explore Kids Week at the Intrepid
Head to the Intrepid Sea, Air & Space Museum for a slew of special activities. This year features loads of super cool events like a meet-and-greet with NASA astronauts and a performance from Broadway's King Kong cast. Be sure to visit our calendar listing for the full schedule.
2. Get Outside With the Urban Park Rangers
Connect with nature during Kids Week activities with the Urban Park Rangers at parks and visitor centers across the city, including crafts, animal interactions, and outdoor tours. FREE
3. Burn Off Some Energy
We have roundups of all the indoor play space options in Brooklyn, Manhattan, Queens, and Staten Island.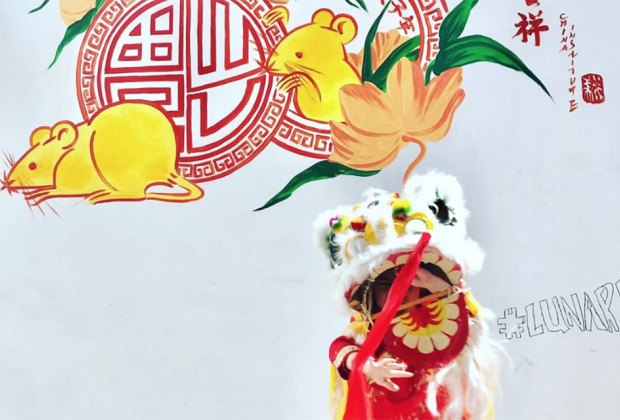 Celebrate the Lunar New Year at various places around the city. Photo by Janet Bloom
4. Celebrate the Year of the Rat
Even though the Lunar New Year fell on January 25 this year, there are still some Lunar New Year celebrations to check out throughout the midwinter break. FREE
5. Delve into the City's Diverse Asian Cultures
Chow down on some great eats and explore new-to-you destinations in NYC neighborhoods like Chinatown, Sunset Park, Brooklyn, Koreatown, Japantown, or Flushing, Queens.
RELATED: February GoList: The Best Things To Do With NYC Kids

See Yeti, Set, Snow! at the Swedish Cottage Marionette Theatre. Photo courtesy of Justina Wong for the City Parks Foundation
6. Catch a Kid-Friendly Puppet Show
Watch the popular Yeti, Set, Snow at Central Park's Swedish Cottage Marionette Theatre.
RELATED: Indoor Ice Skating Rinks for Every Season in NYC

Explore everything CMOM has to offer. Photo by Jody Mercier
7. View a New Exhibit
Visit the interactive exhibit, Inside Art at the Children's Museum of Manhattan, where visitors are offered unique opportunities to create, look into, crawl, and walk through new large-scale installations and sculptures. CMOM debuts another new exhibit, Superpowered Metropolis, just in time for school break fun, too.
8. Get Out the Winter Wiggles
Help your kids release some energy inside and (at no cost!) by exploring one of the city's public atriums and plazas. FREE
9. Take a Plunge
Too old for kiddie gyms? Take a dip at an one of NYC's indoor pools with a day pass. Still, have energy to burn after swimming? Go bowling or play pool together.
10. Go Full STEAM Ahead
If you've never been to the New York Hall of Science (or haven't visited recently), visit during its Engineering Week to explore a calendar full of building, designing, and playing throughout the museum.
RELATED: 10 Free Things To Do in Queens When It's Freezing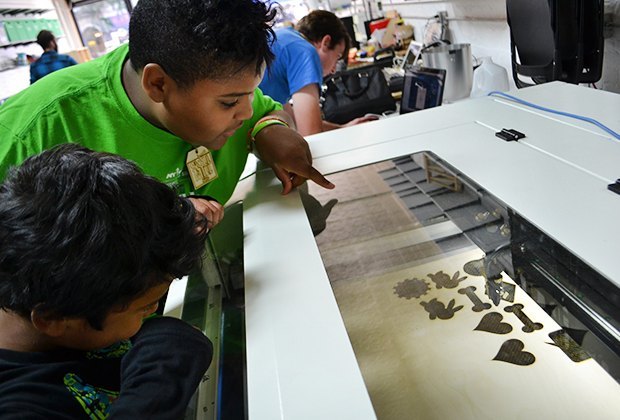 Use a laser cutter to create your designs at Skill Mill NYC. Photo courtesy of Skill Mill NYC
11. Get Your Creativity Flowing
Spark some creative energy with drop-in fun at one of these eight maker spaces.
12. Get a Nature Fix in Queens
The Queens Botanical Garden hosts its annual February Break Programs, like a George Washington Carver Workshop and I Heart Worms.
13. Do Dinner With a Movie
Indulge in a flick and a meal at the same time at one of the theaters serving restaurant-quality meals with big-screen flicks like Nitehawk Cinema in Brooklyn.
14. Keep it Rolling
Hit up an indoor roller rink for an afternoon of old-school entertainment.
15. Hang Out With George Washington
On Presidents Day, head to the New-York Historical Society to sip cocoa while visiting hands-on stations to learn about chocolate's journey to the American colonies. Kids also get to sample chocolate ingredients and chat with President George Washington and first lady Martha Washington.

Watch interactive performances and learn about the Black visionaries at the Black Future Festival at the Brooklyn Children's Museum. Photo courtesy of the venue
16. Celebrate Black History Month in Brooklyn
Make art inspired by Afrofuturism, watch interactive performances, and learn about the Black visionaries doing amazing things at this annual event hosted by the Brooklyn Children's Museum.
17. Bounce Over to the Museum of the City of New York
Head uptown for the upcoming exhibit City/Game, opening on Friday, February 14. Using historical documents and photographs, this exhibit captures the energy NYC's fascination with basketball and the stories of the diverse New Yorkers who play it and love it.
RELATED: 40 Free Activities for NYC Kids To Do in February

A stroll through the gorgeous orchid display at NYBG is the perfect way to warm up on a brisk day. Photo by Jody Mercier
18. Stop and Smell the Flowers
Visit the New York Botanical Garden's Discovery Center, where kids can celebrate Black History Month by learning more about the plants of Africa, investigating seeds native to that continent, crafting an indigo tie-dye pouch, and creating a mini plant-zine. The Orchid Show is also in full bloom and provides a tropical escape from winter...if only for a bit.

Hit the slopes at Camelback then hit Aquatopia for a relaxing apres-ski warm-up. Photo by Matt Nighswander
19. Hit the Slopes
Head out for some winter fun at these downhill destinations.
20. Try Tubing Instead
Snow tubing is much easier than skiing, and the whole family can participate. If the fresh powder flies in the city, check out one of our favorite sledding hills.
21. Twirl on the Ice
Lace-up your skates and enjoy the crisp winter air at one of NYC's outdoor ice skating rinks.
22. Catch a Kid-Friendly Flick
Bring your little movie lovers to the New York International Children's Film Festival, which opens Saturday, February 22.
RELATED: Budget-Friendly Play Spaces Charging $13 or Less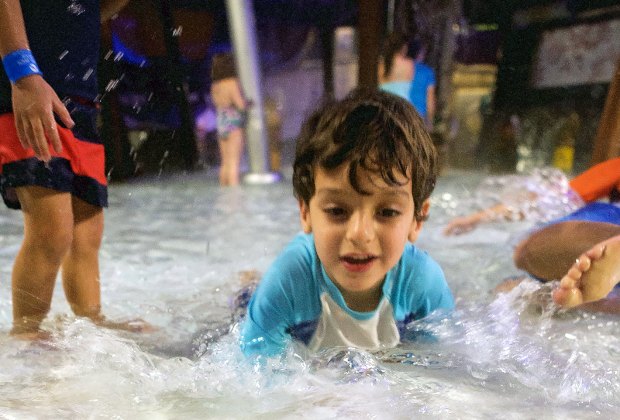 It's always 86 degrees at Aquatopia! Photo by Matt Nighswander
23. Splash Away the Day
Fish out your bathing suit and head to an indoor water park. There are plenty well-suited for a day trip, such as the massive one at Kalahari Resorts, or you can plan a multi-day adventure to Rocking Horse Ranch in the Hudson Valley, Aquatopia at Camelback Mountain, or Split Rock Resort.
24. Explore the Brooklyn Botanic Garden
The BBG's annual February Break Discovery Days run from February 17-20 and offer kids the chance to use their senses to investigate plants and objects and to discover how plants survive in environments ranging from deserts to rain forests. FREE
25. Go Underground
Hit up the New York Transit Museum's Day Off From School programs from Tuesday, February 18-Friday, February 21. Kids can enjoy special family programs celebrating the story and spirit of civil rights pioneer Elizabeth Jennings Graham who (100 years before Rosa Parks), refused to give up her seat.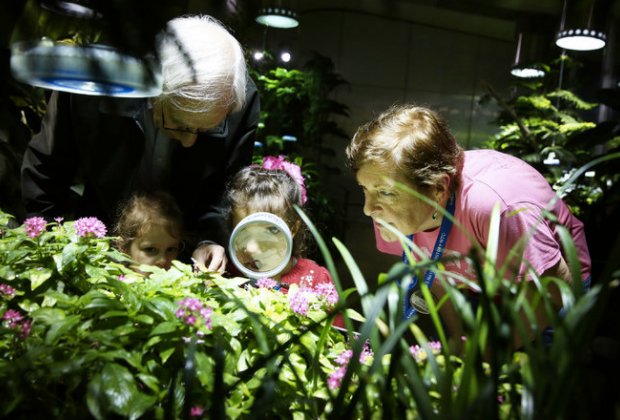 Experience the wonder of 500 free-flying butterflies in a room full of lush, tropical plants at the Butterfly Conservatory at AMNH. Photo courtesy of the museum
26. Revisit an Old Favorite
If you haven't visited the giant blue whale lately, winter break is the perfect time to warm up in the Butterfly Conservatory. Another fun reason to visit? On Sunday, February 23, you can celebrate International Polar Bear Day by taking a deep dive into all things arctic with activities, a collection show-and-tell, and an interactive theater performance.
27. Peep Some Public Art
Enjoy some inspiring outdoor designs like the interactive Wave-Field Seesaws at the South Street Seaport or the Valentine Heart Design winner Heart Squared in Times Square. Warm-up after being outside with a visit to one of our favorite hot cocoa spots in Manhattan.
28. Listen to a Story at an Ice Rink
Bring the little ones to the Storytime Read-to-Skate Program in Bryant Park on Saturday, February 15, or Saturday, February 22. Read books with Cali Co Cat and snag a free tome while supplies last. FREE
29. Take a Trip to the Queens Museum
With a tremendous hands-on art lab, drop-in family art workshops, and plenty of open indoor spaces for the kids to move around, break week is a great time to cross this museum off your list.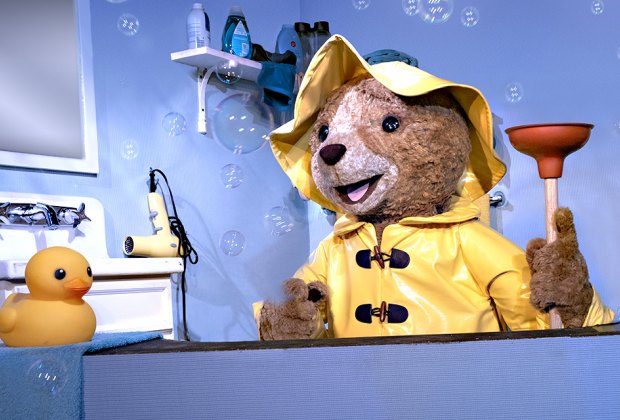 See the lovable Paddington in Paddington Gets in a Jam at DR2 Theatre. Photos courtesy of Rockefeller Productions
30. Catch a Kid-Friendly Stage Performance
Head to one of our favorite Broadway shows or catch TADA! Theater's How to Eat Like a Child. For younger children, catch Paddington Gets in a Jam, Alice in Wonderland at Puppetworks, or Sesame Street Live, which are also playing during the break.

Sloomoo Institute offers gooey, glow-in-the-dark fun. Photo by Jody Mercier
31. Get Slimy
Bring all the slime lovers you know to the Sloomoo Institute pop-up in Soho before it closes at the end of April.
32. Snag a Culture Pass
If you have a library card, you have lots of FREE options at your fingertips! This program for library cardholders at the New York, Brooklyn, and Queens library systems allows you to receive FREE admission at more than 50 city institutions. Get all the details here.
33. Go on a Bird Count
Head to the Audubon Center and Lefferts Historic House during Presidents Week in Prospect Park. Meet the resident animals, tour the grounds, and help with the Great Backyard Bird Count. FREE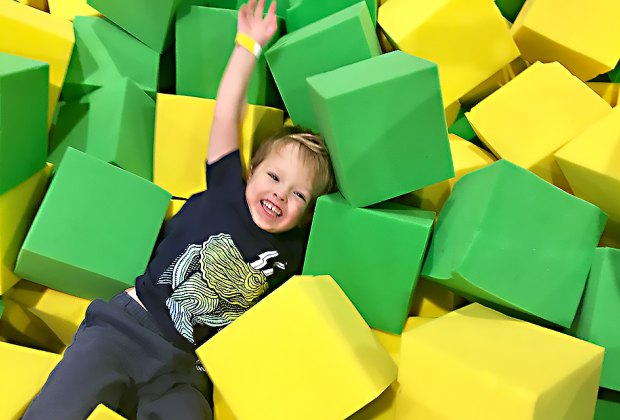 Kids will throw themselves into the foam pit over and over again at Launch Trampoline Park. Photo by Rosalind Muggeridge
34. Jump the Day Away
Take a trip to Staten Island to check out these eight great play spaces or try out one of the city's bounce houses.
35. Cross Something Off Your Bucket List
Print out a copy of our 100 Things To Do With Kids Before They Grow Up and get going. Done all of those already? See if you've been to the best new family attractions that opened in 2019, or expand your horizon and try to tackle something from our 100 Things To Do in New York State Before Kids Grow Up.
A version of this story was published in 2018; it is updated annually.