AMNH's Gilder Center Opens Bringing Butterflies, Bugs, and More Kid-Friendly Exhibits
4/28/23
- By
Jody Mercier
Even before the Richard Gilder Center for Science, Education, and Innovation opened, the American Museum of Natural History was one of NYC's most iconic cultural institutions, so hulking in its square footage you'd be hard-pressed to see it all in one day. That statement is doubly true now that the Gilder Center is set to debut on Thursday, May 4, 2023.
A modern-looking new wing, the Gilder Center adds a whopping 230,000 square feet to AMNH and, for the first time, allows visitors to traverse the entire 10-building campus without hitting a dreaded dead end.
We got a sneak peek at the brand-new building and walked away in awe and anxious for a return visit with kids in tow. Read on for our review of the Gilder Center, which further cements AMNH's place on our list of the best museums in NYC for kids to visit, and learn about all the family-friendly attractions this brand new wing houses, including a year-round butterfly vivarium, 18 species of live insects, and an impressive, immersive exhibition backed by the science and data the American Museum of Natural History holds at the core of its mission.
Subscribe to our newsletters to get stories like this delivered directly to your inbox.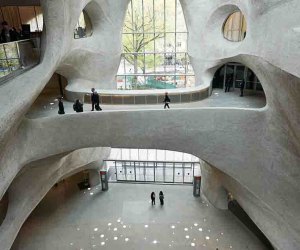 The architecturally impressive, canyon-like Gilder Center is meant to invoke curiosity and exploration by all who enter its grand atrium.
What is the Richard Gilder Center at AMNH?
Nearly a decade in the making, the Richard Gilder Center for Science, Education, and Innovation is situated on the west side of AMNH's campus, facing Columbus Avenue, and adds four floors worth of exhibits and public spaces—plus two more floors of research and administrative facilities.
An undulating facade gives way to an inviting atrium space upon guests' arrival with tons of natural light and flowing, gentle curves inspired by the geologic formations of the American Southwest. Designed by architect Jeanne Gang and Gang Studio, the $465 million building, which broke ground in 2019, is meant to draw visitors in and inspire curiosity about all that lies within.
Spotting the grand staircase and seating area at the center of the atrium, I was hooked—imagining the voices of excited, young museum-goers filling the grand entryway as soon as it opens.
RELATED: Top Children's Science Museums Across the US for Families

Eighteen species of live insects now call the Susan and Peter J. Soloman Family Insectarium home. Photo by Alvaro Keding courtesy of the museum
Gilder Center's New Exhibitions at AMNH
Susan and Peter J. Solomon Family Insectarium
Situated on the ground floor of the Gilder Center, this 5,000-square-foot exhibition space is crawling with activity—quite literally. At its center is a transparent kiosk that's home to one of the world's largest leafcutter ant displays. Watch these six-legged critters scurrying about—up, over, and around the exhibit hall and marvel at their micro-society.
Beyond the ants, there are 17 other species of live insects on display in microclimates throughout the space. I loved the variety of hands-on exhibits for kids to explore—many focused on the creepy crawlies that live right under our noses in NYC, and perhaps will take the "creepy" out of that statement as kids learn about them. Step inside a larger-than-life beehive and feel the hum of honey bees, conduct an insect orchestra drawing on sounds from Central Park's smallest residents, or see if you can play the part of a male firefly lighting up your tail end in time to attract a mate.
A giant touch-screen table lets you explore NYC micro-environments across all five boroughs and learn about the residents closer to your home, too.
RELATED: Free Museums and Free Museum Days in NYC for Kids

See up to 1,000 live butterflies during your visit to the year-round Davis Family Butterfly Vivarium at the AMNH's new Gilder Center.
If flying insects tickle your fancy, and you awaited the annual arrival of the butterfly exhibition at AMNH, take note: Butterflies now have a year-round home in the Gilder Center. Step into this 2,500-square-foot micro-climate to get up close with up to 1,000 butterflies across 80 species flitting and fluttering about.
Kid-sized magnifying glasses point directly to feeding dishes and let little ones get an up-close view of butterflies stretching out their proboscis to drink sweet nectar or slurp up fruit juices and sugar water.
A circle-sized window lets visitors see the Vivarium's next residents in the pupa stage—including some freshly emerged beauties pumping their wings and getting ready to be released into the free-flight room.
Be prepared for a humid adventure as you wander and watch, and wear bright colors and stand very still if you're hoping for one to land on you!
RELATED: Museum Memberships in NYC That Are Totally Worth It

Invisible Worlds takes museum visitors on a beautiful, immersive, science-backed journey all across the universe.
Immersive art has undoubtedly had a moment in NYC, but there's something special about this 360-degree science-and-art experience. Playing a 12-minute show with stunning graphics and a storyline about Earth's interconnectivity—from the smallest microbes to the Manhattan grid—the entire production is backed up by scientific data.
While the space is incredibly Instagrammable, I encourage you and your kids to put your phones away and take it all in. The communal experience of listening to the narrator as illustrations bring her words to life and she encourages you to help neurons make connections or set water flowing with your movement is really cool and worth your complete attention.
RELATED: Science and Natural History Museum Day Trips Near NYC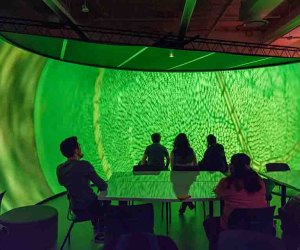 High school students work with huge data sets on a 22-foot-wide projection screen in the Learning with Data classroom. Photo by Alvaro Keding/courtesy of the museum
Education at the Richard Gilder Center
While education is built through all the aforementioned exhibits, it doesn't stop there. With education in the Center's full name, it's only natural that it is at the center of its mission. The Richard Gilder Center for Education, Science, and Innovation includes 18 newly built, renovated, or repurposed classrooms—and the requisite staff to bring them to life either through field trips or after-school programs, or a brand new one-week residency program for elementary-age students in the Urban Advantage Program.
In addition to the classroom spaces, a third-floor Reading Room opens the Museum's library collection to visitors in a tangible way for the first time.
RELATED: Visiting NYSCI with Kids: Guide to the Best Things To Do and See

Kids love the up-close exhibits in the Susan and Peter J. Solomon Family Insectarium. Photo by Alvaro Keding/courtesy of the museum
More Highlights of AMNH's Gilder Center
The Gilder Center adds 33 connections to other AMNH halls and exhibits—an architectural feat in itself, as the building acts as a jumping-off point to the nine other buildings on the campus all created over the museum's 150-year history. So, when you're finished at Gilder, find your way to the big blue whale, the iconic Barosaurs and Allosaurus boarding the entry, or the Titanosaur, famous dioramas, and the rest of the natural world's treasures you already know and love here.
Another cool feature of the Gilder Center is the Macaulay Family Foundation Collection Galleries on the second and third floors, which provide floor-to-ceiling windows that allow visitors to take a peek at the storage facilities for more than 4 million specimens and the scientists who work with them every day.
It brings with it a brand new restaurant, too, The Restaurant at Gilder, which offers sit-down service and new American fare.
There are also two new American Museum of Natural History gift shops in the wing. One is located on the main floor behind the grand staircase—and a bit easier to avoid—while the other greets visitors upon their exit from Invisible Worlds.
RELATED: What Ages Get in Free to NYC Museums, Zoos, Amusement Parks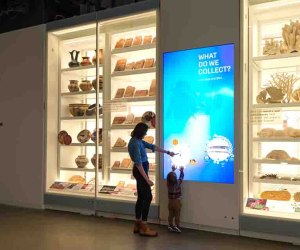 See some of the museum's artifacts on display in the Macaulay Family Foundation Collection Galleries. Photo by Alvaro Keding/courtesy of the museum
Know Before You Go to the Gilder Center
Admission to AMNH covers your visit to the Gilder Center, though be sure to make your reservations in advance.
The Invisible Worlds exhibit and Butterfly Vivarium require visitors to purchase admission plus one or admission plus all tickets; the Insectarium is included in general admission pricing.
There is a floor to ceiling glass windows looking into the Butterfly Vivarium, so you can get a glimpse of them without purchasing the added ticket to enter the exhibit.
Bookmark our guide to visiting the American Museum of Natural History with kids for more tips and tricks before you venture out.
Unless noted, all photos by the author
Places featured in this article:
---
American Museum of National History
t Click Here to Sign Up!