Museum Memberships in NYC That Are Totally Worth It for Winter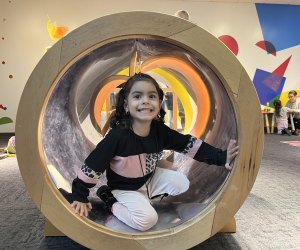 1/17/23
- By
Jody Mercier
Museum memberships can be a boon when it comes to saving money in NYC. And, after visiting NYC's top play spaces, favorite children's museums from Brooklyn to Queens, and other local fun zones, we've rounded up a handful of membership deals at popular kid-centric destinations we think are worth the investment for these cold winter months. These places keep your kids entertained and active while getting you out of the house—and the weather. Some even offer short-term museum memberships, so you only have to pay until spring arrives.
In the dead of winter, it can be daunting to schlep somewhere new every weekend, so a membership to one (or two) of your favorite kid destinations makes sense. We've already done the math so you'll know exactly how many visits it takes until these investments pay off—and whether or not the "deal" works for your family. If the math doesn't work out for you, consider buying one of the play spaces' bulk passes instead, which usually knocks a few bucks off the daily drop-in price. Looking for more options? Be sure to bookmark our Guide to Indoor Activities, which has more parent-tested destinations like our favorite local stores where kids can play for FREE.
Subscribe to our newsletters to get stories like this delivered directly to your inbox.
Keep in mind, reservations may be required for many of these venues and safety protocols are constantly changing.
Play Spaces Offering Seasonal and Year-Round Memberships
Though not exactly play spaces, the Parks Department's indoor rec centers are great places to romp. They're cheaper than a gym and kid-friendly. While facilities and activities vary by location, most offer indoor ball courts, dance and art studios, computer rooms, fitness equipment, and even pools.
Drop-in price: These are members-only facilities.
Membership: $100-150 for adults annually, FREE for children and young adults under age 24
Payoff: The rec centers vary in quality, so it's important to check your local spot out before joining. An annual membership grants you access to all city rec centers. Opt for the $150 level if you want access to indoor pools. You can snag a six-month membership for half price, and kids are always FREE. Another bonus: An IDNYC will save you 10 percent, too.
This Montessori-inspired play space offers drop-in open play, monthly membership plans, and 10-visit play packs. Kids will go crazy for interactive features like a treehouse slide, rock wall, rope climbing area, Lego play area, and plenty of soft toys for tots to explore safely.
Drop-in price: $35 for the first child, $50 for two siblings (one adult included in price, $5 for each extra adult)
Membership: $370 per month, sibling rate is $320; 10-visit package price: $280 for first child; $230 for second
Payoff: Depending on the size of your family, visit 11-14 times a month to make a membership worthwhile. The 10-visit package saves you $70 if you have one child, but costs $10 more than the drop-in price if you have two.
RELATED: Free Admission Times at NYC Museums, Gardens, and Zoos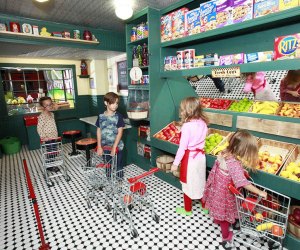 The grocery store at Twinkle Playspace offers a wonderland of discovery. Photo courtesy of the play space
This 4,500-square-foot imaginarium for children younger than 6 features a variety of interactive activity stations, including a castle, firehouse, and grocery store.
Drop-in price: $35 per session for one adult and one child
Membership: $200 per month; $330 for a three-month membership; siblings cost $100 for a single-month membership or $165 for three months.
Payoff: Visit six times to justify the one-month membership or 10 times to make a three-month membership worth it. A 10-visit play pass is another option at $275, it saves you $75. Another perk to membership or play passes: You don't need to make a reservation.
Museum Memberships in NYC Worth Buying for Winter
Before we discuss museum memberships, we want to mention the Association of Science-Technology Centers' Passport Program, which potentially gets you no-cost admission to hundreds of museums around the world. Many NYC museums take part, which means a membership at one may get you FREE general admission at others. The Brooklyn Children's Museum, New York Transit Museum, New York Hall of Science, the Intrepid Sea, Air & Space Museum, and MoMath are all part of the ASTC Passport Program. However, rules vary by institution and some distance requirements apply, so be sure to inquire about the restrictions on the ASTC Passport Program before purchasing a membership. There are also discount benefits to NYC institutions that come with the IDNYC card.
Sure, it's always mobbed with families, but with great reason. It's a world-class museum with countless enriching exhibits and attractions, massive dinosaurs, and tons of hands-on fun.
General Admission: $28 for adults, $16 for children ages 2-12 with additional fees for special exhibits; tri-state area residents can take advantage of pay-what-you-wish admission, however.
Membership: There are a variety of family memberships with different benefits. However, if you choose the least-expensive option, $179 gets you free general admission and special-exhibit tickets for a year for two adults and four kids.
Payoff: Since general admission is only suggested, it's hard to say exactly how much you save as a member. However, special-exhibit tickets are sold at a set rate (and chances are you want to see them), so a family of four must visit just twice a year to make it worthwhile. Another perk to membership: Early access to new galleries when they open and there's an exciting new opening on the horizon in 2023 with the Richard Gilder Center for Science, Education, and Innovation.
RELATED: Inside the New Bronx Children's Museum Now Open in the South Bronx

Brooklyn Children's Museum's Totally Tots is a play space unto itself. Photo courtesy of the museum
A major family favorite, this hands-on tot spot features interactive stations for a range of ages, from the preschoolers-only Totally Tots area to the vibrant World Brooklyn exhibit, featuring replicas of well-known local businesses.
Admission: $13 per person for ages 1 and older
Membership: There are a variety of family memberships with different benefits. The Explorer Membership is $175 and gets you free general admission for a year for two adults and four kids. Opt for the higher-level membership for $250 for additional benefits.
Payoff: A family of four must visit four times a year to make the Explorer Membership worthwhile.
Always abuzz with activity, this children's museum offers five floors of exploration, including the PlayWorks level, featuring a pretend fire truck, grocery store, art area, sand table, and play structure.
Admission: $16 for ages 1 and older
Membership: There are a variety of family memberships with different benefits. However, if you select the annual option, $275 gets you free admission for a year for two adults and four kids. A mini membership sets you back just $110 and lasts three months, with the option to apply the fee toward a full-year membership following its conclusion.
Payoff: A family of four must visit five times a year to make the annual membership worthwhile or just twice in three months.
RELATED: Museum Birthday Party Places in NYC: 10 Celebration-Worthy Culture Spots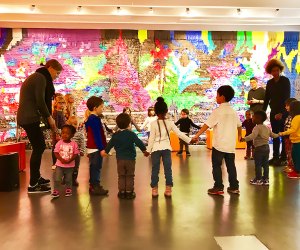 Creativity shines at Sugar Hill Children's Museum of Art & Storytelling. Photo by Janet Bloom
This arts-focused children's museum is part gallery, part creative space, and fun, family-friendly programming dominates the scene. The space is cavernous and kids aren't discouraged from romping (within reason). On a past visit, we created plenty of art in the studio, built hula hoops in the living room, and staged a dance party, too. No one batted an eye.
Admission: $7 for adults; $4 for children ages 9 to 17; FREE for those age 8 and younger
Membership: Family memberships start at $100 for a family of four; if you have little ones, consider an individual ($40) or dual ($60) membership.
Payoff: Because this museum is so reasonably priced if you have little kids, you'd have to visit 4-7 times in a year to get your money's worth. The space is cool; the galleries rotate regularly, and there are plenty of art supplies for kids and adults.
Visit the DiMenna Children's History Museum here or one of the many rotating family-friendly exhibits. Plus, this is a great viewing spot for the Macy's Thanksgiving Day Parade balloon inflation festivities, which members get an invite to.
Admission: $22 for adults, $13 for students, $6 for children ages 5-13; free for 4 and under
Membership: A family membership is $160 and includes unlimited admission for up to four kids under the age of 18, plus that invite to the balloon inflation party, and more cool events.
Payoff: If you are a family of three, it pays off in just over three visits, a family of four in just under three visits, depending on the age of your kids. Tots, of course, are FREE all the time, so you may want to just buy the individual membership at $100 or the dual at $135. If you have teens, though, it pays off even sooner as they would be paying the student price.
Part of the historic Snug Harbor Cultural Center, this children's museum offers plenty of hands-on fun, including a bug room, life-sized game pieces, and various imaginative play stations.
Admission: $8 for ages 1 and older
Membership: $85 for an annual family membership
Payoff: A family of four must visit three times a year to make it worthwhile. Although the museum is part of the ASTC Passport Program, no-cost admission isn't offered at museums within 90 miles.
This STEM-inspired learning spot has plenty of fun, engaging exhibits to please all ages and keep guests returning time and time again. We love the pop-up ice skating rink it's currently hosting, too.
Admission: $16 for adults; $13 for children ages 2-17; those under age 2 are free
Membership: A basic family pass is just $100 and grants year-long admission for two adults and up to four kids.
Payoff: A family of four must visit just twice to see the benefits of this membership.
RELATED: See Bronx Zoo Like a Local: Top Tips for a Great Visit with Kids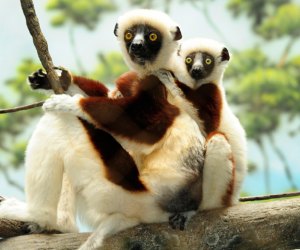 The Madagascar exhibit at the Bronx Zoo features a host of lemur species. Photo by Julie Larsen Mahar for WCS
NYC Zoo Memberships Worth Buying for Winter
A WCS membership grants you access to four zoos (the Bronx Zoo, Central Park Zoo, Prospect Park Zoo, and Queens Zoo) plus the New York Aquarium for one year. While some zoo animals may be hiding indoors or off exhibit this time of the year, a visit to the Bronx Zoo's Jungle World, Central Park's Tropic Zone, or the newest exhibits at the aquarium just may cure your cabin fever on a cold day.
Admission: From $7 to $24.95 for children; $10 to $33.95 for adults, depending on location
Membership: A basic family membership is $180 and covers two adults and up to four children for one year. A $225 family-plus membership covers admission, plus access to special exhibits at the Bronx Zoo. Add on $95 for year-long entrance to the NY Aquarium.
Payoff: Visit the Bronx Zoo three times a year, and you've covered the cost of your premium membership. Visits to all the other zoos and the aquarium are just icing on the cake.
A version of this post was published in 2017; it is updated annually.