10 Things to Love About the DiMenna Children's History Museum at the New-York Historical Society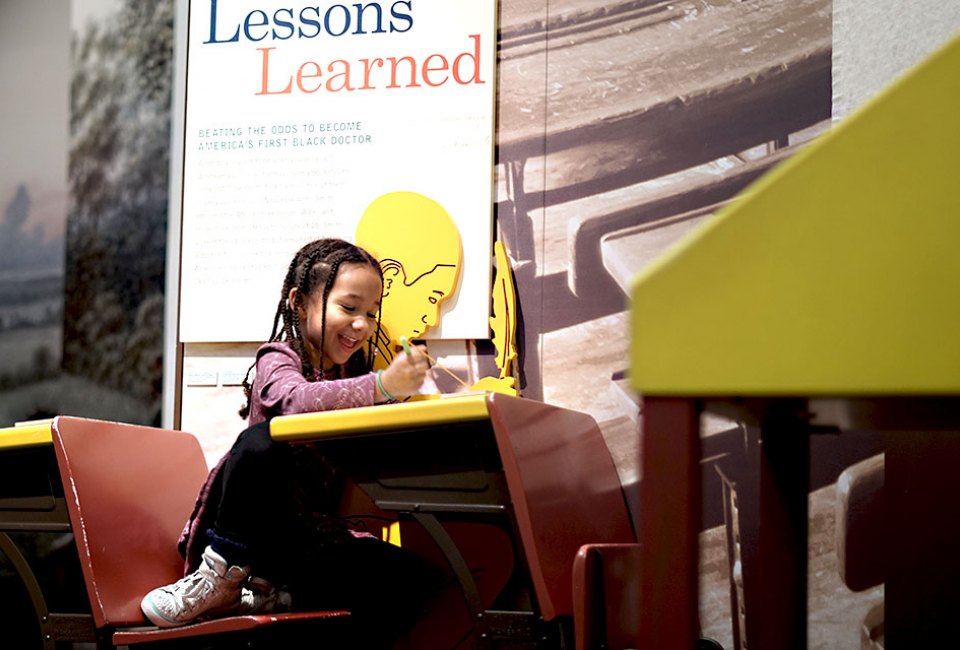 2/19/19
- By
Jody Mercier
Kids are naturally intrigued by history—the "who, what, and when" of how the world as they know it came to be. Curious history buffs in the making (and their parents) take note: One of our favorite children's museums in NYC is actually tucked into the basement level of the the New-York Historical Society in the heart of the family-friendly Upper West Side, just steps from Central Park. If you haven't visited yet, read on for 10 reasons we love the DiMenna Children's History Museum at the New-York Historical Society, a hidden gem with plenty for kids to explore.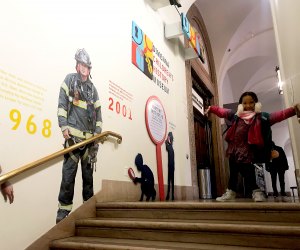 The DiMenna Children's History Museum focuses on the life stories of a diverse selection of youngsters who lived in New York City from the late seventeenth through the twentieth centuries.
1. Immersive Permanent Exhibitions: At 4,500 square feet, the DiMenna Children's History Museum isn't as large as some of the city's kids-only spots, but it packs a lot of info (and fun!) into its small footprint. Its permanent exhibits let modern-day New Yorkers explore the lives of city kids in years past. While you learn the stories of New Yorkers famous (Alexander Hamilton) and not-so-famous (orphan train riders), you'll visit individual pavilions dedicated to different experiences and points in history, all chock full of historical details as well as hands-on activities. Though the museum is officially geared toward children ages 8-13, my kids have had fun here from the time they were 3.
RELATED: The Best Children's Museums in NYC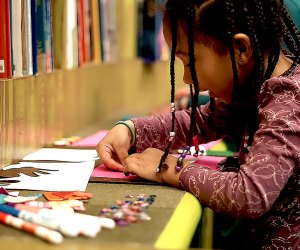 Get creative at the Little New Yorkers Series.
2. Inventive Family Programming: While exploring the galleries on your own is fun, there's usually some sort of program taking place here, too. Series like the Little New Yorkers offer songs, stories, and craft projects every Tuesday and Friday, while cross-stitch circles (geared toward ages 6+) happen on Thursdays after school. Sunday's mean it's story time. The museum's Living History series, which takes place on weekends and holidays, brings historical characters to life with historians dressed up in period garb, interacting with museum goers and answering questions. The Living History series connects the public to current holidays, and celebrations like Black History Month, so it's ever-changing, always fresh, and worth a repeat visit.
RELATED: 30 Things to Do on the Upper West Side With Kids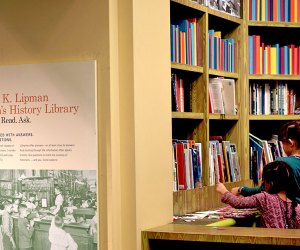 Hunt for stories, museum objects and maps in the Barbara K. Lipman Children's History Library.
3. The Library: The Barbara K. Lipman Children's History Library is located adjacent to the DiMenna Children's History Museum exhibition space (and where story time takes place). It houses a vast collection of children's books and makes a perfect spot to snag a seat and explore a new story. Many are NY-centric, too, to round out your experience here.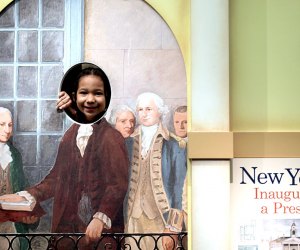 New York City was the nation's first capitol and the site of the first presidential inauguration.
4. Family-Friendly Rotating Exhibitions: The New-York Historical Society always has something new going on, and so many exhibits are family-friendly. The just-closed Harry Potter: A History of Magic wowed my older son, while my daughters still refer to the building as the Eloise museum. Mo Willems has also made a visit.
5. The Holiday Train Show: A few years ago, the Historical Society debuted its own holiday train show, and while it's smaller in scale than the show at the New York Botanical Garden, it's worth a visit. It focuses on historical toys from the museum's collection, and features a super cool train table where kids can crawl inside and peek through a built-in window to be right at eye-level with the trains chugging by. Harry Potter took up the display's usual real estate in 2018, so it wasn't on view, but organizers say it will return this year.
6. Pay-What-You Wish Hours: We're always looking for a way to save a bit, especially when it comes to museum visits. The New-York Historical Society and DiMenna Children's History Museum offer pay-what-you-wish hours every Friday night from 6-9pm, giving you a chance to explore all the galleries at a discounted rate.
7. Balloon Inflation Party: Members at the Family Level and above receive an invite to the annual Thanksgiving Eve Family Celebration where you get an exclusive (read: way less crowded) viewing spot for watching the parade's balloons grow to bigger-than-life size, plus activities and snacks inside the museum.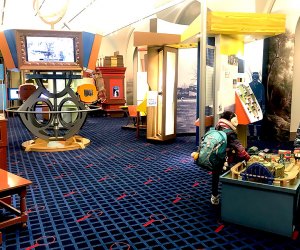 The interactive and engaging exhibits, collections, and programs let visitors grow up with history.
8. Fascinating Showcase for New York History: There are always tons of things going on in the other three floors of the museum, so there's plenty to explore once you've covered the history of little New Yorkers. Near the staircase that leads down the DiMenna Children's History Museum is an auditorium showing New York Story plays on repeat throughout the day. Its 18-minute run time is mesmerizingly kid-friendly and offers plenty of nuggets about NYC history. Other popular mainstays include the collection of Tiffany lamps, the Center for Women's History, a collection of John James Audubon's watercolors, and the gallery entitled Objects Tell Stories, which exhibits a variety of artifacts from various points in history.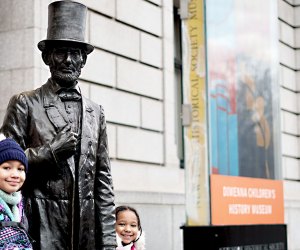 Snap a pic with the formidable Abraham Lincoln.
9. Honest Abe: While he's not quite as imposing as his neighbor Teddy Roosevelt, who guards the entrance of the neighboring American Museum of Natural History, it's still fun to stop and snap a picture with Abraham Lincoln on the steps before your visit. Famed abolitionist Fredrick Douglass holds a post at the entrance on 77th Street and is similarly photogenic!
10. Location, Location, Location: Speaking of AMNH, there is plenty of family-friendly fun within steps of the New-York Historical Society. You can hang in Central Park, visit AMNH, or grab a bite to eat at one of these kid-approved spots.
Know Before You Go
The DiMenna Children's History Museum is located on the lower level of the New-York Historical Society; it is usually closed Mondays.
Strollers are permitted in the galleries.
Admission is $21 for adults; $6 for children ages 5-13; children under age 4 are FREE.
Large bags and backpacks (larger than 11-by-14 inches) must be checked.
Membership packages are available and start at $160 for a family.
A version of this story was published in November, 2011. Stephanie Ogozalek contributed to this report.
Photos by the author
Places featured in this article:
---
New-York Historical Society DiMenna Children's History Museum