Mo Willems Exhibit Inspires at New-York Historical Society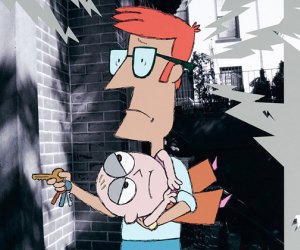 The Art and Whimsy of Mo Willems exhibit at The New-York Historical Society opens Friday, March 18 with 90 pieces of original artwork, animation cells, sculptures, an adorable reading area and an audio guide just for kids in a career retrospective of a multitalented artist and beloved children's author.
It's one of our top activity picks for the entire year, and we are big fans of Mo Willems' simple but enchanting NYC-themed kid-lit in my house, so it was exciting to attend the preview to tell you all about it.
A must-see for fans of Knuffle Bunny, Elephant and Piggie, and the always angry Pigeon, the galleries are immersive, painted to resemble the hand-drawn cityscapes of Willems' books. But they are not kid-focused: There are no interactives to keep little hands busy. Of course, that really isn't the point. Willems said during the opening that one of his goals for the exhibit is to encourage people to draw and create characters. He wants his work to inspire adults and kids to draw and sketch. Kids can hear what else Willems has to say on an audio guide created just for them and narrated by Willems. On Saturday and Sunday (March 19 and 20), the museum is offering a slate of family activities to complement the exhibit.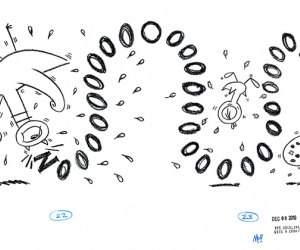 A final illustration from Duckling Gets a Cookie, a 2012 Willems book. Image courtesy of NYHS.
My 11-year-old son grew up reading the Brooklyn-based adventures of the adorable Trixie and her stuffed Knuffle Bunny. As a mom, I also loved the books because they starred a city kid playing in the park, carrying laundry around and walking to preschool—living the life we did—which was rare in children's books at the time. When we traveled to Brooklyn, we always pointed out the famous Knuffle Bunny landmarks, such as Grand Army Plaza where the iconic late-night stuffed-bunny swap took place.
Willems is a modern renaissance man: illustrator, animator, writer and sculptor. Despite having read many of his children's books, I had no idea he was so much more than a kid-lit author-illustrator. His career began creating comedy for adults, but it wasn't until he landed as a writer and animator for Sesame Street that he discovered he enjoyed creating for children. Willems has created animated series for Cartoon Network and Nickelodeon, won six Emmys for his work on television and numerous awards for his children's books. He has created a number of notable sculptures, including The Red Elephant, which is on display at The Eric Carle Museum of Picture Book Art in Massachusetts, and has even penned two musicals.
RELATED: Splurge GoList: 10 Worth-the-Money Experiences for NYC Kids
The Art and Whimsy of Mo Willems is a retrospective of his 20-plus year career. Included is an early mockup of Knuffle Bear (yes, the bunny was a bear once upon a time), and a glimpse into his creative and production processes. Like most exhibits at the New-York Historical Society, there is a tie to New York City. Although Willems has moved with his family to Massachusetts, his many years in Brooklyn inspired his work, especially, Don't Let the Pigeon Drive the Bus and the endearing Knuffle Bunny trilogy. Touring the exhibit, I realized my family has been saying Knuffle completely wrong: Knuffle is the Dutch word for snuggle, and it's pronounced Ka-nuffle!
The exhibit takes over three galleries on the museum's second floor. You enter to a career retrospective focusing on his early projects such as student films, early television work for Sesame Street and Sheep in the Big City. You see old-school animation cells and his graphic novel Walking the Williamsburg Bridge to Work—his experiences of the September 11 terrorist attacks—created for DC Comics and now housed in the Library of Congress.
RELATED: Our City Exhibit at Brooklyn's Children Museum Delves into Neighborhood Ties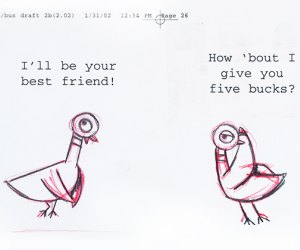 A preliminary sketch of Don't Let the Pigeon Drive Drive the Bus. Image courtesy of NYHS.
As you move through, you dive deeper into his work. A second gallery explores his creative process, character development and production workflow with iconic pages from Knuffle Bunny Free, a short video and dummy books on display.
The last gallery offers a look at costumes and dress in his works. Surprisingly, curators noticed the costuming as a theme in his stories that Willems himself hadn't picked up on. Pages from Thank You, scheduled for release in June, are also on display. This final installment in the Elephant and Piggie series includes every secondary character from all 25 previous books. It reads as both a standalone story and a swan song for the series.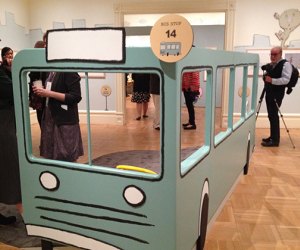 The "pigeon bus" serves as a mid-gallery reading nook, stocked with Willems books. Photo by the author.
Highlights for little ones include two reading areas, one of which looks just like the bus the pigeon wasn't supposed to drive. Both are stocked with copies of Willems books and the bus has a little steering wheel for mock driving. An adorable shop sells his books and stuffed animals (including Trixie's famous bunny) and features a blank wall for doodling.
The best time to visit with tots or preschoolers is during one of the museum's special activities. These include daily readings of Willems' books, educator-led sketching tours of the galleries and film screenings. On Friday, June 3, Willems and his daughter, the now 14-year-old Trixie, present Team Mo: Trixie Takes Over! a film screening of a movie made by Trixie on her dad's career. A Q&A with both follows. Mark your calendars now for the second family weekend scheduled for Saturday, June 4 and Sunday, June 5. Saturday will include a reading and signing with Willems. (The opening day, March 18, reading sold out in a flash, so if you missed it register for the second one NOW.)
While there, don't forget to visit the DiMenna Children's Museum and the high-tech temporary exhibit Silicon City. Or pop across the street to see the American Museum of Natural History's Dinosaurs Among Us exhibit.
The Art & Whimsy of Mo Willems is on view at The New-York Historical Society through Sunday, September 25.
Illustrations from Willems' Brooklyn-based Knuffle Bunny series hang on the walls. Image courtesy of NYHS.