Our First Annual 2016 GoList: 49 Absolute Must-Dos for NYC Kids This Year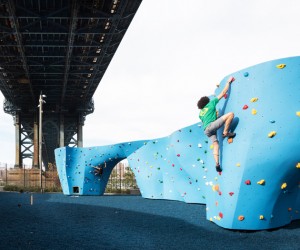 We've compiled a carefully curated list of the very best NYC happenings for kids in 2016 to bring you our very first annual GoList. It includes the best things to do on long holiday weekends and annual events that we know tend to sell out quickly or require advance registration. Plus we've got the scoop on several brand-new outings that we are particularly excited about, including an outdoor climbing wall, a chance to see alligator hatchlings, some of our favorite upcoming children's theater, new museum happenings and of course, the city's best annual festivals and parades.
You can always check our Event Calendar for upcoming events and activities. Happy planning!
Note: Some event organizers have not released 2016 dates yet. We've noted specific dates when possible and will update the list as details roll in. If an event piques your interest, click through to our listing for all the details, including addresses, times, prices and recommended ages.
January
The Titanosaur — Upper West Side
It's not every day that the city gets a new dinosaur, so this is a definite must-do for all ages. A 122-foot-long titanosaur, an herbivore from the Cretaceous period believed to have weighed 70 tons, went on display January 15 on the dinosaur-packed fourth floor at the American Museum of Natural History. While the massive fiberglass skeleton will remain at the museum "indefinitely," the real-life fossils will have a limited run in NYC of about a year.
The Velveteen Rabbit — Midtown West
Friday, January 22-Sunday, January 31
Margery Williams' beloved picture book about a toy bunny who longs to be real will be presented in a new light. Instead of cutesy animal costumes, expect poignant characterizations and surrealist sets. Bonus: Mommy Poppins is hosting a special readers night on Saturday, January 30 with discounted ticket offers and post-show activities with our friends from Gate Hill Day Camp.
CANCELED - This event is canceled and will not be rescheduled as per NYC Parks, January 21.
Winter Jam — Central Park
Saturday, January 23
Even if Mother Nature fails to provide some flurries, this annual winter fest will have lots of fresh-blown snow, courtesy of Gore Mountain. Expect all kinds of winter activities, including cross-country skiing, sledding, snowshoeing and snowboarding. All equipment will be provided and the best part is that it's all FREE.
RELATED: 100 Things to Do with Kids in NYC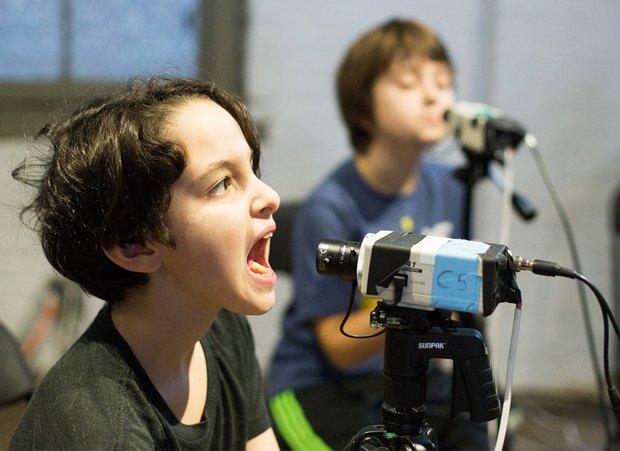 Creating a live feed of the inside of a festival goer's mouth at the Inventgenuity Festival. Photo by David Golann/courtesy Beam Center.
Beam Center's Inventgenuity Festival — Carroll Gardens
Saturday, January 23-Sunday, January 24
Beam Center's annual maker fest is in a new location but with the same wide range of collaborative and individual low- and high-tech projects. Register for the festival ASAP if you are interested; it always fills up fast! FREE admission but nominal materials fee for workshops apply.
The Very Hungry Caterpillar Show — Midtown West
Saturday, January 30-Sunday, March 27
Eric Carle's beloved picture books come to life in this interactive, hour-long show aimed at toddlers and preschoolers. The Artist Who Painted a Blue Horse, Mister Seahorse, The Very Lonely Firefly and the title tale leap from page to stage through live performances and more than 75 larger-than-life puppets. Read our in-depth preview of the show.
February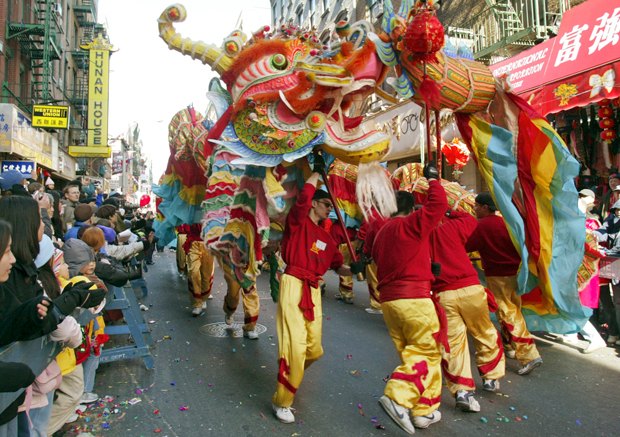 Chinatown's annual Lunar New Year parade is always a festive, if chaotic family event. Photo by Patrick Kwan via Flickr.
Chinatown Lunar New Year Parade and Festival — Chinatown
Sunday, February 14
Celebrate the Year of the Monkey at NYC's biggest Lunar New Year shindig. This pan-Asian parade includes Chinese, Korean, Japanese, Vietnamese, Taiwanese, Malaysian and even Hispanic floats and cultural performances. The parade is followed by an outdoor cultural festival in Sara D. Roosevelt Park. Both events are very festive, loud and way too crowded for strollers, so it's probably best for school-age children. FREE
New York International Children's Film Festival — Manhattan
Friday, February 26-Sunday, March 20
This is one my families absolute favorite events all year! This annual film fest just for kids features dozens of kids' flicks from around the globe. Short programs and full length screenings are good for all ages and families can expect lots of special events. Advance tickets are a must. *Tickets for this festival will go on sale January 28. The most popular screenings sell out immediately! Mommy Poppins readers score $2 each ticket with discount code MOPO16.
Moon Mouse: A Space Odyssey — Corona
Sunday, February 21 at Queens Theater and Saturday, March 19 at Symphony Space
The Lightwire Theater from America's Got Talent fame brings a glow-in-the-dark show to a pair of NYC theaters this season where everything is created from luminescent black light. A geeky mouse named Marvin escapes into a fantasy world where he goes on a cosmic journey full of kooky creatures.
March
The Boy at the Edge of Everything — Lincoln Square
Saturday, March 12-Sunday, March 20
A trippy, thought-provoking new show about a pair of isolated, inquisitive but oddball 12-year-old boys who connect across the abyss. Co-created by Seattle Children's Theatre and NYC's own Trusty Sidekick Theater Company, this spring will be the show's NYC debut.
The Art and Whimsy of Mo Willems — Upper West Side
Friday, March 18 - Sunday, September 25
We are super excited about this exhibit at the New-York Historical Society. No matter your age, enjoy an up close look into the magnificently imaginative world of beloved kid-lit author and illustrator, Mo Willems. We've been told that Willems himself will make a couple of special appearances during the run, including opening weekend. Stay tuned for more information as we get it.
Dinosaurs Among Us — Upper West Side
Monday, March 21–Monday, January 2, 2017
More dino fun! The American Museum of Natural History continues it's yearlong celebration of dinosaurs with a brand-new exhibit. Dinosaurs Among Us explores the connections between the prehistoric monsters and our feathered friends through hands-on stations, rare fossil displays and more. Check out the just added 122-foot-long titanosaur while you're at it.
RELATED: How to Get into Almost Every NYC Museum for FREE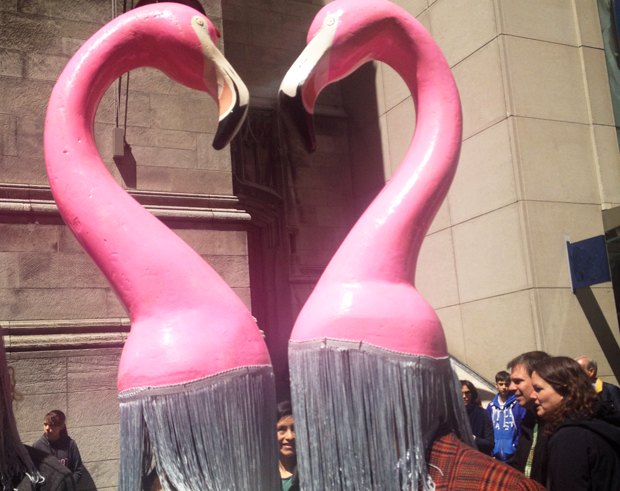 One of the creative "bonnets" at the Easter Parade down Fifth Avenue. Photo courtesy Shira Kronzon.
Easter Parade and Easter Bonnet Festival — Midtown East
Sunday, March 27
This is one of our favorite celebrations of the whole year! Fifth Avenue between 49th and 57th streets close to traffic and opens to revelers in beautiful bonnets, snappy hats and jaw-dropping headdresses. Truly a must-do event. FREE
April
Children's Carnival — Glen Oaks
Saturday, April 9-Sunday, April 10 and Saturday, April 16-Sunday, April 17
The historic Queens County Farm Museum's two-weekend long Children's Carnival features an authentic midway with lots of kiddie rides, games and family entertainment. The best part is all carnival rides are included in the admission price, so kids can spin, twirl and ride to their heart's content.
Outdoor Climbing Wall in Brooklyn Bridge Park — Dumbo
We cannot wait for this outdoor climbing wall to open. The DUMBO Boulders Powered by The Cliffs wall is currently under construction, and the park is staying mum on the official opening date at this time, saying only "spring of 2016." It's located under the Manhattan Bridge in the Main Street Section of Brooklyn Bridge Park, serving up views of the harbor and the city. A day pass will run $9 while some FREE programs are on tap for kids and schools. Stay tuned for more info.
*This opened in mid-April and is a huge hit!
Tribeca Film Festival Family Street Fair — Tribeca
Late April
For the last 14 years, the fest has included contests, bouncy houses, giveaways, performances by Broadway musicals, interactive art, film workshops and much more for families. Last year's event included a block-long video game arcade and life-size bubble making. The film festival will run April 13-24, meaning the family fair will likely land on one of those weekend days but an official date has not been released. Mark your calendar for its arrival. FREE
Sakura Matsuri Cherry Blossom Festival — Crown Heights
Saturday, April 30-Sunday, May 1
The Brooklyn Botanic Garden's wildly popular annual fest celebrates Japanese culture in its beautiful blooming Cherry Esplanade with a large variety of activities to watch, participate in and listen to.
Meet Me at the Fountain — Upper West Side
Sunday, April 30 and Saturday, May 21-Sunday, May 22
Participate in an interactive alfresco theatrical adventure set in Lincoln Center Plaza. Families can assist a secret crime-fighting team search for clues in a mysterious spring whodunit.
May
Governors Island Opening Weekend — Governors Island
Saturday, May 28-Monday, May 30
Governors Island traditionally opens for the season on the Saturday of Memorial Day weekend with an art-filled family fest on Sunday. Opening day is confirmed as May 28 but there aren't many event details yet. Still, we've enjoyed the island more and more as it expanded hours, added new ferries and loads of kids' playgrounds and programming. Read our full review of latest family features. We can't wait to see it in 2016! As we get more details, we'll be sure to update you. FREE
TREE/BOOM/UMTHI — Fort Greene
Saturday, May 14-Sunday, May 15 and Tuesday, May 17-Sunday, May 22
South African physical performance troupe Magnet Theatre mounts an interactive production for preschoolers that explores the relationship humans have with nature through movement. It will be presented in English, Afrikaans, and isiXhosa languages, exposing those developing brains to new cultures.

St. Ann's Warehouse and NoFit State: BIANCO — Dumbo
Tuesday, May 3-Sunday, May 29
International circus troupe NoFit State will set up its spaceship-shaped tent in Brooklyn Bridge Park for a month of alfresco performances in an inaugural summer session for the park. This sophisticated circus is accompanied by a live band and definitely for the experienced theatergoer or older kids. Tickets are on sale now.
RELATED: Broadway's Best Shows for Kids and Families
Dwarf crocodile will be on display at the American Museum of Natural History this spring. Photo by Joe McDonald/courtesy museum.
Crocs: Ancient Predators in a Modern World — Upper West Side
Saturday, May 28–Monday, January 2, 2017
Memorial Day Weekend marks the opening of AMNH's latest live-creature exhibit focusing on crocodiles, alligators, caimans, and gharials. Learn all about these ferocious reptiles and even get a chance to gawk at an African dwarf crocodile, a Siamese crocodile and American alligator hatchlings in the flesh.
June
Strawberry Picking — New Jersey, Connecticut and New York State
Plan a post-Memorial Day trip to a local berry patch to pluck juicy strawberries straight from the vine. Find a patch near you in our Farm Guide.
The Ultimate Science Street Fair — Greenwich Village
Sunday, June 5
Every year the World Science Festival culminates in this amazing family street fair in Washington Square Park, featuring tons of hands-on activities and experiments. FREE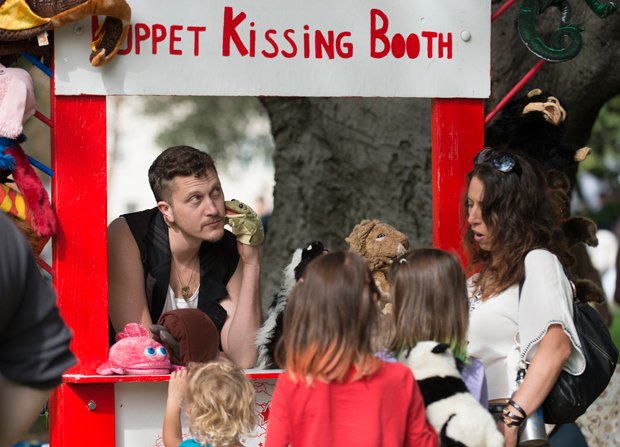 Figment Arts Festival comes to Governors Island during the summer. Photo courtesy of the festival.
Figment NYC — Governors Island
Friday, June 3-Sunday, June 5
Figment is an unforgettable day and one of our favorite events all year. The highly creative arts fest on Governors Island has included everything from traditional mural painting and arts and crafts to dressing up in costumes, G-rated raves, fortune telling and splashing around in big buckets of colored water. The isle's mini-golf course and Interactive Sculpture Garden are usually unveiled for the season at this time. FREE
Museum Mile Festival — Upper East Side
Tuesday, June 14
It's worth blowing bedtime for the Museum Mile Fest when Fifth Avenue is closed to traffic and turned into a massive art party, plus all the museums on the mile offer complimentary admission.
Egg Rolls, Egg Creams & Empanadas Festival — Lower East Side
Sunday, June 16
The Museum at Eldridge Street's signature celebration of the nabe's Chinese, Jewish and Latin heritages is traditionally held the first Sunday in June. The street fair has been packed with cultural performances and eats from the neighborhood (egg rolls and egg creams, of course!). Last year the organizers mixed in a third culture: Puerto Rico! We can't wait to see what they have in store for us in 2016. FREE
RELATED: 20 Best Water Playgrounds in NYC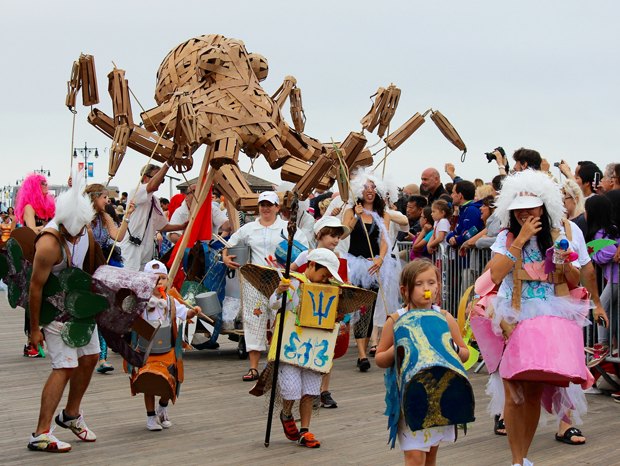 The only in New York, always funky Mermaid Parade at Coney Island is not to be missed. Photo by Shinya Suzuki via Flickr.
The Mermaid Parade — Coney Island
Saturday, June 18
NYC's official kickoff to summer and a Coney Island tradition since 1983, this parade features revelers decked out in their most outrageous aquatic-themed costumes with a Queen Mermaid and King Neptune leading the way. FREE
July
City of Water Day — Governors Island & Hoboken
Saturday, July 16
This celebration of our local waterfront takes place on Governors Island and Hoboken, NJ. Big eco-fairs are part of the fun, but the best part of this festival has to be the FREE boat rides. In the past we have gone on the Sloop Clearwater, an NYC Audubon Eco-Cruise and the Schooner Pioneer. Boat tours require advance registration, and reservations usually open about a week before the event—and fill up fast FREE
Theatreworks USA FREE Summer Theatre — Greenwich Village
Wednesday, July 20-Friday, August 19
Theatreworks' free musical production for kids is a real treat. The esteemed troupe adapts children's books into charming and engaging musicals. My son and I make a point to catch them every summer, but you need to plan ahead as the weekday shows are reserved for camp groups and are first come, first serve during the weekends for the general public.
August
Hong Kong Dragon Boat Festival — Corona
Saturday, August 6-Sunday, August 7
Watch more than 200 teams compete on the lake at Flushing Meadows Corona Park in colorful custom-made dragon boats. In between races, check out the massive outdoor marketplace with ethnic eats, live Chinese music, lion and dragon dances, crafts, martial arts displays and kite flying. FREE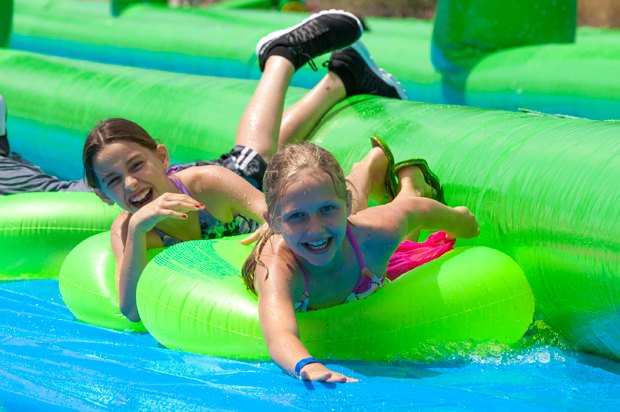 Water slides line the street during Summer Streets. Photo courtesy Slide the City.
Summer Streets — Manhattan
Saturdays August 6, 13, 20
Cycle, scooter or stroll a car-free, seven-mile route from the Upper East Side to the Brooklyn Bridge with interactive rest stops along the way, including live performances and water features to beat the summer heat. FREE
September
Apple Picking — New York, New Jersey, Long Island and Connecticut
Make sure to schedule a weekend to enjoy this quintessential autumn activity. Our Farm Guide offers a slew of orchards in the tri-state area perfect for a day trip.
Broadway Week Tickets on Sale — Times Square
Monday, September 5-Sunday, September 18
NYC hosts two Broadway Week ticket buying events annually where patrons can score 2-for-1 seats. Tickets go on sale shortly before the discounted performances, which typically take place in February and September. Check our Event Calendar, as well as our post on Broadway bargains for updated info as the date gets closer.
Morningside Lights — Morningside Heights
Saturday, September 17
As soon as the dates are released, you will want to register for a spot in one of the sessions of this artsy week-long series of FREE collaborative art workshops that culminate in an illuminated procession in Morningside Park. FREE
Little Red Lighthouse Festival — Washington Heights
Saturday, September 24
Fans of Hildegarde H. Swift's 1942 children's book, The Little Red Lighthouse and the Great Gray Bridge, won't want to miss this event which offers the rare opportunity to go inside Little Red. Lines for tickets usually start forming in the morning, so get there early. The fest also features fishing clinics, live performances, food vendors, themed art activities and, of course, readings of Swift's classic. FREE
October
Pumpkin Picking — New Jersey, Connecticut, New York
Pick the perfect jack-o'-lantern at a nearby pumpkin patch, which host farm fun like hay rides, petting zoos and seasonal food treats.
Maker Faire New York — Corona
Saturday, October 1-Sunday, October 2
The grounds of the New York Hall of Science explode with all kinds of inventions and creations; everything from knitting to robotics, circus to interactive sculptures, computers to crafts. Plus there is a life-sized Mouse Trap game! This is an event my family plans our season around and so far, we haven't missed a single year.
Great North River Tugboat Race & Competition — Midtown West
Sunday, October 9
Watch as 15 tugboats race from Pier I in Riverside Park South to Pier 84 in Hudson River Park where a slew of nautical-themed fun awaits! The race usually takes place in the Hudson River and can be viewed for FREE along the waterfront between West 44th and West 70th Streets.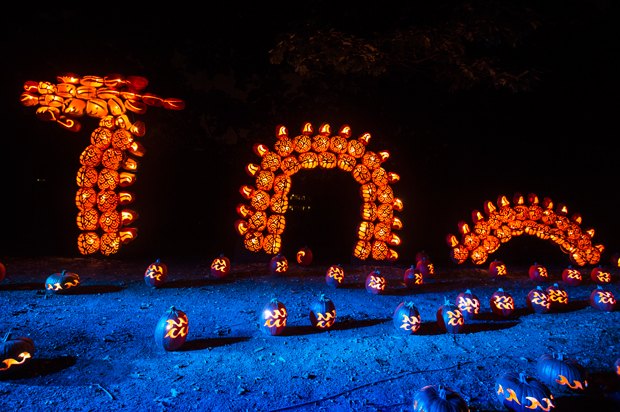 A giant jack-o lantern sea serpent rises near the aquarium during the Blaze festival. Photo by Tom Ncyz/courtesy of Blaze.
The Great Jack-O' Lantern Blaze — Croton-on-Hudson
Select evenings Friday, September 30-Sunday, November 13
This event is my family's No. 1 Halloween activity—even though it isn't in NYC. It is an easy drive or train ride to Westchester. For 28 nights in the fall, marvel at more than 5,000 hand-carved, illuminated jack-o'-lanterns displayed all over the 18th century grounds of Van Cortlandt Manor. Tickets go on sale during August so plan ahead.
Open House New York — Citywide
Saturday, October 15-Sunday, October 16
Hundreds of New York City's historic buildings and architectural marvels open their doors to the public for one weekend every October, hosting a citywide "open house." The complete list of sites will be posted on the organizer's website a week before. Some tours require advance registration.
CANCELED: Unfortunately, the cash-strapped Big Apple Circus was forced to cancel its 2016-17 show after it failed to secure necessary funding.
The Big Apple Circus — Upper West Side
We look forward to NYC's homegrown circus' annual residency at Lincoln Center.
November
Kids' Night on Broadway — Times Square
Date TBD but tickets typically on sale in November
Score a FREE kid ticket for each adult ticket purchased to a slew of popular Broadway shows. If you missed out last year, be sure to mark this popular BOGO deal down for 2016. Performances typically take place in February of the following year, so it does require some planning ahead!
Canstruction — Battery Park City
Thursday, November 3-Monday, November 14
This stunning canned food display created by inventive teams of architects, engineers, contractors and students, runs for about two weeks each November. Once the exhibition is over, all the cans are donated to City Harvest. FREE but bringing cans of food to donate is strongly encouraged.
The Nutcracker — Citywide
Various, November through December
Watching The Nutcracker performed live is a perfect holiday experience for all ages. Many of the more popular productions sell out quickly and the lesser known tend to sneak up on you. Schedule a date now to catch one of these sweet performances before they dance out of town.
Thanksgiving Day Parade Balloon Inflation — Upper West Side
Wednesday, November 23
On Thanksgiving Eve, the streets surrounding the American Museum of Natural History are ground zero for parade prep as the giant balloons are inflated to full height right before your eyes. It is always a mob scene but definitely something to do at least once. Before you head out, read our insider tips to make the most of your trip. FREE
December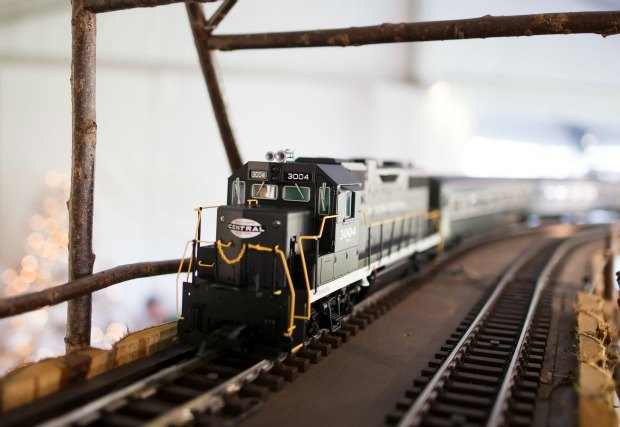 The New York Botanic Garden's annual train show of miniature trains and NYC landmarks enchants kids and parents. Photo by Ben Hider/courtesy the garden.
Holiday Lights — Citywide
All month
Once the turkey is done, NYC transforms into a twinkling holiday wonderland with sparkling Christmas trees, giant menorahs and festive holiday displays in Midtown's department store windows. Book some time in your busy month to stroll down Fifth Avenue or enjoy one of the many lighting ceremonies around town. FREE
Holiday Train Show — the Bronx
Saturday, November 19, 2016–Monday, January 16, 2017
The NYBG's annual holiday show is a must-see! More than 25 model trains, including Thomas the Tank Engine, go whizzing by approximately 150 NYC landmarks meticulously made out of acorns, twigs, bark, berries and leaves. Admission by timed ticket only.
Holiday Theater — Citywide
Early November through early January
Aside from The Nutcracker, NYC offers many wonderful holiday theater productions each year that range from traditional, whimsical tales to unique, thrilling entertainment. The New Victory Theater celebrates by presenting a colorful, jaw-dropping, nondenominational circus show each holiday season, and while it continues to scout troupes for the 2016 season, we know it will be worth the wait.
Holiday Sing-Along with Dan Zanes and Friends — Tribeca
TBD but typically early December
The Grammy-winning family rocker celebrates the holidays each year with a sing- and dance-along show. Enjoy catchy tunes from the legendary performer's genre-busting, parent-approved albums.
Top image: The climbing wall under the Manhattan Bridge in Dumbo is under construction but set to open spring 2016. Photo courtesy of Brooklyn Bridge Park.