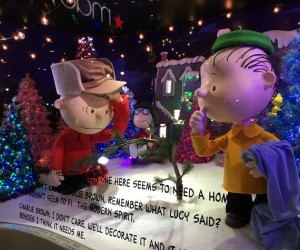 NYC Holiday Store Windows Walk 2015: Saks, Bergdorf, Barneys and More
Taking in the famously decked-out New York City department store holiday windows is one of those magical holiday experiences every kid should try at least once. Peering into the creative scenes built into these city's storefronts is a great way to take a break from the holiday rush—and it doesn't cost a dime—making for a fun family activity this winter. Some windows include interactive elements that kids can even partake in.
My family looks forward to these displays so much, we go on an annual Midtown "window walk" to visit all of them in a single stroll. You can peek at our 2013 and 2014 window walks, too. Go at dusk or nighttime to up the wow factor.
The 2015 store windows appear particularly PC this year with few displaying any reference to a specific holiday. Instead, expect to find lots of shiny, sparkly non-denominational winter themes like the millions of colorful crystals at Bergdorfs, the sweet holiday treats at Lord & Taylor and the magnificent light show at Saks.
Read on for all the details and a sneak peek of what you'll see on your NYC department store holiday windows walk. You can find lots of other seasonal activities in our Holiday Fun Guide.
For the fifth year running, my son and I were joined by fellow Mommy Poppins contributors Raven and Sonia and their children for our annual walk from Barneys to Macy's Herald Square. Follow along our walk below as we're wowed by the offbeat windows at Barneys, the sensory feast at Bloomies and the sweet Peanuts scene at Macy's.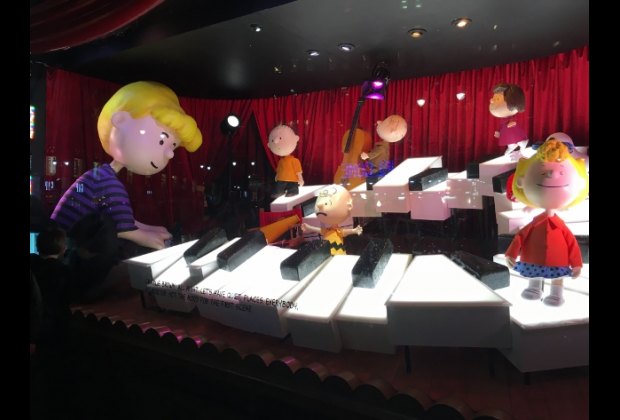 Schroeder and the rest of the Peanuts gang grace Macy's Herald Square this holiday season.
Macy's Herald Square
151 West 34th Street between Sixth and Seventh Avenues
In honor of the 50th anniversary of the beloved holiday special, A Charlie Brown Christmas, the Sixth Avenue windows feature the adorable Peanuts gang recreating some of the cartoon's iconic moments. Kids will love two interactive elements: The first lets them tickle the ivories with Schroeder, watching as their notes light up the corresponding piano keys in the window pictured above. The final window gives viewers a chance to create their very own Peanuts character, then watch as its image is displayed in the store's window—this was a huge hit with the kids in our group! Also, don't miss the giant replica of the sad but cherished little "Charlie Brown Christmas Tree," perched above the Herald Square entrance and the enlarged character heads above each of the six windows.
As always, the 34th Street side of the store features a revival of the store's Yes, Virginia, There Is a Santa Claus windows from years past. If you long to see the old Miracle on 34th Street windows that Macy's has featured in the past, you can check out parts of the display inside the store in the Santaland waiting area.
RELATED: The Most Spectactular Holiday Light Displays Around NYC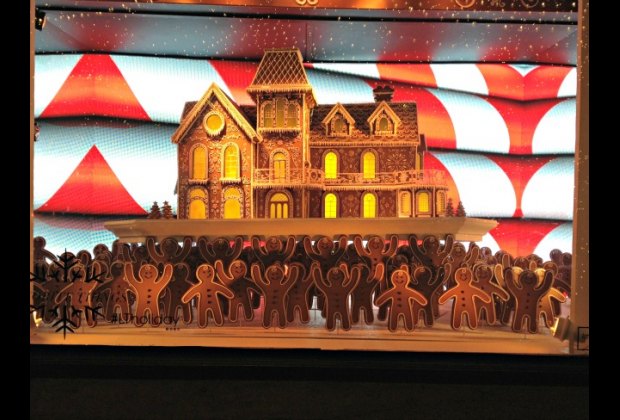 Gingerbread cookies come to life in Lord & Taylor's sweet-filled holiday displays.
Lord & Taylor
424 Fifth Avenue between 38th and 39th Streets
Be careful not to drool over the windows at Lord & Taylor! The kids in our group were delighted with the charming, old-fashioned bakery style display that dripped with red-and-white striped peppermints, cute cupcakes, colorful macarons and other holiday treats—all looking good enough to eat. The animated gingerbread window showed dozens of smiling cookie boys balancing a stunning gingerbread mansion above their heads while a wild animation of candy canes and gingerbread boys played on the screen behind them.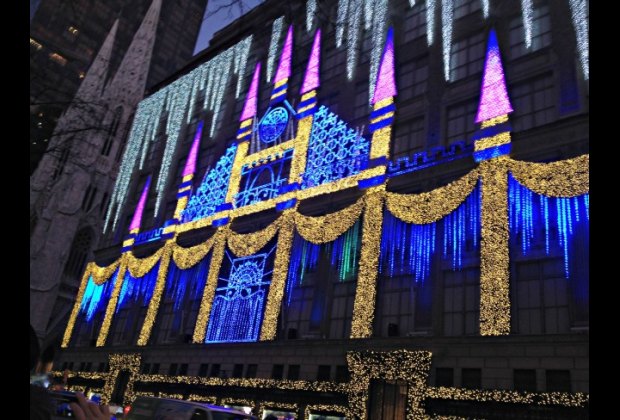 The light and sound show at Saks lights up the entire facade with an elaborate choreographed display.

Saks Fifth Avenue
611 Fifth Avenue between 49th and 50th Streets
Saks has created a Winter Palace for this holiday season. The windows are lovely, flanked by twinkly boughs of magnolia branches and featuring well-known destinations from across the globe like the Coliseum and the Great Wall of China reimagined as icy winter fantasies. But the real attraction is the brand-new light show projected on its facade. Abandoning the falling snowflakes of years past, Saks has created a dazzling light projection timed to prerecorded choir music. It's best seen from across the street, where you'll also find the Rockefeller Center Christmas Tree. The light show is just a few minutes long and occurs every 10 minutes beginning at dusk.
RELATED: Best Kid Eats Near Times Square and Rockefeller Center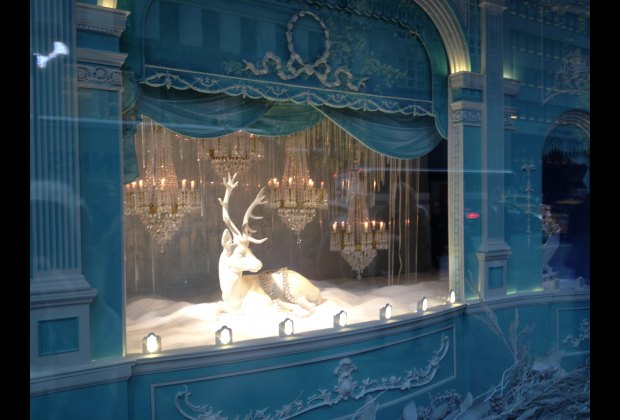 Gorgeous jewels adorn classic but opulent winter scenes at Tiffany & Co.

Tiffany & Co.
727 Fifth Avenue at 57th Street
The iconic jewelry store's holiday windows move away from the storytelling of recent years and feature classic wintry scenes displaying the gem purveyor's gorgeous wares. The entire building is decorated with lights arranged to look like priceless gems. Be sure to look up: UNICEF's stunning sparkly snowflake is suspended right above this intersection for a perfect holiday topper.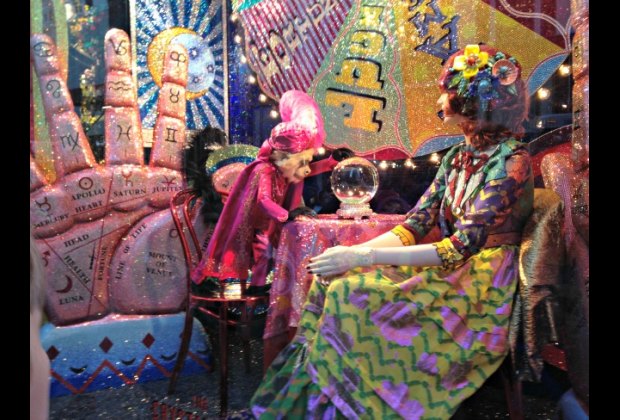 Millions of colorful crystals shine brilliantly in Bergdorf Goodman's windows.

Bergdorf Goodman
754 Fifth Avenue at 58th Street
While Bergdorf's windows are stylish, they aren't the usual over-the-top affair we have become accustomed to. The retailer partnered with Swarovski this year to create a display it calls "Brilliant." The five opulent and glittering windows are far from traditional (not a Santa or tree in sight), opting instead for glammed up clothing and millions of sparkling crystals. Our favorite window is above, a fortune-telling monkey and the colorful, spinning roulette wheel.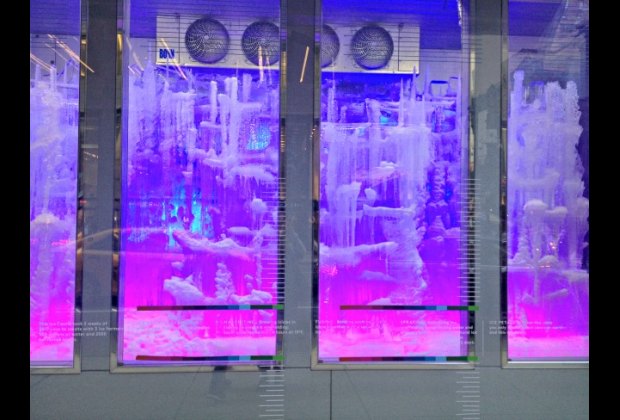 This morphing and evolving ice sculpture is part of Barneys' "Chillin' Out" display.

Barneys
660 Madison Avenue at 61st Street
As usual, Barneys' windows are an over-the-top conceptual experience. "Chillin' Out" features four impressive displays, including one with live ice carvers from the renowned Okamoto Studio working in a specially created glass-fronted ice locker. You can catch their show Monday-Wednesday, noon-7:30pm, Thursday-Saturday, noon-8:30pm and Sunday, noon-6pm. The second window, also a specially refrigerated room, is home to an enormous ice formation created by ice farmers using 500 gallons of water. The free-form sculpture gets sprayed down with water regularly, so it's constantly morphing and changing as it freezes. A highlight is "Winter Brilliance," a gorgeous sculpture by famed glass artist Dale Chihuly, lit with changing colors that evoke snow in various natural lights. The last window was a favorite with the kids—a mini raceway called Arctic Chase with tiny, bedazzled 3-D printed Lexus autos racing through a slick, modern cityscape.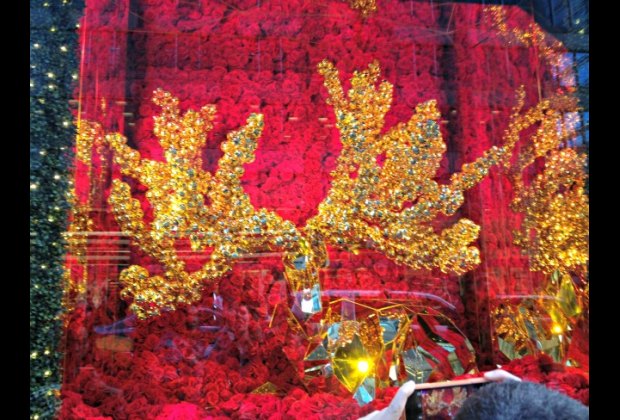 A shiny red reindeer shakes his head letting visitors hear the jingle bells on it's gold antlers in Bloomingdale's multi-sensory display.
Bloomingdale's
1000 Third Avenue
Bloomie's display along the Lexington Avenue side is extra impressive, featuring a statue, created by florist-to-the-stars Jeff Leatham, and built from mirrored Plexiglas and other light reflecting materials. Each was developed to play with all our senses, not just sight, so as you gape at the window displays, also listen for holiday tunes piped onto the street, catch a whiff of the wafting pine tree fragrance (created just for the display), taste a peppermint candy and touch the interactive window to snap a selfie and have it projected it into the scene.
Top image: Charlie Brown and Linus pondering the true meaning of Christmas in Macy's windows celebrating the iconic cartoon's 50th anniversary. All photos by Mommy Poppins.