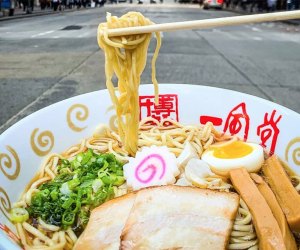 Best Places to Eat with Kids Near Times Square and Rockefeller Center
It's hard not to end up in either Times Square or near Rockefeller Center at some point during the holiday season given the number of seasonal attractions in these Midtown hot spots. But if your family is hungry after a day of shopping, ice skating or taking in the NYC holiday sights, you'll need to find a tasty, kid-friendly restaurant fast before the hangry sets in!

This is often no easy feat in Midtown, we know. While we've covered dining options near Rockefeller Center and Times Square in the past, we wanted to give you even more suggestions for this time of year, especially those that don't require reservations, meaning you can pop right in. With a full belly, you'll be ready to start again, tackling a holiday show or maybe a tour of the holiday department store windows.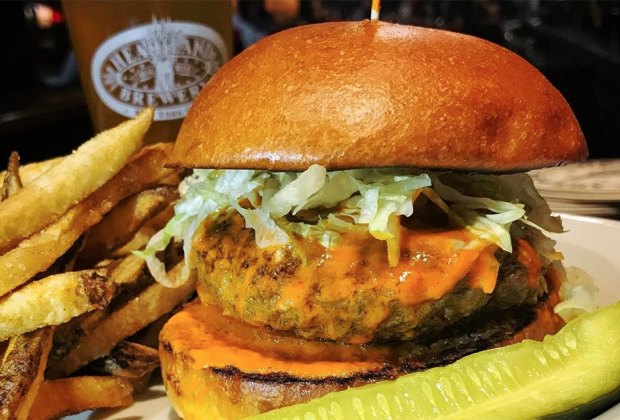 HB Burger has reasonable prices and a relaxed setting, a perfect combo for kids! Photo courtesy of the restaurant
Kid-Friendly Restaurants in Times Square
HB Burger
127 West 43rd Street between Sixth and Seventh Avenues
Sure you could go to the Shake Shack, but why not skip the lines and head on over to HB Burger for quality burgers and craft beer (for the grown-ups, of course) in a cozy, relaxed setting? The menu also offers a wide variety of other types of pub food, including salads, sandwiches and soups. Kids will especially love the tater tots. Considering the neighborhood, prices are very reasonable. No reservations are necessary and service is fast and friendly.
Don Antonio Pizza by Starita
309 West 50th Street between Eighth and Ninth Avenues
Pizza is always a great option in a pinch—though we all know that not all pizzerias are created equal. While there's a pizza shop on nearly every corner in NYC, the trick is finding one with quality pies. Don Antonio does not disappoint. Its Neapolitan-style, wood-fired pizza with a variety of toppings is top-notch. The pizza is hot and delicious, service is fast, and the prices are good.
Becco
​355 West 46th Street between Eighth and Ninth Avenues
Opened by celebrity chef Lidia Bastianich, Becco serves authentic Italian cuisine at reasonable prices, often with pasta and lunch specials. It's a great option in Times Square for a pre-theater meal or a family lunch. You won't find a kid's menu, but portions are large and perfect for sharing. Becco takes reservations but walk-ins are always welcome.
Ippudo Westside
321 West 51st Street between Eighth and Ninth Avenues
My kids love ramen. Luckily, ramen is quick, filling and easy on the wallet. Ippudo, one of the city's more notable ramen spots, has a location in the Theater District walking distance from Times Square serving up the same delicious, warm, brothy noodles as its East Village shop. The appetizers are just as delicious as the ramen, especially the famed pork buns. Kids get a kick from seeing how the noodles are made through a window into the kitchen downstairs. They don't take reservations and lines can be long and the volume loud as the office lunch crowd moves in. Try to get there during off-hours or just as it opens.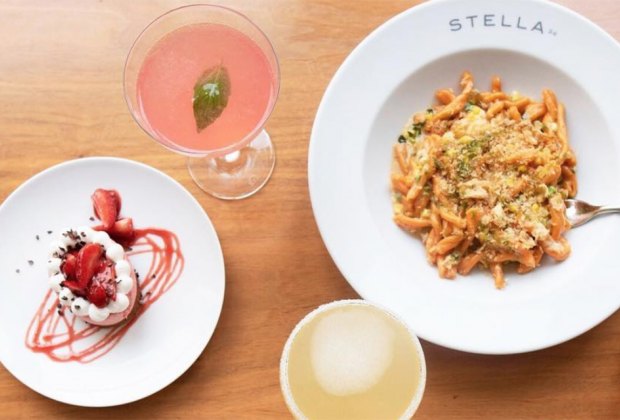 Stella 34 Trattoria is a great family-friendly dining choice in the area. Photo courtesy of the restaurant
Stella 34 Trattoria
​151 West 34th Street at Herald Square, 6th floor
Located on the sixth floor of Macy's, this trattoria is a gem providing a quiet respite from the hustle and bustle of the city. It's my favorite place to go if we have to eat in Times Square, even though it's a few blocks south of all the action. The atmosphere is airy and light, owing to its sleek, modern decor and glass walls. The food is also excellent, with a large selection of modern Italian cuisine, as well as wood-fired pizzas. Reservations can be made but are not necessary, and service is friendly and fast. The restaurant also hosts a Santa brunch for the holidays!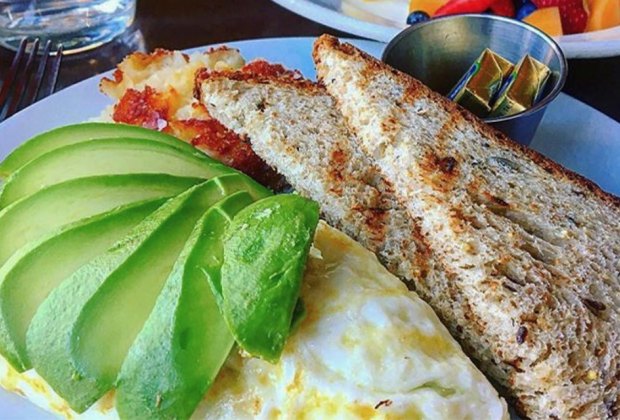 One of the best restaurants near Times Square for gluten-free diners, Friedmans specializes in comfort foods. Photo courtesy of the restaurant
Friedman's at The Edison Hotel
228 West 47th Street between Seventh and Eighth Avenues
Located in the Edison Hotel, this family run business is all about high-quality ingredients and mindful eating. While that likely won't matter to your littlest ones, they'll be thrilled by the mac-n-cheese, fried chicken and waffles, and blueberry pancakes, which are served all day long. Nearly all menu selections are available in gluten-free preparations.
Café Un Deux Trois
123 West 44th Street between Sixth and Seventh Avenues
This French restaurant offers a warm, friendly atmosphere that will make you feel as though you've suddenly teleported to Paris. The staff is friendly, there is stroller parker on offer, and the kids' menu features faves like burgers and chicken strips. For a treat, vanilla ice cream is included with the kids' meal.
RELATED: NYC Family-Friendly Dining Guide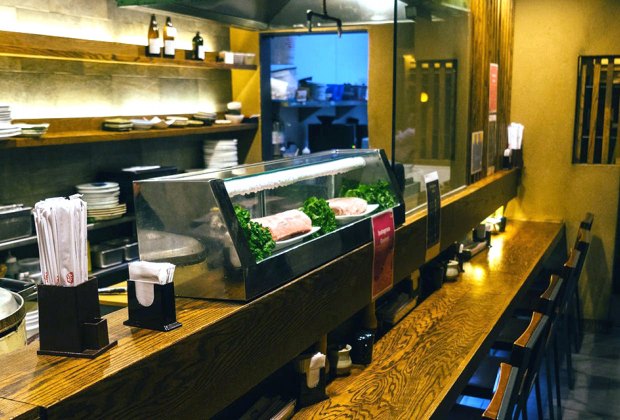 For a quick sit-down meal, Katsu-Hama is one of your best options in the area. Photo courtesy of the restaurant
Rockefeller Center
Katsu-Hama
​11 East 47th Street between Fifth and Madison Avenues
Businessmen, students, locals and tourists alike come to this Japanese restaurant to enjoy the pork tenderloin Katsu, a pork cutlet deep fried in homemade breadcrumbs. Served with rice, soup, and salad, it's a whole meal that's easy on the wallet. And what kid doesn't love deep fried anything? If pork is not your thing, they also serve chicken or seafood katsu, as well as udon noodles. There are a number of lunch specials, as well as "lunch boxes," bento-style trays serving fish, katsu, rice, soup, and salad. Service is relatively quick, and though they do take reservations, it isn't necessary.
Pulse
45 Rockefeller Plaza between Fifth​ and Sixth Avenues, third floor
Located on the third floor of Rockefeller Plaza next to an Equinox, you'll have a great view of the ice skating rink and the Christmas tree while noshing on delicious, healthy soups, salads, and sandwiches at this Midtown spot. There is a formal dining area that serves lunch and dinner, as well as a separate cafe that makes any kind of smoothie you can imagine and serves a full menu. It's the perfect rest stop before or after ice skating, holiday shopping, or sightseeing.
Bill's Bar & Burger
16 West 51st Street between Fifth​ and Sixth Avenues
This burger joint is a reliable place to grab a quick burger, some chili cheese fries, and a shake. The atmosphere is lively, relaxed, and perfect for families looking for a casual bite to eat in the midst of the holiday crush. Bill's also serves soups, sandwiches, tacos, and hot dogs. You'll also find a kid's menu serving good ol' standbys.
RELATED: The Best Things to Do with Kids in NYC in Just One Day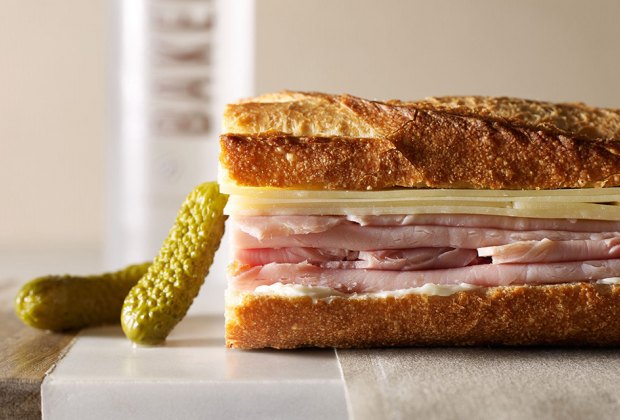 Our favorite take-away for a picnic or a summer night movie in the park: Classic ham and cheese on a baguette from Bouchon Bakery. Photo courtesy of the bakery
Bouchon Bakery
1 Rockefeller Plaza between Fifth​ and Sixth Avenues
World-renowned chef Thomas Keller opened the second New York location of his signature Bouchon Bakery in the heart of Rockefeller Center. It's the perfect spot to grab the best grilled cheese sandwich, a croissant, or a macaron while people-watching. The menu also offers a wide selection of soups, salads, and sandwiches and, of course, French pastries and sweets. There is seating inside and outside (if you're willing to brave the cold). Be prepared—crowds swell during peak hours so trying going either before or after the lunch crowd.
Nino's 46
39 West 46th Street between Fifth​ and Sixth Avenues
This friendly, modern Italian spot keeps their menu seasonal and their ingredients fresh. While there is no dedicated kid's menu, Nino's 46 is known for crowd-pleasers such as homemade pasta and brick oven pizza.
A version of this post was published in 2015; it has been updated for 2019. Katie Nave Freeman contributed additional reporting.