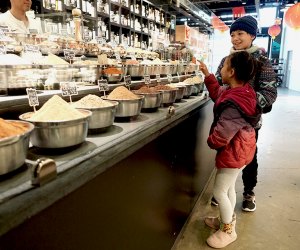 Essex Market With Kids: Specialty Shops, International Eats and Treats
A visit to the Lower East Side can feel like taking a step back in time. Walk the right route, and you're greeted with narrow, tenement-lined streets that haven't changed much since this area was a bustling center of immigrant life. Take a different route, though, and you see gleaming new boutique buildings and high-price businesses peddling shiny wares. Change, as they say, is constant. And though one neighborhood mainstay—the Essex Market—has undergone some significant changes of its own, it has stayed true to the neighborhood its called home for more than 130 years.
The Essex Market, rebuilt in a modern building that opened last spring, is just a stone's throw away from its old location. Enter, and you're walking into a mini version of the neighborhood. Rows and rows of stalls honor the area's past and the long-time merchants with deep roots there. So, whether you're spending a day exploring the Lower East Side or searching for a specialty item or a tasty meal, the Essex Market is worth a visit.
Read on for all you can see, do, and taste at this New York City gem.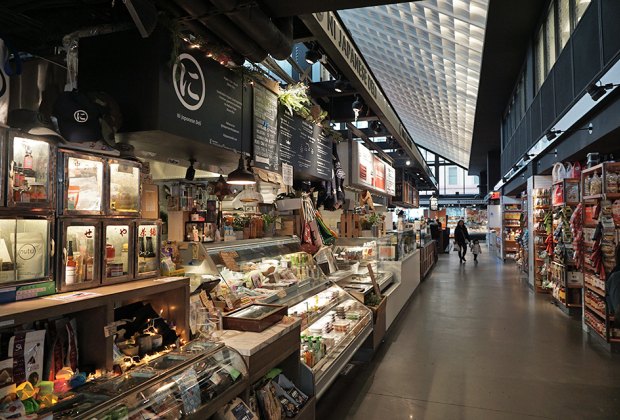 Stroll down the light-filled aisles and peruse the diverse array of shops at the Essex Market.
Where to Shop at the Essex Market
The first floor of the Essex Market carries its old-world role as a neighborhood shopping hot spot. New tenants join Long-time vendors. Together they create a lively, colorful array of specialty shops. We loved walking up and down the aisles, perusing shops large and small, pondering all our options before we decided where to stop and shop.

You never know what kind of surprises you'll spot behind the counter.
There are six grocery stalls in total, with three specializing in produce, two in meat, and one fishmonger. My kids were immediately drawn to the counter at Essex Shambles, marveling at the whole pig's head there, something they aren't used to seeing on our visits to Trader Joe's!
Specialty kiosks abound, too. The rows of fragrant spices at Essex Olive and Spice drew my daughters in, while I eyed the specialty olive oil bottles on the shelves high above with envy.
Find cheese at a trio of shops, including Riverdel, which carries a vegan collection, plus fresh bread, pastries, and more. Formaggio Essex specializes in rare and unique cheeses, while Valley Shepard Creamery is a family-run cheesemaker, with more than 30 different varieties of creamy goodness.
When you've stocked up on savory fare, consider a stop at Sugar Sweet Sunshine for cakes, cupcakes, pudding, and other bakery goodies, or visit the Lower East Side Ice Cream Factory, sister shop to the nearby Chinatown Ice Cream Factory for a creamy scoop in an out-of-the-ordinary flavor.

The Essex Market overflows to with specialty shops, ethnic eats, and unexpected goodies.
Where to Eat at the Essex Market?
Beyond its role as a neighborhood market, Essex Market is also a well-stocked food hall. On the first floor, there are 11 prepared food stalls nestled between market mainstays, including Arancini Bros., which sells stuffed rice balls (one iteration is filled with Nutella!). For savory Italian fare, visit Mille Nonne, with its healthy, plant-forward takes on classic dishes.

Enjoy kid-pleasing options at The Market Line, a food hall downstairs at Essex Street.
Davidovich Bakery has a jam-packed pastry case with breakfast classics and bagels handmade in Long Island City—we even spotted a unicorn bagel! International eats from Mexico, the Dominican Republic, Thailand, and Morocco all sit alongside classic American and bodega-inspired fare.
If that hasn't gotten your mouth watering yet, head downstairs to The Market Line, Essex Market's freestanding lower-level food market. Once you've let the kids come eye-to-eye with the live lobsters at Essex Pearl, find a table and get comfortable, touring the culinary world with a visit to the rest of the vendors.
With three kids in tow, everyone got their favorite food. Pizza from Slice Joint for my girls, while my son and I traded bites of ramen and pork buns from Kuro Obi and pho and spring rolls from Pho Grand.

Rebecca's Cake Pops are almost too cute to eat, but when you do, they're delicious!
For dessert, my youngest couldn't pass up a doughnut from a long-time fave, Doughnut Plant, while we were all smitten with Rebecca's Cake Pops, which are as packed with flavor as they are personality. I had to try a scoop of L'Chaim, a coffee and chai mashup that was created as an exclusive flavor for the Ample Hills outpost here.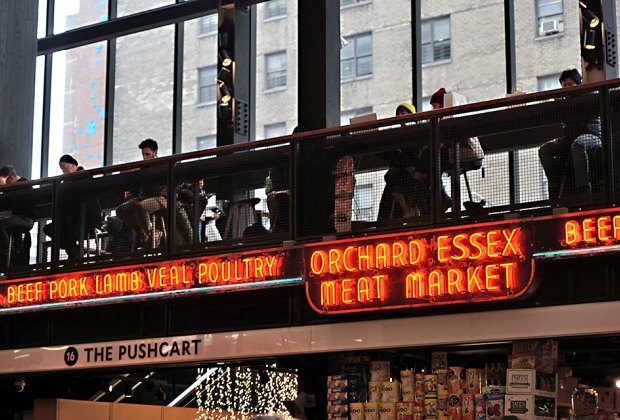 The mezzanine level offers plenty of bright, airy seating, and a birds-eye view of the busy market below.
What Else Can You Do at the Essex Market?
Essex Market has been a community hub for a long time, and the new Essex Market offers plenty of space to continue that tradition. A light-filled mezzanine overlooks the market. On a typical day, there are tons of tables, and visitors are kicking back and enjoying a bite alone or with friends, or whipping out their laptops to get some work done. The space can also be rented for community events.
At one end of the mezzanine, you'll find Essex Kitchen, an airy, state-of-the-art commercial kitchen, which hosts regular demonstrations and hands-on cooking classes, sharing the traditions of many of the local vendors with a new generation. Paying homage to the neighborhood's diversity, classes are regularly translated into Chinese or Spanish, making them accessible to all the market's neighbors. Be sure to check out the event calendar to see what's on tap. Last summer's schedule was peppered with kid-friendly classes and demos.
The Market Line has its own array of events, including classes from the Textile Arts Center, which cater to tweens and above. There are also knitting circles and more family-friendly fun. Past events have included live music performances and kid-friendly yoga.
Photos by the author