Jewish Museums in NYC: 6 Cultural Spots for Kids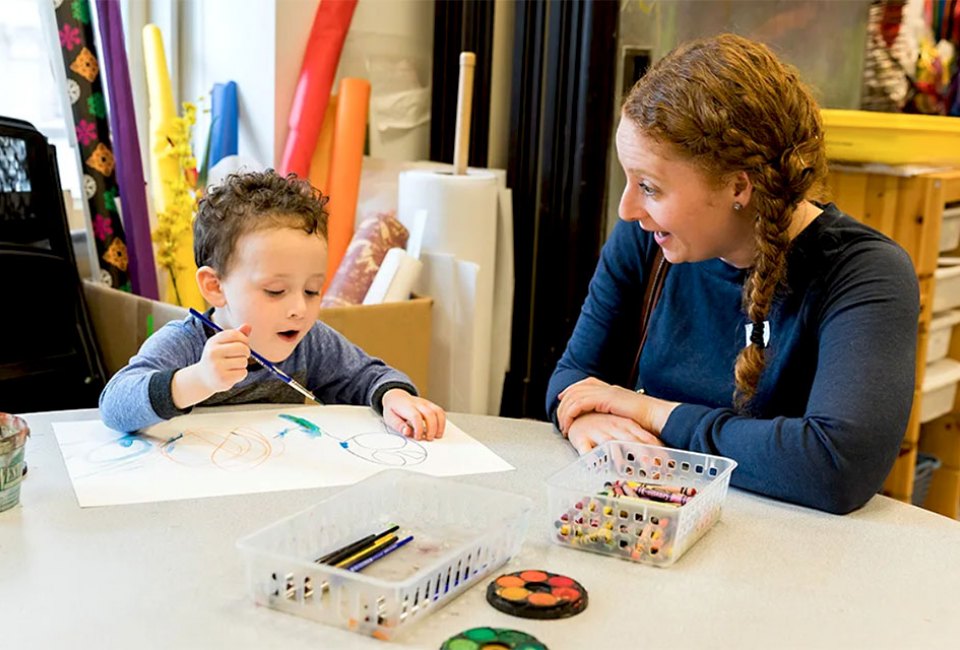 9/13/19
- By
Anna Fader
One thing to keep in mind when visiting a Jewish museum is that an exhibition of hand-crafted menorahs may be right around the corner from a huge sculpture commemorating the Holocaust, prompting kids to ask a bunch of difficult questions. For children who are ready, some of these institutions introduce the Holocaust in an age-appropriate way. Visiting spots like the Museum of Jewish Heritage and the Anne Frank Center are a lot more engaging than reading a dry textbook but also less scary than watching graphic newsreel footage or looking at archival photos.
The Jewish Museum – Upper East Side
1109 Fifth Avenue at 92nd Street
The Jewish Museum celebrates a wide range of Jewish arts and culture with terrific rotating exhibits and many family programs. Its popular family concert series showcases top kids' music and theater performers. The museum also has learning guides on topics ranging from immigration to Jewish artists in history to the Holocaust that were developed for middle and high-school teachers, but are available online for anyone to use, including parents.
Jewish Children's Museum – Crown Heights, Brooklyn
792 Eastern Parkway near Kingston Avenue
This interactive spot features several floors of hands-on exhibits that teach kids about Jewish culture and religion in a fun and engaging way. Children can shop at a Kosher supermarket, play "6 Holes of Life" mini-golf and journey through various points in Jewish history. The story starts with Patriarchs and Matriarchs, moves through Mount Sinai, the walls of Jericho, and modern Israel and does touch on the Holocaust. But at this museum, the Holocaust is one part of a larger cultural story with a more child-friendly emphasis on individual tales of bravery and survival.
The Museum at Eldridge Street – Lower East Side
12 Eldridge Street between Canal and Division Streets
The Eldridge Street Synagogue was the first great place of worship built in America by Eastern European Jews. Learn the history of the synagogue on guided tours with scavenger hunts for kids, or attend one of its monthly Preservation Detectives family programs, which explore Jewish traditions through hands-on activities. The museum also sponsors lots of annual family events, like the Lower East Side celebration Egg Rolls, Egg Creams, and Empanadas Festival every June.
Museum of Jewish Heritage – Battery Park City
36 Battery Place near First Place
Known as "A Living Memorial to the Holocaust," the museum honors those who died by preserving artifacts of the lives they led. A few floors of the museum are appropriate for family visits. The first floor features photographs, videos and other media that shows how Jewish people lived a century ago. A free family guide for children ages 7 to 11 is available to help kids play detective and see if they can find traces of their own family traditions. The museum regularly hosts family events and even kids' sing-alongs, which touch on Jewish culture, but not the Holocaust. Although I would take my 9- and 13-years-olds here, every child is different, and parents should be aware that many of the images and artifacts on display as part of the museum's mission will be emotional for kids and adults to encounter.
The Anne Frank Center USA – Tribeca
Citywide
Anne Frank's face is practically synonymous with the Holocaust. Many school-age kids have already come across her iconic book, The Diary of a Young Girl, in their school or local public library. The New York-based Anne Frank Center USA opened in 2012 and is an off-shoot of the organization started by Anne's father, Otto Frank, to use her words as a teaching tool and a warning about the dangers of discrimination. For children, the idea of 6 million dead is hard to grasp; the tale of one girl in hiding with her family is much more accessible. Formerly a visitors' center with exhibitions centered around Anne's diary and life, as of 2016 the Anne Frank Center offers its programs in schools, communities, and institutions, including traveling exhibits and performances that are often open to the public. See their calendar for specific locations and upcoming public exhibits and performances. Try to attend one of the museum's performances of its special family program Conversations with Anne, an interactive performance featuring an actress playing Anne who takes questions from the audience.
The Tenement Museum — Lower East Side
97 Orchard Street and 103 Orchard Street at Delancey Street
Experience life as it was lived by early twentieth century Jewish immigrants as well as immigrant families from various countries from Ireland to Puerto Rico to China at this incredible immersive history museum. Visitors get to explore the recreated lives of historical immigrant families including garment industry workers, Holocaust refugees, and post-WWII asylum seekers, in painstakingly recreated tenement apartments and shops. The museum can only be visited as part of a tour, and many of the tours are limited to children over the age of 8 (or 12), so heed the age advisories when you book your tickets.
A version of this story was published in 2015; it has been updated for 2019.
Click Here to Sign Up!
i