National Museum of the American Indian Opens imagiNATIONS Center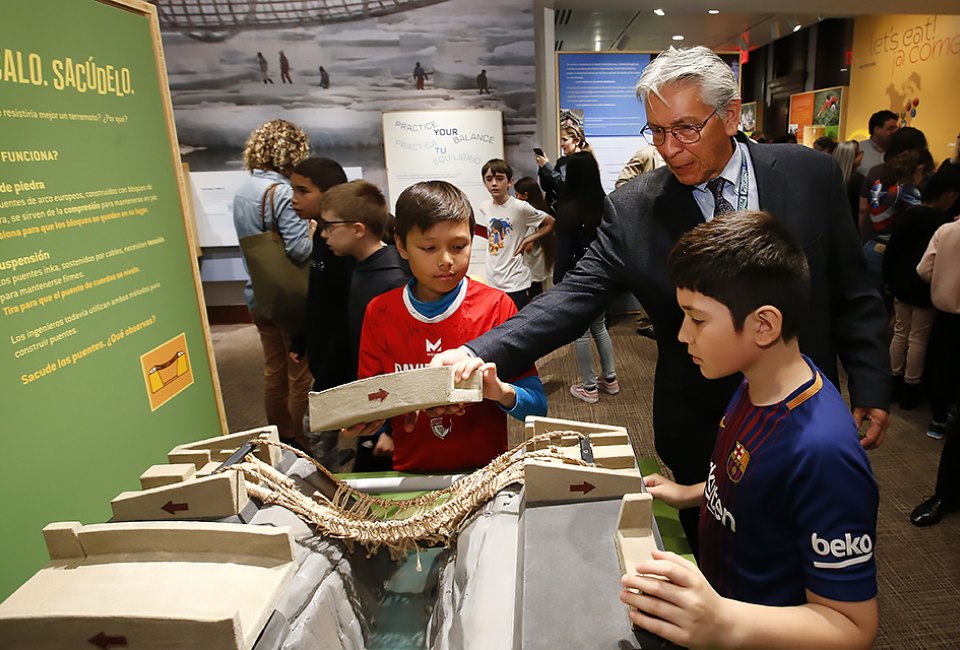 5/29/18
- By
Eti Bonn-Muller
From sunflowers and surfboards to ponchos and potatoes, the range of innovations by Native Americans is staggering. Their ingenuity is celebrated at the New York City branch of the Smithsonian's National Museum of the American Indian (NMAI), located in the Financial District, where the new imagiNATIONS Activity Center invites young visitors to explore the contributions of Native people through hands-on displays accompanied by kid-friendly texts in both English and Spanish.
The new center opened this May, and like the rest of the museum, is FREE to visit for all ages.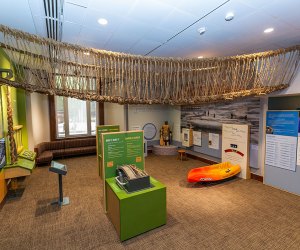 Kids and adults can explore the innovations of Native Americans with hands-on activities and discoveries.
Developed in consultation with six Native American scientists and engineers over the course of five years, the center's content is grounded in the principles of science, technology, engineering, and math (STEM). The multimillion-dollar space, which sprawls over 4,500 square feet and is complete with educational, administrative, and exhibition areas, encourages young visitors of all ages to learn about Native innovations and technologies in fresh ways. Divided into seven sections—Native Innovation, Let's Eat: Nutrition, Well-being: Medicine, Zero: Mathematics, Make It: Engineering, Solve It: Physics, and Build It: Architecture—the colorful center is a place where kids can glean a new understanding of the significant contributions of Native Americans to our world today.
RELATED: The South Street Seaport Museum: Tall Ships and NYC Beginnings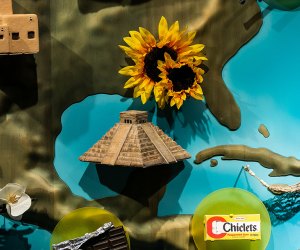 The Mayans and the Aztecs used chicle, a natural tree gum, as a base for making a gum-like substance.
You may be aware that the Native people of the Americas were responsible for the introduction of snowshoes, canoes, and tipis, but did you know that Mesoamericans made the first chewing gum? Or that Amazonian people invented a chemical process to make rubber more than 3,500 years ago? Or that we can thank the Olmec and Maya people for discovering the process to make chocolate? Through interactive games and a variety of fun activities and challenges, young visitors here learn in an environment where the innovations of the past are so beautifully presented that they easily outshine the fleeting gizmos of today. Sure, I can tap a button on my smartphone to find the best pizza joint "near me," but (come on!) the Maya were one of only three world cultures to invent the concept of zero—some 2,000 years ago!

A girl tries on snow goggles to see what it was like trying to see in the glaring Arctic snow. AP Images/Jason DeCrow for The National Museum of the American Indian
Tech-savvy kids will certainly be drawn to the glow of the requisite screens, including a three-player bright-buttoned "quiz show" to test their knowledge of Native cultures and a tabletop SMART board, where up to four virtual farmers can compete to successfully cultivate crops such as Iroquois White Corn, beans, and squash. However, the true genius of this center lies in the activities that make the children glow from inside, from the excitement of learning and interacting with each other, as they stack curved white blocks using geometry concepts to form an iglu; pile into a wobbly citrus-toned kayak to practice their balance; use shells, beans, and sticks to do Maya math; and don plastic glasses with narrow slits to see through the glare of simulated sunlight reflecting off Arctic snow.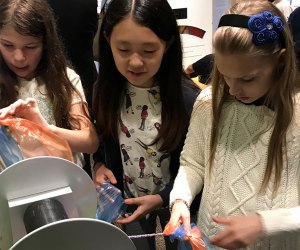 Put your cord making skills to the test by attempting to weave plastic bags into cord. Photo by the author
One standout station features a foot-long miniature Inka suspension bridge supported by rope cables that can be tightened or loosened to adjust the tension; next to it, visitors are instructed to build a European-style stone arch bridge out of three dense blocks. When construction is complete, they vigorously shake the structures from handles at the base to determine which one can better withstand an earthquake. (Engineers still incorporate both methods to this day.) At a nearby station, kids learn the Native technique for making rope strong enough to support a suspension bridge from weak materials like grass—and then put their skills to the test by tightly twisting their own tough cords out of flattened orange and blue plastic bags.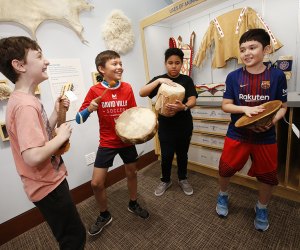 Make music on Native American instruments at the museum. AP Images/Jason DeCrow for The National Museum of the American Indian
Yet the best part of the imagiNATIONS Activity Center can be found in the Discovery Room. Brimming with touchable, life-size, detailed recreations of innovative Native artifacts on grab-level shelves and inside gently sliding drawers, it is organized by subject area: Uses of Animals, Music, Fiber, Technology, Tools, Food, and Sports and Games. At their own pace, children can examine exact replicas of Native objects, many of which have similar counterparts on display in the museum itself. This allows kids to engage with the works in a truly meaningful way—pound drums, toot a flute, stroke animal pelts, caress the craggy surface of a fine shell, admire delicately beaded footwear, feel the scratchy bumps of a handwoven basket, even lift a 10-pound rubber ball like the one used in an Aztec game, in which players could only touch it only with their hips (no hands or feet allowed).

Learn about the daily life of Native peoples, from clothing to tools to fun and games like musical instruments.
Unlike paintings and sculptures in a fine art museum, the pieces in the collection of the NMAI were used by people in their daily lives: they shook, beat, and strummed instruments in smoke-filled tipis during sacred rituals, bundled up in fur-lined coats to hunt for food, traded shells for valuable goods, slipped on soft moccasins as the sun rose, fed their children from bowls made the same way as those of their ancestors, and competed in ball games as their friends cheered. The only way to make a deeper connection with these items, as well as those who used them and conceived of the innovations honored in this gleaming modern space, is to hold them and to interact with them yourself. This radiant new center allows curious young museumgoers to do just that. Have you ever wondered how Native people hear a seal's underwater mating call from far away? Grab a paddle and find out!
RELATED: The Museum of Chinese in America: A Chinatown Gem for Kids

A map detailing the innovations of Native Americans.
In order to appreciate the diversity and richness of Native cultures, be sure to visit the museum's galleries, which display both permanent and temporary exhibitions. Boasting "one of the most extensive collections of Native American arts and artifacts in the world," the NMAI, with spaces in both New York and Washington, D.C., represents more than 12,000 years of history and more than 1,200 indigenous cultures throughout the Americas. Housed in the historic Alexander Hamilton U.S. Custom House, the New York location, known formally as the George Gustav Heye Center, opened in 1994 and offers public programs, including music and dance performances, films, and symposia, as well as family events, including the annual Children's Festival held each spring.
When visiting with kids, bear in mind that to enter the building, there are rigorous security procedures, including airport-style screening, drab gray bins and all, so look into the dos and don'ts in advance. Once inside, be sure to drop by the visitor information desk and grab a free copy of the illustrated Gallery Guide for Young People and Their Families, which highlights fun facts and provides activities designed to keep young visitors busy in the galleries. Additional kid-friendly guides accompanying special exhibitions may also be available.
The imagiNATIONS Activity Center is open daily from 10am–4:30pm, and the museum is open daily from 10am–5pm, and Thursdays until 8pm (closed only on December 25). Admission to both the activity center and the museum is FREE.
Photos courtesy of the museum unless otherwise noted
Places featured in this article:
---
National Museum of the American Indian–New York, the George Gustav Heye Center
Click Here to Sign Up!
i