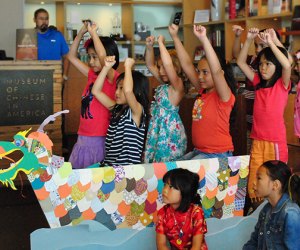 The Museum of Chinese in America: A Chinatown Gem for Kids
New York City has a rich and diverse heritage, and the city's museums are often the keepers of this ongoing story of its people and origin tales. The Museum of Chinese in America (MOCA), for example, explains the Chinese immigrant story. Being multiracial, with a father from mainland China, I always felt drawn to learn more of the journey of my people, and I've visited several times.
The museum opened in 2009 and has been attracting visitors from all over the world ever since. On my most recent trip to MOCA, I was amazed at how much this beautiful and unique NYC establishment had expanded; particularly by incorporating more children focused programs.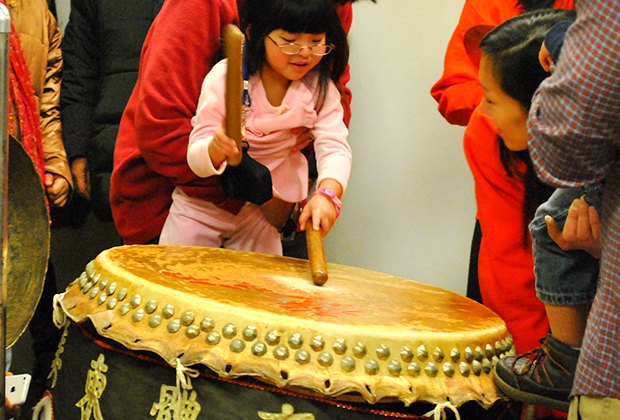 Festival programs provide plenty of hands-on experiences for little ones.
MOCAFAMILY programs offer fun and engaging projects for the whole family. This past visit, my 5-year-old son and I attended a MOCACREATE class, Zhezhi 摺紙 Folded Paper Arts, where we learned how to fold paper and create sculptures. The staff members were incredibly friendly and guided us with a history lesson about Zhezhi.
Upstairs, in the main museum, the exhibit Fold: Golden Venture Paper Sculpture displayed more than 40 pieces of Zhezhi made by undocumented immigrants after they departed from the ship Golden Venture. They were held for years in legal limbo and, together, created these folded expressions of their experience. I found the marriage of the main museum's exhibit and the children's program created an enriching experience for both my son and me.
RELATED: Super Cool Kid-Friendly Art Coming to NYC This Fall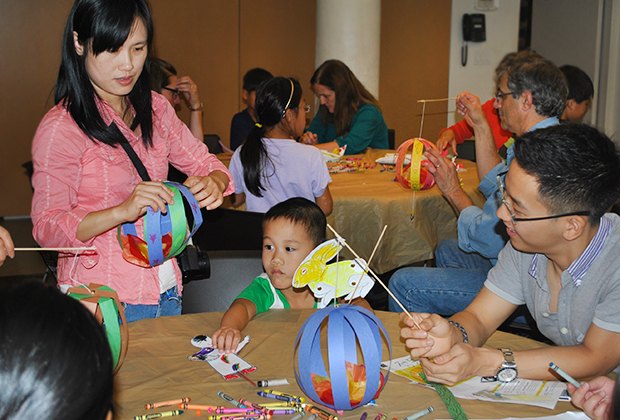 MOCACREATE is the museum's latest addition in programming, creating fun and engaging workshops for the whole family. Photo by the author
Future programs include a Zine-making class where participants will learn how to fold and bind their own handmade magazines on November 4 and 18, 2017. Check back in regularly for more upcoming programs. MOCACREATE is held the first and third Saturday of the month from 1pm-4pm.
There is also MOCAKIDS Storytime. English and Mandarin stories, songs, nursery rhymes and arts and crafts are brought to life in the cute library nook of the MOCA on the second and fourth Thursday of month from 3:30pm-4pm. This is a great program for kids 3-6, but younger and older siblings are welcome.
RELATED: Free Times to Visit NYC Museums, Zoos, and Gardens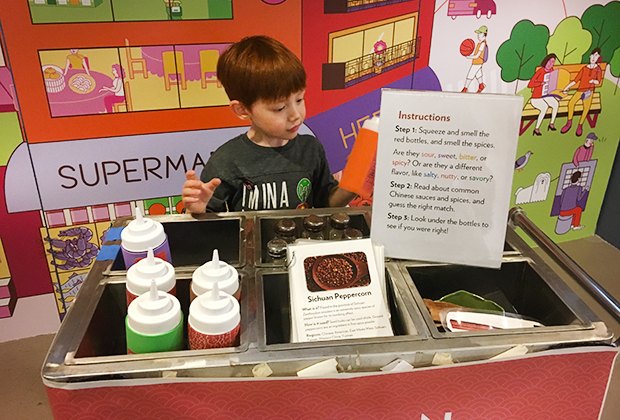 Children can learn about the smells and flavors of Chinese kitchen staples in the children center. Photo by the author
The children's area also hosts kid-friendly exhibits, like a portrait studio where little ones can learn how old-fashioned studio portraits tell a story or food toys that ACTUALLY smell like sesame oil, black bean paste, and other Chinese kitchen staples. There are also a few sofas and a soft building-block section, so parents can take a rest from the bustling city while the kids safely play.
The rest of the museum is a gem, both fascinating to adults and to children. I loved the addition of the Hapa Project, a display of personal experiences of multiracial Asians. My son enjoyed the section on Chinese in Hollywood and entertainment, where he pointed out old movie posters to me. There were plenty of audio buttons to press and video projects to keep the little ones engaged.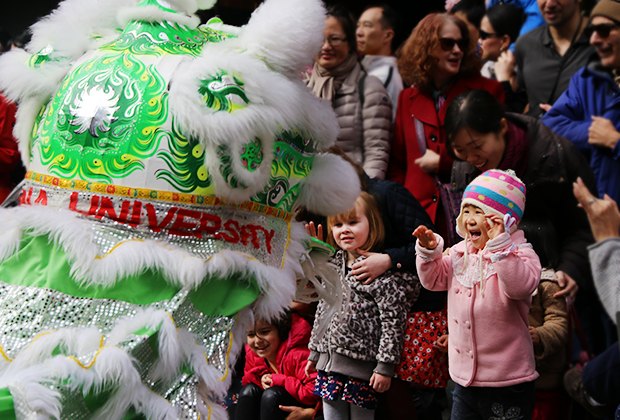 MOCA takes Lunar New Year seriously and can often be found performing in the streets and taking part in community activities during the holiday.
MOCA has fantastic programs for the Lunar New Year and the Mid-Autumn Festival, so make MOCA a regular part of your year.
Things To Know Before You Go
There are multiple FREE ways to visit: Kids under 2 are free, IDNYC cardholders can get a free annual memberships with their cards, and the first Thursday of the month is free.
Admission and hours are reasonable: $10 per adult and $5 per child 2 and up, seniors (w/ID), and students (w/ID). It's closed Mondays and most major holidays. Check website for heading over.
There is stroller parking inside the museum entrance. Strollers are permitted but it may be more enjoyable to let older tots explore the children's center without it. The museum is wheelchair accessible as well. There is no outside food or drinks permitted and no flash photography.
The best way to get there is by subway. Take the N,Q,R,W,6,J,Z trains to Canal Street and just walk a couple of blocks over. There is elevator access at Canal St. by the 6 train.
There's plenty around. Once you're done with your visit, you'll find yourself in the heart of Chinatown. There are plenty of amazing eateries to make your day complete. Explore Chinatown while you're there.
The Museum of Chinese in America is located at 215 Centre Street.
Top photo: Children get ready for Dragon Boat Festival by making their own paper version.. Unless otherwise noted, photos courtesy of the museum