The South Street Seaport Museum: Tall Ships and NYC Beginnings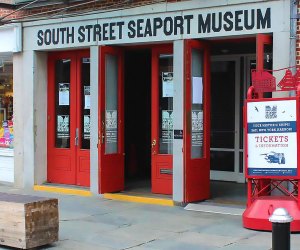 2/9/18
- By
Amy Meader
Looking for something unique to do with your family on the weekend in Lower Manhattan?
Stop by the gem of a historic spot, the South Street Seaport Museum—a place every New Yorker should visit at least once. Housed in New York's southern-most seaport, this spot tells the story of how New York's harbor gave rise to the metropolis we know and love today. After a major restoration post-Hurricane Sandy, the museum is back in action and ready to educate and entertain family members of all ages through tours, activities, workshops, and special events.
Read about other great exhibits for NYC kids in our Museum Guide.
South Street Seaport Museum's tagline is, "Where New York Begins," and walking down the cobblestone streets to the museum's entrance you can't help but feel the city's rich and storied past. Upon entering, little ones are encouraged to ring a huge bell, an early indicator that this is not a stuffy, hands-off museum. The building itself is home to an impressive gallery of drawings, prints, and photographs.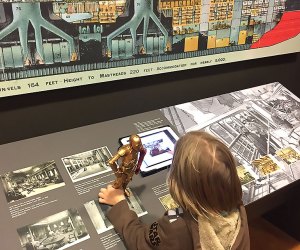 The exhibits are a fascinating history of New York. Photo by the author
The newest exhibit, Millions, depicts passenger life aboard ocean liners, the differences between first class and third class life, and the continuing importance that immigration plays in the fabric of our history. My son was captivated by the ships' artifacts, and iPads depicting life aboard the ship were a welcome bridge between the technology he's accustomed to and the past he was learning about.
My husband spent 10 minutes examining a wall-sized illustration of an early 20th-century Cunard ship, studying the way the various rooms were laid out. Sample menus gave an amusing look at the differences between luxury and economy digs (would you prefer lobster imperial or...crusty bread with gruel?). The two floors are easily accessible and, while there is no elevator to the mezzanine, there is plenty of space to park your stroller.
RELATED: New York at Its Core: Explore NYC's Past and Future with this New Exhibit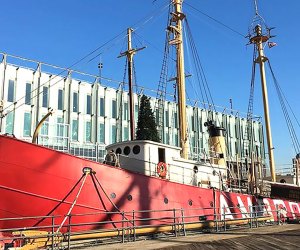 One of the ships on view is the 1907 lightship Ambrose.
Aside from the galleries, some of which are still under post-storm reconstruction, the South Street Seaport Museum is home to five fabulously restored ships. Museum guests are encouraged to walk one block to Pier 16 to see the active waterfront and explore the historic vessels. There you can tour the 1885 ship Wavertree, one of the last large sailing ships built of wrought iron. (Fun fact: You and your sea-loving crew can party down on the main deck. The museum hosts birthdays for kids 6 and up aboard the ship.)
After checking out the galley kitchen, my son and husband had fun playing peek-a-boo in the Captain's quarters. Staff was on hand to answer questions, but they don't hover and you really feel able to explore the ship. You can also view the 1907 lightship Ambrose, the 1930 tugboat W.O. Decker, and the 1893 schooner Lettie G. Howard. For an additional fee, you can set sail on the 1885 schooner Pioneer during May through October.
RELATED: Best Boat Tours for NYC Kids and Visiting Families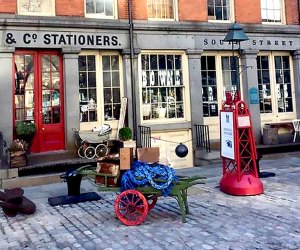 Visit the city's oldest letterpress at Brown & Co.
After we toured the waterfront we decided to browse Bowne & Co. Stationers, home to one of the city's oldest letterpresses and part of the museum. Never too early to get beautiful holiday cards and gifts! We loved being able to see the staff at work on the letterpress. Bowne Printers hosts regular workshops and special events. Definitely not to be missed!
In addition to a rotating lineup of exhibits, the museum offers Minimates, a 10-week early childhood program that uses songs, stories, art projects, and hands-on activities to teach kids 18 months to 4 years (and their caregivers) about boats and ships, marine life, and artifacts in a playgroup setting.
My family is lucky to live so close to this little gem. It's never overrun, so you can actually spend as much time as you like checking out the artifacts and never feel rushed. I'm looking forward to the new and exciting programming coming in 2018.
Bonus Tip: Many collections are not open to the public, but you can call ahead and arrange a private tour of some of the upper-level galleries. For more information, contact William Roka at wroka@seany.org
South Street Seaport Museum is located at 12 Fulton Street between Water and South Streets and is open Wednesday–Sunday 11am–5pm. Adults are $12; children (2–17) are $6; and children under 2 are free.
Top photo of the South Street Seaport Museum entrance. Photo courtesy of the museum unless otherwise noted