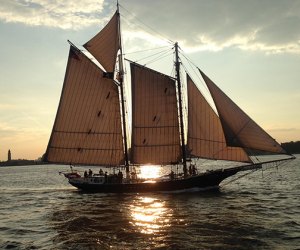 20 Things To Do with Kids at South Street Seaport
The South Street Seaport, one of New York City's oldest and most historic neighborhoods, is in the midst of a huge transition. Pier 17, although currently closed, is being redeveloped into a massive, multimillion-dollar, high-end retail and dining destination with a rooftop event space. (Target completion date: sometime in 2017!) But even though that part of the Seaport isn't accessible at the moment, there are still plenty of things for families to do, see and experience in this popular downtown Manhattan neighborhood.
A pair of exceptional play spots, including the Imagination Playground, an under-the-radar maritime museum, boat tours, landmarked buildings, a public pier with gorgeous views and a few FREE outdoor festivals make the Seaport a great place to visit this summer with kids—whether you're a tourist or a local.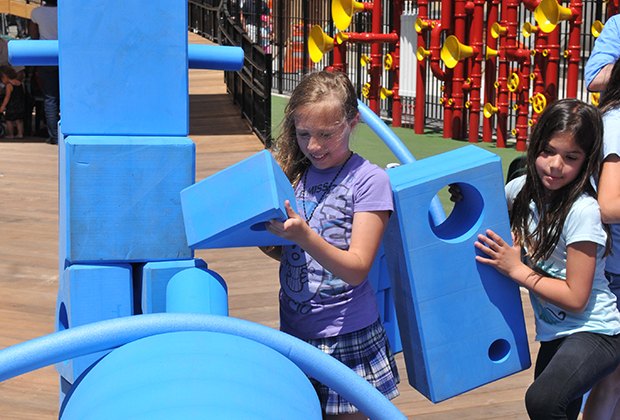 Build your own structures at the Imagination Playground. Photo by Daniel Avila/courtesy of NYC Parks.
1. Romp in the renowned Imagination Playground and its seasonal splash park designed by famed architect David Rockwell. Its signature blue foam building blocks inspire hours of creative play, plus there's shaded seating under umbrellas for grown-ups.
2. If it's too crowded, hit the traditional Pearl Street Playground just a few blocks north.
3. The South Street Seaport Museum recently opened its first exhibit since superstorm Sandy wreaked havoc on it. Street of Ships: The Port and Its People features 19th-century artifacts from this famous port.
4. Want to actually leave the pier? Go on a lovely and leisurely two-hour sightseeing cruise aboard the museum's 1885 sloop Pioneer, which sails seasonally from Memorial Day weekend through early October.
RELATED: Lower East Side: A Guide to the Best Kid Play Spots

Take a wild ride on the Shark Speedboat. Photo by Smart Destinations via Flickr.
5. If that sounds too tame, amp-up your outing on a Shark Speedboat Thrill Ride, a whirlwind, 30-minute New York Harbor tour where the waves crashing around you are so fierce, you end up all wet! Note: Children must be at least 40 inches to board.
6. More of a landlubber? The museum also offers themed walking tours of the neighborhood, like the Secret Life of the Brooklyn Bridge during which families learn about how this iconic structure was built.
7. Step back in time at Bowne & Co. Stationers where they still print the old-fashioned, 19th-century way, and also sell handcrafted cards and other items.
8. Cycle along the picturesque East River Greenway. If you need to rent some wheels, Blazing Saddles' Seaport location has bikes for the whole family, even kids.
9. Hit the Seaport's annual Festival of Independence on Monday, July 4. The entertainment hasn't been determined but last year there were three stages of live performances, including lots of family bands.
RELATED: Hidden NYC: 21 Fun Things to Do in Central Park Besides the Zoo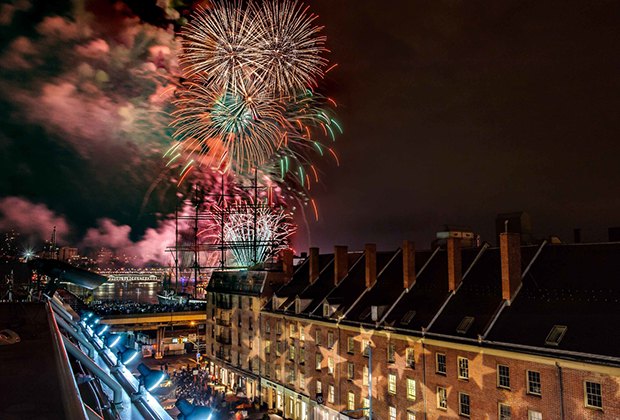 The Seaport offers a great viewing of the annual Macy's July Fourth fireworks. Photo by Jane Kratochvil/courtesy of the Seaport District.
10. Stay to watch Macy's 40th annual Fourth of July Fireworks—the Seaport gives you an amazing vantage point, the trick is arriving early enough to stake out a spot!
11. Buy tickets to a Broadway show at a deep discount at the Seaport location of the TKTS Booth. Sure, it's a long way from Times Square but that means there's rarely a line.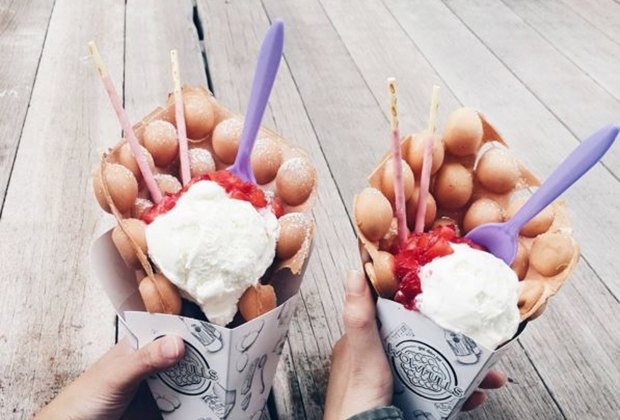 Wowfulls' Hong Kong-style waffle cones are just one example of the great eats at the Seaport Smorgasburg. Photo courtesy of Wowfulls.
12. Skip the pricey tourist traps and grab a bite at the Seaport Smorgasburg inside the Fulton Market Building. The six vendors include kid-pleasers like Home Frite's Belgian fries and Wowfulls' Hong Kong-style waffle cones filled with ice cream and eclectic toppings.
13. Or grab your eats to go and stroll over to the two-tier Pier 15, where you'll find plentiful seating and amazing views of the East River and Brooklyn beyond, including the borough's iconic bridge.
14. Most of the area shopping, while swanky, is aimed at adults but you'll find chic children's wear at L.O.L.Kids, which has great seasonal sales.
15. Peruse kid-friendly titles, pop-culture T-shirts, action figures and other collectibles at the Seaport outpost of Midtown Comics. Tip: For every $100 you spend you get a $20 credit toward your next purchase.
16. Check the official Seaport calendar to see if there are any special kid events going on. Local parenting organization FiDi Families often hosts children's activities like crafts, storytelling and planting.
17. Pose for a pic in front of the cool white lighthouse at the intersection of Fulton and Pearl Streets, a memorial to the passengers who perished on the Titanic.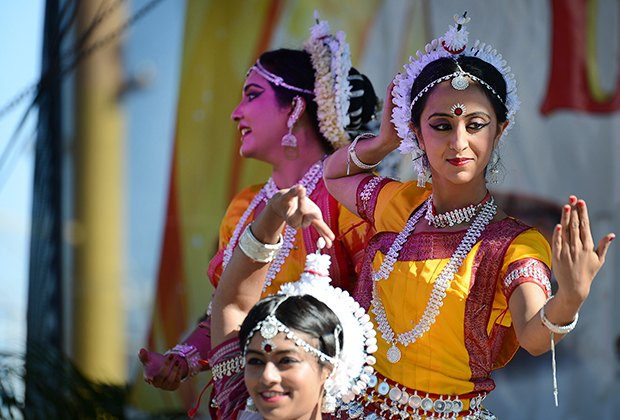 See Diwali dancers at the annual Hindu festival of lights, celebrated in the Seaport. Photo by S Pakhrin via Flickr.
18. Celebrate the Hindu holiday of Diwali (aka Deepavali, the festival of lights) at a huge annual outdoor festival on October 2.
19. Drop by the Seaport in December for its annual holiday happenings. Although the details for this year's festivities are still being worked out, there's always a twinkling Christmas tree and, in years past, Santa sightings and caroling (plus we hope the seasonal ice rink may come back).
20. End your visit by picking up a sweet treat or novelty gift at the Seaport location of IT'SUGAR. Be warned: Some of the tchotchkes are a bit risque so best to stick to edibles.

A previous version of this post was originally published in May 2010.
Top image: Channel the past with a sail on the Pioneer. Photo courtesy of the South Street Seaport Museum.