Kid Bike, Seat and Gear Rentals for Pedaling Around NYC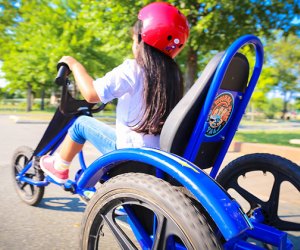 Bike riding makes for a great family outing—with a little help from the right gear. We scoured NYC looking for the best bike rental locations that offer child bike seats, tandem bikes, trailers and more to make biking with kids seamless fun for the whole family. And while May is National Bike Month, and the warm spring temps may propel families to head outdoors to enjoy the season, bike riding is also a great summer and fall activity, as well as year-round transportation option for many New Yorkers.
So whether you're a space-challenged New Yorker without the room to store bikes and bulky children's seat attachments for your toddler, or just visiting for the day, read on for our top rental picks.
For more seasonal fun, check out our NYC Spring Fun Guide.
Manhattan
Bike and Roll — Citywide
212-260-0400
With rental locations from Central Park to the Brooklyn Bridge, Bike and Roll makes it easy to find all the equipment you need. Choose from kids bikes, tandem bikes, tagalong attachments, baby seats and trailers to make the ride safe, fun and comfortable for every size and skill level. Bonus: All rentals come complete with helmet, map, tire changing kit, lock, rack and handlebar bag. You can even pick up from one location and drop off at another with Bike and Roll's My Way Pass.
Blazing Saddles New York — Midtown West, Financial District
Pier 84, Hudson River Park, 555 12th Avenue, at 44th Street
Pier 17, South Street Seaport, 93 South Street, at Fulton Street
917-440-9094
Uptown and downtown families can rent a Topeak baby seat to keep their wee ones happy while riding. This top-notch seat can hold small children (up to 40 pounds) and features adjustable foot rests and wraparound padding, plus a six-point harness system and seat suspension for an all-around comfy and safe ride. Blazing Saddles also rents trailer- and tandem-size bikes for kids—everything you need for a fun day of cycling for the whole family. Helmets and locks are included in all rentals.
Brooklyn Bridge Bike Rental — Financial District
110 South Street, between Beekman Street and Peck Slip
212-465-0880
Located steps from Imagination Playground just under the Brooklyn Bridge, this rental shop offers a variety of bikes, including hybrid, comfort and tandem options, plus kids bikes, baby seats and trailers. Rental rates include map, helmet, chain lock and basket.
Central Park Bike Rental — Upper West Side
208 West 80th Street, between Broadway and Amsterdam Avenue
917-993-3141
Choose from traditional or tandem bikes and take in picturesque Central Park on wheels. Kids bikes, trailers and baby seats are also available. Act as a tour guide for your family and explore Belvedere Castle, Strawberry Fields and more, or leave it to the experts and join a bike tour. Rental pickup is at 208 West 80th Street, which is where tour groups meet. Rentals include bike lock, map, helmet—and even a handlebar basket upon request.

RELATED: Best Places for Families to Bike Ride in Manhattan

Liberty Bicycles — Midtown West
846 Ninth Avenue, between 55th and 56th Streets
212-757-2418
Though you won't find child seats and trailers here, Liberty Bicycles does offer a variety of bikes for kids and adults at great rates, including discounted rates Monday-Thursday. Helmets are included; locks are provided for an additional fee. Note: Liberty currently has only one tandem bike so be sure to call ahead for availability.
Brooklyn, Queens and Staten Island
Rolling Orange Bike Tours — Gowanus
475 President Street, between Nevins Street and Third Avenue
347-554-4162
Rolling Orange features Dutch-style bikes for all ages, as well as child seats, but most rentals are reserved ahead of time via its website or by phone. A two-day rental minimum is preferred, but exceptions are made if you ask nicely at this family-run bike touring company. Rentals include basket, chain lock and bike map; helmets are available for an additional fee. As the name implies, Rolling Orange offers several guided bike tour options. You'll also find a Manhattan location at 891 Amsterdam Avenue in Morningside Heights.

Rent a surrey from Wheel Fun Rentals, so all the kids can get in on the fun. Photo courtesy of the shop.

Wheel Fun Rentals — Brooklyn, Queens, Staten Island
With four locations in Brooklyn, three in Queens, and two more on Staten Island, Wheel Fun Rentals offers a myriad of rental options, including surreys, a three-wheel deuce coupe, classic cruiser and city bikes, as well as kids bikes, tandems and tagalong attachments. Take the family on a self-guided tour with a useful route map, helmet, lock and points of interest/history sheet.
Note: Sadly, we couldn't find a family-friendly bike rental shop in the Bronx. That's surprising,considering the 23-mile Bronx River Greenway spans the length of the Bronx River in the Bronx and Westchester County. The Greenway currently includes 19 miles of bike and pedestrian paths, with plans underway to complete and join the paths along the stretch, connecting the two counties for cyclists and pedestrians. If you know of a Bronx shop we may have missed, please let us know.
Top image: Ride in style with Wheel Fun Rentals' deuce coupe. Photo courtesy of the shop.