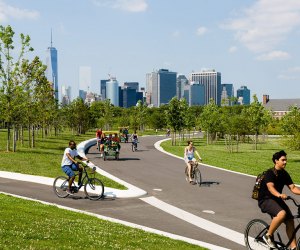 Best Bike Riding Paths for NYC Families
When our family moved back to NYC from Boston last summer, we sadly left our bicycles behind and removed the bike rack from the car, believing that we had to trade in our bike wheels for scooters (which at least are compact, foldable, and easy to store in our apartment). Even though we have embraced rollerblading, skateboarding, rip sticking, and scooting like every NYC family, there is still nothing like a good old fashioned bike ride.
Imagine my delight when I rediscovered bike paths for NYC families—many of which can be used not only on bikes but on scooters, rollerblades, and skateboards, too. This summer as part of our staycation, I planned a week of excursions exploring NYC bike paths with my growing family of five.
Governors Island
Governors Island is a great getaway within the city. From the ornate architecture of the Battery Maritime Building to the views of lower Manhattan from the ferry itself, the entire trip is one the whole family will enjoy from beginning to end. When I learned that Blazing Saddles offered FREE bike rentals Monday-Friday mornings on Governors Island, I jumped all over the opportunity. While many family programs on Governors Island like GrowNYC's Teaching Garden and CMA Free Arts Island Outpost are only open to visitors on weekends, the big upside of going to Governors Island on a weekday is the absence of crowds. You can take in the transformation the island has undergone at your own pace. During your bike ride along the car-free paths you can spy playgrounds and hammocks, view hundreds of woolly bear caterpillars, and learn about the island's history. The views of the city and Statue of Liberty from the island are spectacular. If you're going to ride bikes with your family in NYC, a Governors Island excursion should be your first outing—and it won't be your last.
RELATED: Best Boat Rides for NYC Families

Explore Central Park by bike.
Central Park
Timeless, nostalgic, and delightful, riding a bike through Central Park provides a vantage point you just can't get on foot. For my bike ride through Central Park, I took my 12-year-old daughter for a "mommy and me" afternoon. It was an excellent opportunity for her to practice shifting gears, and being aware of other riders, pedestrians, and traffic in a controlled setting. We enjoyed a leisurely ride with minimal car traffic—although we saw plenty of horse-drawn carriages and pedicabs. We stopped at Conservatory Water, visited Le Pain Quotidian for a chocolate chip cookie, and after our break, walked past Alice in Wonderland on our way back to the East Drive. We then rode to the Obelisk near The Met and walked our bikes over to the West Side past the playing fields. We visited a few more landmarks we never manage to see on foot, including the iconic Belvedere Castle. We visited the opulent Shakespeare Garden and the charming Swedish Cottage Marionette Theater, and concluded our afternoon riding down West Drive past the Lake where we heard the strumming of a koto echoing in the wind. This was a special treat for my daughter who is currently obsessed with Asian art and culture. Our final stop was the Cherry Hill Fountain and Bow Bridge. Taking advantage of the downhill ride, we swooshed past Tavern on the Green and exited the park, tired, hot, and sweaty from another great adventure.

The views are astounding at Brooklyn Bridge Park.
Brooklyn Bridge Park Greenway
The Brooklyn Greenway Initiative is a 26-mile route connecting Brooklyn's waterfront, 18 miles of which have been completed to date. As part of the Greenway initiative, there is a dedicated bike trail in Brooklyn Bridge Park. On day two of my staycation, we headed to Brooklyn and packed everything we had with wheels for our three children, ages 7, 9, and 12. We parked our car in Dumbo and headed to the waterfront, working our way down to the bike path where the children took off and never looked back. The bike path was very wide and accommodating for pedestrians, strollers, and bikers. It's an excellent space for inexperienced or younger riders to learn or practice bike riding, especially during the week. If you've worked up an appetite after biking and playing, there is no shortage of family-friendly places for grub in Dumbo.
RELATED: Best Brooklyn Bridge Park Playgrounds (Ranked!)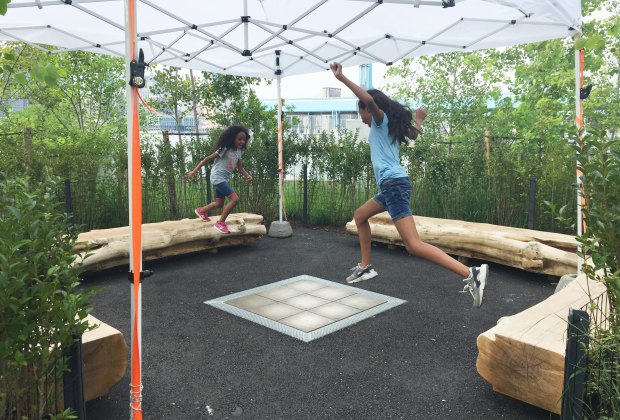 Hop off your bike to explore the piers at Brooklyn Bridge Park.
A never-ending expanse of parks, rolling hills, breathtaking views and unique spaces are everywhere you turn from Pier 1 to Pier 6. It is a magnificent experience. With so many amenities along the Greenway, you can park your bike and take a walk off the beaten path to discover many delights. My children found an interactive garden maze, complete with sound and echo games, reflective mirrors, repurposed elements from the park's construction and lush lawns on Pier 3. Other points of interest include Pier 4 beach, the Pier 5 playing fields, and Pier 6, which has playgrounds galore.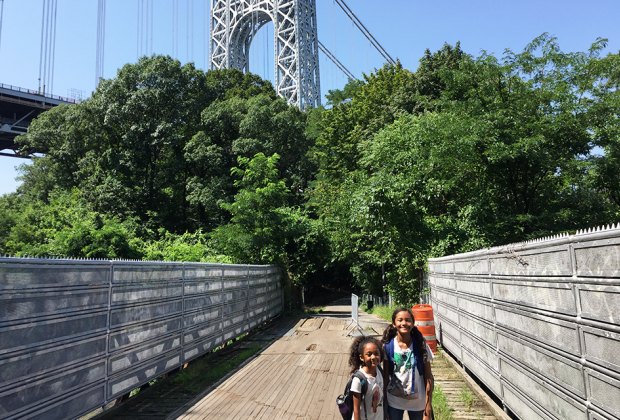 The beautiful 11-mile bike trail on the Hudson River Greenway is a gift to the city.
The Hudson River Greenway: Fort Washington Park
From the southern tip of Manhattan at Battery Park up to the Bronx, the Hudson River Greenway is an 11-mile pathway that runs along the river. The best way to explore it is by bike. Our family destination on day three of our bike tour was Fort Washington Park located beside the Hudson River Greenway in Washington Heights. We traveled through a bustling Washington Heights neighborhood, over Riverside Drive and on to a densely forested, winding, and remote pathway into the park. We found ourselves just south of the George Washington Bridge at The Little Red Light House where we had a picnic. As we continued south on the Hudson River Greenway, we passed tennis courts, public restrooms and The Sisyphus Stones, a public art installation by Uliks Gryka. My children enjoyed pointing out the dinosaurs and yetis in the sculpture of ivy-covered trees that lined the railroad tracks. We stopped at Nature Discovery Playground to cool off in the sprinklers and play. We planned to go all the way to Riverbank State Park, but the intense heat made us detour back into Washington Heights for Dominican shaved ice instead. Whew...

The whole family can hop on a surrey at Prospect Park.
Prospect Park
The shady main drive that encircles Prospect Park is a popular route for experienced cyclists, but the two steep hills along the way can be a bit nerve-wracking for less experienced riders. Instead, my family headed to the LeFrak Center at Lakeside Prospect Park in Brooklyn. With the knowledge I had acquired up to this point about bike rentals, water features, and the unbearable heat this seemed like a perfect place to go next. There was something at the LeFrak Center to engage each of our children, and we got to bike ride too. For this visit, I came prepared with lunch, snacks, gear, and swimsuits. However, if you want to pack light consider dining at the Bluestone Lakeside Cafe. The restaurant offers self-serve sandwiches and salads, prepared food, beer, and wine. My twelve-year-old brought her rollerblades to take advantage of the beautiful outdoor roller rink ($6 admission on weekdays) while skate rentals are also available. My husband and I enjoyed lunch while my other two children played at the splash pad for hours. While they were still wet, we rented a $28 Single Surrey for a trip around the lake. When we got back, they took one last dip in the water before we headed home for the day.
Mountain Bike Trails in NYC
Many NYC Parks provide a natural geological environment for a more challenging ride even if you or your family members are beginners. If you are looking for a thrilling bike riding adventure in one of the five boroughs, consider visiting one of the city's mountain bike trails: Highbridge Park in Manhattan, Wolfe's Pond Park and Ocean Breeze on Staten Island, and Cunningham Park in Fresh Meadows, Queens.
There are plenty of opportunities for families to enjoy a stress-free bike ride in and around the city. It never ceases to amaze me how quickly one can go from concrete jungle to urban wildlife refuge in a matter of minutes. My week-long adventure provided many teaching moments. Reflecting on all the neighborhoods, parks, and playgrounds we have visited in the last week makes me appreciate how important it is to practice being present in our fast-paced lives. I weaved in and out of traffic, through the boroughs, battled the scorching heat, and enjoyed the opportunity of transitioning through environments, all via the public bike trails of NYC.
Things To Know Before You Go
Don't forget your helmets! Cyclists of all ages should wear helmets, of course, but children under the age of 14 are legally required to wear them in NYC.
Pack swimsuits and water shoes. When visiting NYC parks during the summer months you want to take advantage of the many water features on offer! Join in the fun and cool off with your kiddos in a sprinkler or splash pad.
Bikes are allowed on NYC subways at all times, but it's best to avoid rush hour. Public buses only accommodate fold-up bikes.
New York Bike offers free learn-to-ride lessons for kids and adults.
Bike Rentals in New York City
Citi Bike is a bike share program that gives residents and visitors an affordable and convenient alternative to walking, and public transportation. There are thousands of bikes available bikes across Manhattan, Brooklyn, Queens and Jersey City. Citi Bike is not an option for young children, as the bikes are made for adults. IDNYC cardholders received 15% off new Citi Bike annual membership.
Bike Rent NYC offers bike rentals, guided bike tours of Central Park and Brooklyn Bridge. They also have a "Manhattan bike pass" program. There are a variety of bicycles to choose from, including hybrid, racing, tandem, and children's bikes. Bike Rent NYC has several locations open year-round which serve Central Park, Riverside Park, East River Park, Highbridge Park, and Brooklyn Bridge Park, among other locations.
Wheel Fun Rentals are available at Flushing Meadows Corona Park, Marine Park, Bensonhurst Park, and LeFrak Center at Lakeside Prospect Park in Brooklyn, and at the Franklin D. Roosevelt Boardwalk on Staten Island. Prospect Park did not have bikes for children when I went during the week. Call ahead if you are interested in renting a children's bike.
Blazing Saddles offers a FREE bike rental program on Governors Island, Monday through Friday for one hour between 10am and noon.
Unless noted, photos by the author. A version of this post was published in 2018; it has been updated for 2019.