Best Bike Riding Paths for NYC Families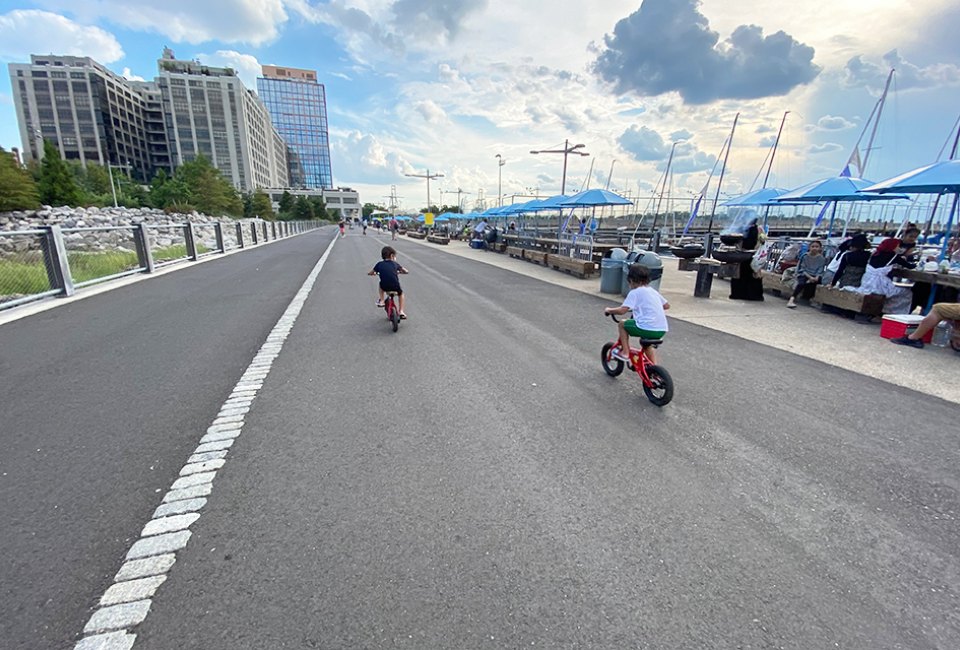 4/5/21
- By
Suzy Q
When the city's subway system was deemed only for essential trips during the pandemic, many New Yorkers turned to their two-wheeled companions and hit the bicycle paths in record numbers. Whether your family is one of them, or you're itching to enjoy the sunny spring and summer days ahead in a new way, New York City is home to miles of bike paths, and more are added seemingly every day as NYC becomes a more cycling-friendly city.
Knowing you might not want to set the kids loose on city streets, we've rounded up the best bike paths for New York City families to explore on two wheels—or with scooters, skateboards, and rollerblades, too. Many of these bike paths come with a little bonus fun, from nearby playgrounds to kid-friendly eats and even a sprinkler to romp through.
Find more fun city adventures in our Guide to Outdoor Fun.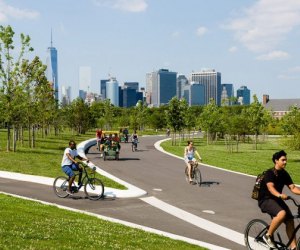 Bring your bike on the ferry or rent a bike from Blazing Saddles on Governors Island. Photo courtesy of Governors Island
Governors Island is a great getaway within the city during its annual summer season, which debuts on Saturday, May 1, 2021. From the ornate architecture of the Battery Maritime Building to the views of lower Manhattan from the ferry itself, the entire trip is one the whole family can enjoy from beginning to end. Even better: Blazing Saddles offers FREE 1-hour bike rentals Monday-Friday mornings on Governors Island, making this a great mid-week excursion. While many family programs on Governors Island are only open to visitors on weekends, the big upside of going to Governors Island on a weekday is the absence of crowds. You can take in the transformation the island has undergone at your own pace. During your bike ride along the car-free paths, you can spy playgrounds and hammocks, view hundreds of woolly bear caterpillars, and learn about the island's history. The views of the city and the Statue of Liberty are spectacular. If you're going to ride bikes with your family in NYC, a Governors Island excursion should be your first outing—and it won't be your last.
RELATED: Governors Island in 2021: Best Things To Do With Kids

Explore Central Park by bike.
Timeless, nostalgic, and delightful, riding a bike through Central Park provides a vantage point you just can't get on foot. It's an excellent opportunity to practice shifting gears and being aware of other riders, pedestrians, and traffic in a controlled setting. Enjoy a leisurely ride with minimal car traffic—although you'll encounter plenty of horse-drawn carriages and pedicabs depending on your route. During our visit, we stopped at the Conservatory Water and walked past Alice in Wonderland on our way back to the East Drive. We then rode to the Obelisk near The Met and walked our bikes over to the West Side past the playing fields. We visited a few more landmarks we never manage to see on foot, including the iconic Belvedere Castle. Our final stop was the Cherry Hill Fountain and Bow Bridge. Taking advantage of the downhill ride, we swooshed past Tavern on the Green and exited the park, tired, hot, and sweaty from another great adventure.
RELATED: Best Roller Skating Rings in NYC and the 'Burbs

The views are astounding from the Promenade in Brooklyn Heights. Photo by Sara M.
Brooklyn Bridge Park Greenway
The Brooklyn Greenway Initiative is a 26-mile route connecting Brooklyn's waterfront, 20 miles of which have been completed to date. As part of the Greenway initiative, there is a dedicated bike trail in Brooklyn Bridge Park. The bike path was very wide and accommodating for pedestrians, strollers, and bikers. It's an excellent space for inexperienced or younger riders to learn or practice bike riding, especially during the week. If you've worked up an appetite after biking and playing, there is no shortage of family-friendly places for grub in Dumbo.
RELATED: Best Brooklyn Bridge Park Playgrounds (Ranked!)

Hop off your bike to explore the piers at Brooklyn Bridge Park. Photo by Sara M.
A never-ending expanse of parks, rolling hills, breathtaking views, and unique spaces are everywhere you turn from Pier 1 to Pier 6. It is a magnificent experience. With so many amenities along the Greenway, you can park your bike and take a walk off the beaten path to discover many delights. After exploring the Pier 2 Uplands, my children found the interactive garden maze, complete with sound and echo games, reflective mirrors, re-purposed elements from the park's construction, and lush lawns on Pier 3. Other points of interest include Pier 4 beach, the Pier 5 playing fields, and Pier 6, which has playgrounds galore.
RELATED: Empire State Trail With Kids: Most Family-Friendly Local Sections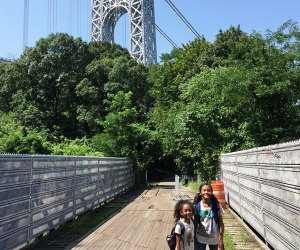 The beautiful 11-mile bike trail on the Hudson River Greenway is a gift to the city.
The Hudson River Greenway
From the southern tip of Manhattan at Battery Park up to the Bronx, the Hudson River Greenway is the city's contribution to the Empire State Trail. It is an 11-mile pathway that runs along the river, passing by the recently redesigned Pier 26 and the mega playground on the neighboring Pier 25. From there, you'll continue north through Riverside Park and eventually hit Fort Washington Park in Washington Heights. We found ourselves just south of the George Washington Bridge at The Little Red Light House, where we had a picnic. For some playground fun in the area, consider a visit to the Nature Discovery Playground to cool off in the sprinklers and play.
RELATED: 25 Outdoor Adventures for NYC Kids

The whole family can hop on a surrey at Prospect Park.
The shady main drive that encircles Prospect Par is a popular route for experienced cyclists, but the two steep hills along the way can be a bit nerve-wracking for less experienced riders. Instead, consider heading to the LeFrak Center at Lakeside Prospect Park, which is a day trip worthy destination in its own right. My 12-year-old brought her rollerblades to take advantage of the beautiful outdoor roller rink, while skate rentals are also available. My husband and I enjoyed lunch while my other two children played at the open-in-the-summertime splash pad for hours. While they were still wet, we rented a Single Surrey for a trip around the lake.
Mountain Bike Trails in NYC
Many NYC Parks provide a natural geological environment for a more challenging ride, even if you or your family members are beginners at the sport of mountain biking. If you are looking for a thrilling bike riding adventure in one of the five boroughs, consider visiting one of the city's mountain bike trails.
Highbridge Park in Manhattan is home to the city's first mountain biking course and offers monthly trailwork and bike share workshops, where beginners can participate in a 20-minute clinic; bikes and helmets are provided.
Wolfe's Pond Park and Ocean Breeze on Staten Island, and Cunningham Park in Fresh Meadows, Queens, also have dedicated mountain-biking trails.
Bike Rentals in New York City
Citi Bike is a bike-share program that gives residents and visitors an affordable and convenient alternative to walking and public transportation. There are thousands of bikes available bikes across Manhattan, Brooklyn, Queens, the Bronx, and Jersey City. Citi Bike is not an option for young children, as the bikes are made for adults. Rent by the ride, day, or sign up for an annual pass; discounts are available to NYCHA residents and SNAP recipients.
Bike Rent NYC offers bike rentals, guided bike tours of Central Park and Brooklyn Bridge Park. They also have a "Manhattan bike pass" program. There are various bicycles to choose from, including hybrid, racing, tandem, and children's bikes. Bike Rent NYC has 12 locations serving popular parks city-wide.
Wheel Fun Rentals are available at Flushing Meadows Corona Park, Marine Park, Bensonhurst Park, and LeFrak Center at Lakeside Prospect Park in Brooklyn and at the Franklin D. Roosevelt Boardwalk on Staten Island. Prospect Park did not have bikes for children when I went during the week, so call ahead if you are interested in renting a children's bike.
Blazing Saddles offers a FREE bike rental program on Governors Island, Monday through Friday, for one hour between 10am and noon. There's also a location in the South Street Seaport.
Things To Know Before You Go
Don't forget your helmets! Cyclists of all ages should wear helmets, of course, but children under the age of 14 are legally required to wear them in NYC.
Pack swimsuits and water shoes on hot days. When visiting NYC parks during the summer months, you want to take advantage of the many water features! Join in the fun and cool off with your kiddos in a sprinkler or splash pad.
Bikes are allowed on NYC subways at all times, but it's best to avoid rush hour. Public buses only accommodate fold-up bikes.
New York Bike offers free learn-to-ride lessons for kids and adults, though most are on hold due to the pandemic.
Unless noted, photos by the author. A version of this post was published in 2018; it is updated annually.
t Click Here to Sign Up!