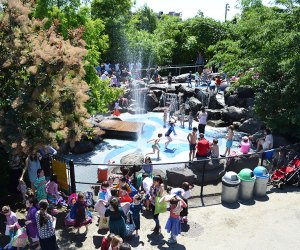 Best Brooklyn Bridge Park Playgrounds (Ranked!)
Few city playgrounds can compare to what Brooklyn Bridge Park has to offer. Running 1.3 miles along the East River on a defunct cargo shipping and storage complex, the 85-acre waterfront space is host to a water paradise, Tarzan swings, slides, tunnels, and the city's largest sandbox. Plus, the Lower Manhattan skyline view never fails to give me major city feels.
If you've packed your sunscreen and stamina, you can take the family to experience them all, but if you want to prioritize, we've ranked them for you. All of the Brooklyn Bridge Park playgrounds are fun, but our faves at the top of the list offer the most equipment, most variety, amenities, and wow-factor.
OUR LATEST VIDEOS
1. WaterLab Sprinkler Playground, Pier 6
WaterLab is, not surprisingly, the park's most popular playground. Kids can splash and climb here for hours. They'll love trying to dodge geysers and water jets and getting soaked at the giant water table. The rocks can get slippery, so water shoes are recommended for this one. It'll be tough getting them to leave, but the promise of pizza at nearby Fornino's Pizza will likely help. Bathrooms are located on the first floor of Fornino's as well.

Sandbox Village might be the most unique sandbox in the city, with its own water play area to cool off in the hot sun.
2. Sandbox Village, Pier 6
Make sure to dedicate some time to Sandbox Village, a massive destination sandbox for the preschooler crowd, to build sand castles and play hide-and-seek in the faux log cabins. Older kids will also burn off major energy digging and building. Parents can take a rest on the seating around the edges and pretend it's a day at the beach.
3. Swing Valley, Pier 6
Kiddos love flying through the air on Swing Valley's ten swing sets and Tarzan rope. There is a seat that is the right size for every age. Enter at Atlantic Avenue for all the swing-related fun you could ever dream of.
RELATED: NYC's Best Destination Sandboxes for Kids

The Main Street Playground features a pirate ship structure, sand area and a tire swing.
4. Main Street Playground
This nautical-themed gem features numerous climbing structures, bridges, ladders, and slides. The decorative sails and boat-shaped sandbox will make your child's pirate fantasies come to life. Good news for parents: The entire space is gated, and there are plenty of shady benches to take a rest. You'll also find water fountains and a bathroom just steps away. A major bonus are the beautiful bridge views. Don't forget that Jane's Carousel is nearby, along with plenty of family-friendly restaurants.
RELATED: Play Fountains Where NYC Kids Can Get Totally Soaked

Climb the rocks or the stairs to slide down Slide Mountain. Photo by Julienne Schaer
5. Slide Mountain, Pier 6
Your courageous kids will get a kick out of twisting and turning down two-story slides in Slide Mountain, adjacent to Sandbox Village. Challenging climbing structures offer great places for bigger kids to climb and explore.
6. Exploratory Labyrinth, Pier 3
The Exploratory Labyrinth, the newest addition to Brooklyn Bridge Park, is a major draw for families. A shrub-lined path leads curious explorers to a walk-in kaleidoscope, mirrored games, picnic tables, excavated railroad tracks, parabolic reflectors, echo games, structures to climb, and dance chimes, among other kid-friendly discoveries. After exploring the Labyrinth, relax and picnic on the large central lawn.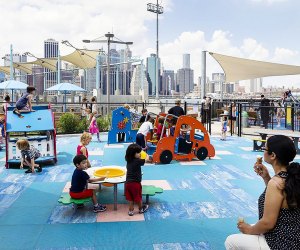 Pier 5 has two playgrounds, including this sweet one for the younger crowd. Photo by Etienne Frossard
7. Pier 5 Playground
Pier 5 features two play areas for children of all ages: There's a gated toddler-friendly play area with an assortment of pretend-play structures to interact with (the little red car is popular), and another one nearby with climbing structures for older kids. My daughter could literally spend the entire day here. Plus, if you're craving salted crack caramel ice cream, Ample Hills Creamery is nearby.

The playground at Pier 1 is perfect for the little ones.
8. Pier 1 Playground
Perfect for younger kiddos, Pier 1 Playground features a playhouse, swings, and low-to-the-ground animal shaped climbing structures. The entire play area is surrounded by greenery, making it a pleasantly shady spot on summer days.
9. Swings at Pier 2
At the end of Pier 2, you find swings atop a multi-colored surface. This area is also home to basketball, handball, and bocce courts, along with a skating rink and picnic tables. Bathrooms, water fountains, and bike racks are also on site.
Unless noted, photos courtesy of Brooklyn Bridge Park