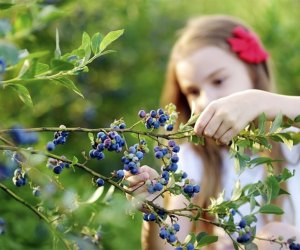 Where to Pick Your Own Blueberries, Raspberries, and Blackberries Near NYC in 2020
Juicy blueberries, blackberries, and raspberries are usually in season from July through the end of August near NYC, and some farms even have a second crop of raspberries that ripen later in the summer. So, if you missed the short but sweet strawberry picking season, and can't wait for peach picking come August, now is a good time for your family to plan a berry picking outing to one of our favorite nearby farms.
Read on for the lowdown on 12 spots in the tri-state area, all less than 2 hours from NYC (including one accessible by mass transit) plus our helpful been-there-done-that tips. Check out our comprehensive guide to all the nearby pick-your-own farms for everything from peaches to flowers and veggies.
Please note, while we've tried to highlight these farms at their best, there are many changes and limitations due to the coronavirus. Additionally, many of these pick-your-own farm experiences are dependent on fruit availability and the weather, so call ahead.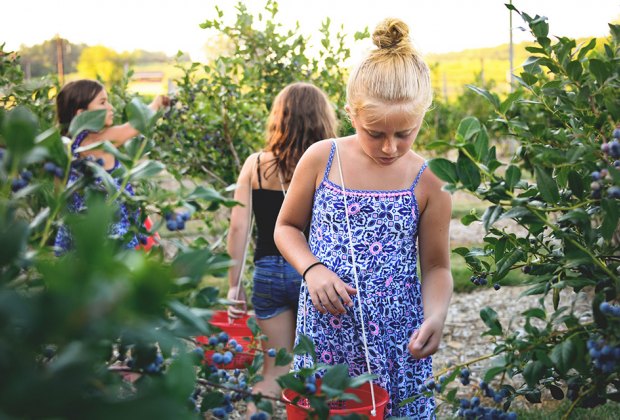 Pick berries in Bishop's Orchards' gorgeous fields.
Berry Picking Farms in Connecticut
2020 info: Social distancing will be enforced, and mask-wearing is required when you pay. It's pay before you pick, and no outside containers are allowed. Do not pick while you're in the filed and wash your hands often. No picnicking or visiting farm animals is permitted.
1355 Boston Post Road
203-453-2338
About 100 minutes by car from Midtown Manhattan
The orchard offers several varieties of pick-your-own strawberries and blueberries, followed by raspberries and peaches in August, which last through the fall. Kids love visiting with the goats, alpacas, and llamas.
2020 info: Online reservations are strongly recommended. Facial coverings are required. There should be a 1:1 ratio of adults to children ages 10 and younger.
Route 110 and Walnut Tree Hill Road
203-929-8425
About 90 minutes by car from Midtown Manhattan
Pick strawberries and blueberries at this 400-acre family farm that also offers cooking classes and a winery for grownups.
Find more berry farms on our Connecticut site.
RELATED: 17 Day Trips Near NYC for Summer 2020 Adventures
Berry Picking Farms on Eastern Long Island
2020 info: Customers must maintain a social distance and wear face masks. Extra handwashing stations have been set up.
812 Sound Avenue
631-929-4327
About 90 minutes by car from Midtown Manhattan
Lewin Farms is my family's go-to pick-your-own spot on Long Island. It's the first farm on the North Fork to allow you-pick in its orchards. Pluck blueberries, blackberries, and raspberries right off the stem or come back in August for a go at the peach trees.
410 Sound Avenue
631-655-7996
About 95 minutes by car from Midtown Manhattan
Pick blueberries, raspberries, and blackberries at this 40-acre farm and then cool off with a scoop of its locally made ice cream. There is a $7-per-person charge to pick, but that also nets you one basket of berries per picker.
28700 Main Road (Route 25)
631-734-6441
About 105 minutes from Midtown Manhattan
A Long Island institution, Wickham's is the largest and oldest farm on the North Fork. Blueberries are available in August. If you time it right, you may even score a few peaches. Pickers pay upfront rather than by the pound, and you must use containers provided by the farm. Strollers are not allowed in the fields, so be prepared to carry infants and tots.
Find more berry farms on our Long Island site.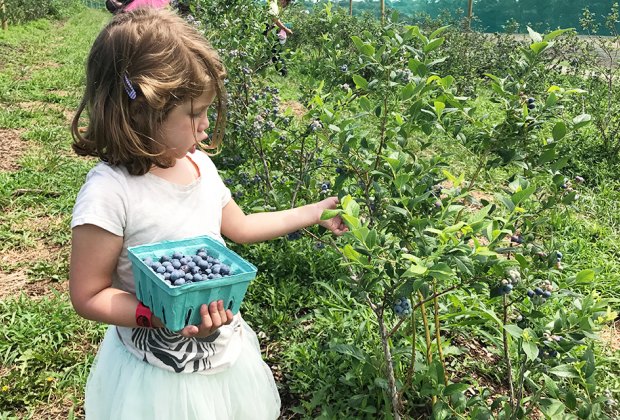 Fill your basket at Alstede Farms. Photo by Rose Gordon Sala
Berry Picking Farms in New Jersey
2020 info: Pick-your-own season requires a pre-paid reservation. Each person who enters the field must have their own ticket. All visitors will be required to wear face coverings and social distance. Additional hand sanitation stations are available. The extra activities and entertainment have all be canceled for the time being. Visitors can take a socially distant shuttle to the field or walk, but no other areas of the farm are open.
1 Alstede Farms Lane
908-258-6245
About 60 minutes from Midtown Manhattan; also accessible via New Jersey Transit
This popular fall spot also has pick-your-own blueberries and raspberries in June and July. Alstede's offers a slew of entertainment extras, including pony rides and bounce houses to enhance your visit. You don't need a car to get here. Instead, take New Jersey Transit to the Gladstone Station and arrange for a FREE shuttle service to the farm. There's an admission charge, and most activities require tickets or a wristband. But after picking apples and pumpkins here, I can attest to how much fun this property is for kids, including quality time with an array of farm animals. For a calmer experience, arrive before noon on weekdays when you just have to pay to enter the picking fields, and most attractions are closed.
565 Route 206 North
973-579-5055
About 75 minutes from Midtown Manhattan
This is my family's go-to spot for strawberry picking in New Jersey; we often head back in late August to pluck raspberries, too.
RELATED: Top 8 Beaches Near NYC for a Family Daycation (or Weekend)

Enjoy a day in the lovely fields at Sussex County Strawberry Farm in Andover.
2020 info: Pre-purchased tickets are required for picking and go on sale daily to pick the following day. All guests are required to bring and wear a mask. Guests must also wear gloves, which the farm will provide if needed. Tickets do include a wagon ride to the fields, and the time on your ticket corresponds with your wagon departure time, so please arrive early. Produce is sold by weight, so only pick what you plan to purchase.
133 Church Road
609-654-8643
About 90 minutes from Midtown Manhattan
Pick some famous New Jersey blueberries and some sweet corn right off the stalk. Bring swimsuits for a session in the splash pad or hit the hayride to round out the day.
2020 update: All guests ages 2 and older must wear a mask. Social distancing will be practiced, and there may be a wait to enter the fields to pick. Once you're in the field, you'll have half an hour to pick. Extra hand-sanitizing stations are available throughout the farm. All play areas are closed.
330 Cold Soil Road
609-924-2310
About 80 minutes from Midtown Manhattan
A trip to Terhune Orchards for blueberry and blackberry picking also gives kids a chance to visit the animals, walk along the farm trail, or play with the barnyard toys. There is also an extensive farm market and a winery.
Find more berry farms on our New Jersey site.

Organic Blueberries are ready for picking at Fishkill Farms. Photo by Sara Marentette
Berry Picking Farms in New York's Hudson Valley
2020 info: Socially distant picking is available by reservation only. Masks must be worn at all times. You must choose your produce package when purchasing, and you will be limited to 1-hour of picking time. Other farm fun is unavailable at this time.
9 Fishkill Farm Road
845-897-4377
About 75 minutes by car from Midtown Manhattan
Fishkill's pick-your-own blueberries and raspberries are ready to pick in July. The farm also has U-pick cherries, peaches, and nectarines. Kids can visit with the small farm animals, including rabbits and chickens. There is a $5 admission charge for adults and kids over the age of 12.
2020 info: Pick-your-own hours are minimal. Call before venturing to the farm to make sure fruit is available. Masks are required, social distancing will be enforced, and handwashing stations are available for your use.
4 Ochs Lane
845-986-1591
About 80 minutes by car from Midtown Manhattan
Perched at the top of a hill, the orchard has gorgeous views of the Hudson Valley to enjoy while you pick. There's also a small petting zoo with ducks, goats, and other barnyard animals for the kids. There is a $5 admission charge for adults and kids over the age of 3. Cash only.
Find more berry farms on our Westchester site.
Berry Picking Farms in Pennsylvania
2020 update: Timed-entry tickets are required for wagon rides from the Pick-Your-Own Barn to the fields. There is an additional charge for all picked fruit.
931 Stony Hill Road
215-968-1670
About 90 minutes from Midtown Manhattan by car
This historic working farm and garden center in bucolic Bucks County, Pennsylvania, has blueberries and blackberries ripe for the picking. On regular, non-festival days, the picking fields are accessible only via a hayride from the farm market for $5 per person.
Berry Picking Tips to Know Before You Go
Call ahead to confirm hours, crop availability, and prices. Many farms are small, family-run establishments that can close unexpectedly and often run out of fruit before the season ends. You can usually get up-to-the-minute information on their social media feeds.
While on the phone with farm personnel, confirm that they allow children to pick. I was turned away from a strawberry field when my son was a toddler.
Leave pets at home. They are not allowed at most farms.
Ditto for strollers. While they may be allowed in the main entrance, they typically are not welcome in the sensitive berry fields.
If you're thinking of a picnic, call ahead to make sure the farm allows you to bring your own food.
This story was first published in 2018. It is updated annually.
Unless noted, photos courtesy of the farms/orchards